Blog
Week 3: What if Service Was Your Main Focus?
The Summer of What If?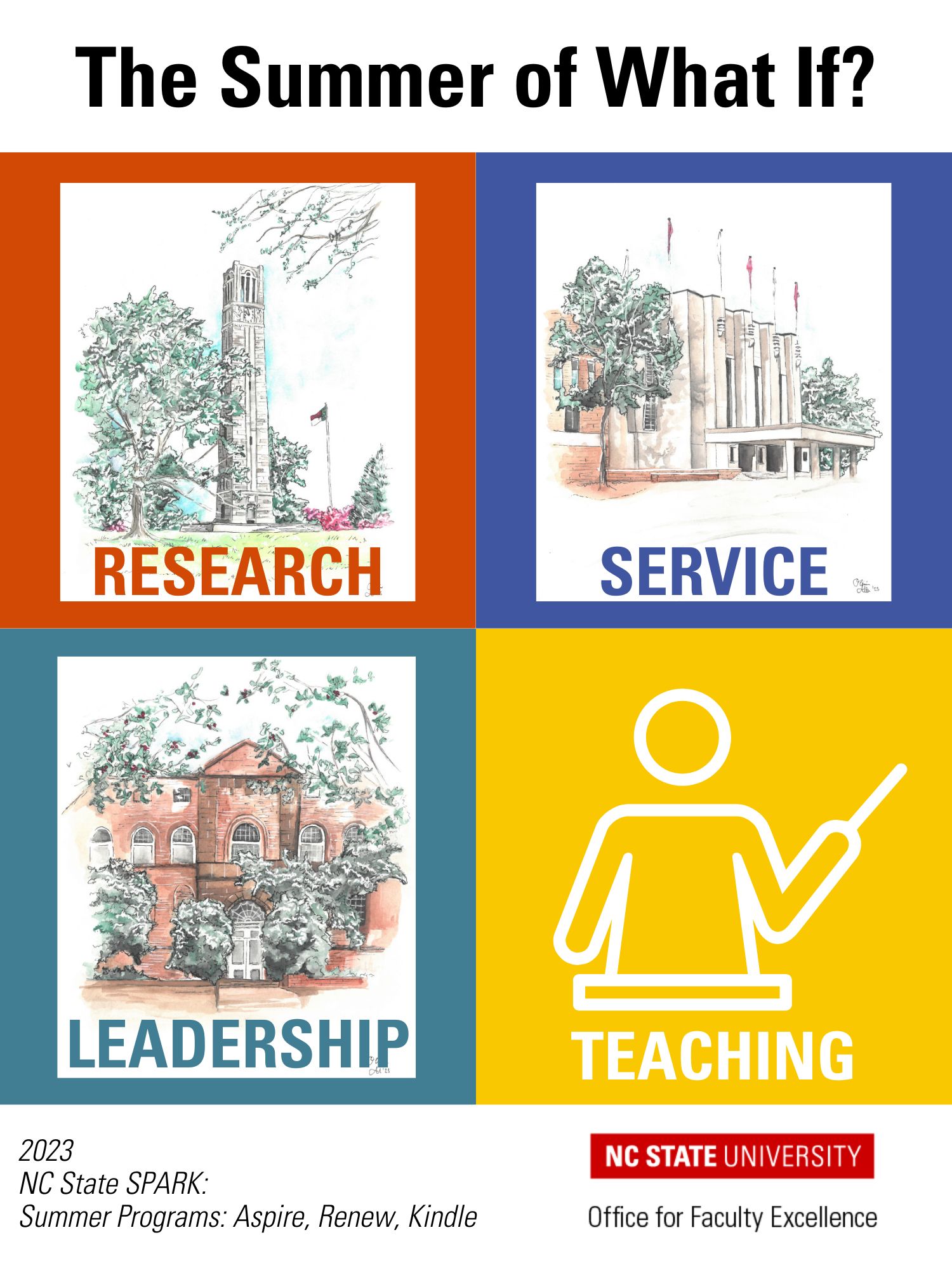 Podcast
The podcast intro music, Peachtree, was composed and performed by Jopsy Bayog, a 2021 NC State graduate.
The transcript to the podcast can be found here.
Article
The University of California at San Francisco has two major campuses: Parnassus Heights, situated between Twin Peaks and Golden Gate Park, and Mission Bay. The Mission Bay campus is nestled along San Francisco Bay, a baseball throw away from the Giants ballpark and within eyesight of Steph Curry and the Warriors' home court. As with the institution it calls home, the Mission Bay campus is dedicated to medical and biological sciences.
Dr. Keith Yamamoto helped envision the Mission Bay campus, chairing the committee that led to its planning. He arrived at UC San Francisco as a postdoc and, fifty years later, his "terrific adventure" continues. And walking around campus, I can see why he would want to stay, as my surroundings clearly align with his philosophy: multidisciplinary endeavors, collaborative initiatives, teaching hospitals, research labs, and, naturally, bike paths and baseball.
The campus is one chapter in what Dr. Yamamoto calls the "progressive story" of science. Beyond discovering knowledge, he sees science as developing knowledge, something that never stops. Research and teaching are part of that development, of course, but so too is communicating its findings. The story doesn't end with a published paper or conference presentation – it is an ongoing conversation.
For our own conversation, Dr. Yamamoto sat down with me on a beautiful June day by the bay. To get to campus, not only do I walk by the ballpark and basketball arena, but also the Port of San Francisco, Uber's headquarters, and self-driving cars in the streets, all the while struck by the dynamism of the campus and its city. His office is located on the fifth floor of Genentech Hall. Overlooking the campus and hills of San Francisco, it is adorned with accoutrements from his life and career: books, pictures, artifacts, and awards, as well as bikes and baseball.
Dr. Yamamoto has been contributing to the story of science for over 50 years, but his part of the conversation started well before that. When he was a child, his father subscribed to "every magazine that was published back then," including Scientific American. While perusing an edition one day in middle school, he came across an article written by Francis Crick, best known for discovering the double helical structure of DNA. In this particular article, Crick proposed the theory of messenger RNA. What stood out to Dr. Yamamoto wasn't just the theory, but the evidence that led to the hypothesis. That sparked his fascination with science and the way it is communicated.
He has taken this interest to the upper echelons of his field of molecular biology and biochemistry. After earning his undergraduate degree from Iowa State University, Dr. Yamamoto received his PhD from Princeton. He first came to UC San Francisco in 1973; half a century later, he is still leaving his mark, and not just in campus footprints.
At UC San Francisco, Dr. Yamamoto serves as Vice Chancellor for Science Policy and Strategy, professor of Cellular Molecular Pharmacology, and Director of Precision Medicine. His work, however, extends beyond the institution. He also chairs the Coalition for the Life Sciences, is a board member for the publication SciencePlus, and serves on the National Academy of Medicine Executive Committee and the National Academy of Sciences Division of Earth and Life Studies Advisory Committee. He is a member of the National Academy of Sciences, National Academy of Medicine, American Academy of Arts and Sciences, American Academy of Microbiology, and a fellow of the American Association for the Advancement of Science.
This is how he serves, and it is this service to the academy that has brought me to San Francisco. Of his many titles, I am particularly interested in his current role as president of the American Association for the Advancement of Science (AAAS), the world's largest general scientific society.
Most faculty have a service element within their realms of responsibility. Yet, perhaps by design, it is not easily defined. Service can range from department-level to university-wide, from the local community to professional societies. And it can take a variety of forms: committees, task forces, journals, student engagement, outreach. As a result, Dr. Yamamoto interprets service broadly. But whatever it looks like, service equals impact.
"We can and should be involved in elements of service throughout our careers," says Dr. Yamamoto. "Get involved in things where you think you have something important to say, that can have an impact that will improve whatever domain you are trying to address." He cites as examples improving a graduate program, developing community engagement and outreach programs, and looking at the ways government funding is set up.
He had a strong mentor who set the example. While completing his doctorate at Princeton, Dr. Yamamoto got to know Dr. Bruce Alberts, a leader in the field of biochemistry. Though Dr. Alberts was told to "keep his head down and get science done," he took it upon himself to start an after school science program for high school students in Trenton, New Jersey. For Dr. Yamamoto, this demonstrated the impact scientists can have beyond their lab: "we all have a responsibility to be involved in some element of service that advances the discipline in some way."
This led Dr. Yamamoto to ask a series of questions of himself to identify service opportunities that aligned with his own values, something he suggests others do early in their career:
What domains in my field are important to me?
Is my voice going to be able to contribute?
How do I make the time for it?
After answering these questions, Dr. Yamamoto gravitated towards the policies that govern science, starting with the peer review process at the National Institutes of Health. He expanded upon that to include the ways science interacts with the rest of the world, including science communication and public understanding of science.
As a result, he got involved with the American Society of Biochemistry and Molecular Biology, and the American Society for Cell Biology. These organizations represent areas of science that appeal to him, with "strong arms for science education and very active policy activities that focus on improving the environment within the enterprise for research and education." He took his interest in science communication and turned it into a journal, Molecular Biology of the Cell, which is now the primary publication for the American Society for Cell Biology. "That experience – where I helped to launch the journal and served as its editor in chief – really gave me an inside look on that aspect of doing science. Publication of science is a critical element of the experiment. If we don't publish our science, it's exactly like not doing it. So we better have good vehicles for communicating science."
All of this prepared him for his presidency at the American Association for the Advancement of Science. AAAS is uniquely situated for the kind of impact and collaboration Dr. Yamamoto values. Like science itself, AAAS is multidisciplinary, with all areas of science represented, and encompasses international activity, with members from over 90 countries. Under Dr. Yamamoto's leadership, the organization has emphasized what he believes informs science at its best: "an integrated, coordinated endeavor where the disciplines communicate with each other, where we practice science as a global enterprise, where we communicate science freely and openly, where we provide access to scientific information and materials to all people."
This philosophy of collaboration and consensus animates his leadership. As president, he has chosen a few domains that are important to him: training; communication of science; support for science; and public understanding of science. In order to move them forward, he approaches each "from all directions," welcoming others' ideas and expertise while not being beholden to limited lines of thinking or vantage points. It is this guiding principle that has led him to serve as a member or leader of various organizations, each with a voice in one or more of his domains.
"I feel that actually having an impact – getting the result you're looking for – is facilitated by having different groups with different interests. If they all end up converging on a common point, then the policies can get changed in effective ways. If it's only from one direction, then that direction should have a lot of power, otherwise it's not going to happen because there's too many other voices on the other side."
One of the more visible aspects of AAAS is the prestigious AAAS Fellow, considered one of the highest honors in the field. Fellows are elected annually by the AAAS Council and constitute leaders in science, engineering, and innovation. They are recognized for their achievements across disciplines, including: research; teaching; technology; administration in academia, industry, or government; and excellence in communicating and interpreting science to the public. Also among the criteria is service to professional societies.
In this context, Dr. Yamamoto considers service as any activity "that expands, makes more equitable, or otherwise advances the science and technology enterprise." He cites as examples: advocacy on Capitol Hill or in Executive agencies; efforts towards building a more global, inclusive science ecosystem; work to change academic incentive and reward systems toward open and collaborative science; work in the community to include the voices of non-scientists in creating and evolving science and technology policy; and efforts to improve and enliven the teaching of K-16 science. Once again, the definition of service is broad, but is measured in impact.
It is easy to see the tangible ways in which Dr. Yamamoto himself serves, measured in the boards contributed to, meetings attended, policies proposed, and trips made (including to DC three times a month). But for Dr. Yamamoto, it always comes back to the science: "The easiest way to have impact and credibility is to do good science." He believes that by establishing credibility through your work, you will more likely be listened to when you make suggestions or proposals.
After our meeting ends, I enjoy a conversation with Dr. Yamamoto's executive assistant, Angela Gross. She shares that for Dr. Yamamoto, "his days are longer than the rest of ours." I initially think it is simply a comment on his busy schedule, but then learn that Dr. Yamamoto only sleeps about 4 hours a night, so his days are literally longer – though he certainly knows how to fill the time.
I end my time on campus by taking up Dr. Yamamoto's favorite form of transportation, renting a bike and cycling the streets. Whether commuting to his office or enjoying a ride across the Golden Gate Bridge to the redwoods, bicycling allows Dr. Yamamoto to "reflect, to dream, and to mind wander." I do the same as I retrace my path from the morning, passing labs and hospitals, food trucks and students. This brings me back to the Giants baseball stadium, where Dr. Yamamoto is a season ticket holder. I am reminded of the reason he likes professional sports: "It's fun to watch people at this kind of insanely non-human level of skill practice their art." Following my day by the bay, I couldn't agree more.
These are the main lessons I took away while embracing the spirit of the intern and observing Dr. Keith Yamamoto's approach to service:
We all have a responsibility to be involved in some element of service that advances our discipline in some way
Establish credibility through your work. Then, when you make suggestions or proposals, people will listen
However you define service and whatever service looks like, it is measured in impact
Approach an issue or idea from multiple directions. Collaborate with different groups who have diverse perspectives but converge on a common point
Raise important questions, if not answer them
Seek out service opportunities by identifying what is important to you and where you can share your voice. Ensure you can dedicate the time
Everyone's got some power, you just have to find the right channels
Acknowledgments:
This interview and podcast recording would not have been possible without the support provided by Angela Gross, Executive Assistant to Dr. Yamamoto. And thanks to Dr. Yamamoto for his willingness to thoughtfully and generously share his background, career path, and words of wisdom regarding service.
Resources
Printable PDF Artwork of NC State University's Reynolds Coliseum. The watercolor illustration was created by artist is Olivia Allen, a freshman Architecture student with a very unique style and perspective that really embraces the spirit of an intern. We are excited to show you the NC State campus through her eyes.