Blog
Week 4: What if Teaching Was Your Main Focus?
The Summer of What If?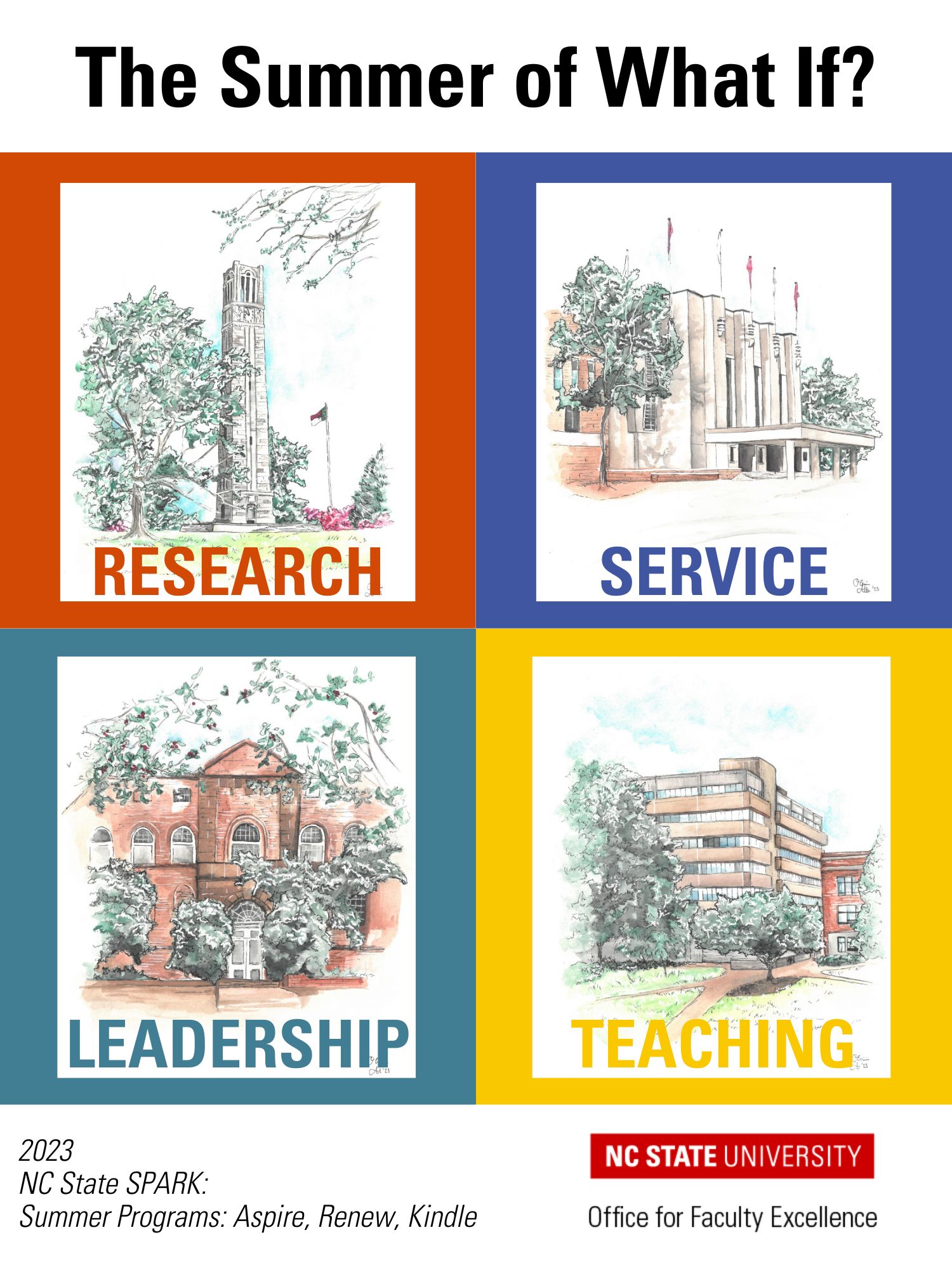 Podcast
The podcast intro music, Peachtree, was composed and performed by Jopsy Bayog, a 2021 NC State graduate.
The transcript to the podcast can be found here.
Article
An Unexpected Passion for Education: A Journey in Teaching
"A good teacher can inspire hope, ignite the imagination, and instill a love of learning" ~ quote by Brad Henry.
The inspirational conversation with Dr. Miles Engell did not disappoint and throughout the discussion, it was apparent her students benefit from having her as a professor for acquiring knowledge about biological sciences, but perhaps even more importantly gaining from the "lessons" she shares about life. Dr. Engell started her Ph.D. at NCSU exactly 25 years ago; started teaching classes at NC State 23 years ago; and was hired as full-time faculty 17 years ago.
The blog post explores the insightful conversation between Dr. Angie Smith and Dr. Miles Engell, a distinguished educator who recently received the prestigious 2023 Provost Award for Excellence in Teaching at North Carolina State University. The discussion revolves around Dr. Engell's background, her unique suitability for the teaching role, and her perspectives on the importance of teaching as a faculty member.
Background and Path to Teaching:
"Keep an open mind, don't think you have it all planned out…life throws some curve balls at us sometimes."
Dr. Engell grew up in a small town in southeastern North Carolina called Laurinburg which is located in the Sandhills region. She describes her hometown as "halfway between Charlotte and the coast right on the South Carolina border near Pinehurst, North Carolina." Dr. Engell's found her passion for biology and education early on due to her love for all animals. One of her biggest dreams was to write for National Geographic . While initially torn between biology and English, her love for animals led her to major in biology at Davidson College located in Davidson, North Carolina. Upon completing her undergraduate studies, she unexpectedly embarked on a teaching career when asked to teach biology by her principal at her former high school due to her interest in biology and her ability to connect with students. She was pleasantly surprised to learn she enjoyed teaching and based on feedback was even "decent" at it. Her experience in the high school setting sparked her love for teaching and guided her toward pursuing a path in education.
Uniquely Suited for Teaching:
"I have always valued education and think it is critically important to teach others and to teach them well. I am pretty compassionate and empathetic and this is important in this role because we are dealing with humans…and they are humans who are at very critical places in their lives as a lot is being thrown at them and we need that empathy, caring, and concern."
When Dr. Engell began her teaching career, her primary focus was on delivering content and ensuring her students acquired a solid understanding of biology. However, as she gained more experience, she realized that the sense of connection and belonging within the classroom was equally crucial. Dr. Engell began to understand that building relationships with students and fostering a sense of community is just as important as delivering the course material.
According to Dr. Engell, the relationships within the classroom profoundly impact students' overall learning experience. While content can be acquired from various sources, the connections formed within the classroom are unique and irreplaceable. Students who feel connected and supported are more apt to engage actively, think critically, and explore diverse ideas.
Of course, making connections is easier said than done. Dr. Engell approaches this by instilling an enthusiasm for the subjects she teaches. Her ability to share that enthusiasm with students contributes to her effectiveness as an educator. Additionally, her compassionate and empathetic nature enables her to connect with students on a personal level, providing the support they need during critical stages of their educational journey. She possesses a strong value for education, recognizing its critical importance in shaping the lives of the students in her classroom. Dr. Engell's organizational skills ensure a well-structured learning environment that maximizes student engagement and success.
Speaking of well-structured, Dr. Engell's schedule is specifically designed. Her classes are mostly in the morning and early afternoon, a schedule she began when her youngest daughter started preschool. On those days, she spends time in the classroom and her office, meeting with students before, between, and after class. The days she doesn't have class consist of prep days, and she finds that her home office is best for that ("fewer distractions!"). Prep days consist of working on lectures and assignments, grading, writing letters of recommendation, and "responding to the ever-constant emails!" Dr. Engell prepares for her classes by reviewing the class content, tweaking slides and images, updating TopHat questions, and adding in any new research she has come across. And on all days of the week, whether at home or on campus, she'll break for lunch somewhere outside with a good book.
If Dr. Engell had to provide aspiring educators any advice about teaching, she would indicate prioritizing these relationships alongside content delivery. By creating a welcoming and inclusive environment, teachers can alleviate the pressure on students and create space for meaningful learning. When students feel a sense of belonging and community, their learning potential is amplified, and they become more receptive to knowledge.
The value of connection extends beyond the student-instructor relationship – Dr. Engell acknowledges the significance of facilitating connections between students themselves. When students can connect with their peers, collaborate, and learn from one another, the depth of their learning increases exponentially. By fostering an environment that encourages student-to-student connections, educators can enhance the overall learning experience and create a vibrant and dynamic classroom community.
Teaching as a Core Role for Faculty Members:
"Teaching is still the number one forefront of what I do…to be working at a university, teaching must be at least a good solid portion of what you are interested in because it is about education, that is why this university exists…to educate future generations."
When asked about incorporating teaching into a faculty member's career, Dr. Engell highlights her perspective as a teaching-focused faculty member. She views teaching as the primary aspect of her role and believes that education should be at the forefront of any university's mission. While acknowledging the importance of other responsibilities within academia, Dr. Engell emphasizes that teaching remains the driving force behind her contributions to her institution. She also reflects on the evolving nature of her teaching approach throughout various stages of her career, embracing new methods and allowing her authentic self to shine through.
Dr. Miles Engell's passion for education and dedication to teaching serves as an inspiration to educators and students alike. Her journey from a small town in North Carolina to an award-winning educator demonstrates the transformative power of teaching. By valuing education, sharing enthusiasm, and fostering empathy, Dr. Engell creates an engaging and supportive learning environment. Her perspective reinforces the crucial role of teaching within the academic landscape, shaping future generations and fostering a love for lifelong learning.
As we celebrate her accomplishments and recognize the significance of teaching, let us remember the invaluable role that educators play in shaping our society and inspiring future generations. Dr. Engell's story reminds us that teaching is not just a profession, but a calling to make a difference in the lives of others through the power of education.
These are the many lessons I took away while embracing the spirit of the intern and observing Dr. Miles Engell's approach to teaching:
Teachers make a significant difference…every day. A great teacher can inspire you to enjoy and appreciate a subject you are not initially interested in learning about in the first place.
You are truly lucky if you have a special teacher who "sees you, recognizes you, and motivates you."
In the teacher role, creating connections with students is imperative. It's all about relationships. Additionally, offering opportunities for students to connect with each other makes a significant difference and a positive learning experience.
Identify what works for you in prioritizing and planning your day. If checking emails for 30 minutes on a Saturday or Sunday decreases your load for Monday morning and helps your stress level decrease, then do it. Prioritize and practice what works best for you, even if it's not someone else's best practice.
as an instructor becomes more comfortable over time, it is easier to prioritize and identify boundaries that align with what is most important in life.
Go outside each day. Spend 30 minutes reading a good book, eating lunch, and simply being in nature for self-care. Take care of yourself in order for you to take care of your students, family, and community around you.
Acknowledgments:
The interview and podcast recording would not have been possible without the willingness of Dr. Engell to thoughtfully and generously share her background, career path, and words of wisdom regarding teaching. A huge thank you to Dr. Miles Engell and the time she dedicated to our meeting together.
Resources
Printable PDF Artwork of NC State University's Poe Hall. The watercolor illustration was created by artist is Olivia Allen, a freshman Architecture student with a very unique style and perspective that really embraces the spirit of an intern. We are excited to show you the NC State campus through her eyes.