Blog
Week 2: What if Leadership Was Your Main Focus?
The Summer of What If?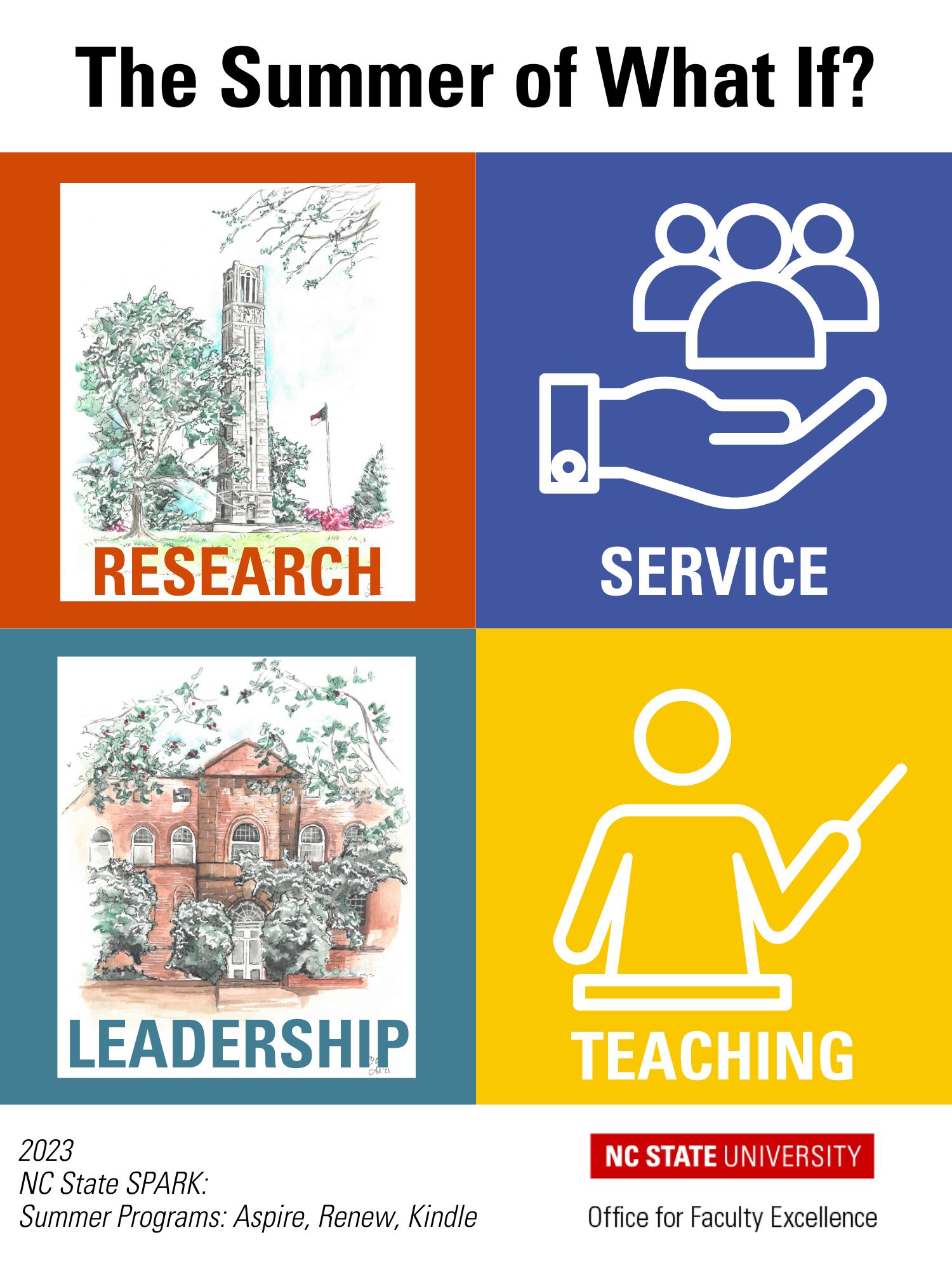 Podcast
The podcast intro music, Peachtree, was composed and performed by Jopsy Bayog, a 2021 NC State graduate.
The transcript to the podcast can be found here.
Article
About two and a half hours east-northeast of Raleigh lies Elizabeth City, North Carolina, whose population is just under 18,000. The city is on the Pasquotank River and Intracoastal Waterway and is close to the Outer Banks. This trip was my first visit to Elizabeth City, although I had passed through it previously on my way to the Outer Banks. I arrived on a dreary afternoon, but was pleasantly surprised by the town's quaint shops and restaurants and taken aback by the rich history it boasts. Incorporated in 1793 as the town of Redding, Elizabeth City was once a major seaport and was frequented by the Wright brothers and the area has several sites designated as part of the Underground Railroad Network. All this was in preparation for my day at Elizabeth City State University with Chancellor Karrie Dixon, who became the 12th Chief Executive Officer and 7th Chancellor of Elizabeth City State University on December 14, 2018.
I began my day at Elizabeth City State University (ECSU) entering through the main gate toward the Thorpe Administration building. I was immediately struck by the beautiful landscaping and fountain at the entrance and by the construction that was evident on the campus itself. This was in contrast to what I knew about ECSU as prior to Dr. Dixon's tenure, the university had been in dire straits. Enrollment was down, they were on a SACSCOC accreditation warning and being considered for closure in 2014. But this was not the ECSU I arrived at in 2023.
Upon arrival at Chancellor Dixon's office, I was greeted by her executive assistant who let me know that she was speaking with a Board of Governors member and that we might start a bit late. My day was slated to begin with spending time with the Chancellor and would be followed by a tour of the campus. Unlike some of the other roles at universities, the Chancellor's day is largely scripted. Shadowing was not really an option as many of the meetings and interactions are private and confidential. But, I felt fortunate to have the opportunity to sit down with the chancellor and discuss her role, her philosophies, her outlook and her experiences. Our 30-45 minute meeting turned out to be over an hour as she was not only gracious with her time, but also with her knowledge and expertise.
One thing to know about Chancellor Dixon is that she is an NC State alumna where she earned both her bachelor's and doctoral degrees. It was apparent from the moment I stepped into her office that she is proud of her Wolfpack ties and about the knowledge gained and relationships fostered during her time at NC State. Immediately she made me feel at ease and I knew our discussion would be fruitful. I was so excited to find out about what it takes to be a chancellor and what the job was really about.
"I didn't feel it [another institution] was the right fit for me and transferred to North Carolina State University after my freshman year. So, I have some experience in understanding what it means to be a transfer student at a large university."
Chancellor Dixon took a non-transitional path to the Chancellorship. She graduated with a degree in communications and began her career at an NBC affiliate, but found it was not her passion. It was then she enrolled at UNC Greensboro to work on her master's degree and also became a teaching assistant. It was then that she found her passion. After completion of her master's degree, she enrolled in a doctoral program at NC State in the College of Education.
"And that's when the light bulb turned on for me. I realized that my passion is being in the classroom, teaching and engaging with students, observing their learning process, and being a part facilitating learning for them."
She worked as a graduate assistant and taught 100 level courses. Upon graduation, Dr. Dixon got a job in administration at NC State while under the leadership of Provost James Oblinger who soon after became Chancellor Oblinger. Four years later, she received a call from Erskine Bowles at the UNC System Office who had an interim opening that needed to be filled. Her two year stint turned into 10 years. At 10 years in, Margaret Spellings, the current UNC System president asked Dr. Dixon to review what was happening at Elizabeth City State University who then had a 60% drop in enrollment, 17 audit findings, was on accreditation warning from SACSCOC and was under consideration for closure by the legislature. When the Chancellorship came open at ECSU, she waited until the last day to apply.
"The situation I walked into was one that some people told me, 'Don't do it. It'll ruin your career. You have a great future ahead of you. If you go there. you won't be able to get the job that you may want later on.' The President of the system did a national search, and that was important to me, because I knew that if I applied, I wanted to be the one that the people chose: the faculty, the staff, the students, the citizens, the alumni, and the stakeholders. I wanted to be the one they chose."
Chancellor Dixon knew she had to come into her new role with a vision that everyone could embrace. When she came to ECSU, she saw a sense of hopelessness and low morale from the faculty and staff and students due to the challenges the university was facing. One of the first things she did was to revisit all the policies to see what needed to be changed. She used data and sought to give students a fair chance for success. She also helped create a vision for the university's future. Shared governance is one of her values, so she worked with the faculty, staff and students to help them understand their part in the success of the institution. It's been five years since her installation and the results are astounding. The institution is in good standing with SACSCOC with reaffirmed accreditation another 10 years, student enrollment continues to increase, she has helped to highlight their signature Aviation Science program, which now boasts 13 planes and partnerships with major airlines and the US military, she has led the expansion of many high impact teaching practices and the ECSU employee satisfaction has gone from 17 (the lowest in the system) to the highest. These are only a glimpse of the successes she has achieved.
"This region deserves it, this university deserves it, our people deserve it, our faculty, our staff, our students, the citizens of North Carolina deserve it. We have to be successful and thriving. We're surrounded by tier one and tier two counties here in northeastern North Carolina, which are some of the most economically distressed counties in the state. Without a senior institution that's thriving and sustained, we do nothing for our citizens in this region."
So, when asked how she prepared for the huge undertaking of being a chancellor, she let me know that every position had taught her something. She knew she wanted to be prepared for the next opportunity when it presented itself. Several times in our discussion she suggested that anyone who wants to be a leader should seek out professional development opportunities, especially in terms of building professional networks with colleagues you can call on and that will share with you potential opportunities. She also mentioned participating in other opportunities such as fellowship, shadowing leaders and just observing leadership in action. Mentors were also vitally important to her success. In fact, one of her regrets was not having a mentor soon enough. She advocates for having both mentors and sponsors and the importance of including a variety of people in those roles.
"The difference between a sponsor and a mentor is that a mentor, you can talk to about anything. A sponsor, you don't talk about everything. You talk about your career, you talk about your goals, you prepare them to be able to 'wave your flag' in rooms that you are not present in."
In a town of under 18,000 people, the chancellor of a major university is almost like a celebrity. And balancing the demands of the job with other priorities in life can be challenging. Chancellor Dixon acknowledged that being ECSU's chancellor is a 24 x 7 job and keeping an appropriate work-life balance is extremely difficult. She must respond to everything that happens at the university from employee terminations to student issues. She always has her phones and she is always accessible, even on vacation.
"You have to be the counselor. You have to be the friend. You have to be able to cultivate donors and donations, you have to be the ambassador, you have to be the person who the students and faculty see as approachable. You have to be there. You have to show up. You have to be supportive."
When asked about the tips she would give to new leaders, she again cited preparation and to always be looking for opportunities for professional development. Doing your research is part of this. She also suggested persistence is key and that when someone says no to you, that may only mean not now. Burning your bridges is also unwise, whether that be before, during or after you cross them. Chancellor Dixon also values inclusivity on decision-making and valuing people who may have differing opinions than you. And above all, show up, every day, ready to accept new challenges.
"They didn't know me. I had never met them, but I was called because they heard about the great work that I was doing at NC State. People are sometimes observing you, and you don't even know it. They're looking at you. They're paying attention to how you show up. And if you show up well."
We started winding down our time together talking about wellness. She talked about the joy it brings her to walk around campus and interact with students. During her tenure at ECSU she has had a focus on beautification efforts, which is apparent when you visit the campus. She does what she does for the students and noted that on her worst days, interacting with students is what restores her.
"One day I will write a book and the title will be We See Fresh Mulch Around the Trees."
I will end with a story she relayed to me that I could tell not only touched her heart but also confirmed the path she was on was right. The student body president and his cabinet requested a meeting. Her thoughts prior to the meeting were that she would hear about what she did wrong and was apprehensive about what they had to say. In the meeting, the student body president started by saying "We see progress." When pressed to explain what he meant he told her, "We see progress, we see fresh mulch around the trees." Chancellor Dixon knew that if her students appreciated fresh mulch and the grass being cut and the campus looking better, that she could do much, much more for them.
These are the main lessons that I took away while embracing the spirit of the intern and observing Chancellor Karrie Dixon's approach to leadership:
Embrace professional development in order to be prepared for what comes next.
When you hear no, it only means not now.
Mentors and sponsors are both vital to career success.
Leadership should be inclusive.
Successful leaders find their passion in their work.
Be present and show up well as you never know who might be paying attention.
Acknowledgments:
This interview and podcast recording would not have been possible without the support provided by Sandra Powers, Executive Assistant to the Chancellor, and Ayana Hernandez, Associate Vice Chancellor for Strategic Communications at Elizabeth City State University.
Resources
Printable PDF Artwork of NC State University's Holladay Hall. The watercolor illustration was created by artist is Olivia Allen, a freshman Architecture student with a very unique style and perspective that really embraces the spirit of an intern. We are excited to show you the NC State campus through her eyes.