Reading Circles
Registration is open for OFE's Spring 2023 Reading Circles
Now through Jan. 17
Reading Circles are small, self-regulated groups of faculty who meet to discuss a common book. Each group is composed of participants from several different disciplines and at varied stages of their careers. These synchronous meetings are designed to provide colleagues with an opportunity to share ideas about teaching and learning in an informal setting with peers from across the University. Circles are offered each Fall and Spring. Registration is announced via the OFE Newsletter. Subscribe to the newsletter here.
Spring 2023 Reading Circles
Our Spring 2023 Reading Circle selections are: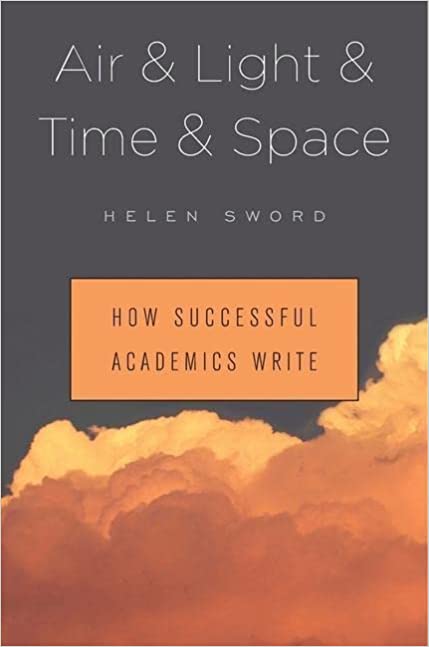 Air & Light & Time & Space: How Successful Academics Write by Helen Sword (Harvard University Press; Illustrated edition April 17, 2017, 280 pages)
From the author of Stylish Academic Writing comes an essential new guide for writers aspiring to become more productive and take greater pleasure in their craft. Helen Sword interviewed one hundred academics worldwide about their writing background and practices. Relatively few were trained as writers, she found, and yet all have developed strategies to thrive in their publish-or-perish environment.
So how do these successful academics write, and where do they find the "air and light and time and space," in the words of poet Charles Bukowski, to get their writing done? What are their formative experiences, their daily routines, their habits of mind? How do they summon up the courage to take intellectual risks and the resilience to deal with rejection?
Sword identifies four cornerstones that anchor any successful writing practice: Behavioral habits of discipline and persistence; Artisanal habits of craftsmanship and care; Social habits of collegiality and collaboration; and Emotional habits of positivity and pleasure. Building on this "BASE," she illuminates the emotional complexity of the writing process and exposes the lack of writing support typically available to early-career academics. She also lays to rest the myth that academics must produce safe, conventional prose or risk professional failure. The successful writers profiled here tell stories of intellectual passions indulged, disciplinary conventions subverted, and risk-taking rewarded. Grounded in empirical research and focused on sustainable change, Air & Light & Time & Space offers a customizable blueprint for refreshing personal habits and creating a collegial environment where all writers can flourish.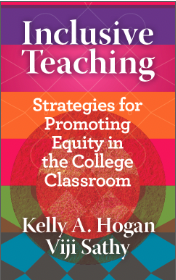 Inclusive Teaching: Strategies for Promoting Equity in the College Classroom by Kelly A. Hogan and Viji Sathy (West Virginia University Press; First edition, August 1, 2022, 272 pages)
In a book written by and for college teachers, Kelly Hogan and Viji Sathy provide tips and advice on how to make all students feel welcome and included. They begin with a framework describing why explicit attention to structure enhances inclusiveness in both course design and interactions with and between students. Inclusive Teaching then provides practical ways to include more voices in a series of contexts: when giving instructions for group work and class activities, holding office hours, communicating with students, and more. The authors finish with an opportunity for the reader to reflect on what evidence to include in a teaching dossier that demonstrates inclusive practices.
University Libraries has purchased unlimited access to the ebook and it can be downloaded here.
How do I participate?
Our Spring 2023 Reading Circles will be fully online and synchronous, with meetings held in Zoom. All meeting dates and times have been preset by OFE based on what time slots have been most popular in the past; you just need to sign up for the schedule that best suits you:
Tuesdays, 9 a.m.: Feb. 14, Feb. 28, March 21
Tuesdays, 3 p.m.: Feb. 14, March 7, March 28
Wednesdays, 2 p.m.: Feb. 15, March 1, March 22
Thursdays, 9 a.m.: Feb. 23, March 9, March 30
Thursdays, 2 p.m.: Feb. 23, March 9, March 23
You will be matched with a Reading Circle and receive Google Calendar invitations to your Circle's three Zoom meetings. You will need an internet-capable device that has at least a microphone, and ideally has a camera (smartphone, tablet, laptop) in order to attend virtual, synchronous sessions via Zoom.
If you have further questions, please contact us at faculty-excellence@ncsu.edu.
How do I get my book?
If you choose the eBook version of Inclusive Teaching: Strategies for Promoting Equity in the College Classroom, the library has purchased unlimited access to the EBook and it can be downloaded here.
If you would like a hard copy of the book you have selected to read, please provide your mailing address when filling out the registration form. OFE will mail your book to any address.
What is expected of participants?
All registered participants agree to:
Attend reading circle meetings;
Contribute to discussions;
Take a turn leading their reading circle in a form of shared leadership; and
Complete an evaluation of the experience.
All virtual participants also agree to using an internet-capable device that has at least a microphone, and ideally has a camera (smartphone, tablet, laptop) in order to attend virtual sessions via Zoom.
Can I recommend a book for future Reading Circles?
Yes, please use this Google form to send in suggested books.