Reading Circles are small, self-regulated groups of faculty who meet to discuss a common book. Each group is composed of participants from several different disciplines and at varied stages of their careers. These synchronous meetings are designed to provide colleagues with an opportunity to share ideas about teaching and learning in an informal setting with peers from across the University. Circles are offered each Fall and Spring. Registration is announced via the OFE Newsletter. Subscribe to the newsletter here.
Fall 2023 Reading Circles
Our Fall 2023 Reading Circle selections are:
Delivering on the Promise of High-Impact Practices by John Zilvinskis, Jillian Kinzie, Jerry Daday, Ken O'Donnell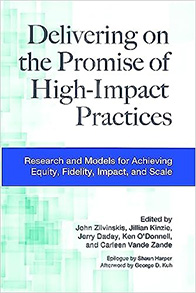 Research shows that enriching learning experiences such as learning communities, service-learning, undergraduate research, internships, and senior culminating experiences – collectively known as High-Impact Practices (HIPs) – are positively associated with student engagement; deep, and integrated learning; and personal and educational gains for all students – particularly for historically underserved students, including first-generation students and racially minoritized populations. While HIPs' potential benefits for student learning, retention, and graduation are recognized and are being increasingly integrated across higher education programs, much of that potential remains unrealized; and their implementation frequently uneven. Colleges are eager to use the HIP nomenclature for recruitment, promoting equity for traditionally underserved student populations, and preparing lifelong learners and successful professionals. However, HIPs defy easy categorization or standardized implementation. They rely on fidelity, quality, and consistency – being "done well" – to achieve their learning outcomes; and, above all, require attention to access and equity if they are to fulfill their promise of benefitting all student populations equally.The goal of Delivering on the Promise of High-Impact Practices is to provide examples from around the country of the ways educators are advancing equity, promoting fidelity, achieving scale, and strengthening assessment of their own local high-impact practices. Its chapters bring together the best current scholarship, methodologies, and evidence-based practices within the HIPs field, illustrating new approaches to faculty professional development, culture and coalition building, research and assessment, and continuous improvement that help institutions understand and extend practices with a demonstrated high impact. For proponents and practitioners this book offers perspectives, data and critiques to interrogate and improve practice. For administrators it provides an understanding of what's needed to deliver the necessary support.
University Libraries has purchased unlimited access to the ebook and it can be downloaded here.
Mind over Monsters: Supporting Youth Mental Health with Compassionate Challenge by Sarah Rose Cavanagh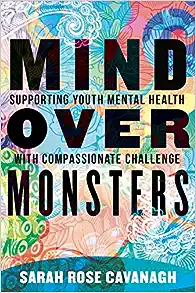 Alarming statistics in recent years indicate that mental health problems like depression and anxiety have been skyrocketing among youth. To identify solutions, psychologist and professor Sarah Rose Cavanagh interviews a roster of experts across the country who are dedicating their lives to working with young people to help them actualize their goals, and highlights voices of college students from a range of diverse backgrounds.
Cavanagh also brings the reader on an invigorating tour of pedagogical, neuroscientific, and psychological research on mental health—one that involves her own personal journey from panic to equilibrium.
The result of these combined sources of inquiry indicates that to support youth mental health, we must create what Cavanagh calls compassionate challenge—first, we need to cultivate learning and living environments characterized by compassion, and then, we need to guide our youth into practices that encourage challenge, helping them face their fears in an encouraging, safe, and even playful way.
How do I participate?
Our Fall 2023 Reading Circles will be fully online and synchronous, with meetings held in Zoom. All meeting dates and times have been preset by OFE based on what time slots have been most popular in the past; you just need to sign up for the schedule that best suits you:
Tuesdays, 9 a.m.: Oct. 3, Oct. 24, Nov. 14
Tuesdays, 3 p.m.: Oct. 3, Oct. 31, Nov. 28
Wednesdays, 2 p.m.: Oct. 4, Nov. 1, Nov. 29
Thursdays, 9 a.m.: Oct. 5, Nov. 1, Nov. 30
Thursdays, 2 p.m.: Oct. 5, Oct. 26, Nov. 16
You will be matched with a Reading Circle and receive Google Calendar invitations to your Circle's three Zoom meetings. You will need an internet-capable device that has at least a microphone, and ideally has a camera (smartphone, tablet, laptop) in order to attend virtual, synchronous sessions via Zoom.
If you have further questions, please contact us at faculty-excellence@ncsu.edu.
How do I get my book?
If you choose the eBook version of Delivering on the Promise of High-Impact Practices, the library has purchased unlimited access to the EBook and it can be downloaded here.
If you would like a hard copy of the book you have selected to read, please provide your mailing address when filling out the registration form. OFE will mail your book to any address.
What is expected of participants?
All registered participants agree to:
Attend reading circle meetings;
Contribute to discussions;
Take a turn leading their reading circle in a form of shared leadership; and
Complete an evaluation of the experience.
All virtual participants also agree to using an internet-capable device that has at least a microphone, and ideally has a camera (smartphone, tablet, laptop) in order to attend virtual sessions via Zoom.
Can I recommend a book for future Reading Circles?
Yes, please use this Google form to send in suggested books.