2023 Equity Research Symposium
NC State's second Equity Research Symposium brings together faculty, staff and students from across NC State to explore how equity informs research and highlight current research on equity.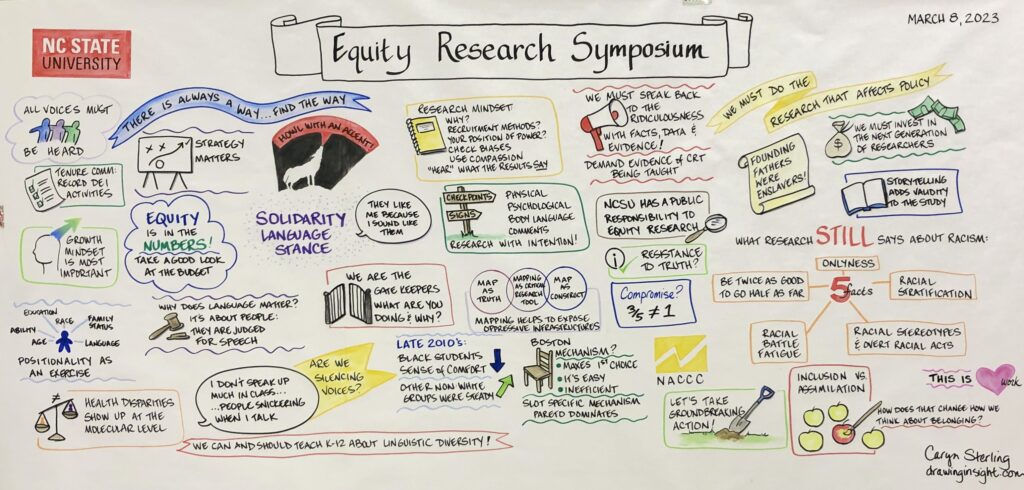 Equity-focused and Equity-relevant Research
Partners from across NC State are coming together in 2023 to share and catalyze new cutting-edge, equity-focused and equity-relevant research. Last year, the university's inaugural Equity Research Symposium contemplated the question: "what does equity mean to me?" and featured more than 80 presentations. This year the symposium seeks to address how equity informs research and highlight research that is being conducted on equity. We are also interested in interdisciplinary equity-focused questions in need of sustained future research in ALL disciplines. The event will feature panel presentations, round table discussions, working groups/workshops, poster presentations and a keynote lecture by Shaun Harper.
The symposium is a true collaboration across the university and is sponsored by the deans of all 10 colleges as well as the Graduate School and the Division of Academic and Student Affairs in collaboration with NC State's Office of the Executive Vice Chancellor and Provost, Office for Institutional Equity and Diversity, Office of Research and Innovation, Office of University Interdisciplinary Programs and University Libraries.
Date and Time
Wednesday, Mar. 8, 2023, from 8:30 a.m. – 6 p.m.
Location
Talley Student Union
View the Keynote Address
Symposium Schedule
View the symposium schedule and program here.
Keynote Speaker
Shaun Harper, an expert on racial equity who conducts research that examines race, gender and other aspects of equity in different organizational contexts including higher education, will deliver the event's keynote address, "What the Research Still Says About Racism and Racial Inequities."
About Shaun Harper
Shaun Harper is one of the nation's most highly respected racial equity experts. He is a Provost Professor, an elite cadre of interdisciplinary scholars who hold joint appointments in two or more academic schools, at the University of Southern California in the Rossier School of Education and the Marshall School of Business. In 2022, he was appointed University Professor, a distinction bestowed only to 26 of 4,700 USC full-time faculty. Harper also is the Clifford and Betty Allen Chair in Urban Leadership and founder and executive director of the USC Race and Equity Center.
Harper's research focuses primarily on race, gender and other dimensions of equity in an array of organizational contexts, including K-12 schools, colleges and universities, and corporations. Harper has published 12 books, and is author of more than 100 peer-reviewed articles and other academic publications. His research has been cited in more than 18,000 published studies across a vast array of academic fields and disciplines. Atlantic Philanthropies and the Bill & Melinda Gates, Lumina, Ford, Kellogg, College Futures, Kresge, Sloan and Open Society Foundations have awarded him more than $18 million in grants. He is the recipient of dozens of top honors in his field and four honorary degrees and has repeatedly been recognized as one of the 10 most influential scholars in the field of education. Prior to joining the USC faculty in 2017, he spent a decade at the University of Pennsylvania, where he was a tenured full professor.
Contact Us
Dr. Juliana Makuchi Nfah-Abbenyi and Dr. Karen Hollebrands are the symposium coordinators. Please contact Dr. Nfah-Abbenyi at jmphd@ncsu.edu or Dr. Hollebrands at kfholleb@ncsu.edu with any questions about the event.
2022 Equity Research Symposium