Announcements
August 2023 Announcements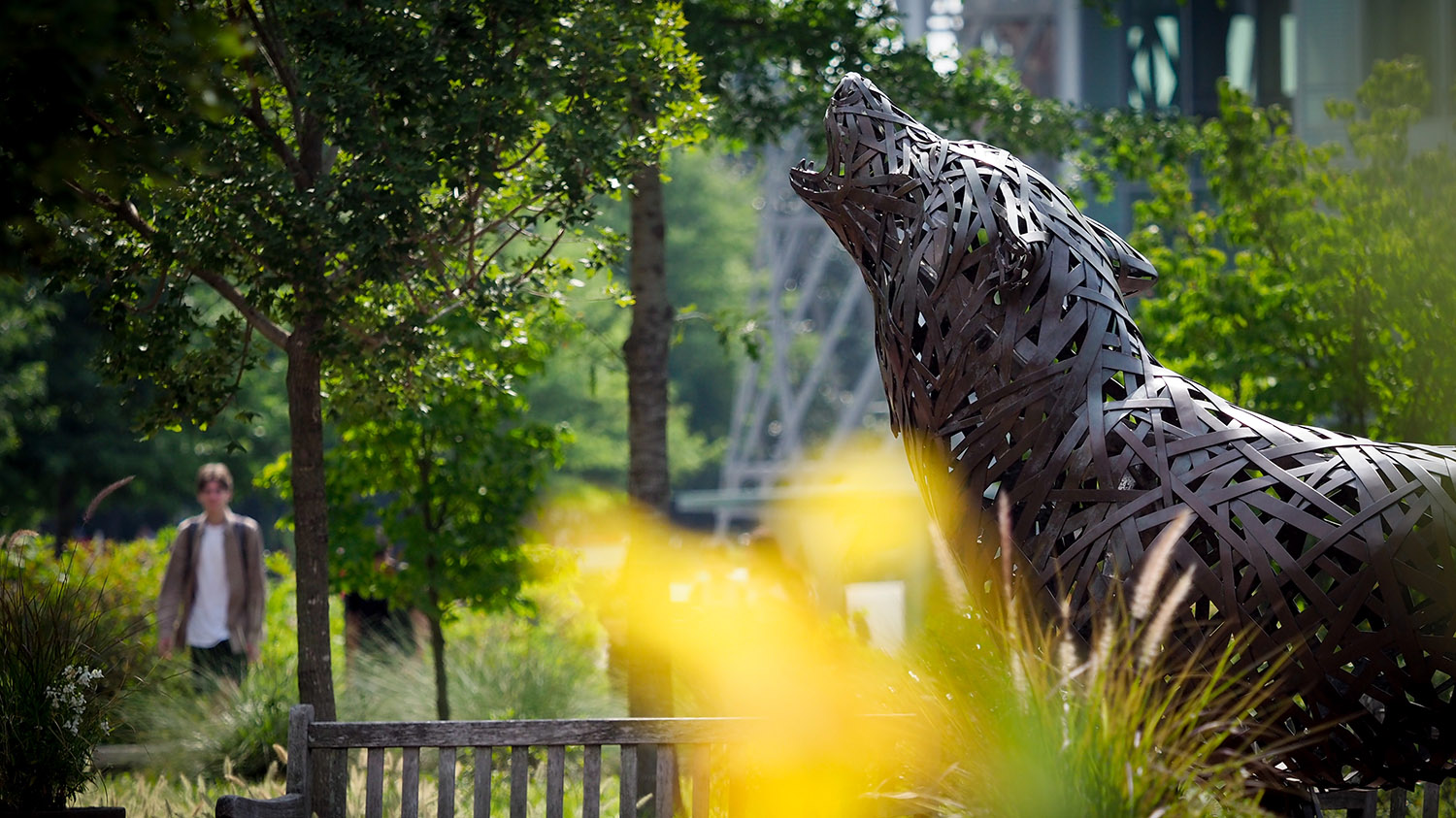 NC State will host a groundbreaking ceremony for the Integrative Sciences Building on Friday, September 8 from 2-3 p.m. on the Brickyard on Main Campus. All faculty, staff and students are invited to attend. The Integrative Sciences Building is scheduled to open in late 2026. Those interested in attending should register by Tuesday, August 29. Light refreshments will be served following the program. Visit go.ncsu.edu/ISI to learn more about the Integrative Sciences Initiative and Building.
Administrator Updates:
Amy Conger has been named vice provost for Global Engagement following an international search. Her appointment becomes effective October 31.
Several new department head appointments became effective in August:
From the Career Development Center:
The Career Development Center invites faculty, staff and graduate students to make a lasting impact on the future of our students at NC State University by becoming an esteemed member of our Career Champions team. As an NC State Career Champion, you will play a vital role in shaping the career journeys of our students.
We invite you to take the first step by filling out our Career Champion Registration form to sign up for training. Upcoming training dates can be found on the registration form, and we encourage you to secure your spot soon.
Join us in our mission to unlock the potential of our students, shaping their future careers and transforming their lives. Become an NC State Career Champion today. Learn more about the program here. Together, we will inspire, guide, and empower our students on their path to success.
From the Data Science Academy:
Shana McDowell, a Ph.D. candidate in the Department of Agricultural and Biological Engineering is embarking on the third year of her Ph.D. program, under the guidance of Dr. Daniela Jones. This summer, she participated in a seven-week experience with the Capacity Accelerator Network's Data Science for Social Impact Summer Program at the University of Chicago, which would reshape her perception of data science and its boundless potential. Learn more.
From DELTA:
From the Office for Faculty Excellence:
The Office for Faculty Excellence has created a resource page for faculty members aiming to adapt to the rapidly evolving landscape of artificial intelligence (AI). As AI technologies continue to influence various fields, it is essential for educators and researchers to understand how to integrate AI-related concepts into their operations effectively. Learn more.
Applications for the Reflection Education Design (RED) Core Teaching Certification are open. The certification is designed to provide support and recognition for faculty members at NC State who are dedicated to reflective teaching and learning. The certification helps faculty members advance toward becoming scholarly teachers.
Applications for the Reflection Education Design (RED) Inclusive Teaching Certification are now open. The RED Inclusive Teaching Certificate provides opportunities for faculty and teaching graduate students to reflect on multiple facets of inclusive teaching, encompassing the creation of a welcoming, equitable course climate, the design and implementation of accessible and inclusive classroom practices and assessments, and the selection and implementation of inclusive, diverse course content.
From the Genetics and Genomics Academy:
The Genetics and Genomics Academy will be hosting the GGA Second Annual Retreat on Friday, August 25. The retreat is an opportunity to reconnect with the GGA community, celebrate the accomplishments of our students, postdocs and faculty and identify our goals for the upcoming year. To align our goals and initiatives to our four commitments and the needs of our community, we've added a brainstorming session with facilitator Leigh Shamblin to our afternoon agenda.
From the Global One Health Academy:
From Innovation and Entrepreneurship:
Throughout the summer, this year's Andrews Launch Accelerator Cohort companies have been hard at work on their ventures. Through various means of support such as funding, mentorship, educational modules, and more, the teams in our program have all made progress towards their biggest goals. Demo Day is their opportunity to share their progress with the Entrepreneurship Clinic's key stakeholders, community members, and investors. We hope that you'll join us as they share the progress they've made, and their goals after the program. Additionally, we're excited to have previous Andrews Launch Accelerator participants join us this year and share the impacts that they've made since being in the program. Food and drinks will be provided, and the event will be held in the Raleigh Founded Warehouse location, in and around the Entrepreneurship Clinic's new space. The event is taking place on August 30, from 6 – 8 p.m. If you'd like to attend the event, please reserve your spot using this link. We're excited to see you there!
Applications are live for the 2023 Fall Break trip to New York where a student and faculty group will visit startups and companies to see the work being done by NC State alumni and other entrepreneurs in and around famous New York City. Applications are due by August 27.
Experience Innovation and Entrepreneurship at Entrepalooza — NC State's annual festival for all things Innovation and Entrepreneurship! Free entry, food, alumni businesses, student pitch competition and much more awaits you at Entrepalooza. Join us at Stafford Commons on September 14, 2023, from 5:30 – 7:00 pm. Get your ticket, apply to Minute to Pitch It, or volunteer.
Congratulations to Assistant Vice Provost Jennifer Capps for her appointment to the Executive Board of the United States Association for Small Business and Entrepreneurship. Her work will expand the NC State entrepreneurship network of peers and peer institutions. Thank you for your continued leadership, Jenn!
From the Institute for Emerging Issues:
IEI is excited to share the important work the institute has done throughout North Carolina during the fiscal year, including convening hundreds of stakeholders at the 2023 Emerging Issues Forum, supporting NC counties bridging the digital divide in their communities, launching a new podcast, adding team members and more! Read our FY 22-23 annual report to learn more.
Save the date for the 2024 Emerging Issues Forum. The Institute for Emerging Issues will hold the 2024 Emerging Issues Forum on Tuesday, February 13, 2024. The forum will examine financial resilience – the ability of North Carolina families and households to withstand and recover from economic challenges.
From the Office of Research and Innovation:
The Research Enterprise Data (RED) system's Sponsored Programs modules launched August 7. The Proposal Tracking and Post Award Management modules work with the Sponsored Research Activity Reporting tools to replace the legacy system RADAR. Read more about the launch in an Office of Research and Innovation article and find answers to common questions on an FAQ page.
From the Shelton Leadership Center:
Registration for the 2023 Shelton Leadership Forum is open. Rising Above Uncertainty: Building A Resilient Mindset For Effective Leadership will take place October 13 from 8:15 a.m. – 12:15 p.m. ET and will be streamed virtually. Join the Shelton Leadership Center at the 2023 Shelton Leadership Forum as we provide practical strategies for instilling resilience in your leadership style, enhancing your ability to navigate unforeseen challenges and achieve positive outcomes. We have curated a panel of thought leaders and speakers who will share insights on building resilient leaders and teams that foster a supportive organizational culture and promote adaptability.
Whether you are a student aspiring to cultivate foundational resilient leadership skills or a seasoned professional seeking to refine your leadership approach to better address unparalleled organizational challenges, we warmly welcome you to participate in the 2023 Shelton Leadership Forum. Registration is free for all NC State students, faculty and staff. The first 250 people to register will receive a free copy of Dr. Taryn Marie Stejskal's book "The Five Practices of Highly Resilient People." Learn more or register to attend here: https://sheltonleadership.ncsu.edu/leadership-forum/. For questions regarding the Shelton Leadership Forum, please reach out via email at shelton_center@ncsu.edu.