One Health Summer Reflections: 2023 NCMNS Veterinary Sciences One Health Integration and Leadership Internship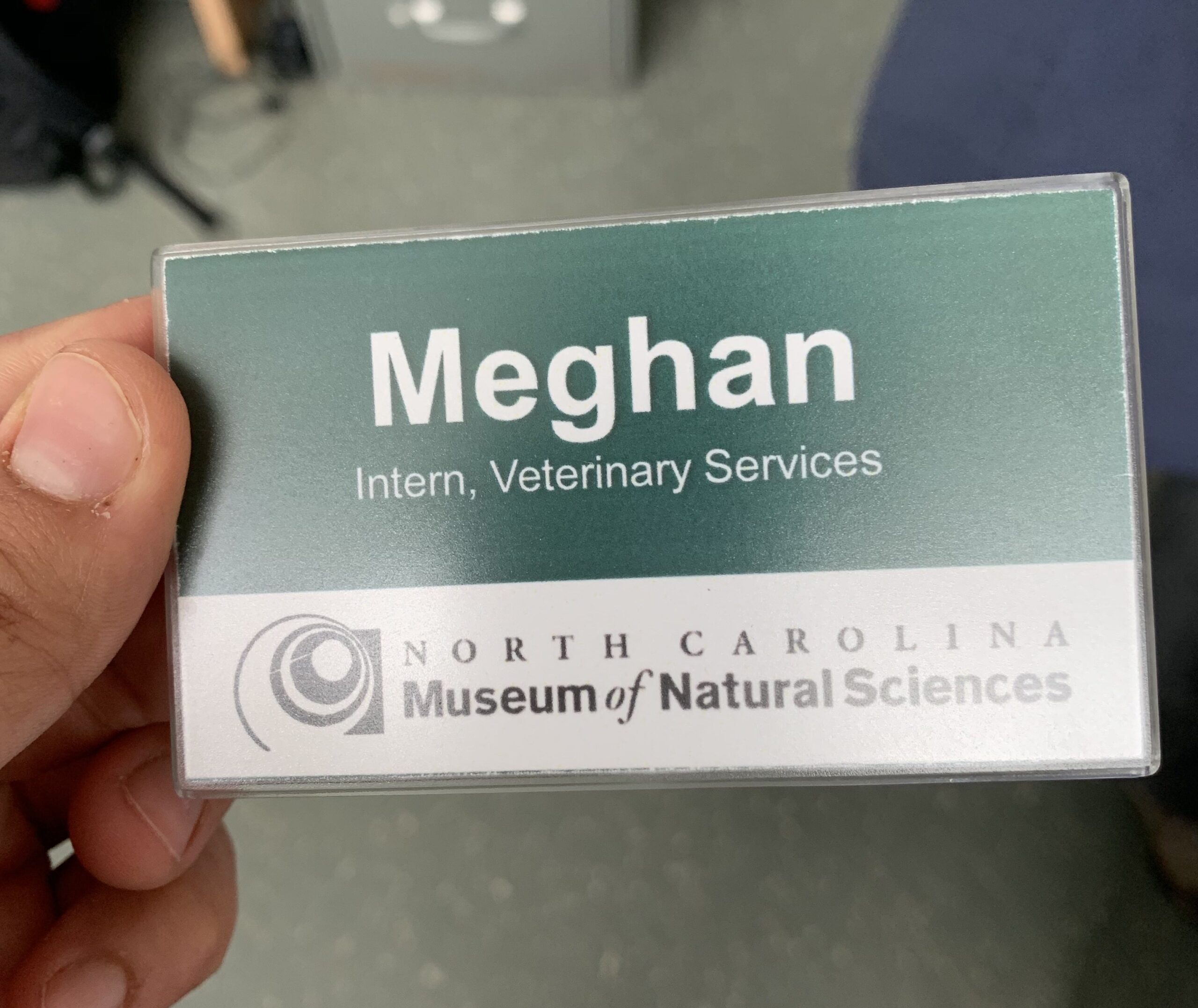 NC State CVM student, Meghan Chung, recently completed the Museum Veterinary Sciences One Health Integration and Leadership Summer Internship, a summer opportunity organized by the NC Museum of Natural Sciences in collaboration with and funded by the NC State Global One Health Academy. The internship took place under the supervision of chief museum veterinarian Dr. Dan Dombrowski at the NC Museum of Natural Sciences in downtown Raleigh.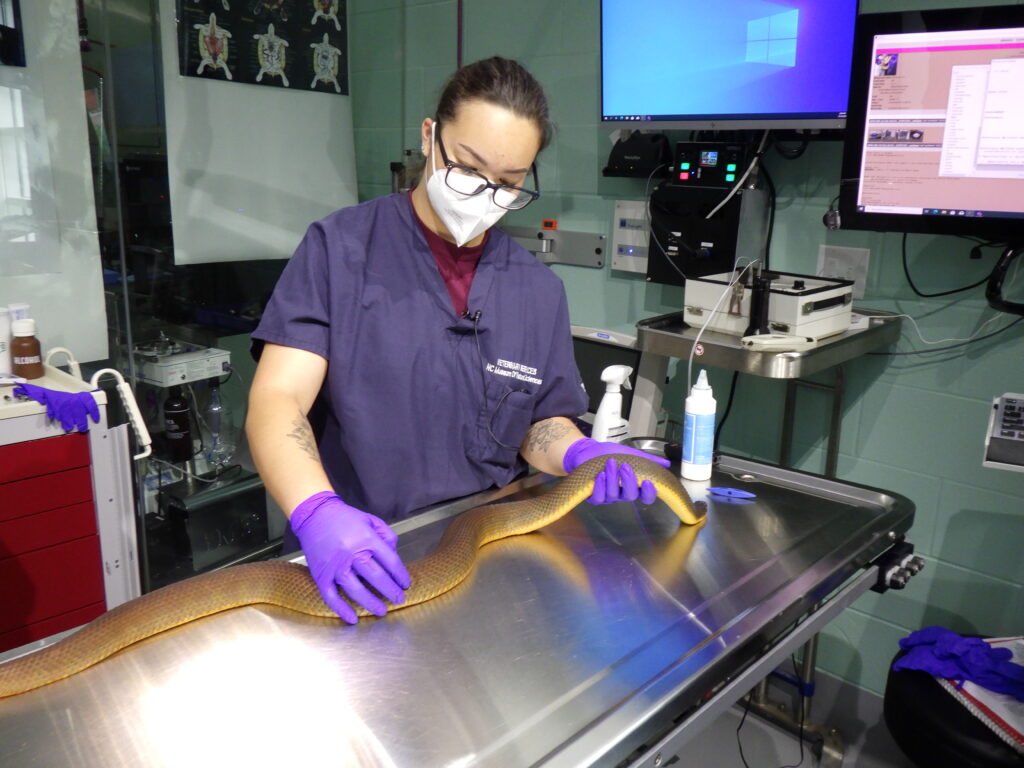 One Health Summer Reflections
The Global One Health Academy (GOHA) interviewed Meghan as she reflected on her experience, goals, and achievements this summer as the 2023 Museum Veterinary Sciences One Health Integration and Leadership Summer Intern.
GOHA: What were your project goals for this summer's internship?
Meghan Chung: My project goal for the summer was to develop three zoonotic disease training modules. These trainings will be utilized by the NC Museum of Natural Science (NCMNS) for their staff education. I created a general "Zoonotic Disease Fundamentals" training and also created disease specific training modules on pathogens such as Leptospirosis, Rabies, Salmonella, and Avian Influenza. I was able to reach my goal and provide training materials that will be able to be utilized in the future with the ability to rotate out which diseases staff will learn about each year. I also created a guide for future interns in this position to know how to maintain formatting and consistency when developing future training.
Meghan Chung: I have always loved the NCMNS and have completed various internships with them over the past five years. I had worked at the museum before and had a solid understanding of what was expected with this internship, but was also challenged, as I had not created training programs before or been in a project management type position. I developed many invaluable skills over the summer including critical thinking, project planning and organization, time management, and educational development. By using these skills in a practical and professional setting, I was able to test myself and my abilities in a way that I had not done before.
GOHA: Tell us about your experience working with undergraduate students and other graduate/veterinary students during your internship.
Meghan Chung: Throughout my time at the museum I have been in mentorship roles with high school, pre-veterinary, and veterinary students. Though, this was the first time that I had an intern working with me solely on a project that I was managing. It seemed straightforward at first, but once we started working together I realized how challenging it can be to try to make information fun and interesting to ensure they were staying on top of their assigned tasks. By learning what they were interested in and passionate about, I was able to assign tasks that worked towards our goal while utilizing their enjoyment and skill for scientific illustration. I learned the importance of checking in with individuals and how to not only discuss personal goals but discuss how the path to those goals is going. This opens the door to provide assistance if the current path is not going well or if they feel that they need to change a goal, deadline, or the way they achieve it. It was definitely a valuable lesson in team building and management that I will take with me throughout my career.
GOHA: How did you develop the Zoonotic Disease Training Program? What was your process?
Meghan Chung: I started with researching pathogens, transmission, prevention, etc., and compiling information to be able to break down information to an understandable level and keep slides entertaining while not communicating an overwhelming amount of information. Once the PowerPoints were complete, I would send them to our chief veterinarian to review and help make edits to create the final draft. I also created voice recordings of the material that was being taught on each slide, so that if staff preferred to listen to the information instead of reading it, they could. This provided accessibility to those that cannot read the slides and see the graphics visually, or are not visual learners. Lastly, I created quizzes at the end of each module, that consisted of multiple choice questions to reinforce the big picture aspects of the information that was presented.
(Click on the thumbnails below to view samples of Meghan's work)
GOHA: What kind of practical research experience did you have during this internship and how do you think such experience helped you to advance your personal and professional career?
Meghan Chung: Due to academic assignments and research, I felt fairly comfortable searching peer-reviewed literature to access information, however, the type of information searching needed to create trainings was different than I had done before, as I was utilizing resources including the CDC, WHO, WOAH, NC DHHS, USDA. Through those sources, I was able to compile the most accurate and up to date information on specific diseases with current statistics. I was able to create schematics to portray the information I wanted to get across as well as utilize images of animals at the museum that were relevant to that disease. I now feel more comfortable creating educational materials and have a compilation of information that can be used to construct client handouts in the future.
GOHA: How do you think this internship has helped you further develop your knowledge and understanding of One Health and its relationship to public engagement with veterinary sciences?
Meghan Chung: This internship has helped me learn a depth of knowledge about diseases that was even more extensive than my veterinary school coursework. I attribute this to the saying "There is no better way to learn than to teach". To be able to make information engaging and understandable, you must know the topic inside and out, and only then can you simplify the material in a way that is able to be understood by many different people and educational levels. Throughout this process, I was able to experience the intertwining of veterinary medicine, science education, and human health while learning how to create educational content for staff and potentially for the public.
GOHA: What would you say to others who might be interested in pursuing this internship in the future?
Meghan Chung: I loved that this internship was offered to veterinary students interested in One Health. It is difficult to find opportunities specifically to learn more about One Health and how veterinarians fit into the triad. I believe that this opportunity is a valuable experience for veterinary and graduate students. By taking what we learn in the classroom and then figuring out how to apply it to real life situations, I feel more confident in what I have learned because of how the materials were reinforced. I was able to network with new colleagues and strengthen connections with others. I highly recommend this experience to anybody that is interested in One Health, veterinary medicine, human medicine, pathology, epidemiology, or wants to learn and explore the opportunities within this growing field.
To stay up to date with the Global One Health Academy and find out about future internship opportunities, sign up for our listserv!