Academies
November 2023 Announcements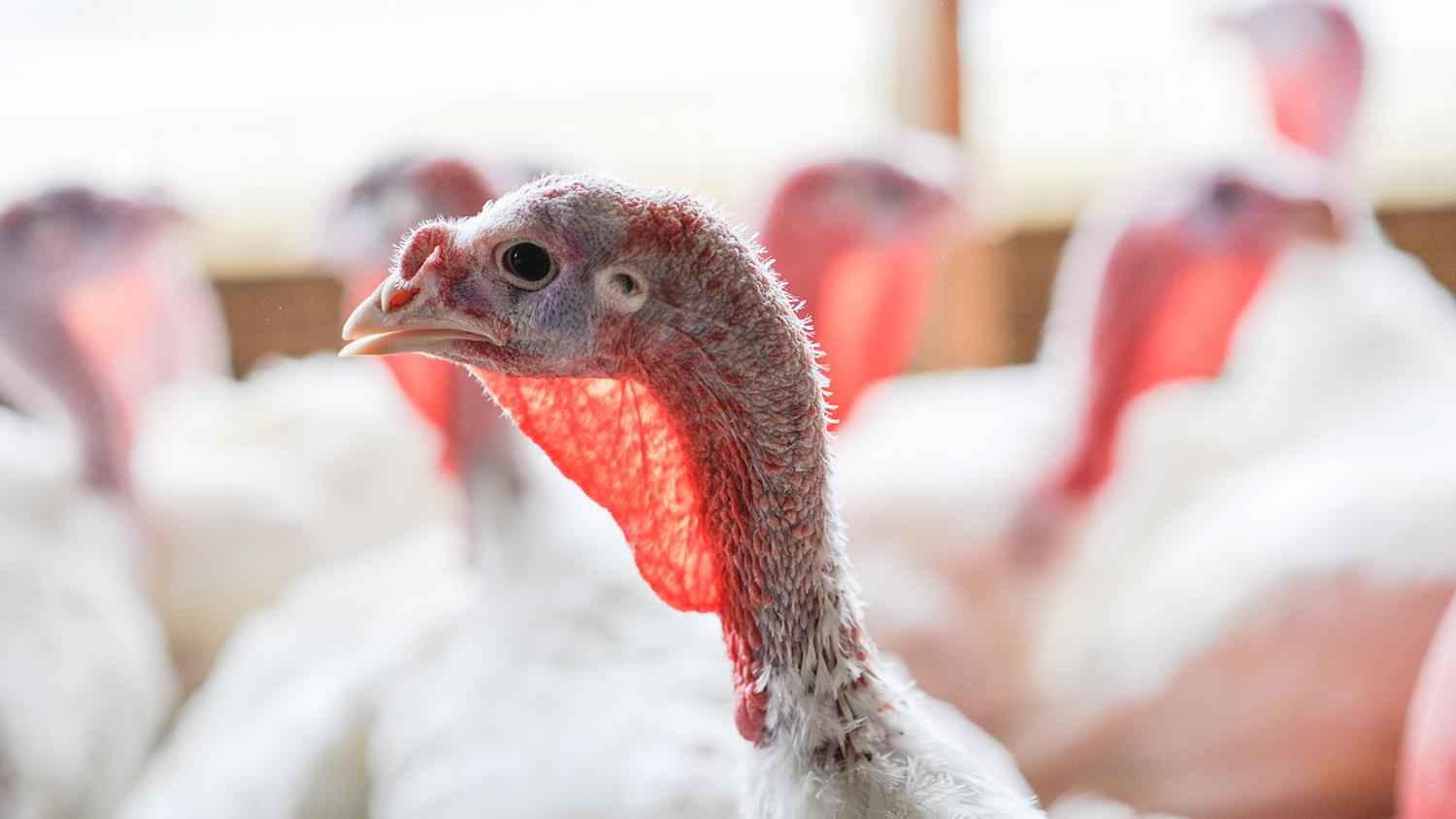 NC State and the University of North Carolina at Chapel Hill are teaming up for the third annual Pantry Bowl — a friendly competition to see which university can receive the most monetary gifts to our campus food pantries. The competition will take place Nov. 19-26. Because this overlaps with a university closure, faculty and staff are invited to participate early and make a gift any time from now until the competition ends on Nov. 26. Visit https://crowdfunding.ncsu.edu/project/39765 to donate.
Administrator Updates:
Senior Vice Provost for University Interdisciplinary Programs Rob Dunn and Senior Vice Provost for Instructional Programs Helen Chen recently announced the hire of two new associate vice provosts. Latasha Wade has been named associate vice provost for academic planning, effective Nov. 30; and Levent Atici has been named associate vice provost for student-centered interdisciplinary initiatives, effective Jan. 2, 2024. Learn more about them here.
Emiel DenHartog is the interim head of the Department of Textile Engineering, Chemistry and Science in the Wilson College of Textiles, effective Oct. 1.
From the Data Science Academy:
The Data Science Academy now offers a data science minor and certificate! Visit the website to learn more details about these programs.
Through NC State Data Science Education Postdoctoral Fellowship, the DSA will create a model for training postdoctoral scholars in data science education research and successfully inducting them into the data science education and STEM-Ed research community. This model will be developed with a focus on diversity, equity and inclusion to support specifically the training and professional development of women and other groups who are currently underrepresented in STEM and STEM education. As the postdoctoral fellows enter the workforce, this project can be expected to inform the induction of data science education research, curriculum development and student experience. The ADAPT course model, which will be continuously improved by research, can be adopted and studied at other institutions and in other disciplines.
From DELTA:
Are you looking for innovative solutions to instructional challenges and methods for increasing student success? The DELTA Grants program can help provide you with the support, key services and financial resources you need. Find out which DELTA Grant is right for you!
Looking for a way to open communication channels with students while fostering success? Consider sending progress reports — DELTA streamlines the process with guidance on the use of instructional tools.
DELTA Testing Services Reminder — Instructors: Have all your students signed up for final exams? If not, please direct them to visit go.ncsu.edu/takemytest. The deadline to sign up is Nov. 17, 2023.
From Enrollment Management and Services:
NC State's Office of Parents and Families Services (PFS) received two national awards during the 15th annual Association of Higher Education Parent Program Professionals (AHEPPP) national conference on Nov. 7 in Baltimore, Maryland.

Being honored for its collaborative environment and unique program development, PFS was named the winner of this year's Programs, Initiatives, and Research of Distinction: Powerful Partnership award for their program Going Global, a four-part webinar series that aims to provide critical information and engagement opportunities for parents and families of admitted international students. Going Global was developed in collaboration with Lauren Ball, Assistant Director of NC State's Office of International Services, and was also a featured educational session at the 2023 conference, co-facilitated by leaders from both NC State programs. 
NC State was also recognized with the Creative Communications award, an honor presented to programs with innovative strategies and best practices to engage college parents and families. AHEPPP acknowledged NC State's commitment to fostering a welcoming environment for families and promoting student success through parent and family engagement and cross-campus resources.
From the Office for Faculty Excellence:
Apply for the 2024 ACC Academic Leaders Network (ALN) Program — The ACC ALN is designed to facilitate cross-institutional networking and collaboration among academic leaders while building leadership capacity for the participating institutions.The Office for Faculty Excellence is seeking applications for five NC State faculty leaders to participate in the 2024 ACC ALN program. The application deadline is Nov. 30.
Writing Wednesdays: Faculty Writing Retreats — The Office for Faculty Excellence (OFE) and the Campus Writing and Speaking Program are excited to announce a return to Writing Wednesdays.

Every Wednesday at noon, for one hour, faculty are invited to meet face-to-face or online to write. Starting Nov. 1 in the OFE Conference Room (Clark Hall), these mini retreats will follow the Pomodoro technique in which participants write for 2-25 minute sessions with room for reflection and goal-setting in between.

Ignite your passion for academic innovation and instructional excellence at the NC State Conference on Faculty Excellence on March 6, 2024 at the Duke Energy Hall in the Hunt Library. Save the date, prepare and submit your session and poster proposals, and join us in driving innovation in academic excellence.
From the Office of Global Engagement:
International Education Month is an extended celebration of International Education Week, held annually in November. To celebrate our Think and Do Global attitude, the Office of Global Engagement is excited to host a full month of events to recognize our university's global connections. Learn more about everything going on this month!
The Office of Global Engagement has made a call for proposals for its Internationalization Seed Grant program. The aim of the program is to provide grants that improve the range of international partnerships at NC State and foster meaningful, collaborative, global scholarship and engagement. Proposals are reviewed by the Committee on International Programs. Strategic and deliberate collaborations that lead to the development of joint research proposals, student mobility programs, courses involving COIL (Collaborative Online International Learning), adjunct appointments and scholarly activities are encouraged. The maximum award, not including cost sharing funds from domestic and international partners, is $5,000. Deadline for submissions: February 12, 2024 – The application will close at 5:00 p.m on February 12, 2024 (Questions can be directed to ncstateglobal@ncsu.edu.) Late submissions will not be considered. Apply today!
From the Global One Health Academy:
From Innovation and Entrepreneurship:
NC State Innovation and Entrepreneurship is awarding multiple small (~$2,500) seed grants to encourage and facilitate entrepreneurship-focused research. The 2023-2024 award cycle details are as follows:

Fall Deadline for Submission: Dec. 1, 2023
Fall Notification of Awards: Dec. 15, 2023
Spring Deadline for Submission: March 1, 2024
Spring Notification of Awards: March 15, 2023
There will be between five and 10 grants awarded, with an award amount of $2,500 – $5,000 per project. Award totals will be based on recommendations from seed grants reviewers, who will evaluate each budget to ensure that all requests are eligible expenses and that the budget is appropriate for the scope of the project. All awarded funds must be expended by June 1, 2024. Learn more at https://entrepreneurship.ncsu.edu/seed-grants/. 

NC State Innovation and Entrepreneurship is excited to announce that LaunchPad, the new incubator supporting early-stage students startups, is available for course credit in spring 2024. Students can earn one hour of credit by enrolling in ECE 383-003. The incubator has core content modules, directed mentorship and access to resources and support throughout.
Alumni Entrepreneurship Showcase and Miller Fellowship Celebration: NC State is developing innovative technologies and starting some of the most groundbreaking companies today. To celebrate this innovation and entrepreneurship, we invite the NC State community to the Duke Energy Hall in Hunt Library on Thursday, Nov. 30 from 6-8 p.m. to celebrate alumni-owned businesses during the Alumni Entrepreneurship Showcase. Come ready to explore bold startups and network with other NC State innovators! Attendees can discover more ways to get plugged into NC State's entrepreneurial ecosystem through on-campus programs and resources and support these entrepreneurs by purchasing their products during the showcase. As part of the Alumni Showcase, we will be celebrating this year's Miller Fellowship Cohort. Questions? Please email Kenneth at kpproseu@ncsu.edu.
Entrepreneurship classes designed specifically for non-business majors are now available from the Department of Management, Innovation, and Entrepreneurship! MIE 209 and 309 will be offered in-person this spring for elective credit.

MIE 209: Survey of Entrepreneurship
The course introduces non-Poole College students to entrepreneurship, both its history and contemporary applications. This course will provide a base upon which students can become informed about the competencies that entrepreneurs need to develop, how entrepreneurs approach identifying, exploring, and implementing ideas, as well as the career path of entrepreneurs both pre- and post-graduation.
MIE 309: Entrepreneurship Skills for Non-Majors
The course introduces non-Poole College students to the contemporary entrepreneurship world, including essential entrepreneurship skills, principles of marketing, accounting, economics, finance, market research, opportunity identification and exploration, and opportunity implementation. This course will provide foundational concepts in the above areas and will help students to develop needed skills related to budgeting and finance, applications of technology, effective communications, leadership and teamwork and risk assessment.
Email entrepreneurship@ncsu.edu with questions.
From the Institute for Emerging Issues:
Registration is now open for the 2024 Emerging Issues Forum, Weathering Financial Storms: A Resilient Future for North Carolina Families. The forum will take place Tuesday, Feb. 13, 2024, at the NC State University McKimmon Center, and will examine financial resilience: the ability for households to financially withstand and recover from economic challenges.
From Institutional Strategy and Analysis:
May 2023 Future Plans Survey Results Now Available: The online reports for the May 2023 NC State Future Plans Surveys (FPS) of bachelor's master's, and doctoral degree earners are now available on the ISA website. The FPS collects detailed information on graduates' plans following graduation, including their employment characteristics and salary, job search, graduate/professional school attendance, and participation in career-related activities while at NC State. The "Fast Facts" reports highlight key results from the survey, while the Introduction and Methodology Report provides an overview of the survey administration and response rates.

In the coming days, the ISA Post Graduate Employment Information point-and-click interface will be updated with May 2023 results. The application allows users to filter response rates, employment/salary characteristics, and further education plans by degree, college, and/or academic program. For the first time, the data tables will show linked company/job title and university/degree/academic plan data, providing a more comprehensive look at the post-graduate destinations of recent NC State alumni.

Implementation Insights: First, thank you to the faculty, staff and students who responded to our recent call for input on the university's next implementation plan. The input received gives valuable, local insights into progress made and focus needed.

This month's Implementation Insights focuses on shared positions. From academic affairs to advancement to HR, several areas are using shared positions to power progress on their current implementation plan initiatives. How can shared positions benefit the university? What lessons have been learned in the areas of NC State utilizing shared positions? Read more here.  

Wolfpack 2030 metrics update:  ISA updates each Wolfpack 2030 metric once a year (except those based on bi/triennial surveys). Metric updates occur throughout the year to ensure the site information is as fresh and timely as possible. The following metric categories were updated at the end of October. Use each page's left-side navigation to view all available metrics within a category.
From the Integrative Sciences Initiative:
Join the Integrative Sciences Initiative at the FUTURE (Foundation for Unmanned Technological Utilization, Research and Exploration) Labs Workshop on Jan. 11-12, 2024, where we're shaping the future of scientific discovery through Self-Driving Labs (SDLs). By accelerating materials and molecular discovery through SDLs, we will reduce the time-to-solution by 100X-1000X, impacting global challenges in energy, sustainability, and healthcare. This two-day event unites experts from diverse fields to chart a roadmap for interoperable SDLs, democratizing access to innovation. We will be talking about standardized SDLs, open-access databases, and national centers of excellence. The broader impact extends to workforce development and industrial solutions.
From the N.C. Plant Sciences Initiative:
The N.C. Plant Science Initiative (N.C. PSI) is hosting a Connecting2Grow Workshop: Sensors in Agriculture on Nov. 30. Faculty are invited to participate in a workshop that will bring together engineers, data scientists, plant biologists, crop and soil scientists, and extension specialists to target small-scale (under $250K) and large-scale (over $250K) funding opportunities. Through this workshop, participants will: create interdisciplinary teams centered around the innovation of sensors in agriculture to be competitive for internal and external funding opportunities; identify resources available through N.C. PSI for project development; and generate a white paper to compete for internal seed-funding and serve as the foundation for external proposal submissions. Please join us Nov. 30 from noon–6 p.m. The event will include lunch and an ice cream social at the Plant Sciences Building on Centennial Campus. Space is limited. Registration is on a first-come-first-served basis. Questions? Contact Lauren Maynard (Interdisciplinary Project Launch Director), ldmaynar@vt.edu.