December 2021 Announcements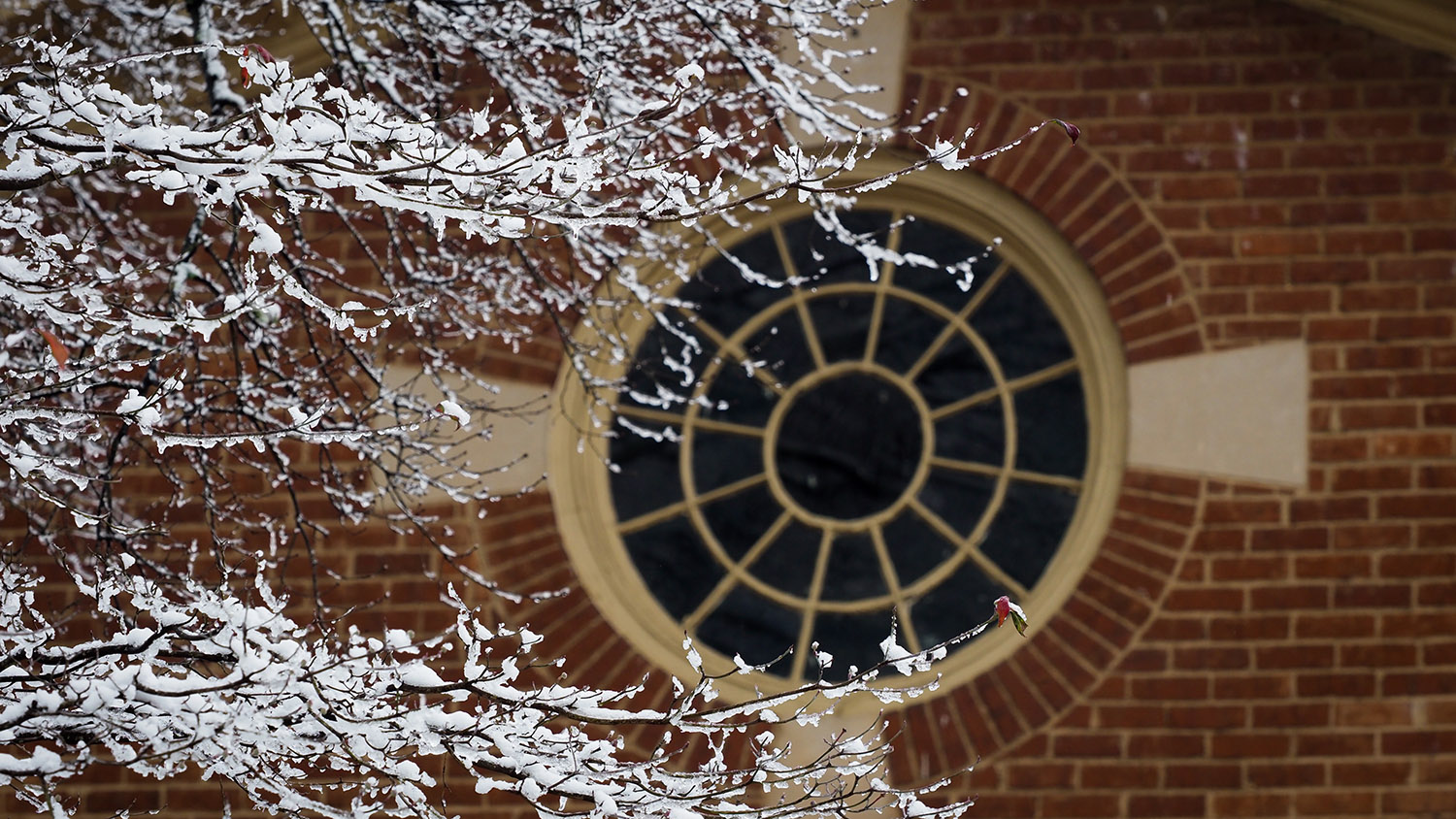 All COVID-19 safety measures currently in place will remain in effect throughout at least the first few weeks of the spring semester, as we closely monitor COVID-19 rates when our community returns to campus following winter break.

In particular:

Face coverings will be required indoors unless a student is in their own residence hall room alone or with their roommates; a faculty or staff member is alone in their enclosed, private office; or an individual is actively eating or drinking.

Students, faculty and staff on campus or on university property must either be vaccinated or be tested weekly.

Employees who have been notified that they are covered by the federal

vaccine mandate

must be fully vaccinated by Jan. 4, 2022. Federal vaccination requirements continue to evolve, and as campus impacts are determined, updates will be provided directly to affected employees.
Please see the full list of NC State's required COVID-19 community standards. Return-to-campus testing will not be required but is strongly encouraged for campus community members when returning for the spring 2022 semester.
We want to inspire the campus community by sharing the most important lessons you've learned this year, and your plans for 2022. If you're interested in participating, please send a paragraph (or two) description, along with a high-resolution photo and your name/position/department to provost-communications@ncsu.edu by Monday, January 10, 2022.
Administrator Updates
From the Coastal Resilience and Sustainability Initiative:
The Coastal Resilience and Sustainability Initiative has concluded one semester of events and there are many more to come.

The Initiative would like your feedback on what we did well and what we can do to make next semester even better. Please take a few minutes to answer some quick questions on past and future events, our website, and future project team building.

Complete the survey

today!
The Coastal Resilience and Sustainability Expertise and Interests directory is now live.

NC State faculty and professional staff, you can update your profile or be added to the directory at

https://coastalresilience.ncsu.edu/directory-request/

. We hope you will include your headshot and identify which initiative themes your work addresses. This directory can help others find you for future collaborations!

The Kenan Institute for Engineering, Technology & Science (KIETS) is pleased to announce the students and faculty mentors that have been selected as part of the inaugural cohort of the 2022 Climate Leaders Program.

KIETS realizes the need to address the challenges of climate change and acknowledges that preparing our future leaders to confront these issues is the most direct path to success. The program Scholars and Faculty Fellows will be part of strong partnerships among students, faculty mentors, and internship hosts working together to develop solutions for mitigating and adapting to climate change impacts. The 2022 cohort can be viewed at

https://climateleaders.kenan.ncsu.edu/teams/

. 
From DELTA:
From the Office for Faculty Excellence:
The Office for Faculty Excellence is pleased to host their 2022 Teaching and Learning Symposium on Friday, February 25, 2022 from 10 a.m.-2:45 p.m., virtually via Zoom.

This year's theme will be

Creating Our New Normal

. The Symposium celebrates teaching and learning by bringing together faculty and staff from NC State and the Cooperating Raleigh Colleges to participate in interactive sessions, attend a keynote lecture, view a poster session, and build a community of peers who are interested in teaching and learning. The 2022 keynote speaker will be Dr. Susan D Blum. Dr. Blum is a professor of anthropology at the University of Notre Dame and the author of

"I Love Learning; I Hate School": An Anthropology of College

(Cornell, 2016) and

My Word! Plagiarism and College Culture

(Cornell, 2009), and the editor of the recent volume

Ungrading: Why Rating Students Undermines Learning (and What to Do Instead)

(West Virginia University Press, 2020). Faculty, postdoctoral scholars and staff are invited to register by filling out the

registration form

. Proposals for Virtual Sessions and Digital Posters are being accepted through January 7, 2022. Please see the full

Call for Proposals

for more information.
From the Office of Global Engagement:
From the Office for Institutional Equity and Diversity:
The theme for this year's 37th annual Sisterhood Dinner will be Sisterhood Celebration 2022: Recognizing Your Magic.

As we continue to celebrate in a virtual format, we look forward to providing a space to allow the stories of the magical women of NC State University to prevail.  This year's virtual event will take place on Monday,

February 28, 2022.
The NC State University Council on the Status of Women invites you to nominate NC State faculty, staff and students for the Equity for Women Award.

This award is made annually to recognize faculty, staff and students for their outstanding dedication to establishing equity for women at NC State University.

Nominees should demonstrate excellence in one or more of the following areas over the past 12 months:

Leadership: Taking action to promote gender equity on and beyond campus through leadership roles;

Service: Supporting equity for women through job-related or voluntary roles;

Scholarship: Contributing new knowledge and/or informing policy and practice related to women's well-being and equality.

For the upcoming award cycle, we have added a "Group" category for nominations to recognize the work that occurs in a group or team setting. Criteria for rating these areas will be based on commitment to leadership, service and/or scholarship as well as the impact of the nominee's efforts. Nominations will close on Tuesday, January 18, 2022 at 11:59 p.m. Award winners will be announced at the 2022 Sisterhood Celebration on February 28, 2022.  Information about registering for the 2022 Sisterhood Celebration will be shared out in January. Please note: Current members of the Council on the Status of Women are not eligible for the award and should not be nominated. Please check the current roster if you aren't sure who is on the Council.
From the Office of Outreach and Engagement:
The Office of Outreach and Engagement, the Engagement Operations Council, and the Academy of Outstanding Faculty in Extension and Engagement are pleased to announce the annual call for nominations for the

Opal Mann Green Engagement and Scholarship Award

due

March 1, 2022

. The award recognizes and memorializes Dr. Mann Green's distinguished leadership and dedication to the values of: using democracy in the classroom, in the community and at home; creating inclusionary teams; and community-based learning and mutually-beneficial action around local issues valued by community members. This annual recognition is awarded to a team (or teams) of individuals whose significant contributions and accomplishments have demonstrated excellence as engaged scholars who practice collaborative democratic strategies reflected in the

Kellogg Commission Seven-Part Test

. Learn more about award application guidelines and evaluation criteria on the

Outreach and Engagement website

.
Other Announcements:
It's time to begin preparations for the annual Holiday Energy Savings Initiative.

When campus is closed for Winter Holiday, NC State reduces energy consumption in campus buildings by lowering building temperatures, as well as turning off lights and unused equipment. Since 2005, the Holiday Energy Savings Initiative (HESI) has avoided more than $4.8 million in utility costs.  Calendars, exemption requests, frequently asked questions, and more info are available online at

go.ncsu.edu/HESI

.

As we move into the new year,

NC State will proceed with construction for Power Forward

, the university's multiyear, multiphase project to upgrade the electrical distribution system on Central Campus and North Campus. The multimillion-dollar project will ensure that NC State has a reliable, safe, and futureproof power supply. Construction is projected to continue through 2025.

Phase I of the project is set to begin on Dec. 15 on Sullivan Drive with road closures

. Visit the

Power Forward website

for answers to frequently asked questions, traffic impacts and construction updates.