Senior Vice Provost for Academic Strategy and Resource Management and Chief of Staff Duane Larick to Retire
Senior Vice Provost for Academic Strategy and Resource Management and Provost's Office Chief of Staff Duane Larick will retire effective January 1, 2022, after 37 years of service to NC State. Executive Vice Chancellor and Provost Warwick Arden made the announcement today.
"I can't think of someone more committed to the success of all of NC State than Duane, who first came here as a tenure-track assistant professor of food science and has spent his entire career on campus," said Provost Arden. "His dedication to serving the university community has laid a solid foundation for growth and continued comprehensive excellence as we move into the future."
As senior vice provost for academic strategy and resource management, he has been responsible for assisting Chancellor Woodson and Provost Arden in advancing institutional-level strategic initiatives including strategic planning, academic planning, enrollment planning and resource management. He is also a professor in the Department of Food, Bioprocessing and Nutritional Sciences.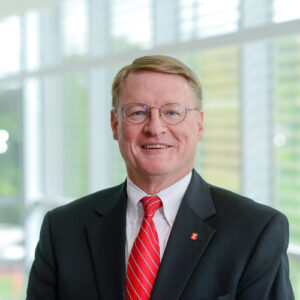 Larick joined the NC State faculty in 1984, and was elected as a Fellow of the Institute of Food Technologists in 2008. In 2000, he became Assistant Dean of the Graduate School and was promoted to Associate Dean in 2002, Senior Associate Dean in 2007 and Dean in 2009. In 2011, he was named Senior Vice Provost for Strategic Initiatives and Dean of the Graduate School. 
"When I first came to NC State, I felt that we were a 'best-kept secret' in higher education," said Larick. "With the work we've put into student success — at the undergraduate and graduate levels — we're certainly not a secret anymore. As a university, we've become very successful at presenting who we are and increasing our reputation."
In 2013, Larick moved full-time to the Provost's Office in his current role. He currently serves as NC State's liaison to the Southern Association of Colleges and Schools Commission on Colleges (SACSCOC), the university's regional accreditor, and serves as a member of the SACSCOC Board of Trustees. 
Over the course of Larick's career, he has been a part of major initiatives that have greatly impacted faculty, staff and students. Among those are the Chancellor's Faculty Excellence Program, which brings world-class interdisciplinary faculty to NC State; the Academic Success Center, which promotes timely degree completion through comprehensive free programs and resources that promote academic skill development and independent learning within the university environment; and the Integrative Sciences Building, which, when completed, will house 145,000 square feet of classrooms, teaching labs, research labs, research core facilities and more to promote NC State's global leadership in STEM disciplines in higher education.
Larick notes that the success of his work and the impact of his position is a result of the many people who have helped him develop both personally and professionally over the years. In particular, he notes the impact of great faculty colleagues he had in Food, Bioprocessing and Nutrition Science; Robert Sowell, former dean of the Graduate School; and Provost Arden, with whom he has worked for more than 12 years.
"What I've learned from these tremendous mentors and the many other people I've had the privilege of working with over the years is that if you put people first and treat them with respect — no matter who they are — they will return that to you," he said. "Retirement is bittersweet; I've been fortunate to be around great people during my career. NC State has been very good to me, and I won't forget that."
Larick received his bachelor's and master's degrees from The Ohio State University, and his Ph.D. from the University of Missouri, Columbia.
Upon retirement, Larick plans on traveling with his wife, spending as much time as possible with his children and grandchildren, and brushing up on his woodworking, fishing, hunting and golfing skills.
"I hope everyone at NC State will join me in wishing Duane all the best as he begins a new and exciting chapter in his life," said Chancellor Randy Woodson. "We will greatly miss his presence, but are confident in the example his character and work have set to lead us in our efforts to serve faculty, students and staff going forward."
A celebration of Larick's years of service will be held later this fall.
Upon Larick's retirement and in light of various opportunities for growth within the Provost's Office, the Provost has announced the office will be undergoing several structural changes soon.