Around Campus
We Know What You Did This Summer
The 2023-24 academic year is underway, and NC State's faculty, staff and students returned to campus having stayed quite busy over the summer. Here, members of the campus community share what they've been up to this summer and what they've learned from their experiences.
Most of the CALS Communications team attended the Association for Communications Excellence Conference in Asheville in June. We had four session presenters, multiple award winners, and fun bonding experiences for the team.
Presenters:
Janine Brumfield – Executing a Communication Workshop Series
Leighann Vinesett – Extreme Makeover: Newsletter Edition
Justin Moore and Chris Liotta – Marketing to Millennials: How NC State Is Engaging New Audiences With Video
Award Winners (3 Gold, 4 Silver):
Gold Award, Graphic Design – Magazine (Fall 2022 issue) – Patty Mercer, Leighann Vinesett
Gold Award, Graphic Design – Magazine Cover (Spring 2022 issue) – Patty Mercer, Keeshan Ganatra
Gold Award, Graphic Design – Advertisement (Our State Magazine) – Patty Mercer
Silver Award, Graphic Design – Illustration (GRIP4PSI) – Patty Mercer
Silver Award, Podcast – Chris Liotta, Alice Manning Touchette, Julie Hayworth-Perman
Silver Award, Video (Stokes Family Farm) – Keeshan Ganatra
Silver Award, Video (PSB Launch Trailer) – Keeshan Ganatra, Emily Elliott
College of Agriculture and Life Sciences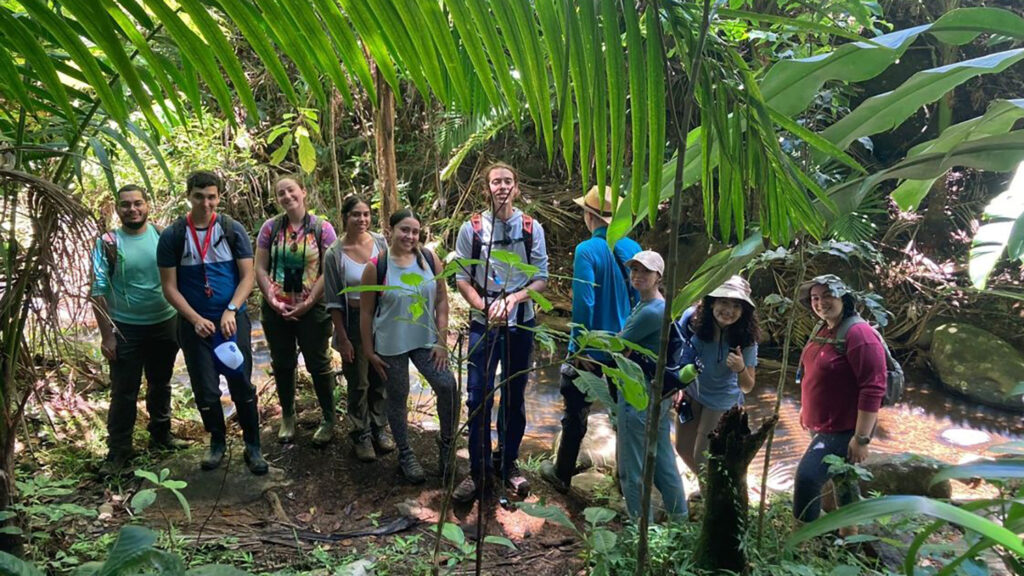 Every summer we have a Research Experiences for Undergraduates (REU) program in Puerto Rico that enrolls eight-10 students from NC State and other universities. Students develop research projects independently under the advice of a mentor. Here are links to social accounts where students share some of their work:
GTI had a busy summer. Here are a few interesting things that happened:
Exploring Global Flavors: We had a few cooking competitions and hosted two student groups in the teaching kitchen.
We stopped by to visit our longtime friends and partners at SKEMA Business School in Sophia Antipolis.
Becky Cibulskis and Ilin Misaras took Dr. Ali Turner and Paula Wilder (GTI affiliate faculty) to Baku, Azerbaijan to host a conference for hundreds of English language teachers.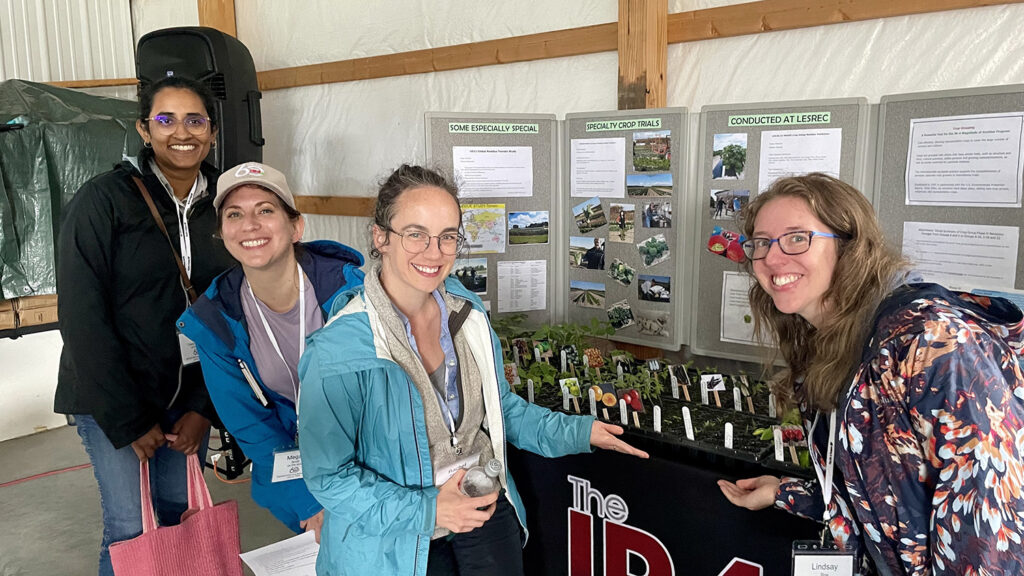 This summer, The IR-4 Project — an agriculture research organization headquartered on Centennial Campus — hosted four USDA-ARS IR-4 Borlaug Fellows in partnership with CALS International Programs. Much of our headquarters team also traveled to Maryland in June to lead a regional specialty crop tour for about 50 U.S. Environmental Protection Agency (EPA) employees. In addition to these special events, the IR-4 team spent the summer orchestrating field trials across the country to evaluate pest management research strategies for specialty crop growers; receiving and processing crop samples in our analytical labs; conducting quality assurance audits; making data submissions to EPA; and planning for our fall priority-setting meetings. It's been a busy season, working to increase pest management options for specialty crop growers, and reconnecting with our national stakeholder network in person —a ll while we celebrate IR-4's 60th year!
School of Public and International Affairs
College of Humanities and Social Sciences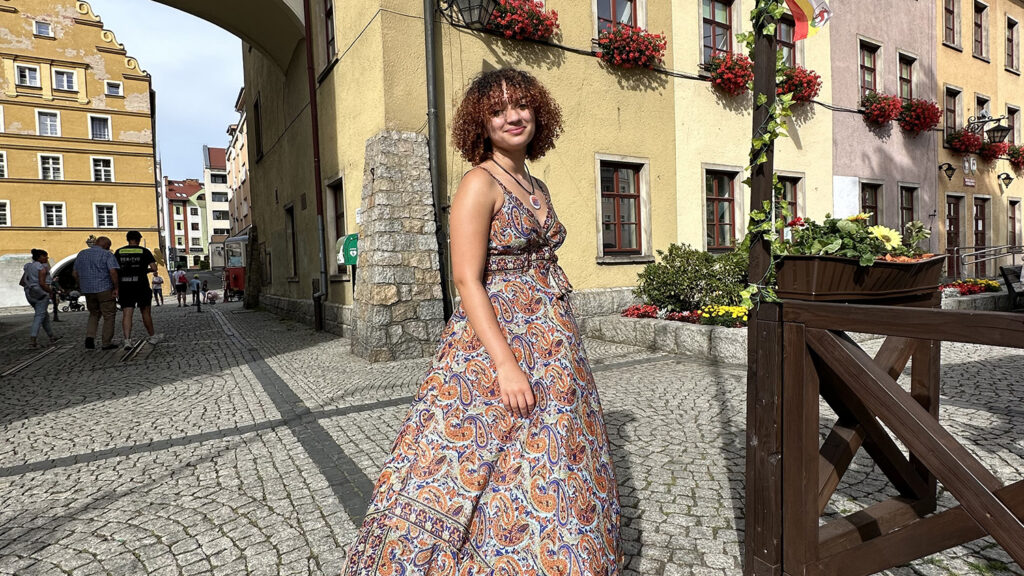 Alianna Kendall-Brooks '26: I traveled to the Czech Republic with NC State Study Abroad to learn more about the socio-political contexts of other countries. In Prague, I took a class about the struggle of the free press which included immersive learning experiences such as touring Radio Free Europe. My study abroad experience was eye opening and allowed me to expand my worldview in a way I had never imagined. The main objective of the course was to understand why the United States ranks lower in free press ratings compared to the Czech Republic, which only recently became a democracy in the 20th century. As a political science major, I hope to carry this experience into the upcoming school year by continuing to learn about post-communist countries.
Emilia Rivadeneira '25: I participated in the United Nations Intensive Summer Program (through Seton Hall University's School of Diplomacy and International Relations) where I was able to interact with a number of diplomats and UN practitioners and engage in enlightening conversations about the United Nations' role in the international system. I also met Mirian Masaquiza Jerez, an indigenous rights activist from Ecuador. It was incredible to learn about her efforts at the United Nations to ensure that the voices of young indigenous people are heard! I'm really grateful for this experience and gained valuable knowledge and insights that will benefit me academically and professionally.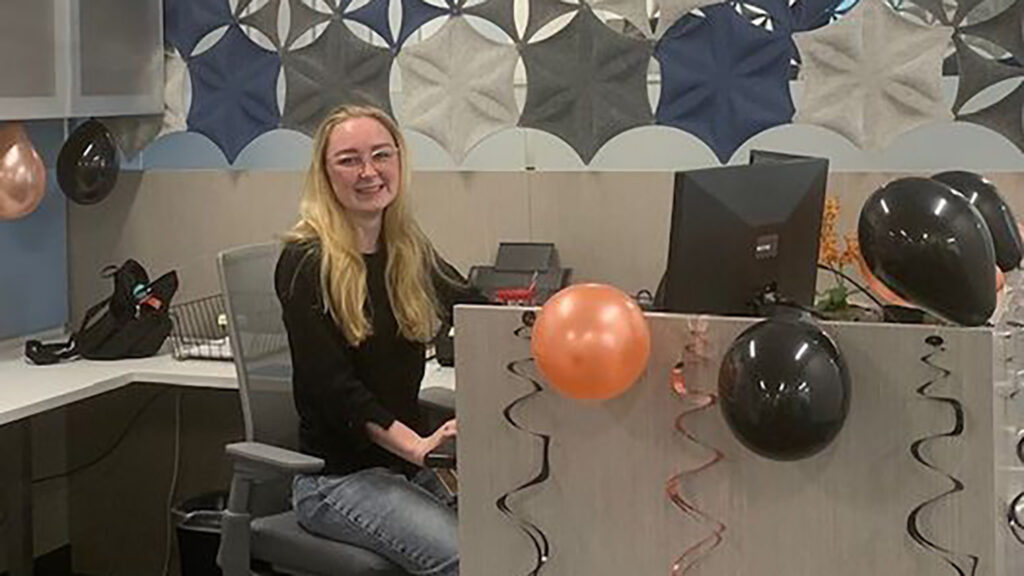 Makenna Edgerton '24: I'm working as a legal intern at Martin & Jones, PLLC, where I have worked since September 2022. In this position, I work on Camp Lejeune cases and have gained experience in drafting legal documents, writing internal legal memos, communicating with clients, and large-scale data organization. I am also studying for the LSAT. Later this month, I will go to France with the Cornell Prelaw Program in Paris. I'm excited to study with Cornell Law and Université Paris I Panthéon-Sorbonne professors. I will also have the opportunity to visit important government institutions like the French Supreme Court and Senate. My advice to students who want to do something similar is to go for it, apply, talk to your advisor and look for opportunities in the department's weekly newsletter. The experiences let you use what you have learned in college outside the classroom and build your resume.
Lily Vaughn '26: I am working on Capitol Hill as a congressional intern for Rep. Greg Murphy ('03). Some of my duties consist of corresponding with constituents, researching prevalent issues and current legislation, attending congressional briefings, writing memos to update staffers on policy issues, and assisting in the planning of a conference that the Congressman is hosting this October. I would recommend this experience to any political science student, as it has enabled me to put my education to work in a government job.
Gabby Chiarenza Fall '23: I studied in Florence with the University Honors Program at Lorenzo de Medici University. I took a class called Italian Renaissance History and Culture which delved into art history and Italian politics of the period. We learned about Florence as a republic in Italy and some of the foundations of democracy. I was able to visit 10 cities including Florence, Luca, Siena, Venice, Sorrento, the Island of Capri, Cinque Terre, Pisa, Rome, and Vatican City. Spending this month abroad really immersed me in Italian culture and ignited my interest in international studies. I met forever friends and had so many new, unforgettable experiences. It was an amazing opportunity that I am so grateful for!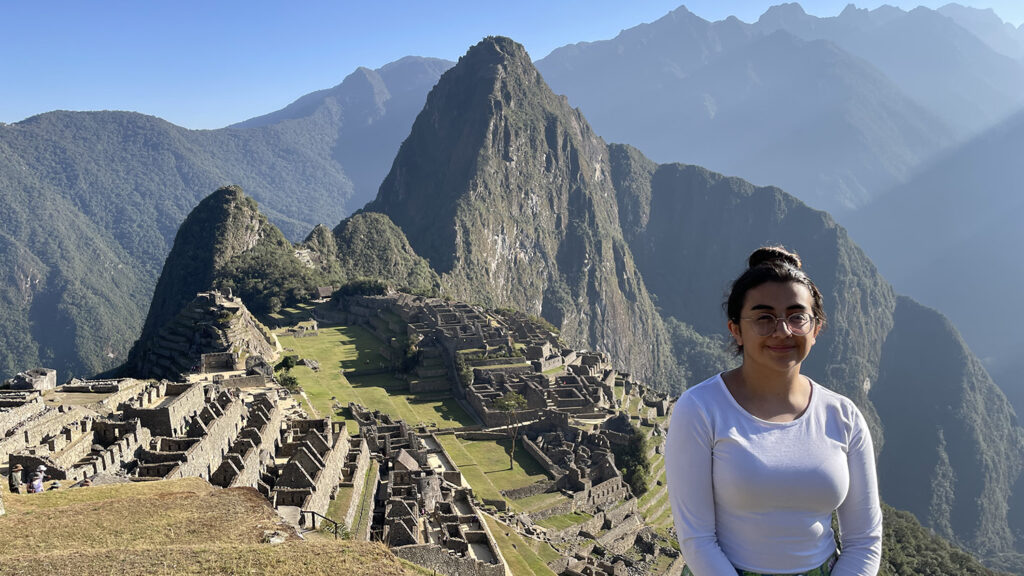 Annabelle Rosse '26: I interned at the U.S. Embassy in Lima, Peru. I worked with the Diversify, Equity, Inclusivity, and Accessibility Council. We promoted equality and diversity programs to ensure a cohesive and welcoming environment within the embassy compound and the local community. I also helped plan events for the visiting Special Advisor for International Disability Rights. This internship gave me a glimpse inside the bureaucratic side of government. I am currently considering an international politics concentration because of how much I enjoyed my foreign service internship. Spending my summer in Peru was a life-changing experience, where I dove into both a challenging internship and an amazing culture.
Ayomide M. Adeyeye
Graduate Teaching Assistant, Department of English
College of Humanities and Social Sciences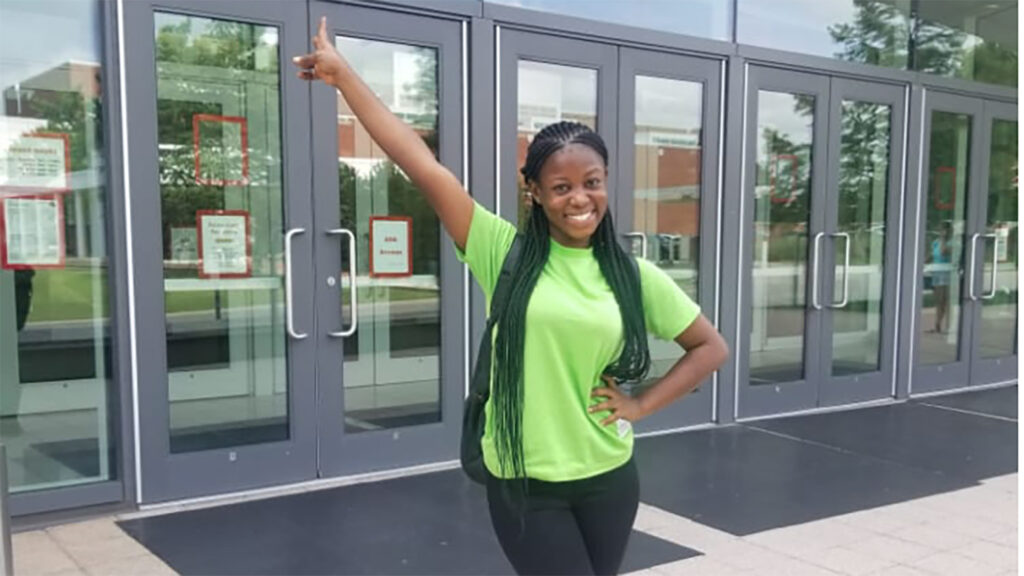 This summer, I was engaged in an intriguing seatbelt study at NC State as part of the esteemed highway safety program. My primary responsibility was to meticulously observe and analyze the seatbelt usage of drivers on the road. Equipped with a keen eye and a passion for promoting safety, I eagerly embraced this unique opportunity to contribute to the ongoing efforts of understanding and improving highway safety. Positioned at designated observation points along various highways, I diligently monitored and recorded seatbelt usage. I embarked on several journeys, traversing highways, city streets and rural roads, all while closely monitoring the habits and behaviors of drivers when it came to fastening their seat belts. I witnessed a fascinating array of scenarios, from diligent drivers who conscientiously buckled up without fail, to those who neglected this vital safety measure. Through this study, I gained invaluable insights into the factors influencing seatbelt usage, allowing me to play a part in shaping future initiatives aimed at enhancing roadway safety. However, it was not all work and no play! Alongside my internship responsibilities, I made sure to make time for leisure activities. One of the most memorable experiences was participating in the culinary world cup organized by the Global Training Initiative at NC State in partnership with NC State Dining. Additionally, I took advantage of the sunny weather by visiting the beach with friends. There, we soaked up the sun, enjoyed the relaxing atmosphere, and created lasting memories. Balancing work and leisure has made this summer a fulfilling and enriching experience.
Research Librarian for Business, Education, and Immersive Pedagogy
NC State University Libraries
This summer my partner and I took advantage of the community sailing days offered by SailPack, NC State's intercollegiate sailing racing team! They were kind enough to take us out on practice sails on Lake Crabtree and show us the (literal) ropes of sailing. Everyone involved was wonderful to learn from, and I'd highly recommend anyone interested in sailing reach out to.
Also, my colleagues in the Libraries and I purchased a new 360-degree camera, and began experimenting with bringing immersive video into our high-tech spaces, such as the Cyma Rubin Visualization Gallery at the D. H. Hill Jr. Library. We've only just begun, but so far we've captured footage of a beaver dam on the Rocky Branch Creek Greenway, squirrels hiding in trees near the Pullen bus stop, and six different vantage points of the Brickyard just before construction began, capturing a view that won't be around for quite a while! We're looking forward to using the camera with different units across campus to capture unique experiences and bring those into the Gallery for the rest of campus to enjoy.
Photo: 360Video (taken by Chuck Samuels, library photographer)
Math Lecturer, Agricultural Institute
College of Agriculture and Life Sciences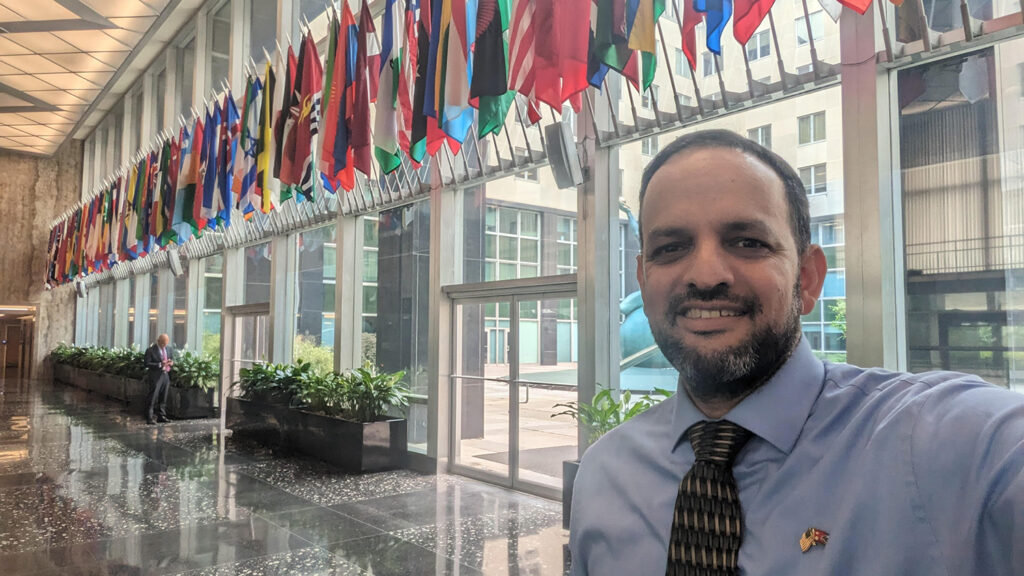 As a nine-month math lecturer in the CALS Agricultural Institute (AGI), I conduct summer research to supplement my household's income. My research builds capacity across South and Central Asia to monitor and manage air quality in those parts of the world. May 2023 was action-packed with a one-day trip to Washington, D.C., where I helped brief Assistant Secretary Donald Lu in the Department of State's Bureau of South and Central Asian Affairs. After returning to Raleigh to administer my final exams and congratulate our newest AGI graduates, I embarked on a two-week trip through Kazakhstan, Uzbekistan and Kyrgyzstan. I'd never been to that part of the world before, and I was pleasantly surprised. All former Soviet Union republics, they are thriving young democracies filled with aspiring and talented youth who yearn for a cleaner environment. I visited government hydrometeorology offices, NGOs, youth groups, national parks, remote villages, and even held court with the US Ambassador to Uzbekistan! Before classes start in August, I'll reach for the sky again on a trip to Sri Lanka and Pakistan for meetings with our research collaborators across South Asia. In the 2023-24 academic year, I plan to leverage all of these overseas experiences to help prop up NC State's brand new Global One Health Academy.
Professor, Department of Forestry and Environmental Resources
College of Natural Resources
I, along with 17 NC State students, studied the sustainable use of natural resources in Sweden during the second summer session. They encountered reindeer several times: once on the highway and in the forest at Muddus National Park after reaching the falls. They also visted the LKAB iron mine in Kiruna and learned about moving the city. They hiked and explored the ecosystem at Abisko National Park before returning to Uppsala to finish the course.
Assistant Professor and Microbiome Extension Specialist, Department of Plant and Microbial Biology
College of Agriculture and Life Sciences
Our summer research team braved early summer storms to collect samples from field sites across North Carolina. We are evaluating the use of microbial seed treatments in soybean production. Beneficial microbes that help plants acquire nutrients and protect from environmental stress are promising solutions for sustainable agriculture, but efficacy is highly variable. Here, we are collecting soybeans to bring back to the lab. We will sequence the plant microbiome to examine how these microbial treatments shape how the soybean assembles its microbial communities. Later in the season we will measure soybean yield.
Photo (left to right): Madaris Serrano Perez (lab technician), Larry McCallum (REU student), Ashley Betony (REU student)
Communications Specialist, NC State and UNC-Chapel Hill Joint Department of Biomedical Engineering
College of Engineering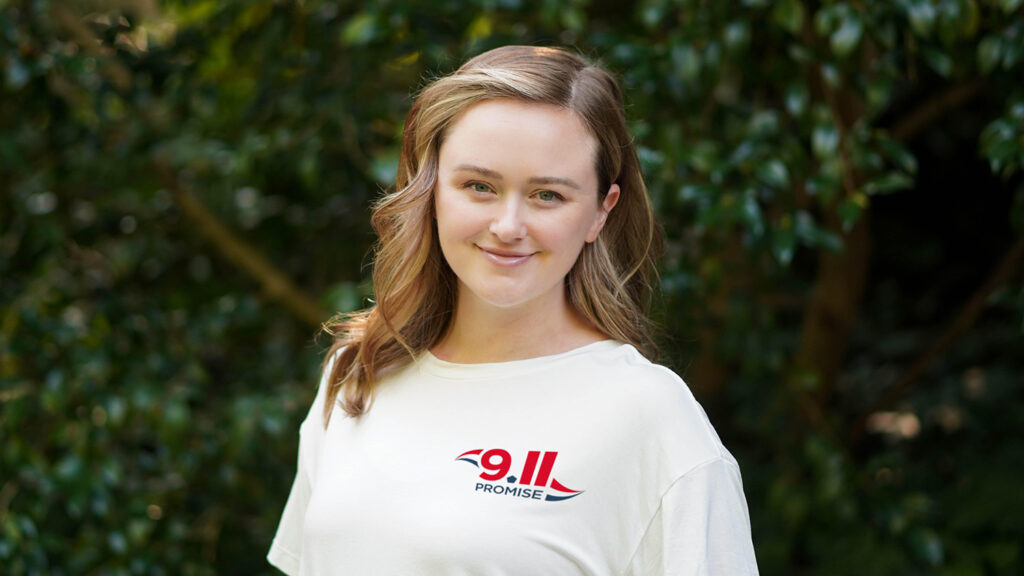 I spent the last three months training to run in a 240-mile relay from Washington, D.C. to New York City in remembrance of September 11th.
The event is for The 9.11 Promise, which is a nonprofit organization that provides scholarships to qualified children of first responders and military service members who have been killed or injured and are unable to hold employment. Participating athletes raise money through donors that sponsor their run over the three-day event. Firehouses along the route also provide meals and lodging to athletes, allowing participants the opportunity to interact with the first responder community.
It's been challenging to train during one of the hottest summers I can remember, but I've stayed motivated through the extreme weather so I can contribute to my team. Relays can be both physically and emotionally challenging, but I look forward to crossing the finish line with my team in support of a new generation.
To learn more about The 9.11 Promise and its mission, please visit their page here.
Distinguished Professor, Department of Physics
College of Sciences
Leiden University in the Netherlands has a long tradition of physics discoveries, dating back hundreds of years. The canal-filled city center has murals containing poems in various languages, including the language of mathematics. The university also has a wonderful tradition of hosting week-long workshops at the Lorentz Center, where academics gather with a few dozen people to work on a vexing problem posed by the organizers. In June, NC State postdoc Carmen Lee and I had the opportunity to participate in the workshop Getting into Shape – Pushing for Exotic Particulate Media Mechanics and probe new directions for our physics research. While there, we took an evening to bike over to a colleague's house and see the wall formula for the famous van der Waals equation of state. This photo is of four collaborators reveling in the celebration Leiden makes of knowledge at the foundation of our field of study.
Photo (left to right): Silke Henkes (Leiden University), Karen Daniels and Carmen Lee (NC State), and Jennifer Schwarz (Syracuse University)
Zachary Dubner
Undergraduate Student, Department of Agricultural and Resource Economics
College of Agriculture and Life Sciences
I spent my summer vacation interning twenty hours a week without pay. While that does not sound enticing, my internship for Dr. Deborah Thompson, the Director of Research Partnerships for CALS, was a rich and rewarding experience. Dr. Thompson's role at the university is to facilitate interactions between NC State faculty and potential industry partners to align common goals that lead to a research collaboration. For my internship, I was a part of this process and contributed to the facilitation of these interactions. I met faculty scientists such as Amy Grunden and Chris Reberg-Horton, as well as industry experts including Paul Ulanch from the N.C. Biotechnology Center, Jeff Brown from BASF, Heather O'Keefe from Novozymes, and Phil Taylor and Laura McConnel from Bayer. Without this internship, I never would have met these individuals who collectively gave me new perspective, mentorship, industry connections, and inspiration.
I provided Dr. Thompson with in-depth research on three companies that were potential industry partners. I developed business briefs for those companies with details on company history, financials, values, integrated reports and past university partnerships. My work on business briefs helped me formulate a realistic long-term career plan so I can build the future I desire. The internal administrative team at the North Carolina Agricultural Research Service used my work to prepare for future industry engagement. My professional network grew through informational interviews. I visited companies in the RTP area and met with the employees giving me the inside scoop on what the day-to-day looks like. They taught me firsthand what companies are looking for in an ideal employee candidate like a self-starter who knows business basics, market dynamics, and has specialized technical expertise. I learned how to collaborate, communicate in a business environment and land meetings with people who can open doors for new opportunities. My summer vacation helped me develop a unique skill set and improve in the areas I was lacking. I am now ready to take on a research assistantship this coming fall.
Associate Director, Institute for Transportation Research and Education; Adjunct Assistant Professor, Department of Civil, Construction, and Environmental Engineering
College of Engineering
I'm in Kenya with my family (wife – Rachel, daughter – Sophia, and son – Ben). The pictures are from Ol Pejeta Conservancy. The photo of our family is taken at the equator which runs through the conservancy.
Business Officer
Institute for Advanced Analytics
Our family trip this summer included Toronto (CN Tower, Royal Ontario Museum, Casa Loma, Toronto Zoo and more!), Niagara Falls (Canadian side), and then to Cleveland for the Rock and Roll Hall of Fame and a Guardians game!
Associate Professor, Department of Biological Sciences
College of Sciences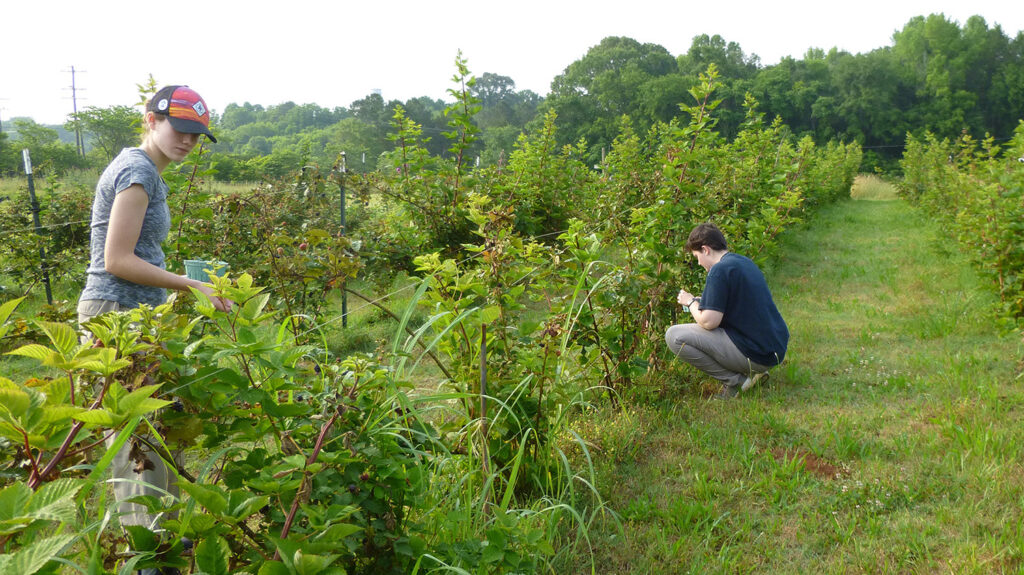 A group of intrepid students spent summer school immersed in sustainability. Jennifer Landin's new Sustainable Living Experience course included a two-week stay on a farm. Students constructed a hydroponics tank, harvested blackberries, cooked delicious vegetarian meals for under $2, repaired clothing, toured an off-grid straw bale home, cared for the farm's rescue sheep, immersed themselves in the local community, and explored the region's ecosystems through bird watching, nature journaling, and kayaking.
Associate Extension Professor and Coordinator, NC Agromedicine Institute
Department of Applied Ecology
College of Agriculture and Life Sciences
Emery Harwell
Social Research Specialist, Department of Applied Ecology
College of Agriculture and Life Sciences
We partnered with community health workers across the state to assess internet connectivity in migrant agricultural worker housing. Collaborating with eight local health care organizations from the mountains to the coast, we have implemented the first statewide survey to understand internet access, cost and speed in this setting. Throughout the summer, we have worked with colleagues at East Carolina University to provide community health workers with research training, iPads for data collection, technical assistance and participation incentives. Survey results will provide important information about agricultural workers' ability to access telehealth, social services and information in their housing units. This data, along with information collected through other parts of an Institute of Museum and Library Services grant, will inform the development of future projects related to digital access and health literacy in agricultural communities in North Carolina. The relationships we have developed and maintained with organizations statewide — through trainings and professional development, site visits, and regular check-ins to troubleshoot challenges — are a realization of the university's mission to strengthen community partnerships and improve the lives of North Carolinians.
Project Coordinator, Office of Strategic Brand Management
University Communications
I'm volunteering for my third summer at the Duke Lemur Center. Each week I am assigned a different lemur or area and I get to spend two hours talking to hundreds of folks all about lemurs.
Marketing Communication Specialist, Department of Electrical and Computer Engineering
College of Engineering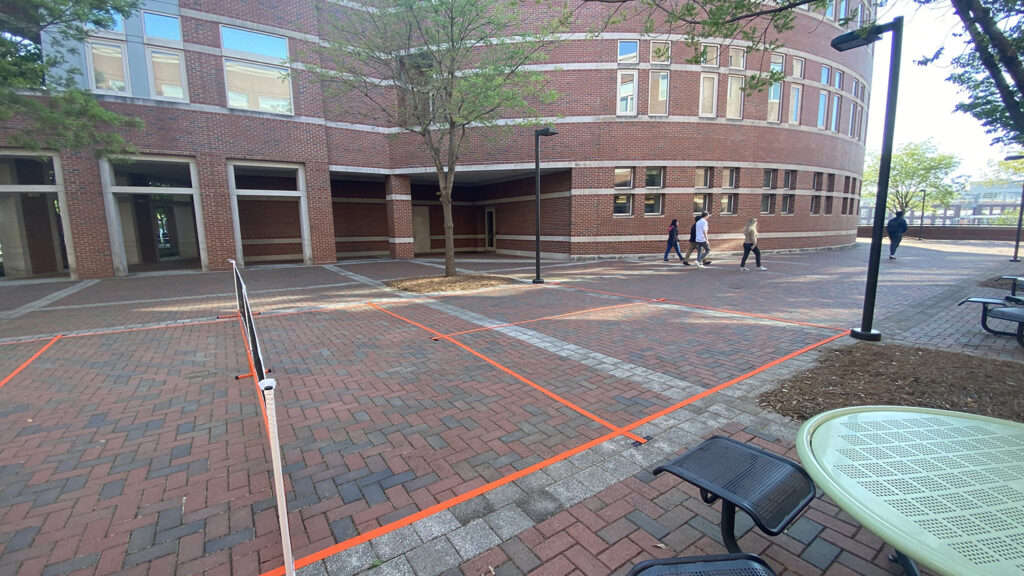 I have been hosting a bi-weekly pickleball game for ECE faculty and staff on Centennial Campus in the courtyard between EB1 and EB2. We have a portable net and lines that we set up and play after work! The games are open to anyone, not just ECE folks. It is open to all skill levels too!
Associate Teaching Professor; Director, Panoramic Dance Project, Department of Performing Arts and Technology
Division of Academic and Student Affairs
I recently served as a guest choreographer and faculty member at the Benoit Musical Theatre Symposium hosted by Temple College. I also taught hip-hop and musical theatre dance classes at the Nexus pre-college intensive at Texas State University.
Graduate Student, Department of Biological and Agricultural Engineering
College of Agriculture and Life Sciences
I started the summer by getting in a plane and flying to Oviedo, Spain. There I was a teaching assistant for a class led by my advisor, Dr. William Hunt, that taught students about Roman infrastructure and engineering. I spent three weeks living with the student and learning alongside them as we traveled through the country. At the end of the term, I had the opportunity to give a guest lecture to the class about my experience of having cancer while going to college. It led to a very emotional final day, and added to the many amazing memories I made.
After returning from Spain I began my summer Internship working for Colgate Palmolive in Piscataway, New Jersey. I was hired as a global supplier chain sustainability intern for their 10-week program. I got to move to the city and work onsite at their global technology center. I worked on a sustainability project during the week, and spent the weekends visiting New York City and exploring the state of New Jersey.
Near the end of my Internship I joined my department on a trip to Omaha, Nebraska, for a conference. There I attended the American Society of Biological and Agricultural Engineers Annual International conference for the first time. I presented my research and participated (and won) in competitions on behalf of the university.
Director, Undergraduate Programs and Associate Teaching Professor, Edward P. Fitts Department of Industrial and Systems Engineering
College of Engineering
The UK STEM/Liberal Studies Summer Program teamed up with the University Honors Oxford study abroad program to host an NC State alumni reception in London.
I and one of the co-leads for the UK STEM/Liberal Studies Program led the effort. Carolyn Veale and Kristen Hetrick from NC State's University Honors Program brought their students up from Oxford to participate in the event, and between the two programs there were nearly 70 NC State students in attendance along with 10 alumni representing three colleges: the College of Engineering (2), the College of Humanities and Social Science (4), and the Poole College of Management (4).
It was a fantastic opportunity for students in the two cohorts to collaborate as well as get to know NC State alumni who live and work in the United Kingdom.
Ph.D. Student, Department of Materials Science and Engineering
College of Engineering
In June, three other NC State graduate students and myself attended the 33rd Anniversary World Congress on Biosensors in Busan, South Korea. Traveling with our mentor Dr. Michael Daniele (Department of Electrical and Computer Engineering/Joint Department of Biomedical Engineering), we presented research related to wearable biodevices and biomanufacturing. Getting to experience an international conference was an invaluable experience to meet new people and gain exposure to great research. There were over 975 attendees from 49 countries.
Photo (left to right): Mahshid Hosseini (Postdoctoral Research Scholar, BioInterface Lab), Kaila Peterson (PhD Research Assistant, Electrical and Computer Engineering), Hayley Richardson (PhD Research Assistant, Materials Science and Engineering) and Junhyeong Wang (PhD Research Assistant, Electrical and Computer Engineering)
Namita Sabnis
Graduate Student, Industrial Design Program
College of Design
This summer has been an eventful and fulfilling one for me. It all began with a memorable trip to India, where I had the opportunity to reconnect with my family and friends. It was a rejuvenating experience to immerse myself in the vibrant culture and create lasting memories. Upon returning in June, I found myself immediately heading to San Diego to attend my partner's graduation. Celebrating his achievement was a joyous occasion, and it marked the beginning of a new chapter in his life.
Back on campus, I dedicated two weeks of my summer to working at the summer Design Camp hosted by the Design Lab as an industrial design studio instructor for high school students. Sharing my passion for design with these talented young individuals was incredibly rewarding. Witnessing their creativity flourish and helping them develop their skills brought me immense satisfaction.
In addition to my role at the Design Camp, I had the privilege of interning at Boomerang Water, a sustainability-driven bottling water company located in Davidson, N.C. Being part of a team that is actively working to reduce the usage of single-use plastic bottles in the world through innovative solutions was truly gratifying. It felt fulfilling to contribute towards making a positive impact on the environment and society. Overall, this summer has been a blend of personal and professional growth, allowing me to explore my passions, connect with loved ones, and make a difference in meaningful ways.
Director, Continuing and Professional Education
College of Natural Resources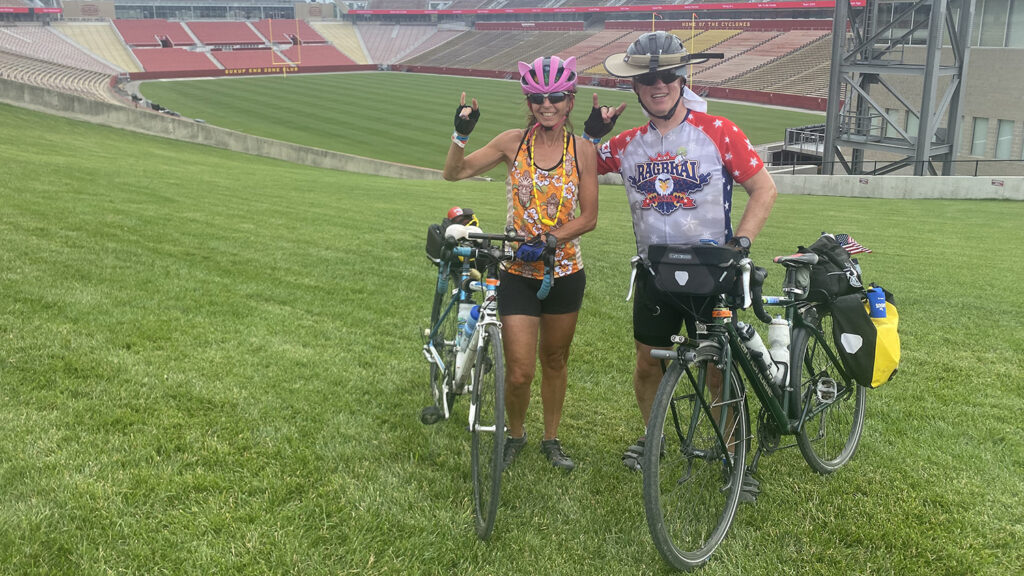 This summer we made our annual pilgrimage to Iowa for RAGBRAI (Register's Annual Bike Ride Across Iowa), the weeklong bicycle ride across the state. This was my 14th year doing the ride since 2009. The route changes every year but always goes west to east, with cyclists starting the ride by dipping their rear tires in the Missouri River and completing the ride by dipping their front tires in the Mississippi River. This year was the 50th anniversary, "one L of a ride." The organizers tried to closely replicate the original route of the founders, two reporters from the Des Moines Register (along with some of their readers). This year's route was approximately 510 miles; starting in Sioux City, it included overnight stops in Storm Lake, Carroll, Ames, Des Moines, Tama-Toledo, and Coralville, before finishing in Davenport.
In addition to the organizers making sizable donations to the overnight communities, this ride has a significant economic impact for all the towns we pass through as community groups — scouts, schools, churches, fire houses, veterans' organizations and other nonprofits — sell the food and beverages to nourish the riders (this year approximately 40,000 of us!) The ride can be described as a rolling state fair, summer camp for adults, or Woodstock on wheels — take your pick. This year's highlights included a visit to the High Trestle Trail Bridge outside Madrid, riding through Iowa State University's Jack Trice Stadium, going up the Mahanay Bell Tower in Jefferson, and riding through University of Iowa's Kinnick Stadium. Going through these towns, meeting the people, learning their culture and history is what makes this ride so special and why I return each year to participate.
Tanmay Soni
Undergraduate Student, Department of Computer Science
College of Engineering
This summer, I feel I had a great time meeting new people, building new experiences, and getting a chance to look into my own interests and what I want for myself. Although this is not how it started out, let me give you an insight into how the summer really began for me.
The feeling of being alone just hits differently, and that is what I had felt when my friends had flown back to their homes, and I was just sitting in my room with no one I knew. I had just started working as a research assistant in Dr. Guo's computer science lab, but more than half the things were going over my head. From making food, to catching a bus to Centennial Campus every day for work, to finding the motivation to even simply get out of bed and take my own accountability, everything was overwhelming me. I had already mastered the ability to follow my set schedule throughout the semesters, but this was totally different. All these instances might sound simple, but they weren't. All these things had just hit me so hard that I was really unsure, and they made me question myself, "Do I really want to continue this?", "Why not go back to my home, where I'll be in my comfort zone?"
All these thoughts and fears of mine were real and repetitive, but the change occurred when I was ready to step out of my comfort zone, talk to new people, put more effort towards my work at the lab, and have self-discipline. Soon, I was living my life the way I wanted to again — a life where I was meeting new people, forming new connections, exploring my interests, and moving towards my goals. So far, I have gone to multiple events and been involved in a variety of things: from going to the Raleigh International Food Festival, to Grep-a-palooza 2 at the Durham Convention Centre, to attending multiple computer science meetups, to spending my Fourth of July weekend at Myrtle Beach with my new friends, to moving in and setting up my new apartment, among many other things. This is how my summer was, and I am grateful for it. I am grateful for the motivation I kept on getting from my family, grateful for getting mentored on the right track by my research peers, grateful for forming new connections, and especially grateful for whatever I have been able to achieve so far. This is what I reflect on from my summer, and you should give it a thought too and reflect on your summer while cherishing the moments and being grateful for whatever you did.
Associate Vice Provost for Strategy, Implementation and Communication
Institutional Strategy and Analysis
Our family visited Greece to celebrate the high school graduation of our daughter (her pick). We enjoyed time in and near Athens and on the islands of Paros and Santorini. The ancient ruins were fascinating, and so were the commercial ferries. Much larger than what we're used to on the North Carolina coast, and with airline-like features, these ferries move hundreds of people and cars between Greek islands every day. We experienced three different ferry companies on our trip. From checking tickets to handling luggage, each company managed the "organized chaos" in its own unique way. For people like me who are fascinated by process and efficiency, the ferry rides were an unexpected attraction.
Photo: Ferry passengers assembled below deck get a front-row seat to watch fast-moving staff prepare for arrival at port.