Remarkable Researchers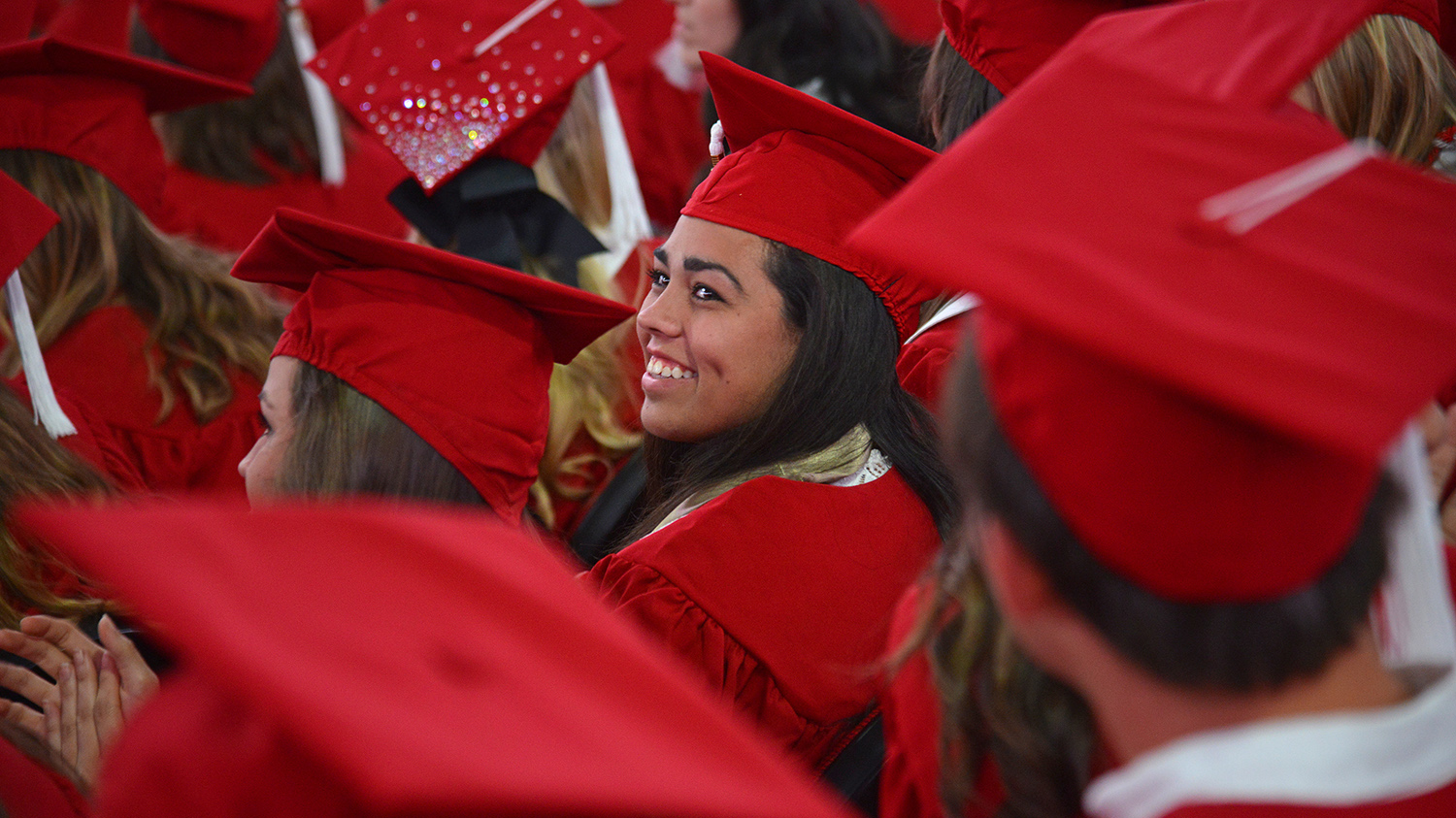 NC State sets the bar high for research in higher education — our students help make that happen. Undergraduate students enjoy myriad opportunities to engage in research, and to make a difference at the same time.
Many of the 3,449 graduating seniors participated in undergraduate research in the sciences, humanities, engineering and other fields.
Meet four fall 2018 graduates who took full advantage of creating a well-rounded education through hands-on research.
Paul Cockson
Bachelor of Science in Agroecology, College of Agriculture and Life Sciences
Paul Cockson heard about NC State all the way in Nebraska, but that's no surprise for a university with research that reaches around the world. Research — agroecology, in particular — drew Cockson's interest starting in high school.
He found that NC State was one of four universities in the country offering an agroecology program. Cockson started his path studying at Wake Tech, and while there took advantage of a unilateral exchange program with NC State to do water quality research in the Department of Marine, Earth and Atmospheric Sciences.
Upon completing his associate degree, he came to campus and started working in Brian Whipker's lab. The two worked on plant nutrition research, specifically with gloxinias (a flowering tropical plant) and eventually 12 plant species over the course of two years.
"Working with Dr. Whipker has offered me amazing research experiences even as an undergraduate," said Cockson. "I've published a peer-reviewed journal article in Hort Technology, traveled to Alaska and Turkey to present, and even won an award for one of my posters. The research opportunities and scholarships to travel to these conferences have really gotten me plugged into the scientific community."
Upon graduation, Cockson will come right back to NC State to start his master's program in Whipker's lab. They'll study an oilseed crop with the potential to provide biofuel for airplanes.
Cockson credits his undergraduate research experience with preparing him for the next phase of his educational journey. Learning the ins and outs of the scientific process and the publishing process, statistical analysis, experimental design and more provided the knowledge necessary for graduate school success.
Mentorship also plays a large role in pushing students to achieve their academic goals. Whipker, along with his doctoral student Josh Henry, and Michelle Schroeder-Moreno inspired Cockson in his agroecology passion.
"These people have really been my academic guiding stars, and all of this started with a little searching and a conversation," said Cockson. "When you first come here, the size of the campus can be overwhelming, and so many things can get thrown at you all at once. You never know how having just one door open will open up so many others for you."
Eventually Cockson plans on pursuing his Ph.D. in agroecology. But in the days before graduation he's looking back on some of his favorite times as an undergraduate.
"One of my favorite memories was attending the Poinsettia Trials, where different companies enter their best varieties to be judged by the public," said Cockson. "I remember walking into a greenhouse and having this 'a-ha' moment looking at all this beauty before me, and I want to create that kind of beauty in life and make the world a better, more beautiful place."
With his research passion and degree, he's on the right path to do just that.
Daniel Guinto
Bachelor of Science in Fisheries, Wildlife and Conservation Biology, College of Natural Resources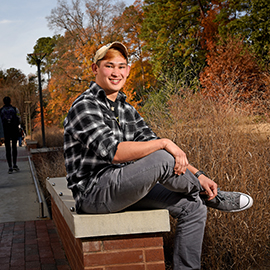 Sometimes it takes a lifetime to find one's true passion. For Dan Guinto, it only took until elementary school.
The Ohio native tagged along to parent-teacher conferences for his older siblings in his future high school biology teacher's classroom. There, he was introduced to snakes, Madagascar hissing cockroaches and more.
His interest in wildlife came alive, and he even ended up having his 10th birthday party at an outdoor lab, conducting a macroinvertebrate pond assessment. Fast forward a little over a decade, and Guinto's transferred to NC State and is finishing up his undergraduate career with reptile and amphibian research under his belt.
"Dr. Chris DePerno and I co-designed studies on reptile and amphibian detection and small mammal impacts on seed predation," said Guinto. "For the latter, we had to get up at 3 a.m. to head out to the Sandhills area, conduct our research and be back in time for classes. It was an invaluable research experience that really prepared me for the real world."
Guinto presented a poster based on his research last year in Albuquerque, New Mexico, for the Wildlife Society conference. He's traveled across North Carolina and even to Costa Rica and South Africa to study sea turtles and wildlife on a nature preserve, respectively.
Currently, he's researching the Neuse River Waterdog, a fully aquatic salamander eligible for federal endangered species protection. His work will give conservation biologists a better idea of where they live and how they're faring overall as a species.
"There's a lot to be excited about in the future, helping to preserve endangered and declining species," said Guinto. "Through undergraduate research, I've already been able to contribute to wildlife study and preservation, and not everyone gets to do that."
Guinto has also contributed to research by serving as a teaching assistant for the College of Natural Resources' Fisheries, Wildlife and Conservation Biology Summer Camp. He hopes to take his experiences further by working on a project in Ohio studying the Blanding's turtle, possibly helping the species gain further protection past their range in Northern Ohio and into the northeastern U.S. and southeastern Canada.
Then perhaps graduate school lies on the horizon. But none of his research and achievements would have been possible without his high school biology teacher, Scott Maretka.
"He was my favorite teacher, and we still communicate on a regular basis," said Guinto. "I still wear the hat for the biology club he ran. Mr. Maretka made a major impact on my research, my time at NC State and where I'm headed in the future."
Jessica Hernandez
Bachelor of Arts in Psychology, College of Humanities and Social Sciences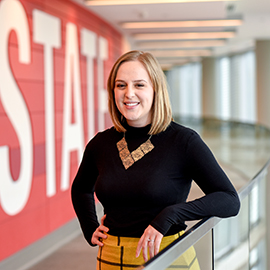 When children have a strong advocate for their education, there's no limit to their potential. That's where Jessica Hernandez comes in.
The Raleigh native wants to stand in the gap for marginalized elementary school students as a school psychologist. Her passion for early educational intervention and equitable treatment for all stands out.
"There's absolutely no excuse for some of the disparities we're seeing in our educational system today," said Hernandez. "There's an overrepresentation of minority students in special education, which results from biases in learning ability diagnoses. I want to be part of the next generation of school psychologists who ensure biases aren't employed when diagnosing children."
Biases form the basis for some of the research Hernandez conducted with Scott Stage, the director of NC State's school psychology program. Upon transferring from Wake Tech, she joined his lab and studied the overrepresentation of minority students in office referrals and special education.
She then joined Lynne Baker-Ward's lab working on narrative coding, transcribing interviews and data organization for a doctoral student's dissertation project. With Baker-Ward's encouragement Hernandez eventually started research of her own.
Previous research shows that African-American males in middle school report negative perceptions of classroom climate, which may predict low math test achievement. Hernandez wanted to see if there was a correlation with students as young as second graders.
She eventually found through studying interviews with elementary school students that a correlation existed between classroom perceptions and gender (i.e., girls were more likely to report positive perceptions than boys), but not with race.
In the future, Hernandez would like to continue her research through pursuing a doctoral degree at NC State. She hopes to study peer interactions and their impact on educational climate, including how parents and teachers impact student success.
"I want to help achieve the best student and school outcomes by building on my undergraduate experience and continuing school-based intervention research," said Hernandez. "Dr. Baker-Ward has been a great mentor to me in this area and she's helped set me on a path to being able to truly do what I love."
In preparation for graduate school, Hernandez will start work this spring at a local elementary school as a special education instructional assistant. She wants to combine this experience with her time with Voluntarios Ahora en Raleigh, where she served as a interpreter for parent-teacher conferences.
"I want to engage with Spanish-speaking students and their parents to give their students the best education possible," said Hernandez. "NC State and my research have prepared me to advocate for children and ensure that equity in the classroom is not just a good idea, but a reality that can help all students achieve."
Kerri Johnson
Bachelor of Science in Biological Sciences, College of Sciences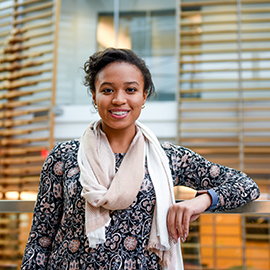 When you're part of a Wolfpack family, why would you want to go anywhere else? Kerri Johnson grew up with alumni parents who instilled in their daughter a love for the university early on.
"I applied only to NC State, got in early and didn't apply anywhere else because I knew I wanted to come here," said Johnson. "I wanted a larger school but somewhere where I knew people, and it didn't hurt that NC State is great for science majors."
Johnson also held a passion for art and found a research home that combined her interests in the lab of Jennifer Landin, a teaching associate professor in the Department of Biological Sciences. Landin uses biological illustrations to bring science to life for her students.
"The idea behind this research with biological illustrations is that textbook diagrams aren't necessarily accurate and students don't always understand what the illustrations teach very well," said Johnson. "When students were asked to draw a picture of what they thought a cell looked like, there was a huge discrepancy between their illustration and what a cell actually looked like."
Johnson studied college biology textbooks from 1930 through 2018, while another student surveyed 700 students taking college biology courses to find out what they were interpreting from their textbooks. They presented at the most recent Undergraduate Research Symposium at NC State and are working on a paper to submit to an academic journal.
With a solid background in undergraduate research, Johnson feels prepared to take on what comes next in her scientific journey. She starts studying for the MCAT in the spring and plans on gaining clinical experience before possibly applying to medical school.
"When you're involved in the sciences, you must know how to conduct research to succeed," said Johnson. "Being involved with research here [at NC state] has helped me become more motivated and independent, and I really loved being involved with professors who were passionate about teaching."
Johnson also notes that undergraduate research serves as a great motivator to go beyond one's comfort zone and find new interests and talents. The motivational factor involved cannot be understated.
"Research prepares you to focus on what's there and what's ahead and prepares you to push yourself into new places," said Johnson. "Graduation symbolizes all of the previous work and learning coming together, but I can't wait to see where research takes me next."
Are you a faculty member interested in getting undergraduate students involved in your research? Check out teaching associate professor Jennifer Landin's tips here.