Announcements
Czeching in on Prague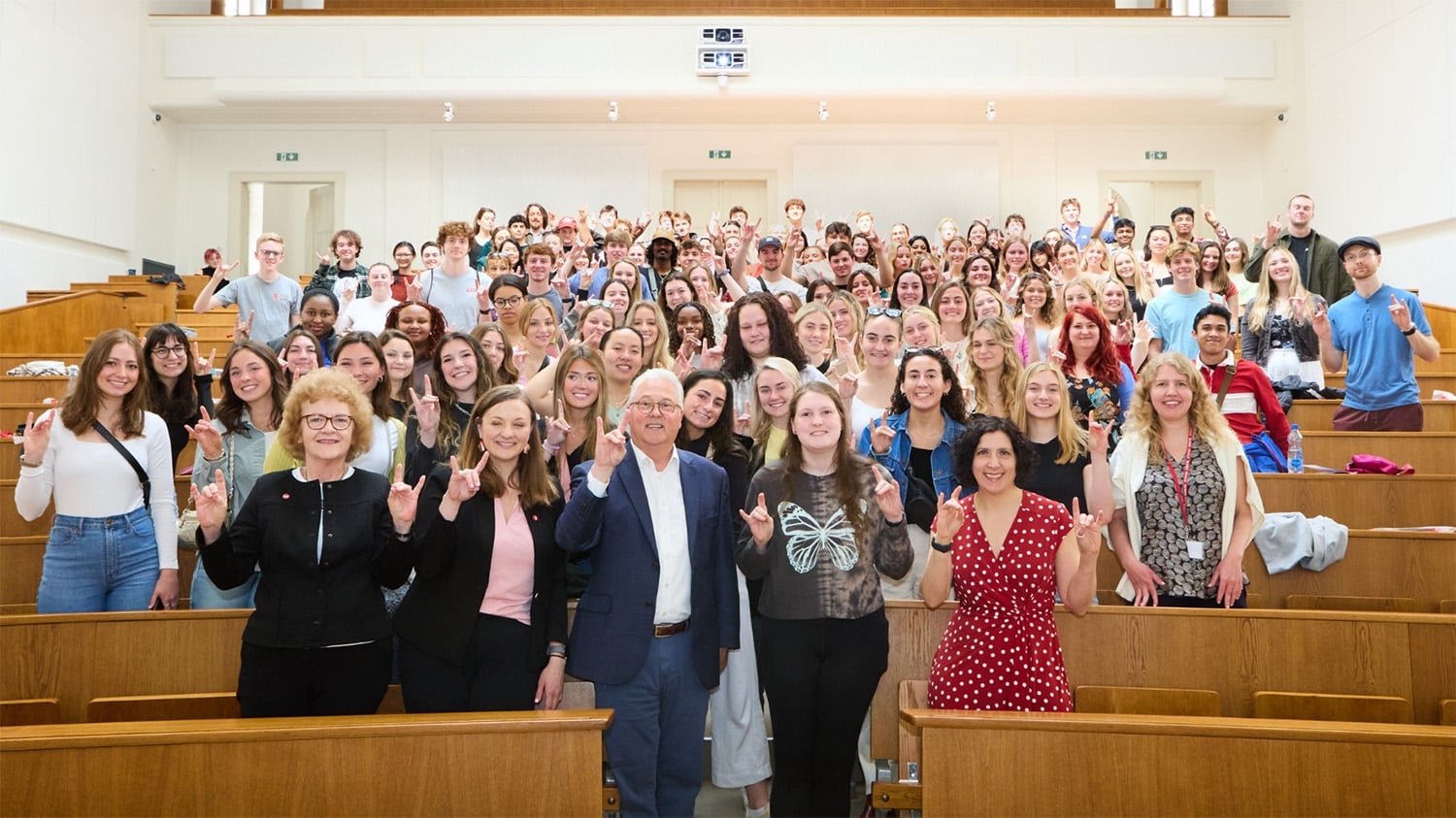 Chancellor Randy Woodson visited the NC State European Center in Prague to celebrate the fifth anniversary of the opening of the center's current location and concurrent move to the Office of Global Engagement. The chancellor's highly anticipated visit was met with great excitement and enthusiasm from students, faculty and staff. 
During his two-day stay, Chancellor Woodson had the opportunity to meet with study abroad students, center faculty members, academic partners, and local industry partners. He also kicked off the orientation for Prague's largest-ever cohort of summer students.
NC State University's Investment in Study Abroad
Chancellor Woodson had the chance to tour the NC State Prague campus with director Kim Strozewski and see firsthand the state-of-the-art facilities and resources the center offers.
"This is our university's major investment in study abroad for our students. It gives students the transformative experience of studying in a great European capital like Prague and benefiting from all of the amazing faculty we have assembled," said Woodson.
NC State Prague is a strong university asset, and will mark the 20th anniversary of its establishment in 2025. Since its creation, the center has welcomed an average of 200 students a year, and those numbers have risen remarkably with the addition of new programs such as Prague Connect, the Shelton Leadership Center's Global Leadership Minor, and the Summer Internship program. 
Prague is in central Europe, making it an ideal location for studying abroad. The chancellor receives frequent emails from NC State alumni stating that it fills them with pride when they walk around the Old Town in Prague and see NC State's name on a building in such a beautiful European city. Center staff frequently provide tours for NC State alumni and friends who visit Prague.
Confidence and Ability to Navigate the World
The chancellor's surprise welcome speech at the orientation was inspiring and encouraging; it was clear that he valued each student's success and enthusiasm for thinking and doing abroad.
"I am confident that by the time you are done with your summer experience, whether it's the classic summer program, your first-year engineering class or an internship at one of the great Czech companies, you are going to have a great experience," he said. "And when you return to campus, you will have more confidence in yourself and your ability to navigate the world than you could have imagined."
NC State Prague runs various programs throughout the year, welcoming students for the fall and spring semesters and through the summer, as well as hosting faculty-led programs and Study Abroad Office programs. With a choice of more than 30 courses, from microbiology to engineering, NC State Prague's programs attract students from all majors and colleges. The curriculum, robust on-site staff, field trips, extracurricular activities and excursions help to develop well-rounded, global-minded students.
You will have more confidence in yourself and your ability to navigate the world than you could have imagined.
"This program's success is because of our many partnerships that bring so many phenomenal scholars to NC State for our students," said Woodson. 
The chancellor — together with Heidi Hobbs, interim vice provost for Global Engagement; Sarah Olson, director of global partnerships; and Bailian Li, former senior vice provost for Global Engagement — met with the NC State Prague's faculty members, some of whom have been working at the center since 2005. The faculty's dedication and commitment to high-quality experiential education for NC State students impressed the delegation; the local faculty has exceptional expertise and knowledge in their respective fields. Some faculty shared their thoughts on how beneficial it would be to have more opportunities for collaboration and interaction with their counterparts in the United States. With the pandemic hopefully behind the university, they urged the visiting delegation to start planning more faculty exchanges.
Strengthening Ties With Academic and Industry Partners
The chancellor's visit also enabled NC State to strengthen its ties with local academic and industry partners and promote its commitment to global education and research. The chancellor emphasized the university's close partnerships with Charles University, the Czech Technical University and the Czech University of Life Sciences. These institutions have been instrumental in facilitating exchange programs, enabling students and faculty to travel between the United States and Czechia. The NC State delegation also met with partners throughout the week to reaffirm their connections.
The chancellor had the chance to meet with a few industry partners, including Chapman Taylor, Czechinvest, Loxia, P-LAB, Quanti, SIC (Central Bohemian Innovation Center), and Simpleway, and expressed his thanks for the internships they provide to NC State students. The internship program, now in its second year, is a unique opportunity for students to gain valuable experience in their field of choice alongside a study abroad experience.
"At NC State, gaining real-world work experience is a critical part of students' education," said Woodson.
Solid industry partnerships are crucial and provide valuable learning opportunities, help raise the university's profile and create a stronger overall presence in the community. By cultivating and strengthening these partnerships, NC State can continue providing high-quality education and preparing students with a global mindset for successful careers in their chosen fields.
The chancellor's visit was a resounding success and a testament to the firm and enduring connection between NC State and NC State Prague. It was a reminder of the important role that higher education plays in building bridges between cultures and promoting international understanding and cooperation. As the center continues to evolve and expand its role beyond a study abroad facility, it has the potential to serve as a center for research in multiple disciplines and promote internationalization among its faculty. With its prime location and talented staff and faculty members, the center is committed to fostering an environment of intellectual curiosity and collaboration, where researchers from all over the world can collaborate on innovative projects.
This post was originally published in NC State News.