Announcements
Jason Bocarro Named Owens-Shelton Distinguished Professor
The Shelton Leadership Center at NC State has appointed Jason Bocarro as the Owens-Shelton Distinguished Professor in Leadership with a Global Perspective — a new position funded through a generous gift from three-time NC State alumnus and former chair of the Board of Trustees James "Jim" Owens. Bocarro is a faculty member in the Department of Parks, Recreation and Tourism Management at the College of Natural Resources.
The Owens-Shelton Distinguished Professorship in Leadership with a Global Perspective supports the activities of an NC State professor of any rank who teaches interdisciplinary coursework and conducts research on topics related to leadership. It is a five-year, renewable position that's named in honor of Owens, the former chairman and CEO of Caterpillar Inc., and Gen. Hugh Shelton, the former 14th chairman of the Joint Chiefs of Staff and the founder of the Shelton Leadership Center. Shelton is also an NC State alumnus.
"Jim Owens and Gen. Hugh Shelton are remarkable individuals, not only because of their own accomplishments as leaders in their respective fields, but also because of their efforts to help others realize their full potential," Bocarro said. "I'm incredibly honored and humbled to serve as the Owens-Shelton Distinguished Professor in Leadership with a Global Perspective."
Deborah Acker, director of the Shelton Leadership Center, said Bocarro's contributions to leadership development at NC State made him an ideal candidate for the professorship. "His education, professional experiences and research demonstrate his breadth, depth and passion for values-based leadership with a global perspective. … He leads by demonstrating the importance of valuing cultural perspectives related to ethics and passionately teaches and provides students with once-in-a-lifetime experiences with leaders all over the world."
Owens, who completed his bachelor's and master's degrees in textile technology and a Ph.D. in economics at NC State, congratulated Bocarro on his selection as the first Owens-Shelton Distinguished Professor, saying: "He comes to the position with an impressive resume of research in the field and he's been engaged with the Shelton Leadership Center, traveling with students on their semester studying abroad. This is an exceptional experience for our students and will help prepare them for business leadership roles in the future."
Leading by Example
Bocarro was born and raised in London, England. After relocating to Canada and then the United States to complete his graduate studies, Bocarro spent several years as an assistant professor at the University of New Hampshire. In 2006, Bocarro joined NC State as an assistant professor of parks, recreation and tourism management. He was promoted to professor with tenure in 2017.
Most of Bocarro's current research focuses on the intersection of health and inactivity, specifically the relationship between the built environment and public spaces and human health. He has also spent the last 10 years leading multinational research teams examining how mega sporting events can be leveraged to positively impact communities. Bocarro has published more than 80 peer-reviewed journal articles and is the co-editor of the book "Legacies of Mega Events: Fact or Fairy Tales," published by Routledge.
Bocarro's research has been funded by the Robert Wood Johnson Foundation, the Centers for Disease Control, National Park Service, European Union, National Recreation and Park Association, and sport governing bodies such as the NCAA, and the National Hockey League. His research has been featured by a variety of media outlets including TIME Magazine, Forbes, The Guardian, National Public Radio and USA Today.
In addition to his research, Bocarro also teaches several undergraduate and graduate courses related to leadership such as PRT 359: Organizational Leadership in Parks, Recreation, Tourism and Event Management and PRT 506: Organizational Behavior and Leadership. In 2010, he was named the College of Natural Resources Outstanding Teaching of the Year and an NC State Outstanding Teacher and was inducted into the Academy of Outstanding Teachers. And in 2015, he was named an Alumni Distinguished Undergraduate Professor and University Faculty Scholar.
Since 2020, Bocarro has led study abroad courses in the United Kingdom and other countries as an instructor with the Global Leadership Minor. The 15-hour program, which is offered by the Shelton Leadership Center and the NC State European Center in Prague, allows students from all colleges to travel abroad for up to 10 weeks as they complete four two-week courses aimed at providing them with a better understanding of leadership and team decision-making from a global perspective.
Bocarro's role with the Global Leadership Minor is one of the many reasons he was recently selected to serve as the coordinator of the James Buzzard Leadership Development Program. In his role, Bocarro develops course sequences and plans co-curricular activities that equip students with a greater understanding of their potential and a strengthened confidence in what they can accomplish as an effective leader. The year-long program was established through a gift to the college by the late James "Jim" Buzzard, a 1976 pulp and paper technology alumni.
Cultivating Future Leaders
For Bocarro, the Owen-Shelton Distinguished Professorship presents an opportunity for him to leverage his involvement with the James Buzzard Leadership Program and the Global Leadership Minor to further promote the Shelton Leadership Center's mission of helping students develop values-based leadership skills and practices.
"Jim Buzzard and Gen. Shelton believed that all students, no matter their field of study, should graduate with some form of leadership development training so that they're not just entering the workforce with a degree, but also with values that enhance the organizations they work at. My mission is to make that happen here at NC State," Bocarro said.
Founded in 2002, the Shelton Leadership Center offers leadership development programs for high school and college students. That includes the Shelton Challenge, a summer training program for rising 10th-12th graders, and the Shelton Scholars Program, a four-year, cohort-based experience for NC State students to develop values-based leadership skills. The center's mission is "to inspire, educate, and develop values-based leaders committed to personal integrity, professional ethics, and selfless service."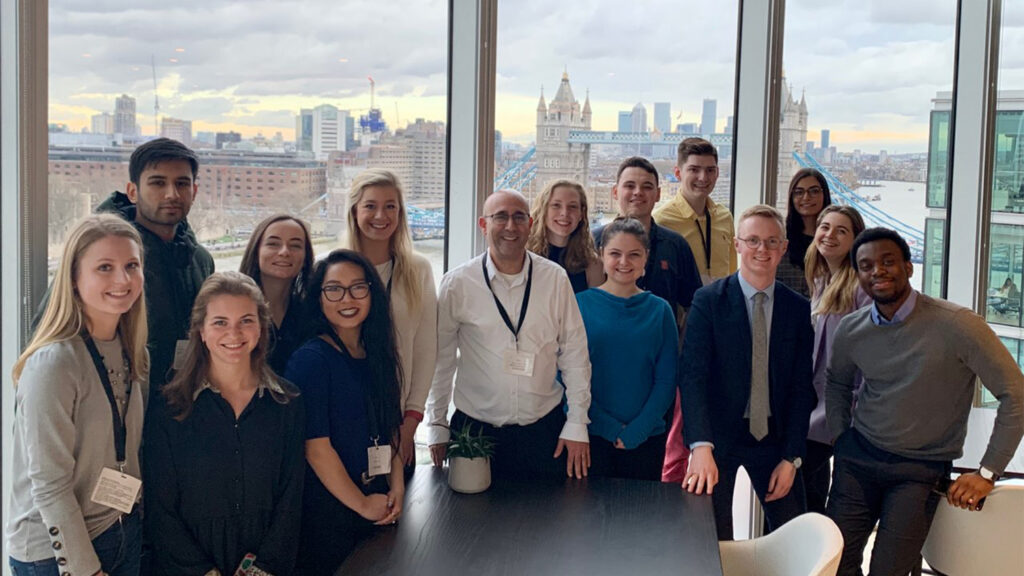 Acker said the Owen-Shelton Distinguished Professorship provides the Shelton Leadership Center with a platform for teaching more NC State students while providing high-impact experiences with world leaders that they may not have otherwise.
"We are grateful for leaders like Dr. James Owens who are passionate about students gaining this type of knowledge and experience to help them as they move into the workforce. Dr. Owens is a values-based leader himself and we are grateful he has invested in this opportunity for our students," Acker said.
In addition to his distinguished career at Caterpillar Inc., Owens has established a longstanding record of leadership and support at NC State. He served on the Board of Trustees from 2009-2017 and was chairman from 2015-2017. Owens has also been generous to many NC State programs over several decades, investing more than $9 million across the university in scholarships, endowed professorships and more.
Owens said the aspiration behind his gift to establish the distinguished professorship was to provide students across all colleges with insights on how to lead with values. "The Shelton Leadership Center was founded to help students draw on the leadership attributes that Gen. Shelton used so effectively in his distinguished military career. So it's a natural extension to draw on best practices in global business to help our students be better corporate leaders."
This post was originally published in College of Natural Resources News.