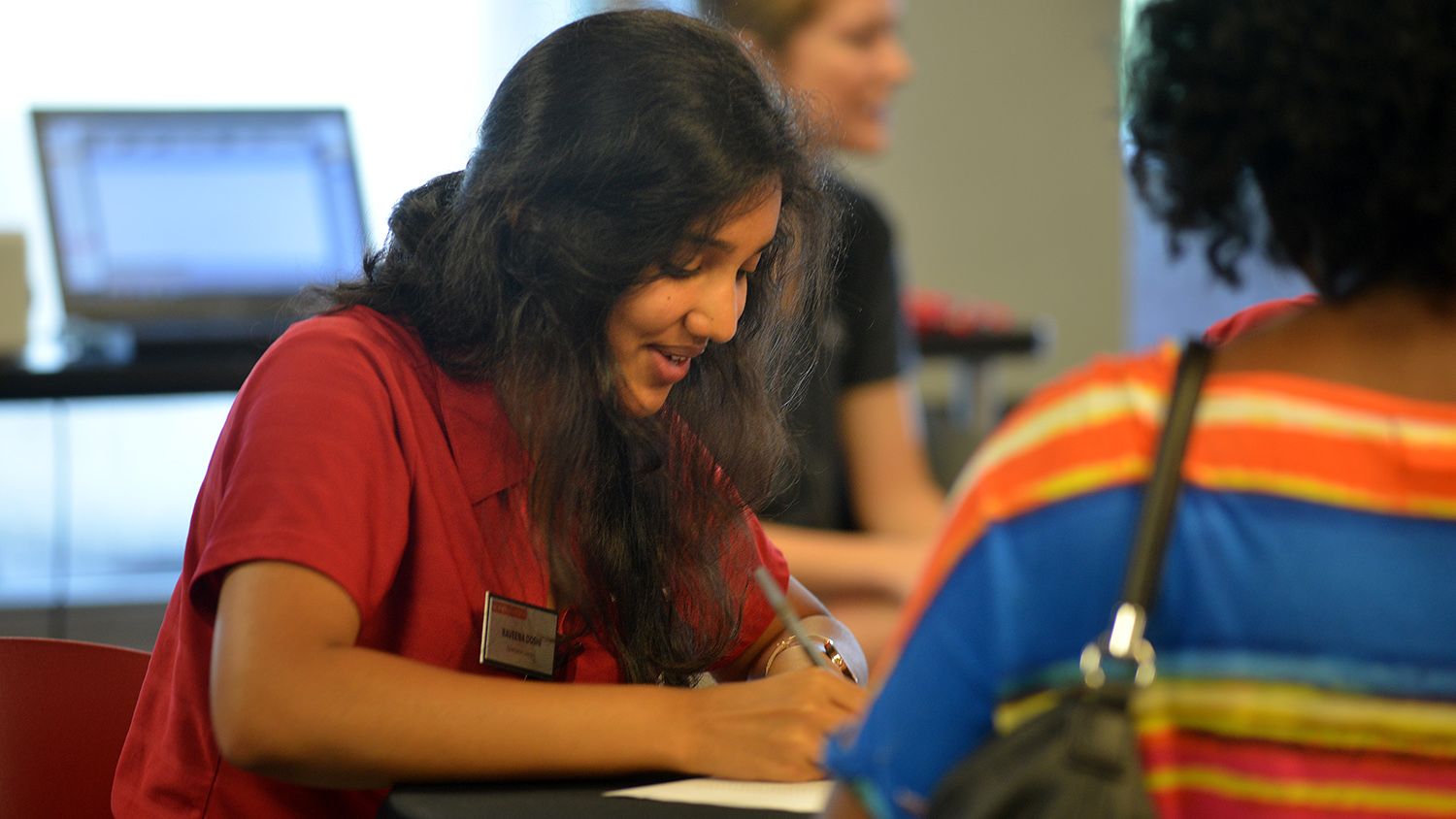 Winter Welcome Week at NC State helps students greet the new year with extensive programming focused on personal and academic success. During this time, spring orientation helps new students get acclimated to campus.
More than 300 new first-year students are enrolled at NC State for the spring semester through the Spring Connect program. New Student Programs provides orientation programming for Spring Connect students. 
For example, the orientation session Learning to Howl: Transitioning to NC State delves into making a healthy transition to college life, developing resilience and emotional awareness, and utilizing  resources offered by the university's Counseling Center. Academic Success 101 focuses on General Education requirements, academic and student success resources, and how to connect with academic advisors. Each part of orientation addresses the challenges and opportunities faced by Spring Connect students.
"The sessions are very informative and helpful in that they give you what you need to adjust in the coming weeks," said Autumn Jones, a first-year English major. "Coming to orientation and being able to make this transition makes me very excited to start at NC State."
Spring Connect students are also encouraged to register their parents and families for spring orientation. This portion of the programming helps families get acquainted with campus and NC State academics, learn about how families can best adjust to having a college student, and find opportunities to meet staff, students and fellow new Wolfpack families. 
Spring orientation differs from fall orientation in that students in all colleges attend one orientation session as opposed to all sessions being based on college or academic program. However, the hard work and planning that goes into orientation and helping Spring Connect students feel welcome is the same.
"We collaborate with campus all year to make sure transition processes are smooth for students entering in the spring," said Cameron Hill, associate director of New Student Programs. "We strive to create opportunities for students to connect within their academic community to get a great start at NC State."
Even before officially arriving on campus, some Spring Connect students get a taste of college life with Prague Connect. Through this program, they earn NC State credits at the NC State European Center in Prague, gaining valuable experience that prepares them for college academics and social life.
"My family encouraged me to take advantage of the opportunity, since it was specifically offered to Spring Connect students and is a prospect that too few minorities and under-represented young people take advantage of when offered," said Alexis Smith, a sophomore biological sciences major. "Through Prague Connect, I learned to be more open-minded, patient and respectful of people who come from all walks of life and have different cultural customs and experiences. In addition to this, studying abroad made navigating the campus here in Raleigh quite a bit easier, that's for sure!"
Because of her experience, Smith is now a student representative on the NC State Prague advisory board. She hopes to use what she's learned to encourage parents to motivate their students to be independent leaders and become more culturally aware, and to help students step outside their comfort zone. 
Abby White, a first-year Spring Connect student, echoes Smith's positive sentiments about her experience and its benefits.
"Prague Connect helped me to become more self-reliant and confident in my own abilities, which has been very helpful so far on campus. I also formed close friendships that have helped campus to feel a little smaller and less overwhelming. The skills I acquired while navigating various foreign countries have been beneficial while trying to find my way around campus at NC State."
Regardless of whether Spring Connect students start their college careers in Prague or Raleigh, they each come to campus with unique aspirations and their own paths to forge. Programs like Winter Welcome Week and spring orientation, combined with the myriad resources NC State offers new students, sets the stage for a successful NC State journey.