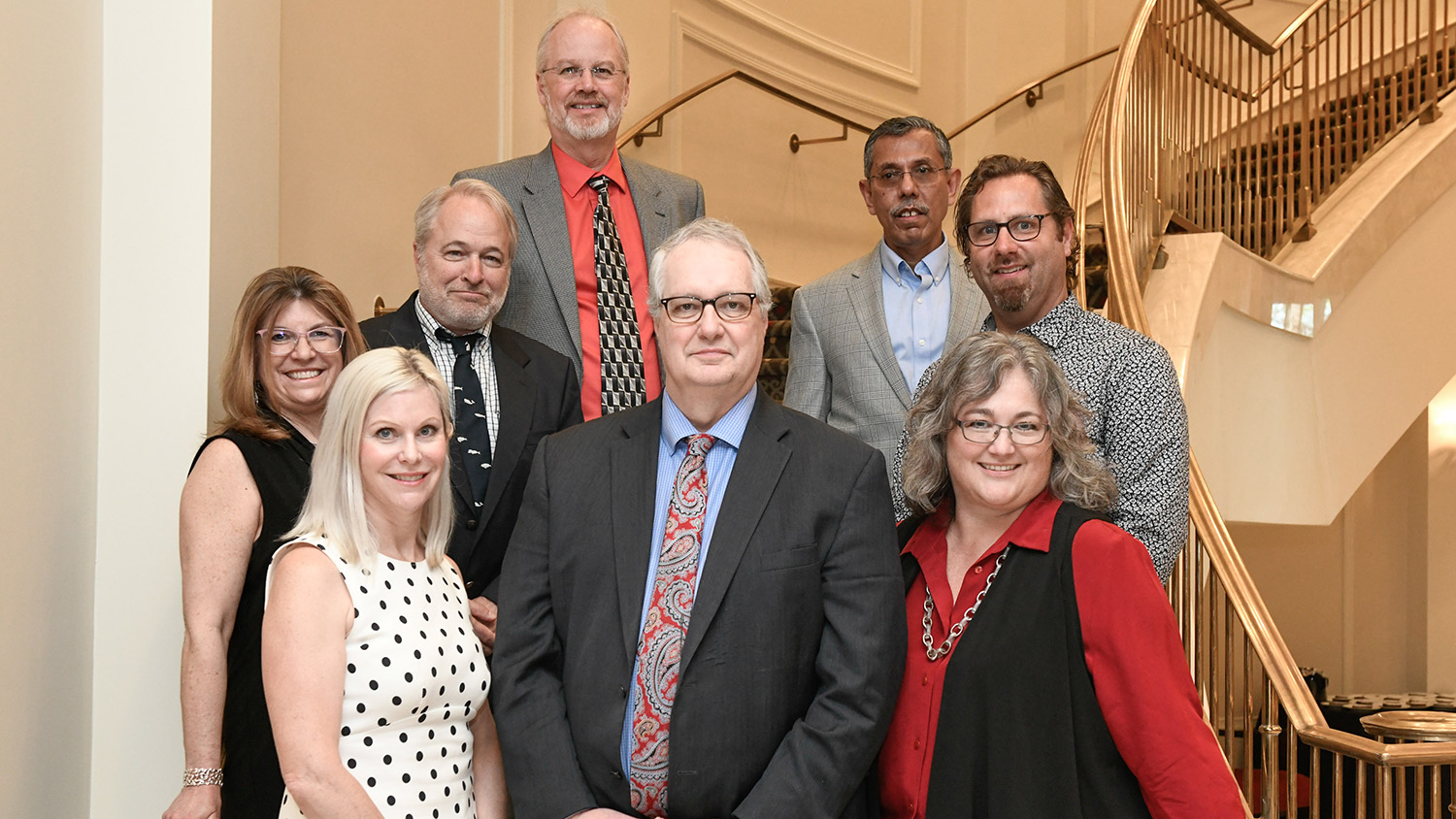 NC State honored more than 30 faculty for their commitment to educational excellence at the 2018-19 University Teaching Awards Ceremony on April 11.
Patrick Rand received the University of North Carolina Board of Governors Award for Excellence in Teaching, the most prestigious award given to faculty for teaching excellence. The award process is coordinated by the Office of the Executive Vice Chancellor and Provost and the Office of Faculty Development. In 1993, the UNC Board of Governors established the award to underscore the importance of teaching and to encourage, identify, recognize, reward and support good teaching within the UNC university system. Each college may nominate one candidate for this award, with one candidate selected as the overall winner.
Rand, who joined the faculty in 1977, is a professor of architecture in the College of Design. He teaches architectural design studios, a thesis preparation seminar, architectural construction systems, and architectural detailing and innovative materials seminars. In his courses, Rand focuses on the relationship between design and building technologies.
He is also one of NC State's first recipients of a Fulbright Distinguished Chair Award. Rand is using his award to teach and conduct research at Aalto University in Helsinki, Finland, from January to May 2019.
Rand will be recognized at NC State's spring commencement on May 11 and the Memorial Belltower will be lit red in his honor at a time of his choosing.
Also nominated for the award were:
The Gertrude Cox Award for Innovative Excellence in Teaching and Learning with Technology was presented to a team of faculty:
The award, first given in 2002, honors the creative pedagogy of NC State's faculty and their work in integrating new technologies into effective teaching strategies. Gertrude Cox, "The First Lady of Statistics" and the award's namesake, came to NC State in 1940 to establish the university's distinguished Department of Statistics.
The Outstanding Teacher Award was presented to the following faculty members:
The award recognizes excellence in teaching at all levels. Faculty must receive the Outstanding Teacher Award in order to be eligible for the Board of Governors Award for Excellence in Teaching and the Alumni Distinguished Undergraduate Professor Award.
Recipients of the Outstanding Teacher Award become members of the Academy of Outstanding Teachers for as long as they remain NC State faculty. Recipients' names are published in the commencement program.
The Alumni Distinguished Undergraduate Professor Award was presented to the following faculty members:
The award, coordinated by the Provost's Office and the Office of Faculty Development and sponsored by the NC State Alumni Association, is one of the most prestigious undergraduate awards given on campus. Up to six recipients will receive this recognition each year and retain their title for the duration of their career as an NC State faculty member. A cash award will be presented to each recipient at the Alumni Faculty Awards Reception, and award recipients will be honored at commencement.