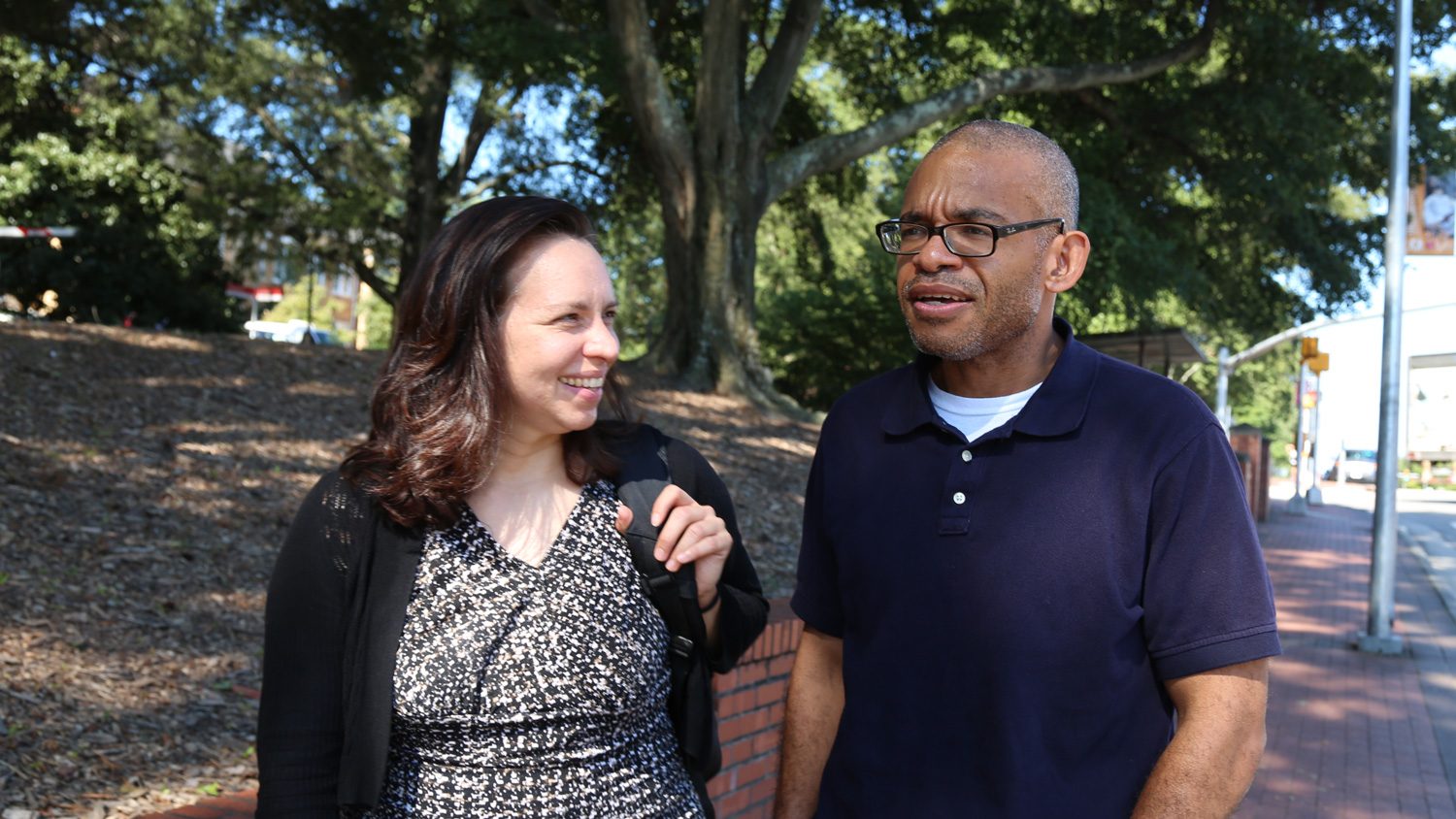 More than 2,300 faculty work across 12 colleges on NC State's campus. Joel Ducoste and Kathleen Vogel are two such faculty making an impact on the university through their teaching and research.

Ducoste, a professor in the Department of Civil Construction and Engineering, came to NC State in 1998. Vogel, an associate professor in the Department of Political Science, joined the faculty in 2014.
We sat down with DuCoste and Vogel to talk about their work, their time at NC State, and advice that they have for all faculty, from first-term assistant professors to long-tenured professors.
Can you tell us a little more about your teaching and research?
KV: My teaching has been for the political science department, particularly for the master's in international studies program in the School of International and Public Affairs, and I teach a course called "Science, Technology and International Security." It's a course that gets students to think about the social and technical factors that affect things like weapons development and security threats, both national and international.
JD: Over the years, I've taught a number of different courses – I'm in the Civil Construction and Environmental Engineering Department – the courses I teach are more focused on water and wastewater treatment. I teach a capstone design course, that's the course that culminates all the student's experiences. We incorporate real projects from the area and interface with consulting engineers as well as real clients. It could be a municipality that needs to fix something at their wastewater treatment plant or even trying to do something on NC State's campus, trying to fix wastewater discharge from a lab. I also teach a graduate course called "Physical Principles of Environmental Engineering."
What brought you here to NC State?
JD: I'm originally from New York, and my wife is from St. Louis, and has family in Mississippi, so we wanted to find a sort-of centralized location. I applied to different schools, and NC State said yes and they gave me the opportunity to come here, and the rest is history.
KV: I came to NC State after I gained tenure at another university. I felt like I needed another challenge, and an opportunity came open here to direct the Science, Technology and Society Program. It was an opportunity that really appealed to me because a lot of my research deals with social, ethical, and policy implications of science and technology, and I thought it would be a great opportunity to build a program. When I came to visit one of the things that really appealed to me, because NC State has such a strong STEM focus, was that there were so many opportunities to collaborate with faculty, departments, and centers. If you are interested in STEM issues, it is a really rich environment to do research.
What are some of the biggest changes you've seen over the years?
JD: One thing that has changed over the years is that there is more emphasis on collaboration, like with the cluster initiative. It was a natural outgrowth of something that was already happening at NC State, where different faculty from different departments were working together. I was glad that the chancellor wanted to enhance this.
KV: I felt that too when I visited – when you have an interest, people are ready to collaborate on projects or do team teaching. It really is a great environment.
Do you have any advice for faculty who are interested in interdisciplinary work?
JD: Don't be shy. If you have an idea and you see that someone else may have the expertise to enhance your research or solutions – start that conversation. Whatever that expertise is, will it help your understanding of what is going on? Talk to that person, because I'll guarantee they'll be excited just to hear that new idea and hear your input. I have a phrase that I always use – "diversity breeds transformative solutions" – you need that diversity in thought and ideas. That is the only way we can get beyond marginal solutions to something that is truly transformative.
KV: Having an informal coffee, just to get ideas generated and to learn more about what the other person is working on is great. Give things time to percolate. For some people that I met initially, I was interested to collaborate but I didn't see a direct, immediate connector to my research. But I thought, "let me think about this for a bit and see if something develops over time." And some things did later on; it may take a while to see how different disciplines can merge and work together effectively. Be patient and take the time to see how things come together eventually.
What is the importance of mentorship in developing as a faculty member? What advice do you have for new faculty seeking to form mentoring relationships?
JD: Mentoring really depends on the person. Some people are self-starters who seek out information, while others may want a little more guidance. If someone has never been in that kind of position before, they may need guidance on what they should be thinking about in their career. But everyone needs some kind of mentoring. Even today, I wouldn't mind having mentoring for the next step in my research and administration, some advice from people who have been in those positions before. I would ask, "If you had to do it all over again, what would you do?" Mentoring provides that advice, that counsel. I think everyone needs some kind of sounding board, someone to discuss ideas with who can say "You may need to rethink that approach," or "Yes, go ahead and pursue that."
KV: When I came here, I was changing institutions. For people like me, for new hires, you're coming into a different environment. Every institution is different in what they value and how they operate, and you need people who can serve as sounding boards to give you a feel for the culture of an institution. So those were the kinds of things I was interested in knowing as a new faculty member at NC State. I wanted more informal mentorship, people who would tell me the lay of the land. I found some really fantastic senior women in different departments, and some had been here more than 20 years, and they were incredibly helpful. They had seen changes in administration and helped me learn NC State's history and culture, and anything else I should be aware of to succeed. I found that to be extremely helpful. You need to be able to form those types of relationships, and be able to receive feedback.
For more information on learning and growing as an NC State faculty member, visit our Office of Faculty Development at ofd.ncsu.edu.