Faculty and Staff
Getting to Know Rob Dunn and Staff in the Office of University Interdisciplinary Programs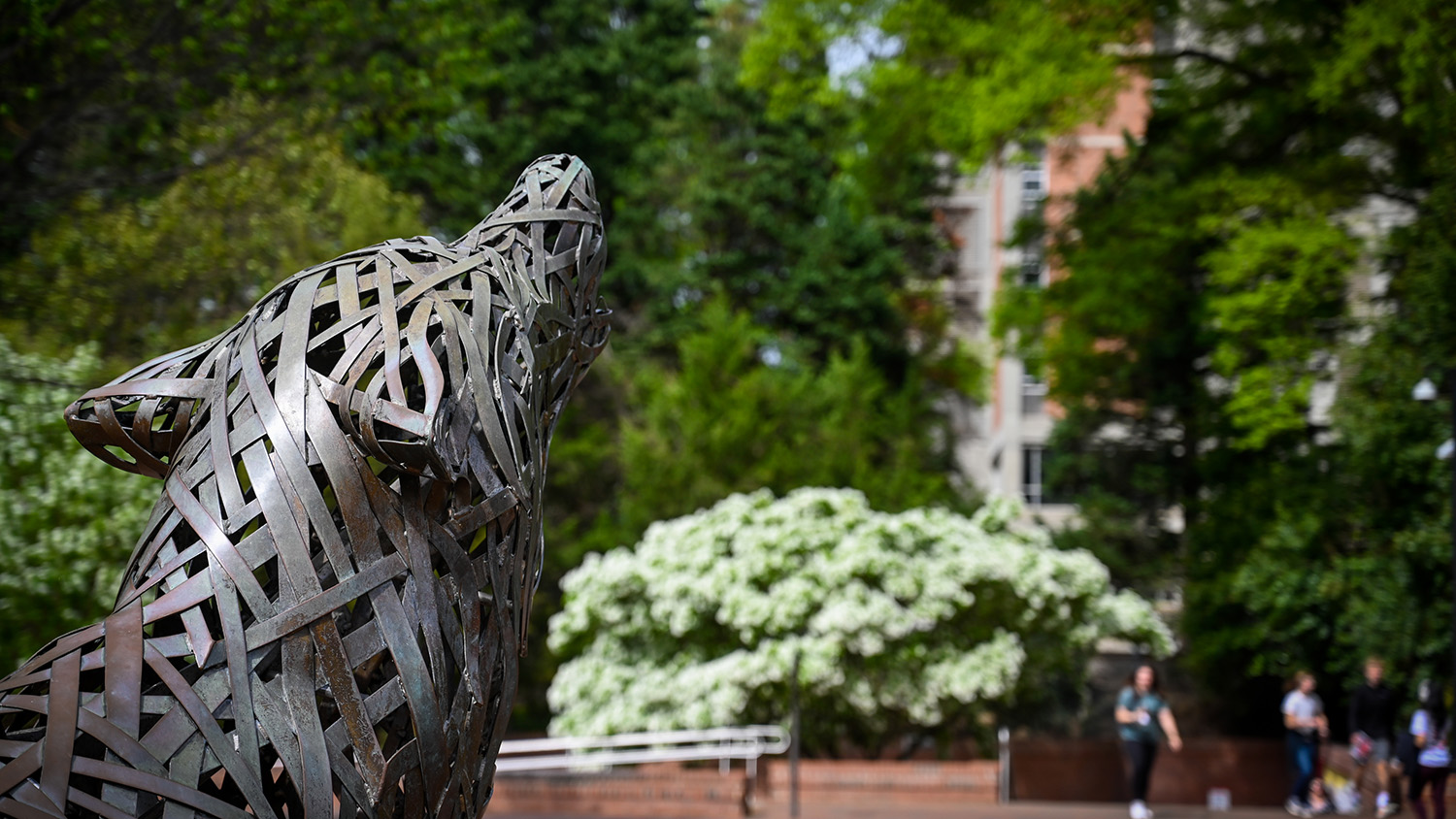 The Office of University Interdisciplinary Programs (OUIP) strives to set a global example for interdisciplinary excellence and to place NC State on the cutting edge of instruction, research and engagement in higher education. The office provides leadership, direction and oversight for the programmatic planning and implementation of universitywide interdisciplinary programs and initiatives.
Units within OUIP include NC State's academies (Data Science Academy, Genetics and Genomics Academy, Global One Health Academy), the Biotechnology Program, the Coastal Resilience and Sustainability Program, the Chancellor's Faculty Excellence Program, NC State Innovation and Entrepreneurship, the Integrative Sciences Initiative and the Shelton Leadership Center. Through its work, OUIP promotes a campus culture of interdisciplinary excellence and collaboration across academic boundaries. We spoke with Rob Dunn, senior vice provost for University Interdisciplinary Programs, as well as two OUIP staff, about the unit and how it makes a difference on campus.
Rob Dunn, Senior Vice Provost for University Interdisciplinary Programs
How does the Office of University Interdisciplinary Programs advance education and research at NC State?
We hear from business and government leaders, as well as potential employers, that our students need interdisciplinary skills to succeed in the future. NC State already has extraordinary interdisciplinary, project-based opportunities for students, but we want to grow and improve those opportunities to make it easier for far more of our students to gain that skill set. We need our faculty to have a deep understanding of different disciplines, as many of the critical challenges facing society don't sit in any one discipline. Engineers can't fix sea level rise on their own; plant pathologists can't stop the spread of new pathogens on their own. Our researchers see this and are eager to work in teams to solve problems. 
A core goal of my office is to find ways to make it much easier for faculty to come together to solve the critical challenges we face, and to do the same with students. We anticipate that this will speed our rate of problem-solving and innovation. In both cases, we engage students and faculty with interdisciplinarity in two main ways. First, we have a team of leaders that lead individual interdisciplinary programs that reach across campus. That includes the Data Science Academy, the Genetics and Genomics Academy and the Global One Health Academy. We have a renewed investment in sustainability, and the Coastal Resilience and Sustainability Initiative. 
We also have NC State Innovation and Entrepreneurship and the Shelton Leadership Center and others. Those units help us reach across campus to engage students and scholars. At the same time, we work with other units on campus to create systems and incentives that make interdisciplinarity easier. How do we make sure our faculty are rewarded when they do the work that changes society by working together? The other thing we do is think about how we can invest in our faculty hires in our new units in ways that favor the kind of problem-solving we're going to need in the coming decades. 
What are some of the most important ways the Office of University Interdisciplinary Programs supports interdisciplinary excellence and collaboration for faculty, staff and students?
A large part of what we do is listen to others to determine what opportunities we have to work together and build community. One of the great things about NC State is that we're full of talented students, faculty and staff. We work to identify people who if you just pair them together, it's like peanut butter and chocolate — the Reese's Peanut Butter Cup of discovery. Often we can realize new synergies just by connecting scholars, educators and students who weren't yet connected. In some cases, I'm making those connections; more often the interdisciplinary units that are part of OUIP are leading the way. This is the case with artificial intelligence (AI) on campus. 
NC State is one of the top three universities in the United States for AI education. We have people studying and implementing AI all over campus. One of the things we've been able to do is charge the Data Science Academy with bringing people together from across campus to imagine what we can do with AI in the future. Our interdisciplinarity in those contexts allows us agility, and that's something my office also works on — how do we use our interdisciplinary teams to respond in an agile way to the challenges that confront us? We want to help increase NC State's ability to respond quickly to the changing world and I think interdisciplinarity often allows us that. 
What is your role within the Office of University Interdisciplinary Programs? What do you enjoy most about your position?
My role is to lift up our great interdisciplinary scholars and students and make their work more visible on campus as well as to increase the impact of that work. It is to help scholars find opportunities for collaboration across disciplines–for example connecting biologists who study sponges to engineers who want to learn from them or connecting biologists who study spider spinnerets to folks in textiles who want to re-imagine the future of 3-D printing. It's to lead the units that directly report to the Office of University Interdisciplinary Programs and to find ways for those units to work synergistically. I also work with other units on campus to find ways to ease the path to interdisciplinarity. This is all very team-based work, whether that's working with the amazing folks who report to OUIP or working with teams of other leaders on campus.
One of the most exciting things about the job is that we do so much extraordinary interdisciplinary work that people don't know about. We work to find those groups that are already doing that work and see what they need in order to take that next great step. And that's very exciting. One other thing that's exciting about the job is related to the timing. We are facing critical societal issues that demand interdisciplinary teamwork now. And, our good fortune is that just when we most need to work together we have a group of deans, senior vice provosts and vice chancellors on campus that are committed to a more connected and collaborative future. 
What plans does the Office of University Interdisciplinary Programs have for the coming year? What new opportunities for growth will you pursue?
The Global One Health Academy launched just a few months ago. Campuswide, this academy reflects the growing need for scholars who think about health holistically in ways that connect an understanding of biodiversity, crop health, domestic animal health and the health of humans. The Global One Health Academy is only the second of its kind in the world and occupies a really unique niche and so I think we'll see a lot of change in that space. The Data Science Academy is now two years old, and we're starting to think about the bigger role it can play on campus across the state. The academy is working toward a future in which all of our faculty, staff and students have an opportunity to gain fluency in data science. The Genetics and Genomics Academy is working to ensure the scholars across campus who use and study genetics and genomics are collaborating and connected, that our graduate students in different disciplines have the potential to work together and that as many undergraduate students as are interested to have access to the tools and concepts of genetics. We anticipate a future in which genetics and genomics radically transform our daily lives and we want our students to be ready for that future.  
Meanwhile, we're a world leader in sustainability and we're looking at what that looks like in terms of innovation across disciplines. We are working toward a sustainability initiative that may one day become the fourth academy. We're also hiring a new associate vice provost to focus on project-based learning and undergraduate students. A year from now, when an undergraduate student arrives in NC State, they have to kind of know what they want to do. I would like it for it to be extraordinarily easy for them to see exactly what opportunities are available to them to engage in project-based learning, to engage in research, to work with teams across campus, and to engage in solving problems. I think it's very achievable and it's bringing together what we already do and expanding on that. We're also working on a project called The Long View, which aims to bring scholars, stakeholders and business leaders together to anticipate what the future is going to look like. 
What is something that the NC State community may not know about the Office of University Interdisciplinary Programs?
We really like to bring people together who have the potential to work on interdisciplinary projects that may seem to be unusual collaboration, but really have long-term benefits. For example, we're trying to bring people who study textiles together with people who study spiders, to think about how spiders make their silk and to generate new fabrics from that collaboration. We spend a lot of time trying to think about what are the conversations that are not happening elsewhere that we might uniquely be able to foster to really spur innovation.
Debbie Acker, Director, Shelton Leadership Center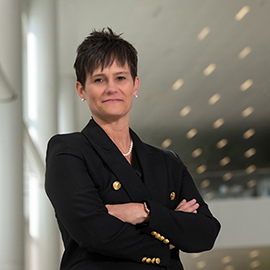 What is your role within the Office of University Interdisciplinary Programs?
I serve as the director of the Shelton Leadership Center. I believe we have the opportunity to identify leadership experiences, both curricular and co-curricular, that are occurring already across campus as well as seek new ways to collaborate with others to equip and train our students, faculty and staff to lead with a values-based mindset in order to enhance our personal and professional environments within OUIP and across the university.
What do you like most about your job?
I really appreciate the opportunity to work across disciplines and seek to help others view interdisciplinarity as an asset for learning and experiencing perspectives. Society's problems cannot be solved creatively or innovatively without varying perspectives. Understanding how each component of a problem — the people, the environment, the possible impacts — is important to making sure we are solving the correct problem. Teaching and training others on how to lead with this in mind, as well as our values and ethics, will have a great impact on the students we graduate from NC State and the way in which our faculty and administrators will prepare our students for the workforce.
Shiyan Jiang, Interdisciplinary Future Fellow and Assistant Professor, Learning Design and Technology, College of Education
What is your role within the Office of University Interdisciplinary Programs?
I am an interdisciplinary future fellow in the program. My work aims to bring together scholars who specialize in AI and education from different departments within the university. The goal is to establish a networked community that fosters interdisciplinary collaboration, and creates a renowned reputation for this area of study at a national level.
What do you like most about your job?
I enjoy the opportunity to collaborate with colleagues from various disciplines and work on diverse projects. As an interdisciplinary future fellow, I am looking forward to upcoming events that will bring together scholars and provide an opportunity to meet new people, understand their needs and facilitate universitywide interdisciplinary collaboration.
How does interdisciplinarity help create more well-rounded teachers, learners and researchers?
Interdisciplinarity encourages teachers, learners and researchers to think beyond their own fields and develop a broader perspective that draws from different areas of knowledge. Interdisciplinary work can help individuals to approach problems in a more holistic manner, recognizing that solving critical challenges invariably requires a range of skill sets and perspectives. This can lead to more innovative solutions and insights that may not have been possible from a single disciplinary perspective. It is an exciting space to explore!