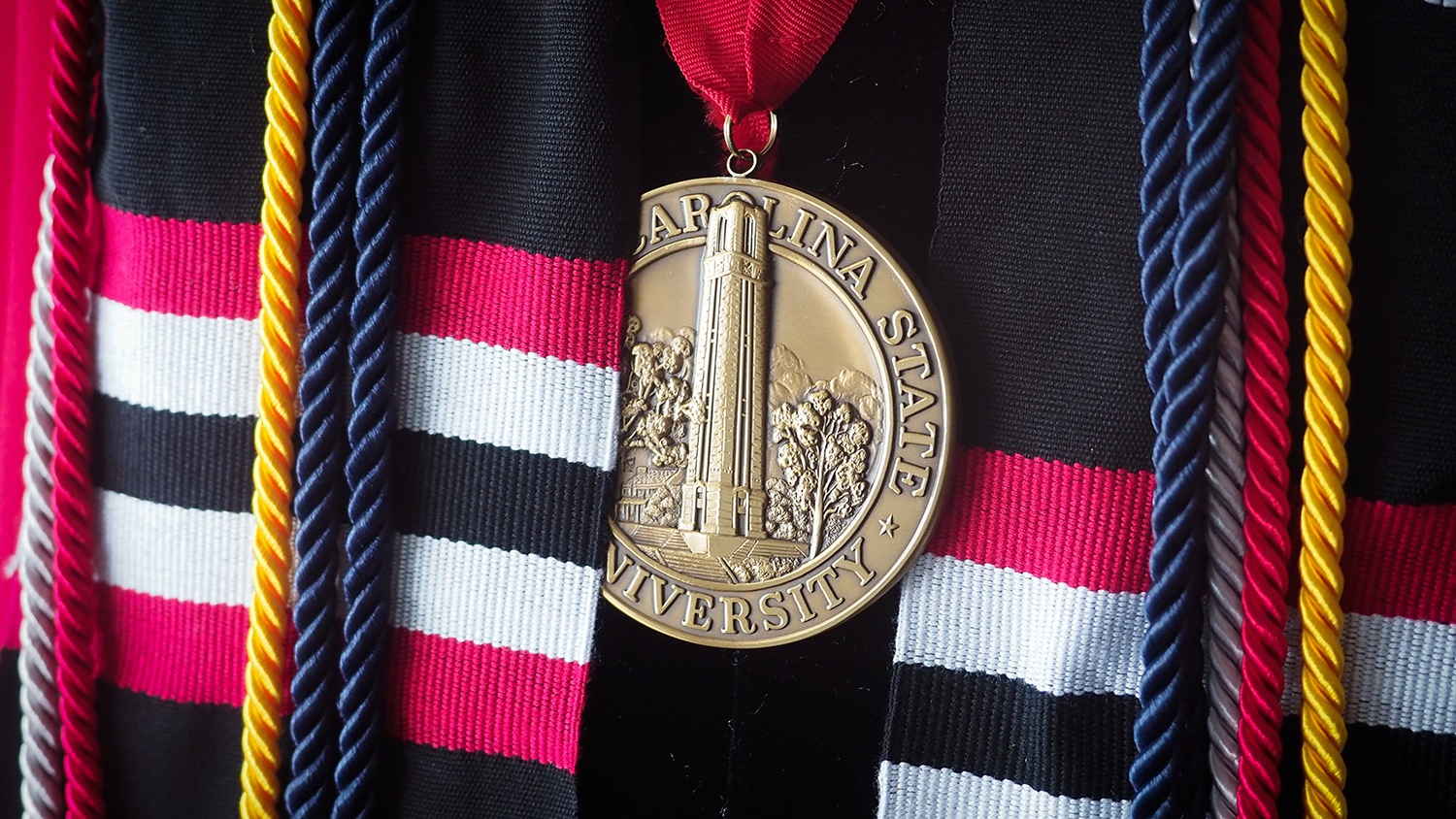 All of the pageantry and tradition surrounding commencement underscores the remarkable achievements of the Class of 2021. Throughout the COVID-19 pandemic and with a rigorous academic experience, these graduates show us what it really means to think and do, regardless of the circumstances.
In the resumption of in-person fall commencement exercises at PNC Arena on December 14, NC State awarded 59 associate, 2,031 bachelor's, 966 master's and 363 doctoral degrees. These degrees represent 3,289 summer and fall graduates from more than 50 different countries, all of them ready to travel down their own unique paths after leaving campus.
We recently spoke to a couple of these graduates to learn more about their NC State stories.
Bachelor of Science in Computer Science, College of Engineering
December 2021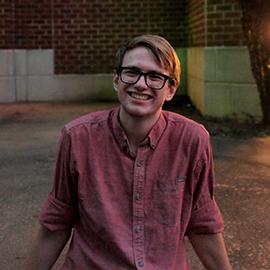 NC State's commitment to high-quality interdisciplinary education equips students to enter a post-graduation world ready to make an impact. That includes Wilmington native Sam Weaver, who initially chose the university due to its rigorous engineering curriculum combined with a colorful, vibrant student life.
"Although engineering and problem-solving has always been a big part of my life, there's more to being a student than just studying," said Weaver. "NC State helped scratch that 'interdisciplinary itch' for me, and made my life a lot more rich in the process."
Weaver first heard about NC State Entrepreneurship after discovering the Entrepreneurship Garage his first year on campus. The Garage, a space where students can explore their own ideas and create their own inventions, captivated the computer science major. That led to Weaver getting involved with the Albright Entrepreneurs Village, a living and learning community on Centennial Campus for student entrepreneurs. He spent three years there, as a student and then a mentor, learning how to tackle previously unsolved issues.
Due to his entrepreneurial spirit and work, Weaver was named the first recipient of the John and Linda Leazar Award in Entrepreneurship, which supports NC State students who have "demonstrated initiative and a commitment to entrepreneurial excellence in support of their own personal ambitions as well as the support of NC State Entrepreneurship." Weaver won the award based in part on his work developing Homework Homie, a browser app that tracks students' homework assignments in an aim to reduce academic stress.
While on campus, Weaver also played trumpet for NC State's marching band, the Power Sound of the South, which took him around the world, from a 2019 performance in France to capping his marching band career at the Holiday Bowl in San Diego at the end of this month. He also performed with the Comedic Improvisational Alliance, NC State's improv group, and worked as a stage technician for University Theatre. 
In the College of Engineering, Weaver was a part of several engineering-related student organizations, such as STARS in the Department of Computer Science and the FIRST Robotics Alumni Association in the Department of Electrical and Computer Engineering. 
All of these academic and extracurricular activities gave Weaver a wide-ranging, interdisciplinary education that equipped him well for whatever the future holds. Although a strong traditional education is important — especially for understanding the history and context behind a specific field — no one academic program can completely prepare someone for many real-world problems. Being able to truly contribute to moving a field forward takes a different skill set, which NC State provides.
"Having an interdisciplinary education — an education where you learn not just inside the classroom, but outside it, through clubs, friends, mentors, adventures, and new experiences — is the only way to 'put the puzzle pieces together' to make something new. If I hadn't volunteered with FIRST Robotics, I never would've learned about troubleshooting embedded systems! If I hadn't joined the improv club, I never would've discovered my love for comedy! The experiences I had along the way weren't distractions from my studies, they were what transformed my knowledge from lectures into something I could apply in real life."
Weaver credits his mentor, Haley Huie with NC State Entrepreneurship, for his academic success. In addition to countless family members, friends and fellow band members encouraging him along the way, the following members of the NC State family all played an important role in developing a well-prepared interdisciplinary graduate: Tiffany Barnes, Distinguished Professor of Computer Science; Chris Martens, assistant professor of computer science; Paul Garcia, director of bands; Justine Hollingshead, assistant vice chancellor for academic and student affairs; Chester Miller, director of residential learning and academic initiatives; former advisor Will Hasley; and Clark Rinehart, interim executive director of Innovate Raleigh.
"Being able to participate in a wide-reaching entrepreneurship education program without having to change my major was a game-changer," he said. "It helped me feel comfortable solving hard problems on my own, which I've since learned is a major asset to my career!"
In January, Weaver will take the entrepreneurship lessons he learned at NC State and become a software professional with Relay, Inc., a company that develops screen-free communications devices acting as alternatives to smartphones. He eventually plans to move to Los Angeles to pursue his lifelong dream of becoming a film and television writer.
His advice to future students following in his footsteps?
"Never take your advantages for granted," he said. "Attending a university as amazing as NC State is an incredible privilege that many, many well-deserving people never get the chance to enjoy. Do what you can to make the most of this time of learning and growing, and once it's time for you to move on, do your best to give back to those who need your knowledge and wisdom the most."
Master of Science in Parks, Recreation, Tourism and Sport Management, College of Natural Resources
December 2021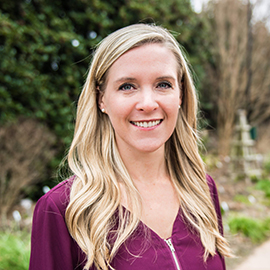 Work-life balance takes on a new meaning when you're a student at NC State in addition to being an employee. That's the case for Lauren Morris, a fall 2021 graduate in the online parks, recreation, tourism and sport management (PRTSM) master's program.
Morris, a native of Halifax County, spends her workdays as a regional nutrition extension associate within the College of Agriculture and Life Sciences. In addition to Halifax County, she serves Hertford, Gates, Northampton, Nash, Edgecombe, Wilson, Franklin and Johnston Counties, providing citizens with nutrition education, and stresses the importance of healthy food and physical activity access for residents in these counties.
After working seven years as a clinical dietitian in a small local hospital, Morris took a leap of faith in 2017 and accepted a grant-funded position in the NC Cooperative Extension office in Northampton County as the Health Matters associate. There, she worked with communities to help increase healthy food and physical activity access. She found a new passion for physical activity and recreation access, which inspired her to seek her master's degree.
Beginning in 2024, a master's degree will be required to become a Registered Dietitian. While Morris and others who are already Registered Dietitians would be grandfathered in, she knew that she would need this degree to be competitive for career advancement opportunities.
"I enrolled in the PRTSM online master's program because I knew it would be a perfect fit for my work, career advancement interests and home life," said Morris. "The flexible learning environment of this program allowed me to continue working full-time while raising my family and achieving my professional goal to obtain my master's degree."
To help pay for her education, Morris took advantage of the NC State's tuition waiver program, which pays for university employees to take three courses per year at any UNC System school. She took online courses as a non-degree student prior to enrolling, which allowed her to get back into the swing of college courses after receiving her undergraduate degree a decade ago.
Morris officially started her program in fall 2019. Since then, the online program gave her the opportunity to work alongside recreation departments, county governments, N.C. Cooperative Extension, small business owners and many others to fulfill her degree requirements. Being able to collaborate with those in and outside of the university provided an interdisciplinary experience that will prove invaluable in the future.
Of course, Morris received crucial support along the way that allowed her to successfully complete her degree. 
"I absolutely could not have done this without my husband, who did everything he could to ensure my classes wouldn't be interrupted and that I had time to work on my coursework. He honestly deserves an award for everything he sacrificed during this time," said Morris. "There were countless evenings where he had to do everything alone for our kids and I am so thankful for him."
Over the past several years, Morris has experienced her fair share of ups and downs in her personal and professional life. She has watched her children grow, develop their own personalities, and even begin elementary school. At times she held her young son to help him fall asleep, while she sat at her kitchen table participating in live online classes.
"The understanding of the professors, the format of these courses, and the flexibility of the program, I was able to balance work, family and coursework. I even went through a position elimination and, thankfully, have since grown in my career."
Morris attributes her career advancement to the skills and knowledge she learned in her online master's program. While her current position is not directly a parks, recreation, tourism or sport management position, she is responsible for providing technical assistance to agents and communities for policy, system and environmental changes that include improving/enhancing physical activity opportunities and access. 
She thrives on helping the communities, especially low-income communities, drive community-wide changes related to parks, recreation and tourism. One of her favorite aspects of her job is helping communities identify ways to provide safe and equitable access to recreation and physical activities. She has utilized the knowledge and skills learned in her master's courses to listen and learn the needs and goals of the community while sharing knowledge and opportunities with them to make enhancements, suggestions and improvements.
"I never thought that as a dietitian I would obtain a master's degree in parks, recreation,  tourism and sport management but I now have a well-rounded education that has prepared me for my current position," said Morris. "Moving forward, I will continue to use this experience and knowledge to assist rural communities in eastern North Carolina. I am extremely thankful for the support, guidance, and experiences gained from the faculty and staff in the Department of Parks, Recreation and Tourism Management, as well as my family, mentors, supervisors, colleagues and friends who supported me through this journey."