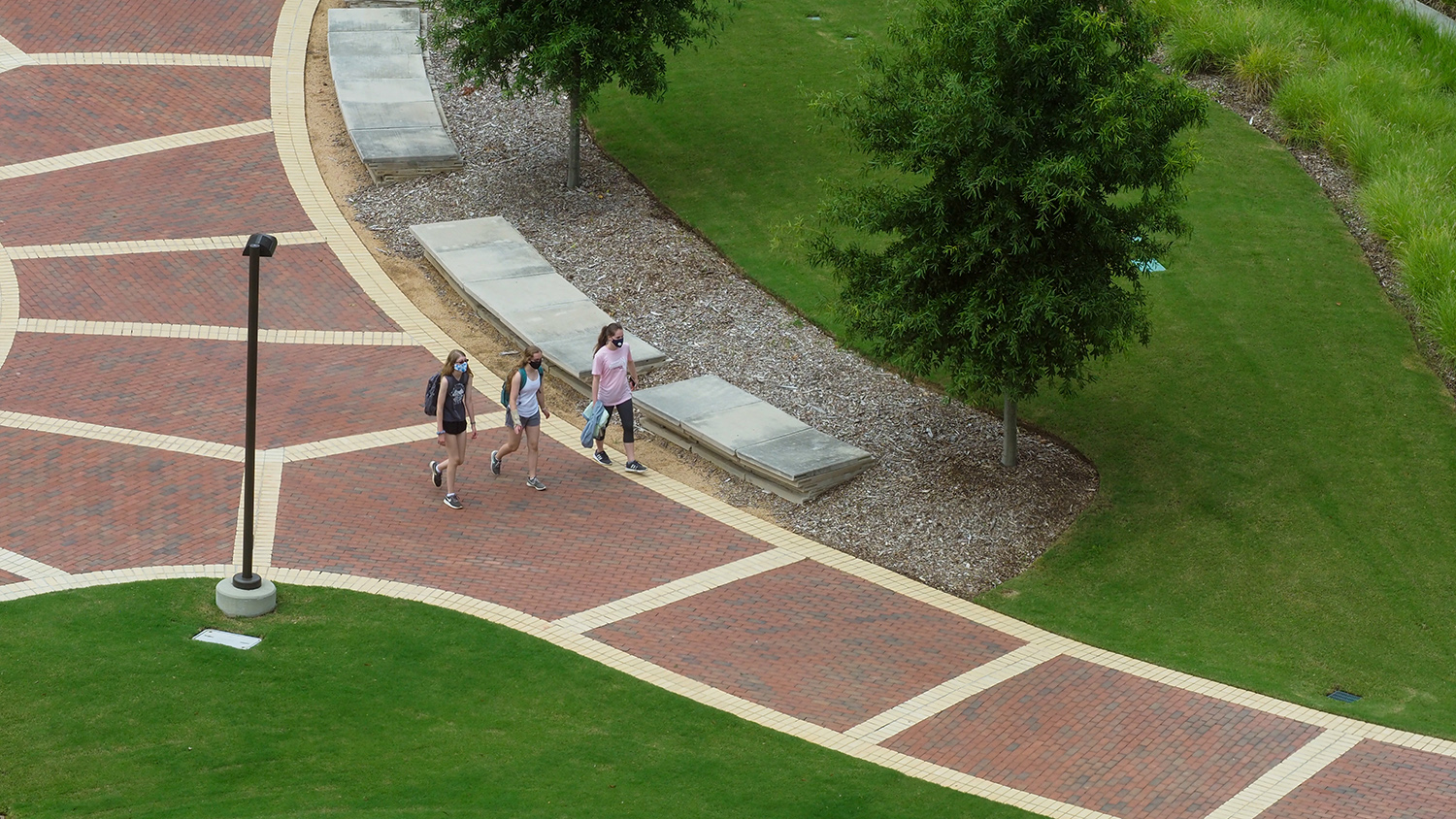 Even during the summer months, NC State's campus remains a hub of activity for faculty, staff and students. The university's colleges, units and more stay busy with academic programming, orientation sessions, social events and a host of other activities. Of course, this summer includes a little more excitement than usual as faculty and staff are working on returning to normal and many people are coming back to campus for the first time in a while. We spoke with representatives from the campus community on what's going on while many are away for the summer.
College of Design
The College of Design is expanding into a new space. The college's industrial design program will be moving into the first floor of 111 Lampe Drive over the summer, with plans to start in-person instruction there in the fall. 
Design Camp is continuing virtually this year, with Design Camp in a box! Students had the opportunity to sign up for camp and receive a box of supplies to execute creative projects. Content related to the digital design lab can be found on their YouTube page. Additionally, planning is underway to celebrate the college's 75th anniversary in 2023.
Division of Academic and Student Affairs
Arts NC State
Department of Music
The Department of Music will welcome high school students to campus in June for three music camps focused on music technology, drum line technique, and leadership for drum majors. Sessions will be taught by department faculty and guest instructors, with NC State student-musicians serving as camp counselors.
Feed the Pack Food Pantry
Summer operating hours: Tuesdays noon-6 p.m.; Wednesdays noon-6 p.m.; Fridays noon-4 p.m.

NC State will have an AmeriCorps VISTA for the second year to focus on capacity building and supporting campus-wide efforts to address food insecurity at NC State. The VISTA will also have a strategic presence within residence hall spaces to support students living within our residential communities. 

Feed the Pack received a foundation grant to support the development of pop-up pantries.

Alternative Service Break in-person experiences will resume this fall, with a focus on local and domestic communities.
New Student Programs
New Student Programs is currently preparing to launch its New Student and Family Orientation sessions, as well as the Summer Start program (a six-week academic transition program for new first-year and transfer students and continuing second year students).

New Student and Family Orientation programs will look different this year than previous years as there will be a three-pronged approach to orientation, including an online module (required), live virtual sessions (required), and in-person campus visits (optional). New Student Programs anticipates orienting approximately 6,400 new first-year and transfer students and their families this summer through this programming.

The Summer Start program is currently planning for approximately 200 participants, including continuing second-year students, Spring Connect students, student-athletes, and international students. While students have the option to live on-campus this summer to get a residential experience, there will also be a virtual option for students not living on-campus with participants split about 50/50 related to residential versus virtual participation. Students will take a majority online classes; however, New Student Programs is excited to offer some in-person options for those interested students. With peer mentoring and co-curricular programming slated for the summer, New Student Programs plans to offer all participants robust options to engage with other new students and the campus community this summer.

As orientation programs and Summer Start gets underway, New Student Programs will also be working on preparing for a normal Wolfpack Welcome Week (WWW) experience for new and returning students. While the full schedule will not be released until July, campus partners are already in the midst of preparing for students to return to campus in August, and are planning for traditional WWW signature events like New Student Convocation, Back 2 School Jam and RecFest (among others) to occur.

Additionally, New Student Programs is excited to work with campus partners to offer the Common Experience again in fall 2021 to new first-year students. As in fall 2020, the Common Experience is based upon CliftonStrengths for Students and assisting students in learning more about themselves and their peers as they begin their NC State experience.
TRIO Programs
TRIO Pre-College Programs will host several summer academies for middle and high school students, most notably the NAF Future Ready Scholars Academy, a new program sponsored by a grant through Lenovo. The Future Ready Scholars Program will be a unique and transformative summer residential experience that will expose high school students to college life and acclimate them to the reality of college-level work, all while emphasizing exposure to STEM experiences. The program will welcome 32 rising high school sophomores to campus for a week-long experience. Other TRIO programs include intensive academy programs for students to prepare students for high school, increase their academic acumen, and prepare graduated seniors for a successful transition to college. 
The TRIO Ronald E.McNair Scholars Program will begin its fourth Summer Research Experience beginning June 21 and running until the end of July. Six Scholars, all of which are NC State undergraduates, will work alongside NC State faculty on research projects in psychology, animal science, plant biology, and a few other faculty-led projects. The McNair Scholars Program at NC State is one of 187 programs at colleges and universities across the country and part of a group of federal programs known collectively as TRIO. The McNair Scholars Program helps qualified undergraduate students prepare for admission to doctoral programs and the successful pursuit of PhD degrees.  
University Housing
Safety – Locks are being added to the suite doors in the Tri-Towers buildings.

Accessibility – University Housing is expanding the number of ADA residential spaces on campus this summer. Design modifications are being made to an apartment in Wolf Village in order to provide an apartment that can house a

student with mobility challenges, an NC State student roommate and a personal care attendant within the same apartment.

Access – University Housing began offering subsequent rounds of room selection after the primary process in March in order to help returning students and new graduate and transfer students who are on the waitlist more quickly select a room on campus as space becomes available. An additional 400 students have selected beds for fall through this expanded process.

Partnerships/Showcase – University Housing had Gold Hall closed for spring and summer 2021 due to low occupancy.  As a result, however, the unit was able to decorate six rooms to be used as model rooms, blanket the remainder of the common spaces with informational signage and partner with New Student Orientation and the Joyner Visitors Center to open the building for prospective students and their families who visited campus in spring/summer to see a typical residential community on our campus.

Partnerships/Sustainability – University Housing, working with the Sustainability Office, are supporting the Student Government initiative to place composting bins in the Wolf Ridge (Tower and Plaza Halls) and Wolf Village (Arctic and Hudson Halls) Apartment Communities, thereby expanding the composting program within the residential community.

Planning/Technology – The Residence Life and Residential Learning teams are working together to plan how to incorporate virtual training sessions into student staff training for late summer/early fall in order to accommodate for: staff who may need to be in Q/I housing during training, who may not feel comfortable in a group setting in late July/early August, or as a way to delay the arrival of in-person training sessions (staff can take advantage of asynchronous learning/training).
Wellness and Recreation
The Wellness and Recreation Center and Carmichael Gym are open and continue to offer programs and services for students, faculty, staff and members throughout the summer. 

Wolfpack Wellness Research Web Series

The

NC State Wellness Advisory Committee

hosts the

Wolfpack Wellness Research Web Series

, a collection of 30-minute talks from NC State researchers and practitioners who are advancing the culture of wellness in the community. Join host Suzie Goodell, associate professor of nutrition in the Department of Food, Bioprocessing, and Nutrition Sciences, every third Friday of the month at 2 p.m. for enlightening and thought-provoking conversations. The next episode will feature Nilda Cosco from the Department of Landscape Architecture and Environmental Planning in the College of Design. An expert in outdoor design and the impact of health outcomes, Cosco will share her research on preventing obesity by design.

Register Here
DELTA
College of Education
At the College of Education, faculty, staff, and students will continue to work on initiatives and activities important to NC State's land-grant mission to advance educational equity and prepare extraordinary educators, counselors, and leaders who foster diverse, inclusive, and supportive classrooms, schools, and communities where all learners have the opportunities. A few examples: 
The new

Transformational Scholarships Program

will prepare 100 teachers for Eastern North Carolina. 

CED is hosting June 20-24, for example, its second annual

Leadership Institute for Future Teachers

. 

The college continues to be busy equipping professional educators, counselors, and leaders with the tools, skills, and resources they need to be highly effective in their roles through various events, workshops, and institutes, including the following—all of which are free:

The Friday Institute for Educational Innovation, which is part of the college, will host the

N.C. Conference for Educational Equity

July 27-28. This conference will focus on the district-wide practices, community-based programs, school policies, and classroom procedures that have created more equitable learning and life outcomes for students. 

On Aug. 3-4, CED will hold the

2021 Math Summit: Looking Back . . . Moving Forward

— two days of engaging professional development

for K-12 math teachers in North Carolina and featuring

two nationally recognized thought leaders in STEM education and equity:

Jo Boaler, Ph.D.

, the Nomellini and Olivier Professor in the Graduate School of Education at Stanford University, will speak on "Limitless Mind: Learn, Lead and Live without Barrier," and

Chris Emdin, Ph.D.

, an associate professor in the Department of Mathematics, Science and Technology at Columbia University's Teachers College, will speak on "Where Equity and Technology Resides: Radical Reimagining in STEM." The Math Summit is sponsored by CED, SAS, and the Triangle Math Alliance, which includes Chapel Hill-Carrboro City Schools, Durham Public Schools, Johnston County Public Schools, Orange County Schools, and the Wake County Public School System.

Some faculty in social studies education held a three-day summer institute for curriculum specialists across North Carolina focused on curriculum mapping and teaching the new social studies standards that were originally planned to be implemented at the start of the 2021-2022 academic year. 
Related to this, CED's

Belk Center for Community College Leadership and Research

, is working to establish a statewide professional learning program for community colleges in North Carolina by developing Teaching and Learning Hubs at multiple community colleges around the state. 

The college is busy preparing to welcome one of its largest and most diverse groups of incoming students in our college's history. Incoming students include five participants in the inaugural LIFT this past year who were early-action students in the college, 44 new Teaching Fellows (the largest entering cohort in North Carolina), and nine Goodnight Scholars.

This is the Goodnight Scholars' largest cohort of education students yet, and includes the first education transfer scholar. CED will also welcome two new cohorts in the college's two Ed.D. programs that prepare future superintendents and community college executives. 
College of Humanities and Social Sciences
The College of Humanities and Social Sciences is in a period of leadership transition as Dean Braden steps down and Dean Dannels steps up July 1. 

The college encourages the campus to contribute to the Feed the Pack Food Pantry, and to designate their summer contributions in honor of Dean Braden's leadership and commitment to addressing food insecurity among our students and staff. Here are details about the

CeleBraden Food Drive

. 
Poole College of Management
The Poole College of Management has undergone the following building upgrades:
Installation of new carpets in all classrooms as well as new acoustic wall tiles in select classroom spaces. 

Transitioning to ClassTech and getting all new classroom technology. 

Renovated office space to create a new Instructional Design consultation space for faculty. Now they have a space to come and meet with the IDG team and work on their class materials. 

Renovating the restrooms on the first floor to match the second, third and fourth floor restrooms.

Renovated the reception area in OUP to be more welcoming, and to create better flow.

Addition of new bike racks and additional seating in the East Courtyard at Nelson Hall. 
In the MBA Career program: 
The PCOM Graduate Career Management Center has invited MBA students and recent MBA graduates to join each week via Zoom for a drop-in, no agenda lunch to say hi, ask questions, celebrate career success, or just share something fun with us.

The PCOM Graduate Career Management Centerhosted its fifth a

nnual Employer Summit, June 10, 2021, where 19 employers were in attendance. Some of the companies in attendance: ABB, Cisco, Credit Suisse, Eaton, Lenovo, Microsoft, Tractor Supply and Volvo.The Summit is the CMC's way of saying "Thank You" to valued business partners. 
Graduate School
The Graduate School is approaching the final push for the sixth annual NC State

Envisioning Research

contest (

https://envisioning.research.ncsu.edu/

). The deadline to submit is June 18. This contest is open to all students (grads and undergrads), postdocs, faculty, and staff.

The Graduate School is also gearing up for new student orientation. This year's orientation will be held online (asynchronously) and will open up on Aug. 12. Plans aren't finalized yet, but the Graduate School is working with the Graduate Student Association to plan an outdoor event on or around Aug. 12 to safely hand out free graduate school t-shirts, lunch, Howling Cow ice cream and more to new graduate students. Details should be finalized within the next few weeks.

There are several summer workshops and professional development opportunities coming up as well.
New teaching assistant (TA) workshop
The new TA workshop is going virtual this year! The Graduate School will hold a full day of synchronous plenary and breakout sessions on Aug. 13. In addition to providing an overview of best practices, the workshop aims to increase participants' classroom confidence and connect them to resources they can draw on in the future, whether in face-to-face, virtual or hybrid modes of instruction. Contact

Stella Jackman-Ryan

with questions.

Register for the new TA workshop
Writing certificate applications open
Did you attend an engineering cafe or the writing retreat? Enhance your writing skills and become a more productive writer through engagement in the Graduate School's new graduate writing certificate program. Questions? Contact Katie Homar from the graduate professional development team.

Learn more about the program and register

.
New graduate student orientation
Online orientation will be held via Moodle for all newly matriculating Summer I, Summer II, and Fall students. If you are a new student, full details will be sent out to your NC State email address. Online orientation does not open up in Moodle until Aug. 12. If Summer I or Summer II is your first semester at NC State and you have questions about new student orientation, please contact

Aixa Morales-Diaz

or

Darren White

. Learn more about available o

rientation information and resources

.
Professional development certificate information session
NC State University Libraries
Our Open Pedagogy Incubator, designed to incentivize faculty to go beyond the first step in open education – adopting open course materials – to implement multiple open-enabled practices in their courses, is running over the summer: https://www.lib.ncsu.edu/open-pedagogy-incubator.
The Libraries is offering a new series of free online programs for families to enjoy this summer. The programs feature Libraries' staff and will teach learners of all ages how to create their own pop-up cards, make their own music, and compose ekphrastic poetry. These programs are part of our Learning is Fun series and can be found on the Watch Events Online Anytime page as they become available.
A team of NC State Librarians and the Assistant Director of The Carolina Latinx Center at Chapel Hill will be participating in the 2021 Caminos program. Caminos is a pre-college summer preparation program for rising high school juniors and seniors that presents future scholars to opportunities within and around higher education while reinforcing cultural identity and community ties.
June Through August – Summer Start X NC State University Library Programs 
From June through August the Libraries will be hosting three programs for Summer Start 2021. These programs include: An Introduction to NC State Library and Academic Success Center Resources on June 30, NC State University Libraries IG Live Session (hosted live on Instagram: @ncsulibraries) on July 22, and Building Hunt Library on Twitch! NC State Libraries Information Session on August 5: https://www.twitch.tv/ncsulibraries.
June 28 –
Upward Bound
Information Literacy Session
The Student Success Team of the NC State University Libraries will be hosting an information literacy session for the 2021 Upward Bound Cohort. Upward Bound is an early intervention pre-college program that helps students prepare for higher education. Upward Bound brings high school students to college campuses after school, on the weekends, and during the summer to receive instruction in mathematics, laboratory sciences, composition, literature, and foreign languages.
Library Research Skills for Engineers and Scientists Learning Modules
This series of video classes for early-career researchers thoroughly covers the research practices of engineers with a bent toward connecting them with essential resources available at NC State through the Libraries.
Bioinformatics Workshops Online
These workshops teach basic bioinformatics skills in an on-demand format that increases access and availability. 
Engineering REU Information Research Collaboration
As emerging members of the scholarly engineering community, undergraduate engineering interns explore information topics such as engineering literature, synthesis of information, scholarly communication, and engineering ethics.
IRB Basics: eIRB Application Workshop (July 7, 2021)
This workshop provides an overview of how to write your eIRB application and is designed for first-time IRB application filers and NC State students who want to participate in the Priority Review Process (PRP) program. Prerequisites required. This particular workshop is already at capacity. More workshops geared towards first-time IRB applicants will be offered in the fall.  Details will be posted later this summer.  
Rip Apart a Data Management Plan (July 12, 2021)
Have you ever wanted to see a Data Management Plan (DMP) broken down into its component parts? If so, join us as we rip apart some DMPs to discover the good and not-so-good practices in data management. 
Collaboration with NSF-funded Research Experience for Teachers (RET) through the Research Triangle Nanotechnology Network (RTNN)
This collaboration with RTNN's Atomic Scale Design and Engineering summer program helps secondary teachers learn about engineering information resources for designing curricular materials to use in their classrooms.
Google Like a Turkey Pro (June 22, 2021)
Learn tips and tricks to make a more efficient google search, including how to find documents published by specific agencies and NC State people, certain types of documents, data, and more. Tisha Mentnech and Hillary Fox will participate in the virtual Poultry Science Summer Institute to teach 4-H high school students how to effectively use google to build on and develop information.