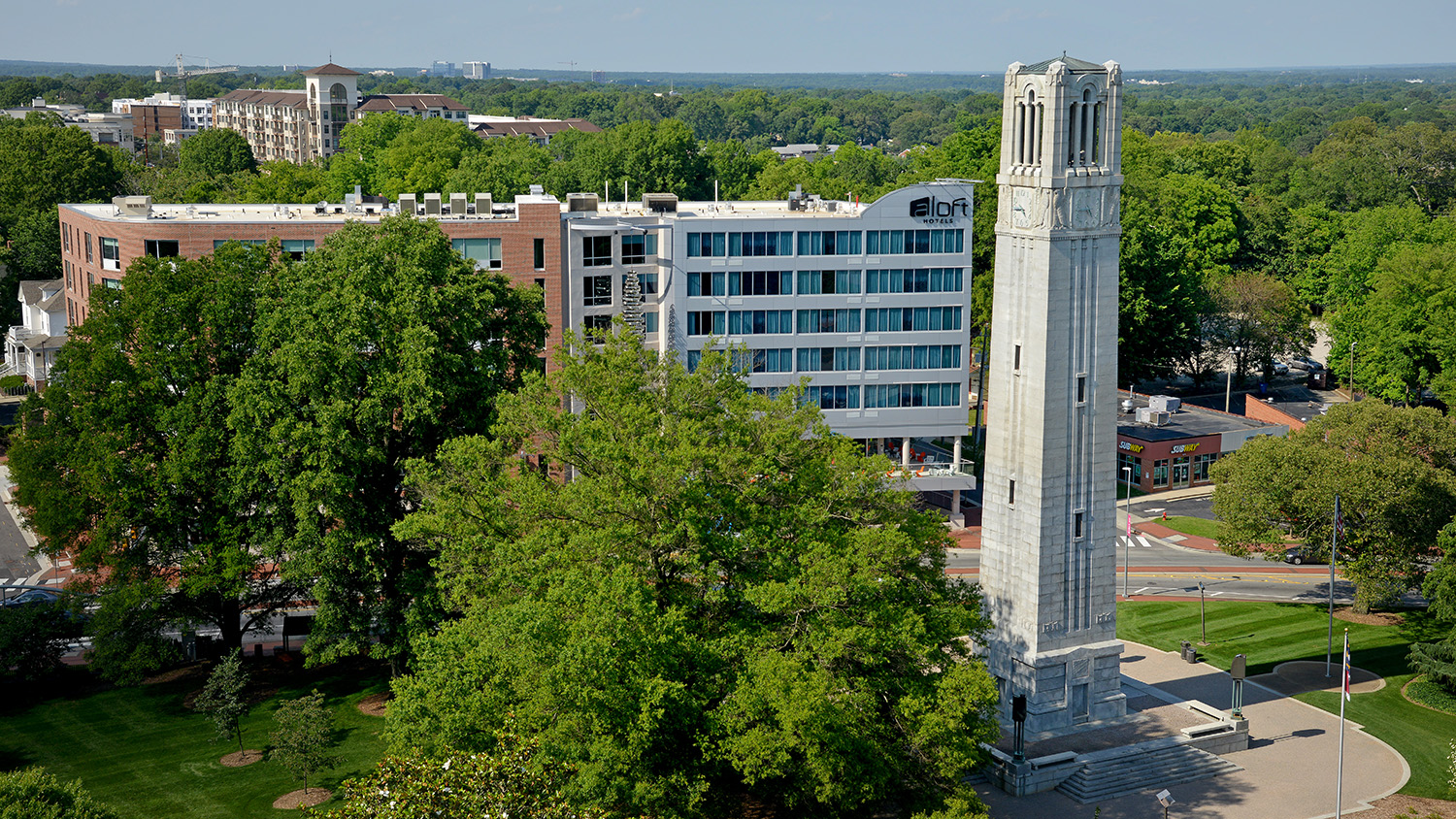 In addition to more than 36,000 students, more than 9,600 employees call NC State home. Creating a sense of community with those kinds of numbers seems daunting, but many campus units and entities work together to make community possible.
NC State has between 600 and 700 active student organizations at any time. You can read more about that Finding Your Wolfpack: Student Organizations. For employees, there are many options to create personal and professional community. We spoke with some of the organizations on campus helping them do just that.
Welcome to Campus
Every new NC State employee receives a warm welcome from the Onboarding Center, which is typically the first interaction a new employee has with a campus unit outside of their interview.  The center's role is to create an efficient, positive and memorable experience as employees navigate starting a new job. 
"In addition to formal onboarding, we provide resources to connect employees with what they need to know, what they want to know and what they could know," said Amy Grubbs, Onboarding Center manager. "We are deliberate about connecting them to our history, the institutional message and our core values early in their time with the university."
Once employees are settled and their basic needs are met, the Onboarding Center connects them with information they might want to know, such as perks/discounts, employee assistance programs and ways to connect to a variety of campus groups via newsletters, social media options and YouTube channels.
After they are comfortable in their roles on campus, the center focuses on things employees could know and ways to help with their personal and professional development. This includes engaging with many partners across campus to promote a sense of community. 
The center works with the Office for Institutional Equity and Diversity on providing information related to diversity and inclusion, Learning and Organizational Development on professional development opportunities, Campus Enterprises on the many services provided through their units, as well as with Environmental Health and Safety, Arts NC State, University Benefits, and Athletics to name a few. The more employees know about the university, the likelier they are to find interests in common with others.
Additionally, the Onboarding Center coordinates tours of iconic places around the campus community such as the Memorial Belltower, Reynolds Coliseum, Murphy Center and the JC Raulston Arboretum and provides guided walking tours of North Campus. Center staff also lead a trivia game for departments across campus who have an interest in providing a teambuilding activity related to the history and community of NC State.
"It is important to stay engaged with employees even after they might not consider themselves a new employee," said Grubbs. "We strive to emphasize that employees in all types of positions contribute to the university's mission and should bring the Think and Do attitude within them each and every day to the work they perform. We want employees to feel like they are not just filling a seat, but they are active in contributing to the success of the university."  
A Well Wolfpack Community
Focusing on holistic wellness creates healthy individuals who in turn create healthy community. One way employees can come together and achieve overall wellness is by engaging with Wellness and Recreation, which serves as a centralized location on campus where employees can support their healthy, active lifestyles. Wellness and Recreation offers every employee a complimentary 30-day membership as part of their welcome to NC State.
With many opportunities to participate and engage in new activities together, employees can create memorable experiences and build community in a convenient campus location. Members can enjoy exercise before work, an energizing workout during lunch or activities after the workday. Regardless of individual wellness goals, members can conveniently fit physical activity into their busy schedules. 
"Visit the facility and let us assist you in meeting your health and wellness goals," said Zach Mehlenbacher, Wellness and Recreation's coordinator of member services. "Use the complimentary 30-day membership and enjoy an opportunity to pursue those wellness goals. With programs like the Healthy Living Series or faculty/staff leagues through our intramural sports program, employees can connect, engage, and share to create a healthier Wolfpack together."
The Healthy Living Series is a four-week health and wellness education session that is a favorite among employees. With guest speakers from the campus community, this series provides educational materials, functional tools and group support to help you achieve your wellness goals. Sports Programs also offers intramural sports with employees leagues in sports, including flag football, basketball, soccer, volleyball, softball, cricket and other traditional and unique formats. Coworkers can compete in competitive leagues or play in recreational leagues to learn a new sport, have fun and connect with others.
Focus on Faculty
Part of the mission of the Office of Faculty Development (OFD) is to increase collaboration and a sense of community among faculty members, which is fundamental to supporting faculty success. For much of the history of higher education, faculty members have seldom worked with people outside their disciplines. Modern academia calls for different approaches that involve diverse groups of people to solve big problems.
OFD (along with the Office of Faculty Affairs) holds New Faculty Orientation (NFO) each year for all faculty members new to NC State. This normally includes both face-to-face activities just prior to the start of fall term. In 2020, NFO ran online and OFD hosted online events throughout the fall term. 
In addition to NFO, OFD runs a variety of programs where at least one of the outcomes is to build community. These include the Scholarship of Teaching and Learning Institute, the Faculty Conversations Series, Faculty Chat Cafes, Back to Basics Workshops, and the annual Teaching and Learning Symposium. In addition, each semester OFD hosts Reading Circles where faculty are placed in small groups to read and discuss a selected book related to teaching and learning. 
"In all our programming we strive to engage faculty from all over campus and from a variety of disciplines," said Diane Chapman, OFD director. "Participants often tell us this is a valued benefit from attending our programs."
OFD strives to ensure that whether activities are held in-person or virtually, there is time and space for interactions. Getting to know other faculty participants can begin with simple introductions, but OFD also values active learning strategies that get faculty working together such as small group activities and collaborative tasks, as peer learning and support is essential for success. For example, OFD helped establish the Faculty Peer Support Network to connect faculty who could help each other with teaching-related issues during the pandemic. Additionally, OFD offers a newsletter to help spread the word about ways for faculty to form community.
"It can be overwhelming to arrive on such a large campus," said Chapman. "Even in the midst of a pandemic, there are a lot of opportunities to connect with one another."
Centered on Staff
This year, the NC State Staff Senate celebrates 25 years of being the voice of staff to campus leadership. Recognizing that this was going to be a challenging year for everyone, the Staff Senate created the motto "Leading Together During a Time of Change — We Are the Change."
"We amplify the voices of our staff and let that help inform what we do, and we do it together," said Alan Porch. "It's not always a fast process, but we lead that change, and it can all start with one idea or concern from a constituent that was shared with their staff senator and then that is brought to committee, or the body, and it transforms from an idea or a concern into something that benefits every staff member at NC State and or even the entire university system."
Staff Senate creates as many opportunities as possible to bring together staff in fun and informative ways that showcase all the university has to offer. During more normal times, Staff Senate sponsors a variety of events on campus, including sporting events and Packapalooza. The organization brings people together with a winter coat drive, food drives and Toys for Tots, and hosts programs on sustainability, holiday celebrations and more. 
"We try to offer something for everyone on campus, and most importantly we take these opportunities to let people know that we are there for them as a staff member," said Porch. "Each district may offer other ways to connect and engage staff in addition to broader programs and events. For instance, in the College of Sciences, we've been hosting drop-in lunches via Zoom once a month to just make sure everyone is OK during the pandemic."
Of course, any staff member at NC State can join and get involved with the Staff Senate. It can be as simple as a conversation, phone call or Zoom meeting with a senator, and can range from participating in a program, event or district meeting, to actually being a senator or serving on the executive board. The Senate welcomes volunteers to serve alongside senators and alternates on various committees.