October 2020 Announcements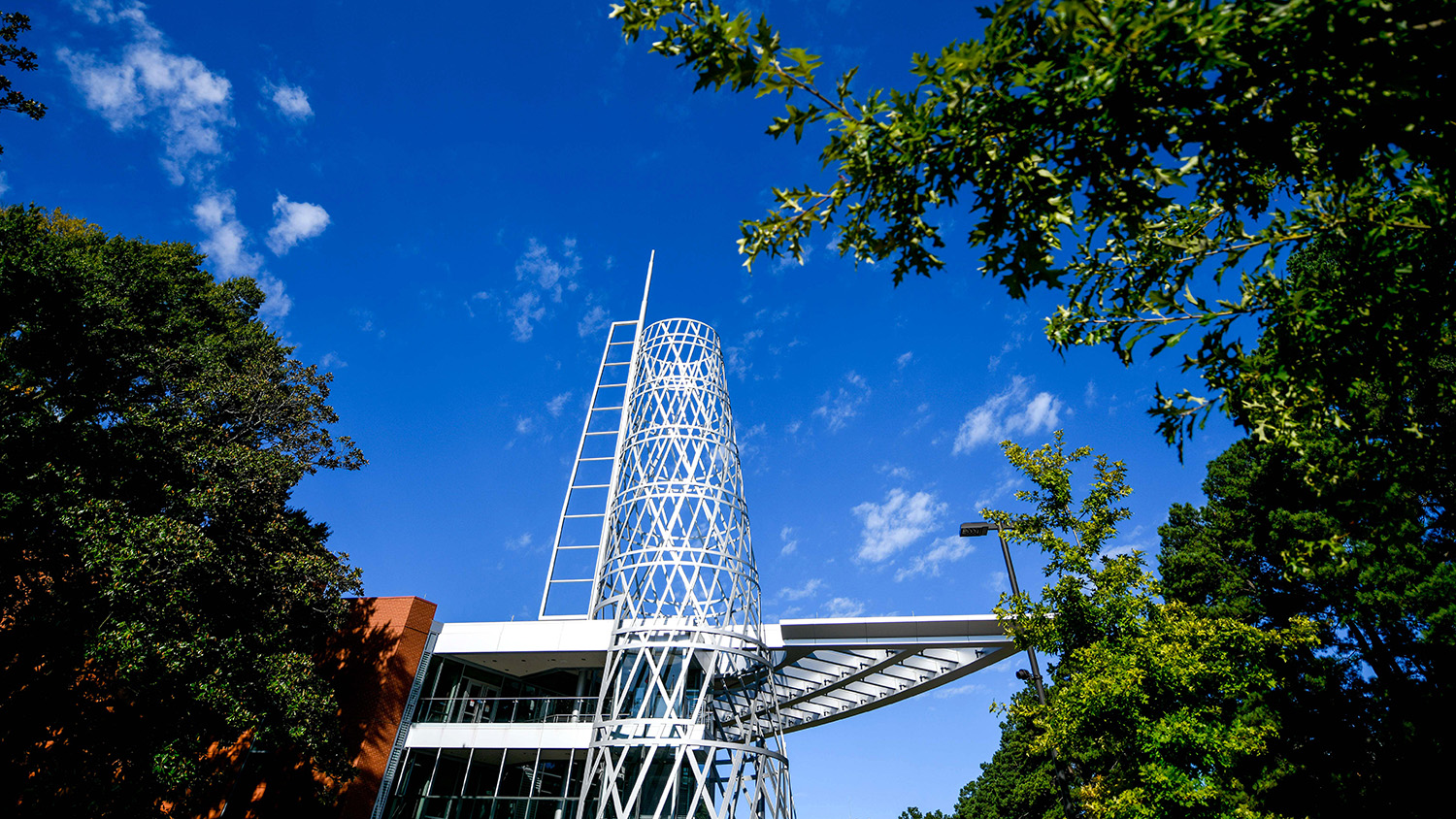 Consistent with university regulations on review of the administrative performance of

deans

, two comprehensive leadership and program reviews will be held this semester.  As a part of each review, the campus community is invited to attend an overview presentation of the unit's goals and accomplishments.  

Dean David Hinks and the Wilson College of Textiles,

Friday, October 23 from 1 p.m.- 2 p.m.,

accessible October 23 at

go.ncsu.edu/textiles-review

.

Dean Mark Hoversten and the College of Design,

Monday, November 9 from 8:30 – 9:30 a.m,

accessible November 9 at

go.ncsu.edu/design-review

.
Questions regarding these reviews may be addressed to Courtney Thornton (chthornt@ncsu.edu) or Amy Jinnette (arjinnet@ncsu.edu) in the Office of the Provost.
Faculty and teaching graduate students are invited to join DELTA, NC State University Libraries and the Office of Faculty Development for

Faculty Meetups held each Thursday from 12-1 p.m. via Zoom

. Upcoming topics include mid-semester evaluations, providing scaffolding and feedback for student projects, tools for student engagement, and improving online course quality.

Registration is required

.
COVID-19 Updates
Following Gov. Roy Cooper's recent announcement of Executive Order No. 169, Restrictions to Protect Lives During the COVID-19 Pandemic: Phase 3, updated guidance is available for campus programming, effective immediately.

NC State leadership is working with faculty, staff, students, the UNC System, and county and state health officials to continue planning for the spring. We will continue to share plans with the campus community over the next few weeks.

Learn more about planning for the spring semester.
NC State will host a virtual commencement ceremony to celebrate all spring, summer and fall 2020 graduates on Friday, Dec. 4, 2020, at 6 p.m. EST.

The event will include thoughts from graduating students, some special memories and a remarkable commencement speaker. More information will be provided in the coming weeks and available at

virtual.commencement.ncsu.edu

. In the meantime, please mark your calendars for this special celebration.
From DELTA:
From the Office of Faculty Development:
Join us over lunch virtually for whole-group discussions facilitated by staff from DELTA, NC State University Libraries, and OFD. Faculty and teaching graduate students are invited to attend. Bring your questions and ideas to share with colleagues about teaching in these challenging, uncertain times. Meet-ups will occur via Zoom every Thursday from noon- 1 p.m. during the Fall 2020 semester.

Registration is required

in order to receive the Zoom meeting details.

We are experiencing a school year unlike any other, filled with uncertainty. The campus-wide requirement to move online means that we are compelled to build more resilient courses. This situation is like nothing we have ever faced before. In order to provide peer support and community around teaching and learning and help faculty overcome feelings of isolation and lack of preparedness, the Office of Faculty Development is continuing our popular

Conversation Series

. For each session, faculty will read a relevant article/paper about the topic (optional), receive question prompts, engage in conversation around the topic with other faculty members, and reflect on how the conversation may have changed their thinking on the topic.

All conversations will be facilitated by Dr. Maria Gallardo Williams, OFD SoTL Faculty Fellow.
Upcoming Sessions:
Preparing for Spring (November 4, 2020, 11:30 a.m.)

Mark your calendars for

OFD's annual Teaching and Learning Symposium

, which will be held

virtually via Zoom

on

February 26, 2021 (10:00 a.m. – 2:30 p.m.)

. More details, including the call for proposals, are coming soon — watch our Newsletter. We hope to see you there!
From the Office of Global Engagement:
Celebrated each year in November, International Education Month (IEM) pays homage to international education and the global opportunities offered across campus.

IEM promotes programs that prepare students for a global environment and attract future leaders from abroad to study, learn, and exchange experiences. The Office of Global Engagement has created an event submission form and encourages the campus community to submit all international-related events during the month of November through this form. Events should be submitted no later than Tuesday, October 20. This is a great opportunity to show that, despite the current challenges brought by the pandemic, NC State is committed to being globally engaged, whether at home or abroad.

Help support this initiative by planning and submitting your group's internationally-focused events or programs that take place in November using this link: https://global.ncsu.edu/IEM.

An eight-week study-abroad program on global leadership gave a group of NC State students a front-row seat to corporate decision-making as Europe grappled with economic uncertainties and an emerging pandemic. Learn more about students engaged in the

Global Leadership and Team Decision-Making minor

.
From the Office of Information Technology:
October is Cybersecurity Awareness Month – Protect the Pack: You are Security!

Your data's privacy depends on your ability to secure it safely. Your ability to secure your data depends on what you know.
During Cybersecurity Awareness Month (CSAM) in October, the NC State Office of Information Technology, along with the NC State Department of Computer Science, ePartners Program, LabCorp, and MetLife, will co-sponsor "Protect the Pack: You are Security" to provide you with valuable yet simple advice to protect your personal and work-related data and devices. 
This year's event will highlight a four-member panel of Google Security experts on Wednesday, October 21 who will answer questions about the type of content that should be stored in Google Drive and the level of security the university's G Suite environment provides. This panel discussion will be held at 2 p.m. online and is open to the novice and the experienced NC State G Suite user. Event participants will have an opportunity to win great prizes, including a Fire TV 4K Essentials Bundle, a RT ROCKTEK G1 Android TV 9.0, a Jabra Speak 410 portable conference speaker, and Yubikeys. To register, visit REPORTER.
For more information, see NC State's Cybersecurity Awareness Month website. 
The IT Accessibility Office recognizes that there are many individuals at NC State University that are committed to eliminating digital accessibility barriers.

The Accessibility Champion Award was created to recognize these individuals and celebrate the work that they do. The Accessibility Champion Award is presented quarterly to a member/ members of the NC State University student body, faculty or staff for outstanding work in expanding digital access and inclusion for people with disabilities at NC State University.

To nominate someone or yourself, please fill out the Accessibility Champion Award Nomination Form. For more information, please contact the IT Accessibility Office at accessibility@ncsu.edu or (919) 513-4087.
From the Office for Institutional Equity and Diversity:
NC State's upcoming Racial Equity Summit on October 15

is one of a series of focused events calling for more to be done in the fight for racial justice. The Summit invites community engagement and input from faculty, staff, students, community members and alumni into how NC State can address specific issues and common themes to improve racial equity at NC State and help ensure that NC State moves forward toward our vision of a more inclusive, diverse and welcoming community where all can succeed and thrive.

Each year,

the Women's Center recognizes Domestic Violence Awareness Month (DVAM) with a full slate of programs and events throughout the month of October.

From peer-facilitated learning opportunities and educational workshops to drawing submissions and podcast discussions, there are plenty of opportunities for the NC State community to take part in DVAM. This year, the Women's Center is offering a

range of virtual opportunities

via Zoom, Instagram, and through online submissions to observe DVAM and spread awareness about support and resources available for the NC State community. 

We need your input — help make NC State a more inclusive place by

taking our survey by October 31

. Once you've completed the survey, you can choose to enter a drawing for several OIED branded items.
From the Office of Research and Innovation:
Research Week will be October 26-30.

There will be multiple virtual events, including an interview with the Vice Chancellor for Research and Innovation, a forum highlighting COVID-19 research and an NCURA presentation. 

The

Nonwovens Institute

is partnering with Blue Cross and Blue Shield of NC, Freudenberg Performance Materials, UNC Health, the NC Healthcare Association and NC Medical Society to

manufacture N95 masks

. The masks will be given to frontline workers across the state. 
Other Announcements: