A Different Kind of Summer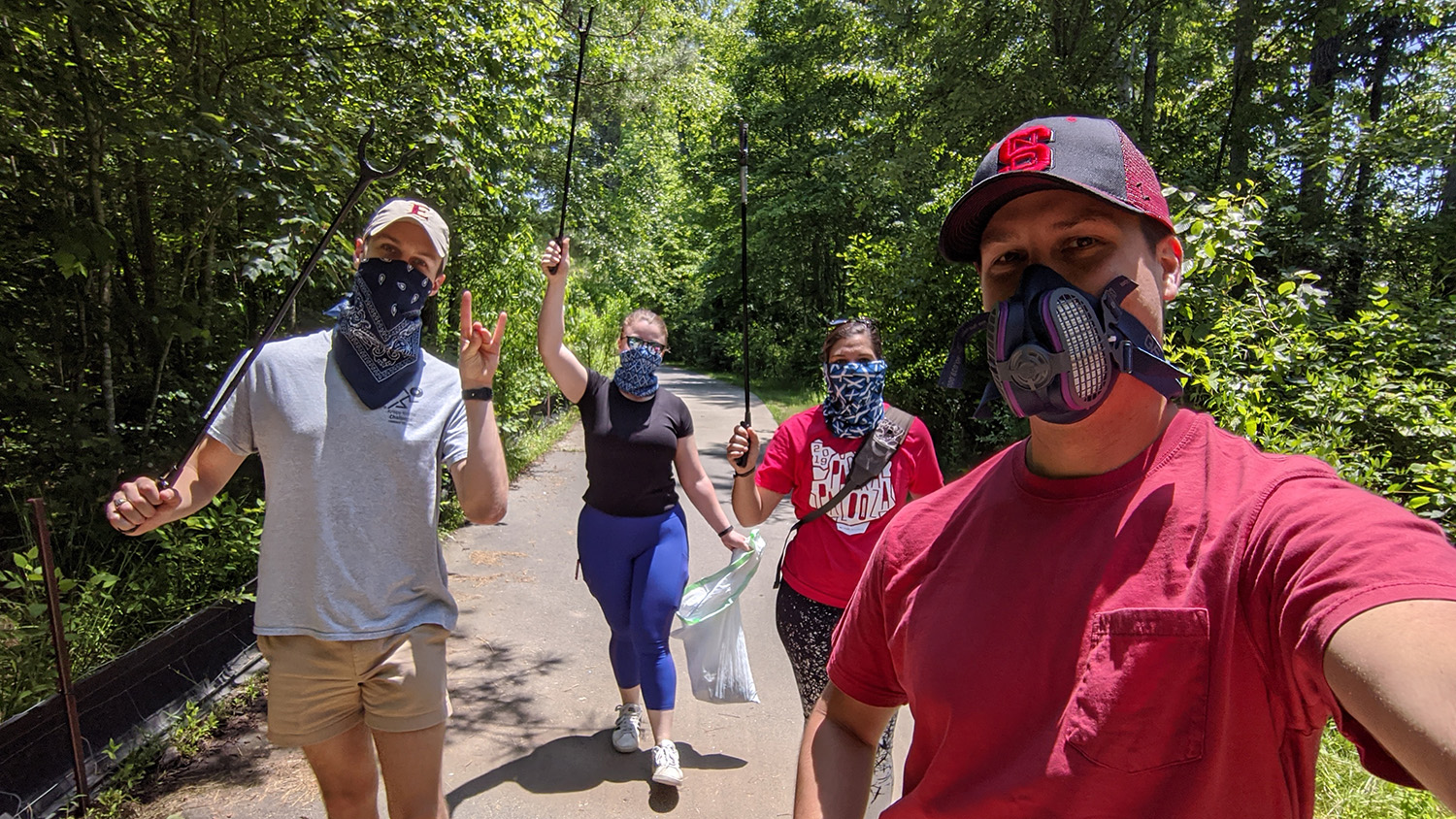 NC State faculty, staff and students have experienced many changes in their lives over the course of the spring semester, and summer didn't necessarily look like what they've experienced in the past. Regardless of the situation, the campus community came up with great ways to think and do both personally and professionally these last few months
More CALS faculty and staff will be returning to work in the coming weeks, both on and off campus, as restrictions are lifted and new pandemic precautions are put in place. Employees might feel anxious or uneasy about returning to work. Thoughtful co-workers have stepped in over the summer to help give their colleagues a little peace of mind.
College of Agriculture and Life Sciences Essential Employees
Essential employees in the College of Agriculture and Life Sciences have played a crucial role in keeping the college going during the COVID-19 pandemic. They've also been hard at work over the summer helping prepare for the academic year. Here are a few of their stories.
Sarah Blacklin
Program Director, NC Choices
Anthony Buckner
Technology Support Specialist
Dalton Dockery
Columbus County Cooperative Extension Director
Wayne Holder
Research Operations Manager
Will Leatherwood
Research Technician
Diane Mays
Teaching Support Specialist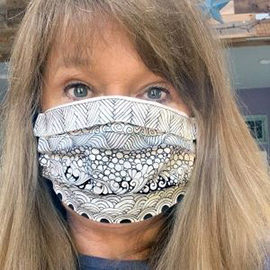 When COVID-19 forced an immediate quarantine in mid-March, The Crafts Center was in full swing with over 120 classes, workshops, lectures and academic courses. We immediately evaluated our existing course load to assess which classes could be brought online. While some in-person classes that required tools and equipment were not viable for online learning, many of our classes proved to be remarkably effective in a virtual environment. By April, we had an ADDITIONAL line-up of over 20 classes with almost a 100% fill rate! We branded this as our CRAFTRELIEF series, which we are continuing in the fall.
Highlights:
Our director, Carol Fountain Nix, was teaching a course at the Center for the College of Design, which she moved online.

Another College of Design class taught by Sally Van Gorder, was moved online.

Our assistant director, Jo Ellen Westmoreland, and our Studio Technician, Katy Walls, teamed up for a series of online demonstrations and classes in mask making and sewing.

We began an online demo campaign with "how-to's" in wood, clay, glass, calligraphy, fibers and more.

We will leverage our new CRAFT:LAB digital fabrication makerspace to teach augmented classes in software, technology, and making. These classes will support academic courses by focusing on skills and techniques not often covered in a regular academic class. Our new Professional Practices Series will provide courses in: Personal/Professional Self-Branding, website design, and digital marketing. These can be taught online as well.
Overall, the migration and addition to digital technology and distance learning has made our team and our offerings stronger and more broad-reaching. We developed class kits that can easily be distributed to students curb-side; we are beginning a brand new series of classes targeted for families and kids; and we are reaching students outside of the local area.
They say that "Nothing cures sadness like learning something new." The Crafts Center is truly a center for creativity and innovation on campus and the Center has risen to the occasion to provide valuable support, resources and expertise to NC State students and the general public.
The Office of Global Engagement is still finding ways to get together in-person and help out the community. Division staff recently spent several hours cleaning up miles 12-13 along the Walnut Creek Greenway, which is a portion of the Capital Area Greenway System. Global Engagement adopted in November 2018 that section of the greenway, which starts on Centennial Campus at Lake Raleigh and runs to Lake Johnson. Since then, about a dozen OGE staff members who have volunteered nearly 50 combined hours.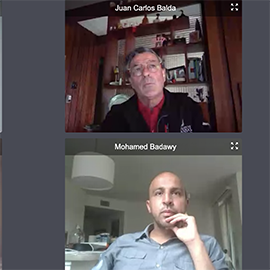 The PowerAmerica Institute at NC State, which focuses on promoting the adoption and manufacturing of wide bandgap power electronics in the United States, usually holds a summer workshop every August. This year, the workshop was moved completely online due to Covid-19. The team knew this would be a significant challenge, as so much of the workshop is focused on networking, and is a unique chance for leaders in this field from industry and academia to conduct in-person exchanges and business. So, the team got creative, reaching out to a local group (Fountainworks) to find a videoconferencing platform to meet these needs. The team selected Remo, and the networking capabilities – which mirrored an in-person networking event – were a hit for the more than 175 attendees that tuned in from across the country. In addition to live networking and poster sessions, the conference offered keynote addresses, panel discussions, technical project presentations, tutorials and more. All in all, it was a crash course for everyone involved, but it came together and got rave reviews from attendees. 
Photo: Jim LeMunyon, PowerAmerica Membership Director, leads a panel of academics as they discuss university program offerings for wide bandgap power electronics.
Office Manager
Engineering Communications, College of Engineering
Since we were not able to visit my son in Montreal, or go anywhere on vacation, we are doing a stay-at-home-makeover. It all began after we updated our hall bathroom this past February.  Then when we were told to stay at home,  we decided to upgrade our kitchen. The kitchen upgrade was a result of our icemaker dying. My husband decided he could not live without a functioning icemaker, so he located a "deal" at Lowes. It was a fancy frig that was a return, but it was stainless steel — we previously had all white appliances. The kitchen was last updated 24 years ago when we moved into our home. We proceeded to remove the wallpaper, purchased a new stainless steel stove and dishwasher, put in a new floor and painted the room. That was done fairly quickly, so we moved on into our dining room and are now working on the living room. My husband and I both studied architecture in college and both worked in the construction industry since graduation, until I joined NC State as an admin in 2014.
Registrar and Associate Director, Gregg Museum of Art & Design
Division of Academic and Student Affairs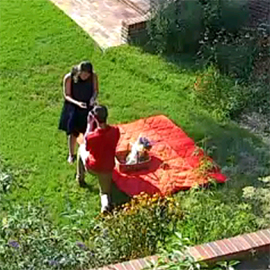 My job as registrar and associate director for the Gregg Museum typically involves lots of hands on work (preparing objects for exhibition, processing donations, pulling items for classes, etc.). Another part of my role is to help maintain the security and conditions of our building, grounds,  and holdings. The shift to working from home required a bit of reshuffling of responsibilities, but since I have the right combination of technology hardware and stable internet service at home, I have been able to view our security cameras to help keep an eye on things. For me, being able to see the space that I know so well and care deeply about has been a comfort and a welcomed familiar sight. 
After a while, I discovered that though our indoor spaces were not busy, there was a good bit of activity on our cameras overlooking our outdoor spaces. While we are not necessarily advertising and encouraging folks to visit our facilities (especially early on when grounds crews weren't able to care for the site), it has been a delight to see people finding and using the spaces around the museum for all kinds of activities. After a particularly active week, I send a summary of the visitors I had seen to the staff, sharing that the museum still served as a place of solace, refreshment, and inspiration even while its doors were not able to be open. I got so many positive responses that "This Week on the Gregg Grounds" has become a weekly tradition! From people enjoying our sculptures and plants to workouts, picnics, proposals, and even an (unauthorized) popup wedding, the Gregg's grounds continue to serve our community in many ways. 
NC 4-H Camping Specialist; Lecturer – Parks, Recreation and Tourism Management
NC 4-H Youth Development, College of Agriculture and Life Sciences; Parks, Recreation and Tourism Management, College of Natural Resources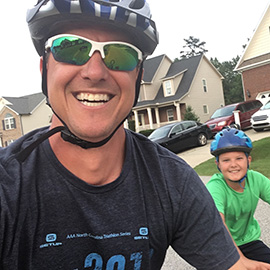 This past spring semester, I juggled four children (two in online learning, a toddler, and a baby) at home with my wife while leading a remote team across the state, converting my class as an adjunct lecturer to fully online, and maintaining my riding and running training program as a triathlete.  After the cancellation of face-to-face summer programs, our NC 4-H Camps team had to quickly shift our focus to develop and deliver a virtual camp in June, in which we had over 600 families from North Carolina and across the U.S. participate.  This was a completely new undertaking and a tremendous team effort, working collaboratively together for one common purpose: fulfilling our land-grant mission of serving our state's youth.
What has kept me going during these challenging times has been gratitude for my health and still having a career with the ability to work remotely, my family, my daily routine, and my hobbies of cycling and running.  I participated in a couple virtual races during the spring semester, including a virtual 5K and sprint distance duathlon, and this summer I am participating in the Coast to Coast Virtual Cycle Challenge from Memorial Day to Labor Day.  I begin almost every day with a bike ride around 6am, which has been a great way to start the day.  I also ride our neighborhood regularly with our son to count towards my daily mileage.  Participating in these virtual events has been a great outlet during these challenging times!
Update: I have made it 625 miles from Wilmington, NC to Nashville, TN virtually along I-40.My new goal is to ride 1,000 miles by Labor Day.
Associate Professor for Leadership in Public Science and Department of Forestry and Environmental Resources, College of Natural Resources
Graduate Student
Department of Fisheries, Wildlife and Conservation Biology, College of Natural Resources
Graduate Research Assistant
Department of Fisheries, Wildlife and Conservation Biology, College of Natural Resources
The COVID-19 pandemic, followed by the Black Lives Matter uprising this summer, presented significant challenges to my research in urban ecology as well as my teaching efforts, giving my research group a lot to think about as we found new purpose in our work. Here are some of the things we did:
I was teaching "Decolonizing Science" in spring when the pandemic hit. When we resumed class online after spring break, it immediately became clear that we had to change the focus of the class to discuss the new context as we suddenly found ourselves in a pandemic of historic proportions. The students, several of whom had experienced personal loss or crisis due to the pandemic, were eager to focus on issues of relevance to the challenges we were facing, and our subsequent readings and discussions focused on decolonizing the sciences involved in our understanding and response to pandemics. Students also wanted to make some tangible contribution to the real world, and thus we worked on a collaborative project on the differential impact of the pandemic on American Indian communities, especially the Navajo who have been disproportionately hit by COVID-19, compounded by legacy effects of colonization and historic inequalities. The students led the development of a manuscript that is now scheduled to be published in "Science for the People".

We canceled the Spring 2020 Triangle Bird Count, a citizen science project out of my lab, for the safety of students and community partners who were planning to conduct bird counts across the triangle cities during April and May. Instead, we focused our efforts on other ways to address issues relevant to birds and urban ecology. I was interviewed for an article in Audubon Magazine about how social inequalities affect access to nature and birdwatching in cities (

https://www.audubon.org/news/why-birding-home-not-equal-opportunity-activity

). 

My graduate student Deja Perkins, who defended her Masters thesis focusing on how racial and social inequalities can bias citizen science data collection in early May, became involved in organizing Black Birders Week in response to the incident in Central Park where a Black birdwatcher had been threatened with police action by a White woman. The first Black Birders Week was a remarkably successful response just as the Black Lives Matter uprising was building again across the nation. Deja has continued to speak about issues of racial bias and access to nature to a variety of audiences in webinars and other forums throughout the summer.

My graduate student Vallari Sheel, who was conducting her Ph.D. fieldwork in New Delhi, India this spring, had to radically alter her research plans when the entire country was put under a prolonged lockdown. She remains there, continuing her research on urban fruit trees, and recently published an article for the public in the Indian newspaper The Wire (

https://science.thewire.in/environment/central-vista-project-delhi-jamun-trees-ecology/)

 

I was invited by the American Society for Microbiology to write an essay on mentoring Black and Brown minority students during this period of crisis. My essay was published online in July 2020: COVID-19 and the Black Lives Matter Movement: Managing Academic Realities.

https://asm.org/Articles/2020/July/COVID-19-and-the-Black-Lives-Matter-Movement-Manag

 

Deja Perkins was invited to speak about Black Birders' Week in the Science Café hosted by the NC Museum of Natural Sciences on July 2, 2020.

https://youtu.be/ZFhiRAtTPV4

 

On July 23, I led a team (including my graduate student Michael Caslin) from the Forests After Florence project to share some of our findings and insights bout the impact of hurricanes on North Carolina's forests and communities for the Science Café.

https://youtu.be/NI-9KYTfFuM

 

On July 27th my student Deja and I were featured invited speakers in the Opening Plenary of the 2020 North American Congress for Conservation Biology, in a virtual panel challenging the audience and the larger community of conservationists to center racial and social justice in conservation. This radical plenary was added to the program only in July after the entire conference was moved online, and the organizers invited us along with several prominent Black, Brown, and Indigenous scholars whose work has gained sharper relevance in the current context. Our presentations were very well received and video of the event will be made available to the public on YouTube soon.
Marketing and Communications Coordinator
Gregg Museum of Art & Design
Virtual choirs have become an interesting and necessary substitute in the Covid-19 era for singing in person, but for singers like me, it's the community of singing together that means the most. My own attempts to stay connected with this beloved art form led me to participate in multiple virtual choir projects this summer – but one in particular shines above the others. 
Despite the restrictions of the virtual singing experience, Eric Whitacre's "Sing Gently – Virtual Choir 6" carries an additional dimension. The final project, which included over 17,500 singers from 129 countries, also birthed a community of choristers and supporters that continues to this day, the Virtual Choir 6 Official group on Facebook, currently over 22,000 members strong. People from all over the world continue to support one another, share personal stories, and stay connected. This aspect, beyond the experience of the project itself, has garnered international attention – to the point that it's possible this work may actually list on the Billboard charts due to the number of people involved and the number of people listening.
Having sung most of my life, it is always a special experience to make good music with friends and colleagues. I remain an active member of the North Carolina Master Chorale, a strong local singing community, which has produced two of its own virtual choir recordings, and plans to do more. In truth, to sing, even virtually, during this interesting time has been my deepest honor. But as I think on all these projects, it is even more humbling when I consider the uplifting experiences I continue to have while listening to the finished videos, and tracking the lives of so many kindred spirits, both locally and internationally. We all hope that soon, the day will come when we can sing together.
Assistant Director, Global Training Initiative
Office of Global Engagement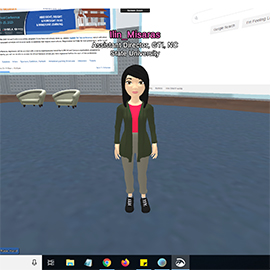 I had a lot of fun presenting at my first virtual research conference this past June. And by virtual, I mean I created my avatar, styled her hair, selected her wardrobe and shoes (I went with sensible flats), and attended various lectures, workshops, and poster presentation sessions — all within the Immersive Learning Research Network's virtual campus (powered by VirBELA). I participated in a panel discussion with GTI Associate Director David McNeill and DELTA Creative Director Mike Cuales alongside our colleagues from San Diego State University to present on the work that our campuses had been doing with training in virtual reality. We discussed how we've been utilizing our First Impressions: Global Leadership in VR training simulation and its potential to teach cultural competency to students and professionals.
Sophomore, Park Scholar
Department of Civil, Construction, and Environmental Engineering, College of Engineering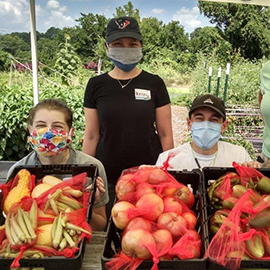 This summer, my big project was constructing raised garden beds for my family in their backyard. At NC State, I am involved with the Engineers Without Borders Chapter and I co-leads the Lesson Planning Team. This past year, my team has been working with Powell Elementary School in Raleigh to develop lesson plans related to their school garden and I have received funding from Park Scholarships to begin an international pen-pal program between the students at Powell Elementary and my friends in Malawi at Mzenga Secondary School who also have a garden. Given all my past service projects related to gardening, I was excited to finally try my own hand at it. I loved building the raised beds and learning about gardening, but the best part has been watching the plants grow. I had very low expectations for my plant survival rates, but everything has exceeded my expectations! The zucchini plants are particularly gigantic.
I have also been putting my new gardening skills to the test by frequently volunteering at the Food Bank of Central and Eastern North Carolina's community garden. I have volunteered over 30 hours at the Food Bank this summer and have harvested over 200 pounds of fresh produce that have been distributed to families in need in the region. I am hoping to continue to volunteer at the Food Bank throughout this fall semester.
Mildred Nicaragua
Project Manager
Copyright & Digital Scholarship Center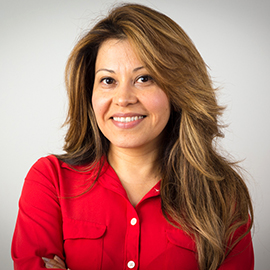 Thanks to COVID-19 a new term was added to our vocabulary "the new normal." But how do we continue to do the hobbies we love in the new normal and still feel safe? Two activities I enjoy are book clubs and planning events. Both of these activities involve interaction with others and are difficult to do at a distance or so I thought.
After searching high and low, I and a group of other fellow readers are on our second book "Just Mercy" by Bryan Stevenson, all thanks to our University Alumni Book Club. We have a virtual moderator who leads our discussions and an online forum. And as it turned out not all events were cancelled due to COVID-19, in fact I was able to volunteer as a Virtual Assistant for the Digital Humanities 2020 "Virtual" conference and with more than 1,000 worldwide participants it is one of the biggest events that I have supported!
Nikki Price
Assistant Dean for Culture, Talent, and Human Resources
College of Sciences
The coronavirus pandemic threw me and my family out of our comfort zones and I had to learn quickly how to make the most out of working remotely and navigating the virtual learning environment for a 7th and 4th grader. I chose to cope by stretching myself professionally and gaining skills that could help my family, my college, and the university community. In the spring, I became a certified Lean Six Sigma BlackBelt, earned from the Wilson College of Textiles Zeis Textiles Extension program. I have always had a love for process improvement, so obtaining this certification afforded me additional tools beyond just process mapping, but helped me be able to assess problems through statistical analysis. I am already using these new skills on numerous projects. 
This summer I also became a Gallup-Certified Clifton Strengths Coach, gaining skills that can help faculty, staff, and students (and my family) accomplish great things by doing what the individual naturally does best. Finally, I became a Qualified administrator of the Intercultural Development Inventory, which will help me better contribute to diversity and inclusion goals and outcomes on campus. Famous quote by Albert Einstein, "We cannot solve our problems with the same thinking we used when we created them." Therefore, I choose to "do" better by "thinking" differently and strategically. This is how I Think and DO.
Director, University Theatre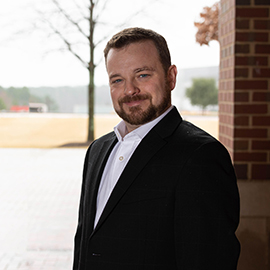 University Theatre has been working on developing both in-person and virtual experiences for the fall. The virtual Strictly Speaking series will allow students to hear and speak to over 30 theatre professionals from across the globe, including the leads from the first nation tour of "Hamilton," an executive from Sony Films, Walt Disney Imagineers, an artist from Lucas Films, Tony Award-nominated performers, Broadway designers, and many more.  
University Theatre faculty member Rachel Klem and the 2020 North Carolina Piedmont Laureate Tamara Kissane are currently creating a new adaptation of the epic poem Argonautica. "Argo: A virtual voyage of Jason and the Argonauts" will offer students the opportunity to perform, design and create. Other online and in-person experiences include How to Theatre: and other life skills, Out Loud: a virtual weekly script reading, Preparing the Performer, Devised 2020, and Software for the Stage. Alumni are also being asked back for a new monthly reunion show, UT Revisited: Looking back on past productions
Julia Pedrotti
Senior, President of BRASA at NC State
Marketing & International Relations, College of Humanities and Social Sciences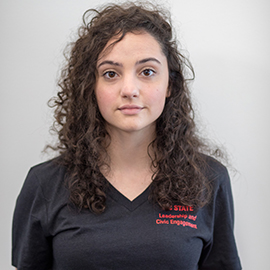 I think it's important to take the chance to highlight the good things that have come out of being on house lockdown for nearly four months. Yes, we've all felt unmotivated, bored out of our minds, anxious, but I'd like to focus on the good things now. In November of last year I was offered the opportunity to intern with Motorola Mobility (a Lenovo Company) as Sales Strategy & Operations Intern. Thankfully, instead of having it cancelled, my internship went virtual. Although I was constantly challenged to be adaptable and self-motivated, I've come out of it with a deeper understanding of business strategy development, the smartphone industry, an amazing professional network, and more advanced technical and analytical skills I ever thought I could dominate. With this opportunity I was also able to be part of virtual volunteering projects, even having led one myself. More importantly, having so much time for myself I was able to uncover my true passion and dream to become a film producer and feel more empowered than ever to follow it now that I've been able to define it. I hope everyone has a great Fall semester. Stay positive!
Beth Rosen
Program Associate – Travel and Accounts Receivable
Business Office, College of Agriculture and Life Sciences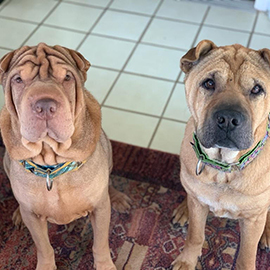 I am an enthusiastic volunteer who gives my experience, passion, education and time to many causes and non-profits in my community and in the Triangle area.  I am proud to work with groups like N.C. Women's Prison Book Project, Habitat for Humanity, Food Bank of Eastern and Central NC, Climate Reality Project as well as other environmental and social justice groups just to name a few.
The pandemic has brought with it it's own set of challenges to be in close proximity with other people packing books, building homes, feeding the homeless, etc. While I have been able to do some things wearing my mask and keeping physically distant, it's just not the same.  A few months ago, I was introduced to a local nonprofit that teaches inmates to train assistance dogs that are then placed with people who have disabilities. Their mission combined several issues close to my heart and I was excited to see how I could help "from a distance."
My friend suggested that we learn how to make dog toys that will be sent w/ the dogs when they are being trained and/or when they are placed in their forever homes. It was a no brainer that I was on board! We met (while socially distancing) and watched several youtube videos until I found the one that helped explain it in a way that I could grasp (as I am NOT a crafty person) and I was off.
So far these past few months, I've made 73 of them and just got a shipment of fleece to make 15 more!  My dogs sit and watch me while I'm sitting on my porch making them and probably wonder why they aren't getting any of these toys 🙂 I'm happy to know that I can continue to be safe and keep others safe while also keeping up my volunteering efforts. Now that I've learned a new skill, it's gonna be toys for holiday gifts for all my dog-loving friends! It's a great time to Think and Do, in a unique way.
Media Specialist
College of Agriculture and Life Sciences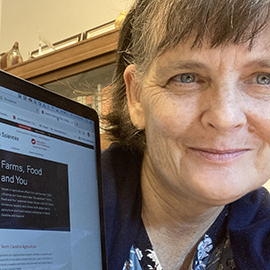 When the COVID-19 pandemic hit, the public had lots of questions about food and agriculture – why, for example, was it harder to get certain cuts of meat at the grocery store and what could restaurants do to protect workers and guests as they reopened? To answer these and other questions, I worked with communications colleagues in the College of Agriculture and Life Sciences to launch an every-other-week podcast called Farms, Food and You. 
As a longtime writer this was my first foray into podcasting, and the learning curve has been steep – I'm still climbing that hill! Fortunately, a New York University professional development course has made learning podcasting lingo, best practices and technology easier. I'm working on the sixth episode – it's about local foods – and looking forward to learning more about North Carolina agriculture with each new episode. You can check out the podcast at http://go.ncsu.edu/farms. If you do, please share your thoughts and your ideas for future episodes.
Associate Director, Marketing Services
Continuing and Professional Education
I've discovered two rewarding activities since the onset of COVID-19–volunteering at Feed the Pack food pantry and stand-up paddle boarding (SUP).  While I have been aware of the wonderful resources provided by the Feed the Pack food pantry, and have participated in food drives to benefit their shelves, I had never visited–much less volunteered–at the pantry. When campus operations were suspended in mid-March and students returned home, there was a sudden volunteer staffing shortage at the pantry. Answering a call for faculty and staff assistance, I have been volunteering (on average) one day per week. It has been an incredibly rewarding experience–seeing the invaluable service this provides to our Wolfpack community, especially since many international students were unable to return home. On top of all the stress and anxiety we are all facing with COVID-19, a person shouldn't have the added anxiety about where their next meal is going to come from.
The need to social distance, coupled with the cancelling of all events and activities, has presented the perfect opportunity for me to become acquainted with and master my inflatable SUP. Escaping to local lakes provides much-needed mental and physical relaxation, while getting to enjoy nature.
Senior, Biomedical and Health Sciences Engineering and Economics; Park Scholar
Department of Biomedical Engineering, College of Engineering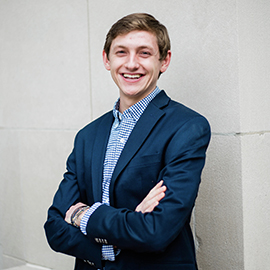 My name is Matthew Traenkle, and I am a senior Park Scholar studying Biomedical Engineering at NC State. During the Summer 2020 term, I have had the incredible opportunity of working remotely with Duke University Health System in the Performance Services department. I fill the role of a Management Engineer, which includes data analysis, reporting, and quality improvement projects across the health system including all three Duke hospitals. This work draws on the fundamentals of industrial engineering techniques and methods to improve processes and systems within the hospital and clinic setting. Similarly to how a restaurant needs a system to turn raw ingredients into a completed meal or how manufacturing companies require people to oversee and improve the processes by which goods are created, healthcare systems need someone looking over all of the incredibly complex procedures and encounters that occur within a clinical setting.
Specifically relevant to our current scenario amidst the COVID-19 pandemic, I have been able to work on two different projects related to analyzing and improving the response of Duke Health to coronavirus. First, I have created a report comparing the impact of COVID-19 on Duke University Hospital and twenty U.S. News and World Report Honor Roll Hospitals across the nation, which will help quantify and qualify impact in North Carolina and provide insight into future objectives. Second, I have developed a dashboard for staffing optimization across the three Duke hospitals, 42 primary care clinics, and 8 ancillary care areas. This tool will help health system leadership adapt with agility to the changing health landscape and ensure staff are able to provide care in the right place at the right time. I learned much about Duke Health this summer, and I look forward to continuing to grow and apply my knowledge of healthcare in my final year at NC State. Go Pack!