In 1889 — just two years after NC State's founding — Ellen McGuire began a 50-year career at the university. She was born into slavery on a plantation in North Carolina, then held a variety of positions at NC State, spending her last 31 years working at the university's infirmary. From those early years until the present day, women on staff at NC State have forged a unique path in a male-dominated environment. This Women's History Month, we celebrate McGuire and others like her who continue to inspire the entire university community today.
Staff Milestones
Ellen McGuire

– McGuire was one of the first African American women who worked at NC State, and she spent five decades on campus.

Susan Colwell Carroll

– Carroll held the position of matron, supervising the Cadet Hospital (an early version of the Student Health Services) and the dormitories until her death in 1901.

Caroline Sherman

– In 1903, Sherman became the first female librarian at NC State.

Jane McKimmon

– In 1911, McKimmon became the first woman to serve as a state home demonstration agent through the Agricultural Extension program at NC State.

Reba Clevenger

– A reference librarian, Clevenger became the acting college librarian during World War II, when all male library staff members left for military service.

Justina Williams

– In 1958, Williams became the first African American woman academic staff member, working in the Department of Genetics'

Drosophila

research lab.

Susan Nutter

– In 1987, Nutter became the first female director of the NC State University Libraries.
Milestones by Current Staff
Jennifer Gilmore

– In 1988, Gilmore became the first woman field conductor for the NC State Marching Band.

Justine Hollingshead

– In 2008, Hollingshead became the first director of NC State's GLBT Center.

Lisa Johnson

– In 2009, Johnson became the first woman to be appointed University Architect.
We spoke with women staff members across campus to hear about their work, the ways they build up other women, opportunities for university growth and more. Additionally, we looked at the trailblazing work by women and others who advocated for the UNC System's first paid parental leave policy.
Ada Baldwin

Director for University Housekeeping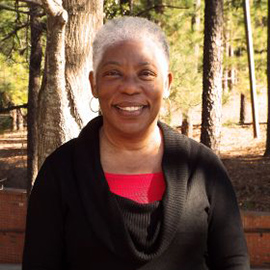 As director for University Housekeeping, Baldwin manages a $13 million budget and workforce of approximately 330 full-time employees and contracted personnel. She's in a role that is traditionally male-dominated across the higher education landscape, but she, along with other women, have opened the door for more women to succeed.
"My greatest teacher has been learning from failures but never giving up," said Baldwin. "Communicating effectively and listening has helped to overcome difficulties but also find my voice in leadership."
And her voice has helped NC State become a more welcoming, inclusive place for all. She emphasizes recognizing and respecting differences and valuing the work of others. She also challenges others to realize that inclusivity should be a normal part of the campus culture.
When inclusivity becomes integrated into one's everyday actions, women are empowered to go beyond their perceived limits. 
"They can grow and become all that they can be and do. Women can educate themselves and follow their passion," said Baldwin. "Remember, too, that it's okay to ask for and seek help, and that you don't have to carry the weight alone. Self care, work-life balance and healthy living are all important to success." 
For women in leadership, Baldwin encourages listening to others, addressing challenges with persistence and courage, and realizing the importance of working as a team. Mentorship is incredibly important, and developing vision, compassion, integrity, honesty and effective communications skills are imperative.
"Staff are looking for leaders to inspire, listen, encourage and value them," says Baldwin. "They respect leaders who are firm, friendly, factual and fair."
She notes that these types of leaders are especially important as NC State has vast opportunities for growth in various divisions and roles. That includes faculty and university leadership, where women, and especially women of color, are underrepresented. Through the Women's Center, Council on the Status of Women, and the Office for Institutional Equity and Diversity, resources are available to help women develop into effective leaders who push the university to be better and stronger. Baldwin, of course, sets a strong example for women across campus as well.
Jennifer Gilmore

Director, Marking and Communication, Campus Enterprises
Like many staff members at NC State, Jennifer Gilmore is also a Wolfpack alum. Her father graduated from the university and her mother worked in Holladay Hall, so she gained a love for campus at an early age.
"When it came time to go to college, I couldn't imagine myself anywhere else," said Gilmore. "I started in 1985, and the campus was only one-third women. We had fewer options for housing, but my floor in Lee Hall was co-ed. My mother almost had a heart attack when they moved me in!"
Soon, Gilmore made her mark on NC State history by becoming the first female field director for the marching band. At that time, many female field conductors wore a skirt, so a uniform had to be specially ordered for her.
Gilmore returned to campus in 2008 to manage marketing and communications efforts for NC State Dining, now a part of Campus Enterprises. She was then tasked with building a marketing department to support the entire operation. 
She works with people from many different backgrounds in Campus Enterprises, and feels it is important to use her role to make NC State more welcoming to all. 
"It's important that — regardless of who you encounter — you treat them as if you are speaking to the chancellor," said Gilmore. "Every person here has a very important role in the daily lives of our students. For example, our dining staff are really like a surrogate family for many of our students."
With Campus Enterprises, she communicates the work of a dedicated team that ensures that students with allergies and intolerances feel safe eating on campus. Additionally, Campus Enterprises works with Wolfpack Outfitters on efforts to reduce the cost of course materials for students. The unit also provides job opportunities in dining, bookstore and student centers that offer opportunities for personal growth and development. 
Through elevating others and being accommodating to the unique needs of faculty, staff and students, Gilmore uses her job to set an example for others. She is encouraged by how the university has grown since her time as a student, and looks forward to what will come next.
"I love that there are resources and people we can go to without fear of retaliation," said Gilmore. "I love that we have a Women's Center to provide guidance and support for the unique needs we as women have in the workplace."
Justine Hollingshead

Chief of Staff and Assistant Vice Chancellor, Division of Academic and Student Affairs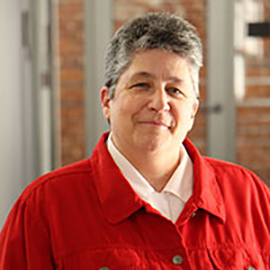 NC State's campus climate has changed quite a bit since Justine Hollingshead started working here 25 years ago. At that time, she knew the university had room to grow in being welcoming to the LGBTQ community. And she decided to focus her advocacy efforts on doing just that.
In 2006, NC State conducted a campus climate assessment in regard to the LGBTQ community, which became the impetus for major change.
"When you looked at the results for the gay, lesbian and bisexual community, they were pretty stark and harsh," said Hollingshead. "We knew that we needed to do more as a university to support this community."
A subgroup connected to the University Diversity Advisory Committee, which Hollingshead was a part of, knew a community center would be necessary to serve the needs of the LGBTQ community. Focus groups and town halls were held to find out how to best move forward. 
"One of the town halls went pretty poorly, and people were angry about NC State using taxpayer dollars to support the gay community," said Hollingshead. "The day after that, [then] Provost Neilsen, Dr. Tom Stafford and Dr. Jose Picart committed to moving forward to creating the center."
The GLBT Center officially opened in January 2008 with Hollingshead as its first director. It started out in a small space in the old Talley Student Union, and as it grew, moved to larger spaces in Harrelson Hall and now, the new Talley. The remarkable growth of the center, and its eventual move into the Office for Institutional Equity and Diversity, allowed for increasing student engagement and service to the campus community. 
Each step of the way, Hollingshead championed the center and what it meant (and continues to mean) to students, faculty and staff. Her advocacy has helped push NC State toward being more inclusive in regard to sexual orientation and gender identity.
The university has made great strides in supporting services and programmatic efforts for the GLBTQ community. The size of NC State, however, presents challenges as well as opportunities to continue to grow when it comes to raising awareness for issues impacting the GLBTQ community and building allies across campus. This includes engaging with faculty on making classes more inclusive and educating others on using preferred pronouns.
"When I was hired in DASA, I said I would always look at things through my 'rainbow lens' and would always have my 'rainbow' cape on. I'm always thinking about what would be the impact of our actions on marginalized persons," said Hollingshead. "I'd like to think I'm a good check and balance in the system, and I am 1000% committed to NC State, because this is a family to me. You have to be measured and patient, as equality is a gradual process, but you push the needle every day and try to make a difference where you can."
Paid Parental Leave Working Group
Prior to the beginning of this year, new parents who were NC State employees had to cobble together their own leave plan through vacation and sick days, short-term disability and unpaid leave. This lack of a paid parental leave policy posed myriad challenges to new birth and adoptive parents — physical, mental, emotional, financial and beyond. That's not to mention the challenges related to talent recruitment and retention.
In 2015, a Council on the Status of Women Paid Parental Leave Working Group, comprised of NC State faculty and staff, came together to advocate for a formal paid parental leave policy to help solve these issues. This group included several graduates of Human Resources' Pathways Program, who had recently completed a project on paid parental leave.
"When the group originally started, our goal was to get paid parental leave at NC State," said Lisa LaBarbera-Mascote, director of NC State's Women's Center. "The more research we did, the more we realized it needed to be a system-level change."
The group started making presentations to leaders around campus and administrators from the UNC System Office, trying to build grassroots support for something that would impact all new parents. NC State's staff senate was essential in helping get a proposal in front of UNC System President Bill Roper around the same time Governor Roy Cooper had signed a paid parental leave policy for his executive staff.
On September 1, 2019, the UNC Board of Governors approved a paid parental leave policy that provides eligible state employees with dedicated leave time for care and bonding with a newborn or a child under the age of 18, newly placed for adoption, foster, or other legal placement. This benefit includes eight weeks of paid parental leave for the birth parent, as well as paid leave for adoptions, foster care, or other legal placement of a child.
"A lot of research and advocacy were happening on campus for years, and on a larger level with our UNC System partners," said LaBarbera-Mascote. "This impacts so many people. It is life-changing when you're able to take the stress of being in a paid status off of someone's plate. It gives parents the time that they need to bond with their children, health benefits and so much more."
The full Council on the Status of Women Paid Parental Leave Working Group was comprised of the following members:
Jonathan Champ, business and technology applications specialist, DELTA

Hampton Clark, student, mechanical engineering

Joy Davis, research coordinator, Institute for Transportation Research and Education

Tracy Dixon, director of strategic initiatives, Sustainability

Eva Feucht, director, Park Scholarships Program 

Jane Harrison, coastal economics specialist, North Carolina Sea Grant

Lisa LaBarbera-Mascote, director, Women's Center, OIED

Janna Martin, executive team assistant, DELTA

Donna Petherbridge, associate vice provost, DELTA

Leah Sauerstrom, service desk analyst, DASA



Members of the group that are no longer at the university include:
Pam Lowe, former director of development, College of Sciences

Monica Chamber, former benefits consultant, Human Resources
The working group made changes for parents that will help make NC State a stronger university and better place to work.
"So many times we're looking at systemic issues, not even knowing where to begin," said LaBarbera-Mascote. "There's an ability to create change. It takes time, research and a lot of work with a network of others who want to make that change, but it can be done. Because of efforts that started right here at NC State, the paid parental leave policy is now a reality for the entire UNC System."
Resources for Women Staff Members
NC State seeks to make the university a better place for women to work, and provides resources to equip women for personal and professional success. 
The Staff Senate serves as an advisory body to Chancellor Woodson and engages in advocacy on policies and procedures impacting staff, as well as communicating information of importance to all staff members.
The NC State Council on the Status of Women is charged with advising the Provost on matters related to the professional development and support of all NC State women on and off campus, including faculty, staff and students. 
The Women's Center maintains a mission of building and creating a community of allies and leaders focused on the following: pursuing gender equity and social justice; and enhancing the campus climate through education, advocacy, support and leadership development.