International Partnerships Strengthen Global Health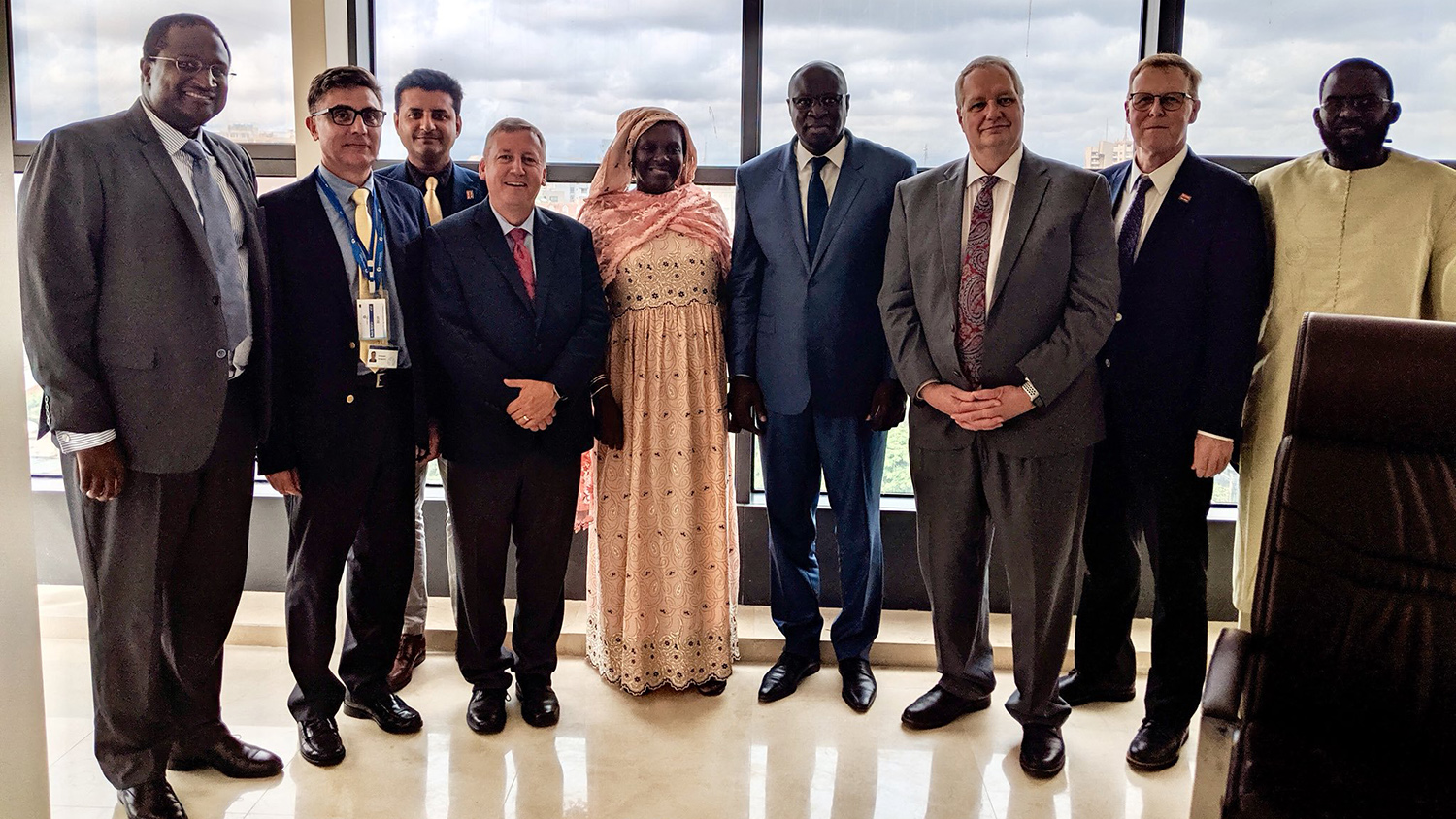 NC State's Global Health program merges veterinary research and training to address today's (and tomorrow's) most pressing animal and human health challenges. From infectious disease control and antimicrobial resistance, to food security, global health and more, the program puts the NC State's teaching and research into action around the world.
In September, university leaders traveled to West Africa to promote increased international collaboration for the Global Health program. Warwick Arden, executive vice chancellor and provost; Richard Linton, dean of the College of Agriculture and Life Sciences; Paul Lunn, dean of the College of Veterinary Medicine; and Sid Thakur, director of the Global Health program, visited several locations in Senegal and Morocco. 
This included the Institut Pasteur Dakar (IPD) and Université Cheikh Anta Diop in Dakar, Senegal, and Institut Agronomique et Vétérinaire Hassan II in Rabat, Morocco, in addition to cultural sites and working farms. The purpose was to increase collaborative research efforts focused on infectious diseases, including those that devastate food animals and those who come in close contact with them. NC State leaders met with national ministers of agriculture and livestock to discuss increasing international collaboration.
The College of Veterinary Medicine's partnership with IPD supports research projects led by faculty from both institutions, as well as training and professional development for IPD students. Some of the research will focus on combating diarrheal disease, and antimicrobial resistance of the disease to treatment.
"By the year 2050, it's estimated there will be more than two billion additional mouths to feed – of which more than one billion will live on the African continent," said CALS Dean Richard Linton. "I was honored to join Dean Lunn and our Provost on the College of Veterinary Medicine's trip to Africa for visits with leaders from the Pasteur Institute, as well as many different veterinary and agriculture-based universities, and important governmental officials. Our meetings were very productive; I feel confident that we will create mutually beneficial partnerships that could help provide sustainable solutions for our growing world population."
A training grant from the National Institutes of Health-Fogarty Global Infectious Diseases Program will help to make this collaboration possible. The grant will help bring doctoral students to NC State from Senegal, who will return to the country upon graduation to work to improve the country's infrastructure and overall ability to address antimicrobial resistance and other global health issues.
Activities being undertaken within the IPD partnership include a three-day workshop hosted by CVM in April to discuss infectious diseases and research goals with IPD faculty. Thakur hopes to travel to West Africa again next year, and to plan another workshop to dive deeper into the Global Health program's work in the area.
"We're working on obtaining additional funding for more inter-institutional training," said Thakur. "We want to equip people to address the dire threat certain diseases and antimicrobial resistance pose to human and animal health in West Africa and around the world, and growing a long-term partnership is a crucial component in doing just that."
Of course, partnerships in West Africa represent a portion of the large-scale research and teaching taking place through the Global Health program. The topic of global health remains an integral portion of NC State's strategic plan, as the university seeks to lead in international partnerships to improve human and animal health. In addition to his role in the College of Veterinary Medicine, Thakur also serves as director of the Global Health Initiative in the Office of Global Engagement. 
"It is exciting to see the support that Global Health receives from the Provost's Offices and NC State in general, as there is much work to be done on so many health-related issues," said Thakur. "We're working to build a better, healthier society through collaboration with researchers and colleagues throughout the world."