Sweet Success for Howling Cow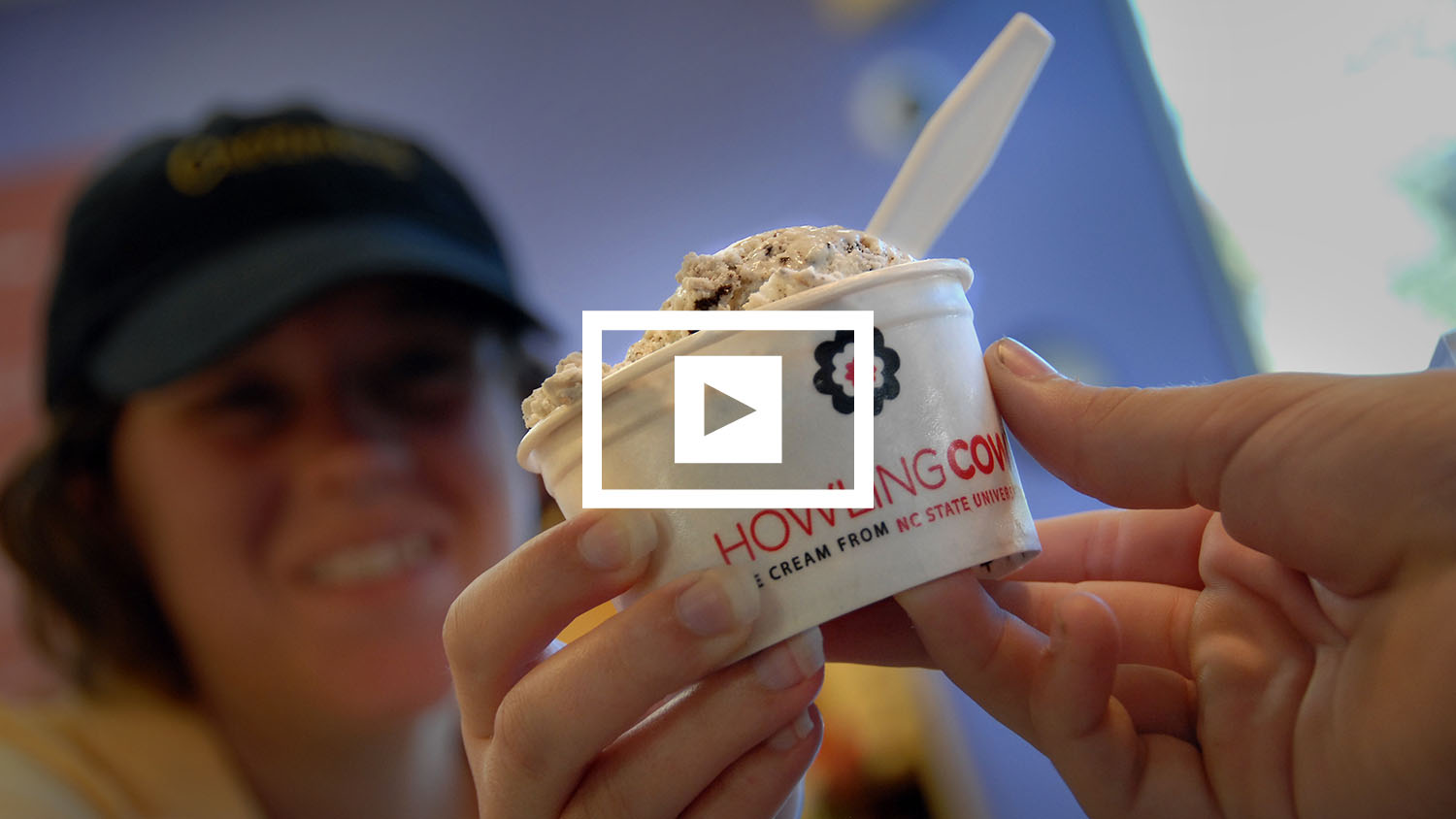 Take a heaping helping of Think and Do, mix in a little 'moo' and what do you get? NC State's famous Howling Cow Ice Cream, of course!
For more than 50 years, the creamy confections from the Department of Food, Bioprocessing and Nutrition Science's Feldmeier Dairy Processing Lab have been available on campus and at the North Carolina State Fair. Now, Harris Teeters from the mountains to the coast carry Howling Cow.
Supporting Students
The production and sale of Howling Cow benefit dairy education at NC State, and students like Emily Roberson. Roberson, a junior in food science, is a member of the Food Science Club and chairs the Howling Cow ice cream bar at the State Fair.
Roberson gets hands-on experience in the Feldmeier Dairy Processing Lab, testing all of Howling Cow milk and ice cream products for butter fat and solids content. She also ensures harmful bacteria does not grow in the products. She's a big fan of the ice cream, and not just because of the delicious variety of flavors.
"Howling Cow is one of the freshest ice cream and milk products you can get, since the dairy comes from a farm that's also owned by the university," said Roberson. "They focus more on making the highest quality product possible, rather than just making what will be cheapest for production."
That inherent quality is gaining Howling Cow fans all over the country, and long lines clamoring for something sweet at the State Fair.
NC State Fair
Howling Cow serves up a variety of flavors at the State Fair each year, including the classic chocolate, vanilla and strawberry, along with cookie dough and cookies and cream. Of course the best-selling Chancellor's Choice, Wolf Tracks — vanilla ice cream with chocolate fudge and peanut butter cups — always makes an appearance.
Faithful fans have enjoyed at the State Fair since the 1970s, and until 2005, it was the only place Howling Cow was available outside of campus. The brand keeps surprising fairgoers with the introduction of limited-time flavors. Over the past few years, this has included caramel apple crisp and key lime pie concoctions that were met with rave reviews.
Howling Cow didn't stop with those successes, however. This year, a new flavor inspired by Executive Vice Chancellor and Provost Warwick Arden will make its debut. 
Provost's Pick
Provost's Pick — also known as "Coco Choco Cafe" — is a coffee ice cream with chocolate chunks, a swirl of caramel and coconut flakes. The flavor started with a conversation between Provost Arden and College of Agriculture and Life Sciences Dean Richard Linton.
"I love Dean Linton's Cherry Brick Road, and I started to think about how fun it would be to create my own flavor," said Provost Arden. "Coffee ice cream has always been a hit in my house, and adding in some of my other favorite sweets really makes Coco Choco Cafe outstanding."
Provost Arden worked with Howling Cow throughout the summer to taste test and develop the perfect flavor combination. After a test production run and nutritional analysis, Coco Choco Cafe is ready for a wider audience.
The flavor already received rave reviews from local media at the 2019 State Fair Media Day. And a deeper dive into the ice cream reveals that there's even more to like — the coffee flavor gets its delectable taste from NC State technology.
Gary Cartwright, director of NC State's Dairy Enterprise System, and Carl Hollifield, associate director developed a way to convert coffee beans into a direct food additive. This gives unmatched coffee flavor to Coco Choco Cafe without the usual step of brewing coffee beans and then removing water. Due to Cartwright and Hollidfield's Think and Do technology, their work earned support from the Chancellor's Innovation Fund.
"Coco Choco Cafe is already one-of-a-kind with its mix of ingredients," said Hollifield. "Our coffee-infusing technology makes it uniquely NC State."
What's Next
After the State Fair concludes, Coco Choco Cafe will make its way to campus at Talley Market in Talley Student Union. The new flavor will also be available at the new dairy education center and ice cream bar at NC State's farm on Lake Wheeler Road in Raleigh.
The center is set to open in November 2019. Here, the public can learn all about dairy cows, dairy processing and agricultural education. Of course, they'll also be able to savor Coco Choco Cafe, which hopefully will become a Howling Cow staple.