Executive Vice Chancellor and Provost Warkwick Arden has given updates on the appointments of two NC State deans — Peter Harries of the Graduate School and Christine McGahan of the College of Sciences.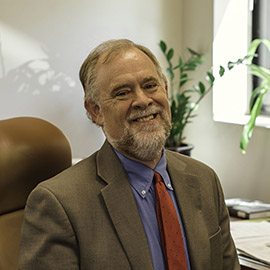 Interim Dean of the Graduate School Harries' will become dean of the Graduate School effective September 1, pending approval from NC State's Board of Trustees. He has served as interim dean of the Graduate School since September 2017. 
Under Harries' leadership, the Graduate School experienced a 2.1 percent increase in applications this year, with new graduate student enrollment up over 3 percent. He has increased support for graduate student travel through the Graduate Student Association and created the Graduate School Summer Fellowships to assist doctoral students who don't have summer support.
In addition, the Graduate School's professional development programs expanded and diversified over the past two years. New programs include a Teaching and Communications Certificate, writing support for engineering students and programs to help doctoral students transition to industry careers. The Graduate School recently received NC State's first National Science Foundation Innovations in Graduate Education Grant to help bring the Accelerate to Industry program to other universities.
Harries' research, teaching and outreach activities focus on mass extinction events and comparing greenhouse and icehouse paleoclimatic, paleoceanography and paleontologic conditions. He is a member of several geology professional associations and societies and served as treasurer for the Paleontological Society and chair of the grants-in-aid of research committee for Sigma Xi, the international scientific society.
Harries came to NC State in 2015 as the Graduate School's senior associate dean, where he was responsible for graduate student academic affairs. In that position, he engaged with student issues, promoted graduate student success and revised the Graduate Handbook. 
He has also been involved with a number of college, university and national committees, including NC State's graduate operations council, administrative board and enrollment planning committee. Harries was instrumental in bringing the application software Slate to campus as a customer relationship management platform.
Harries earned a bachelor's degree in geology and geophysics from Yale University in 1984, and a Ph.D. in geological sciences from the University of Colorado, Boulder, in 1993. During 1990-91, he was a Fulbright Fellow in Germany.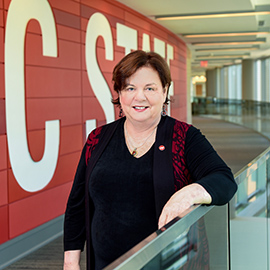 McGahan, a leading eye researcher and longtime administrator at NC State, was originally appointed dean of the college in November 2017. At that time, Arden said in a letter to the college community that he planned to conduct a national search for her successor in two to three years. With today's announcement, McGahan's appointment has been extended.
During her deanship, McGahan has made progress in many areas of key importance to the college. Among them is the creation of the Genetics and Genomics Initiative, which spans several fields of science and involves six colleges and more than 140 faculty across the university. McGahan has also assembled a complete college leadership team and seeks to build upon recent momentum in improving communication and program development across the college.
McGahan joined NC State's College of Veterinary Medicine in 1983 and was head of its Department of Molecular Biomedical Sciences for 14 years immediately prior to her deanship. An avid researcher, she was funded continuously for more than three decades by a National Institutes of Health Research Project Grant, known as an R01. She currently serves as president of the International Society for Eye Research, which provides an international platform for discussion and exchange of ideas on contemporary topics in eye and vision research.
In 2013, shortly after NC State celebrated its 125th anniversary, McGahan was named by the university's Council on the Status of Women as one of NC State's 125 Transformational Women. Three years later, she was named to the inaugural class of the NC State Research Leadership Academy. 
McGahan received her doctorate in pharmacology from the Mount Sinai School of Medicine at the City University of New York and did postdoctoral work at the Harkness Eye Institute at Columbia University's College of Physicians and Surgeons.
Both McGahan and Harries will undergo a comprehensive review within the next five years, pursuant to NC State REG 05.50.02. 
"With the support of the campus community, Peter and Chris will continue to flourish in their roles," said Arden. "I look forward to seeing how their continued leadership and Think and Do philosophy will positively impact NC State over the coming years."