How Data Helps Us Think and Do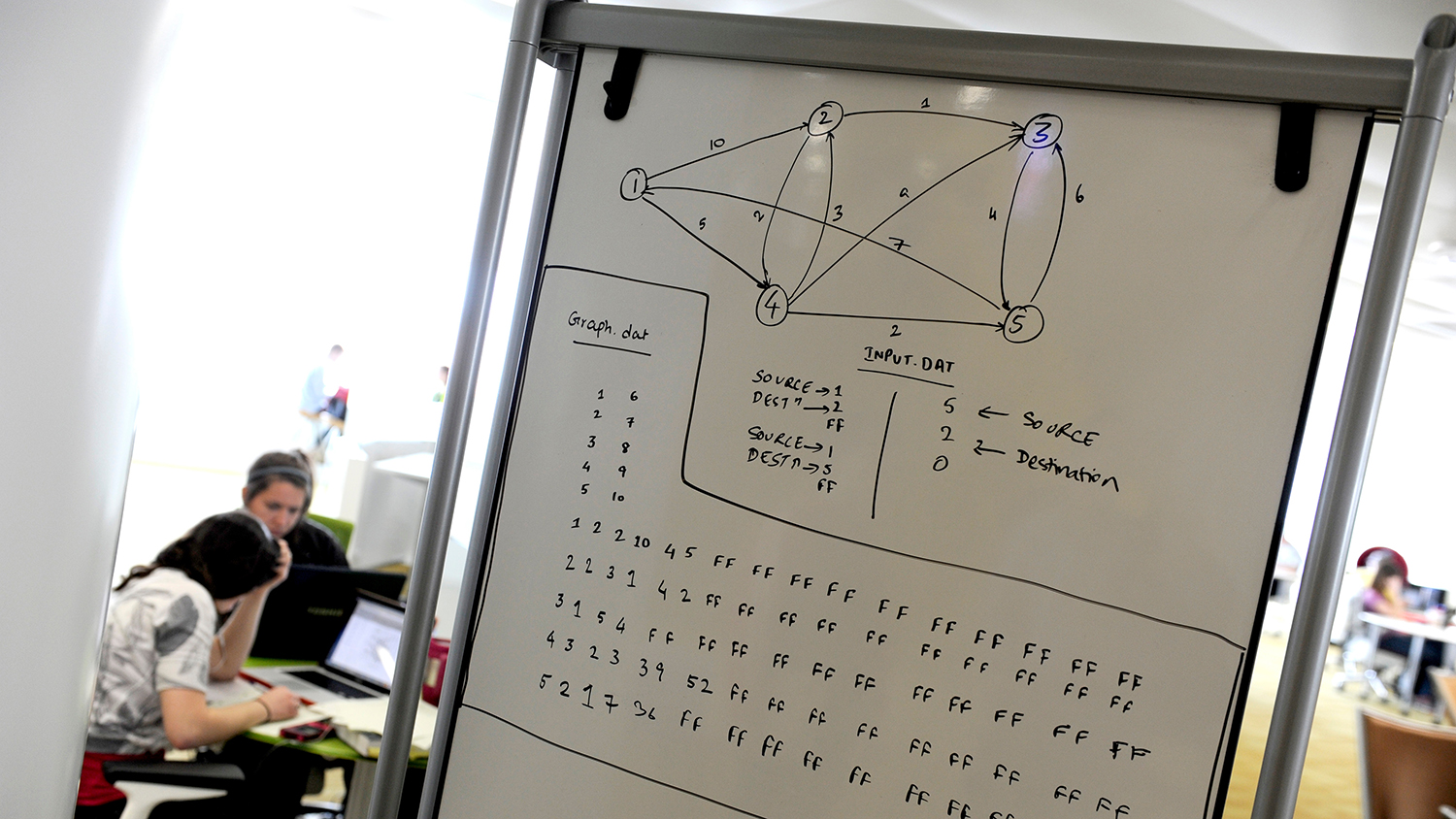 What informs the decisions that impact 45,000 NC State students, faculty and staff? How do we figure out the best ways to address society's grand challenges on a local and global scale?
We tackle these complex questions every day at NC State through our teaching, research and service. Our solutions, while multi-faceted, are often informed by "big data." Upon first hearing the term, however, many people are left with a question.
What is Big Data?
"'Big data' describes the modern everyday reality in which an abundance of rapidly accumulating data is a common characteristic of organizations and professional occupations," said Michael Rappa, founding director of NC State's Institute for Advanced Analytics. "The data are, of course, digitized, and can be in various forms, such as numerical, text, sound, and images. A defining feature of big data is how it pushes the boundaries of computational and analytical methods given its volume, velocity, and variety — the amount of data in a set, the rate at which data is received, and the types of data available."
Big Data at NC State
The first North American university to establish an IBM Q Hub, NC State will boost its big data expertise through use of IBM's quantum computing systems. Quantum computers on campus will give researchers the ability to analyze big data too large and complex for traditional computers.
Quantum computing holds the potential for NC State to use data analysis to drive solutions to global health, supply chain management, economic and technological issues and many more challenges. Of course, the university already maintains a strong presence in the big data field, evidenced in the work of units like the Institute for Advanced Analytics, the Data-Driven Science faculty cluster, Data Science Initiative and Laboratory for Analytic Sciences, among others.
The Institute for Advanced Analytics debuted the nation's first full-fledged masters program focused on big data in 2007, with the generous support of Jim Goodnight, co-founder of SAS. The Institute has done much to define the field of analytics and data science — essentially creating a template for graduate education around the world. There are now dozens of Institutes and more than 250 graduate programs in the U.S. alone.
The Data-Driven Science cluster — part of the Chancellor's Faculty Excellence Program — supports the university's national leadership in data science, in part through supporting the Data Science Initiative. This initiative improves NC State's internal activities related to big data and data science, and supports the university as a hub of data science and analytics expertise.
In the Laboratory for Analytic Sciences, university faculty and researchers with the National Security Agency support for the Department of Defense through data research addressing short- and long-term security issues. This includes research that seeks to understand the empirical basis of factors leading to radicalization, and whether someone who has been radicalized may commit a terrorist act.
"Many of today's most innovative solutions to national security issues are coming out of partnerships with academia and industry," said Alyson Wilson, principal investigator for the Laboratory for Analytic Sciences and a professor in the Department of Statistics. "The Research Triangle region, and NC State, are hubs for data science research. At LAS, we're visualizing big data sets and finding the most relevant pieces of information to address problems of national security interest."
How Else Do We Use Data?
Of course, data — regardless of if it is classified as "big" data — influences teaching, research, learning and service across campus. NC State's Office of Institutional Research and Planning uses data analysis to inform high-level strategic planning, while also making data relevant and accessible to the entire campus community.
The "official source for the university's institutional data for federal, state and other external inquiries," OIRP administers a variety of university-wide surveys to NC State students, alumni, faculty, and staff, including UNC system-required instruments like the Employee Engagement Survey. The office also manages ClassEval and collects, summarizes and analyzes information about NC State and its operations for everyone from university and college administrators to campus units like University Wellness and Recreation, Enrollment Management and Services and more.
"We very deliberately align our services and initiatives with NC State's strategic plan," said Mary Lelik, senior vice provost for OIRP. "The ways in which we gather and use data help us to support student success, faculty research, infrastructure improvements and overall organizational excellence."
Looking at the ways in which prospective students interact with the admissions website can help determine the likelihood of eventual enrollment. Course data is used to help predict progress toward degree completion, and can help faculty and staff engage in academic intervention to ensure a student remains on track. Card swipes to the Aquatic Center help staff determine how many lanes to open in the pool at certain times.
Data plays a large role in classes as well. For example, students in Helen Armstrong's master's of graphic design spring studio collaborated with the IBM Watson Health team to investigate how an intelligent interface might utilize machine learning to lower barriers to accessibility for blind, visually impaired and deaf, hard-of-hearing users. Students designed the resulting interfaces to actively learn from and adapt to user data.
"Machine Learning requires huge data sets, i.e. big data, to reliably predict outcomes and facilitate decisions," said Armstrong, associate professor in the College of Design. "Without big data, such smart interfaces could not successfully function, and the students did a great job putting data to use."
Learn More About Big Data
Anyone at NC State can learn more about big data, data in general and how it impacts campus. A wealth of data an institutional information is available through the OIRP website, and the NC State University Libraries provides seminars and workshops on data-related matters. Additionally, the Office of Research and Innovation, in collaboration with the Data Science Initiative, helps run Data Matters, a series of data science short courses.
Of course, these are only examples of the many ways students, faculty and staff are involved in big data and data analysis at NC State."Data really transforms what we do here on campus and in the community," said Lelik. "We're making great strides in our collective leadership in this area, and it is shaping how we make decisions and see the world."