Alice Warren, vice provost for continuing education, has announced that she is retiring this fall, effective October 1.
Warren has spent the past 39 years in various capacities at NC State and the McKimmon Center for Extension and Continuing Education. During this time, she has helped achieve the university's land-grant mission by promoting higher and continuing education for all, leaving a legacy of learning on campus.
"My time as the vice provost for continuing education has been an exciting and challenging experience, and I have enjoyed this role and its responsibilities," said Warren. "Working with so many exceptional people dedicated to continuing education through the McKimmon Center's programs and services to the citizens of North Carolina has been a true honor."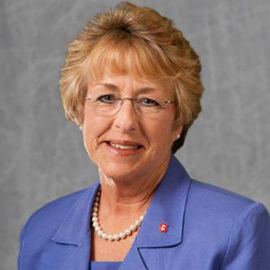 When Warren started at NC State, she managed 50 non-credit programs and planned half-day to five-day-long conferences. She then went on to serve as the continuing education specialist and assistant director of continuing and professional education. From 2016-17, she served as interim vice provost for outreach and engagement and helped guide that office's period of transition. 
Warren is also a recognized and respected leader on the national level through her leadership and extensive involvement with the University Professional and Continuing Education Association (UPCEA). Over the last three years, she has served as president-elect, president, and past president of the association, representing 425 institutions and approximately 4,000 professional members.
"Alice has been instrumental in increasing the McKimmon Center's presence in the community as the gateway to the vast intellectual and technical resources at NC State," said Executive Vice Chancellor and Provost Warwick Arden. "Her hard work sets an example of how we should all approach serving the university and greater North Carolina community."
Warren's leadership earned her the 2014 Walton S. Bittner Service Citation for Outstanding Service and the 2018 Julius M. Nolte Award for Extraordinary Leadership, both from the UPCEA. This past April, she was recognized at NC State's Office of Outreach and Engagement Awards celebration.
"Vice Provost Warren is one of the most professional and service-oriented colleagues I've had the pleasure to work with at NC State," said Senior Vice Provost for Academic Outreach and Entrepreneurship Tom Miller. "She always puts NC State and the constituents she serves first, and steps up to any challenge with her sleeves rolled up, ready to take it on. The McKimmon Center's culture of excellence in service is a genuine reflection of Alice's leadership."
Warren received her associate degree from William Peace University, her bachelor's degree from Campbell University and her master's degree from NC State.
Arden said the university will soon announce the details about the appointment of an interim vice provost and the search for a permanent replacement for the vice provost for continuing education position.