NC State will count more than 5,900 newly-minted graduates among its alumni following spring commencement on May 12. This includes an estimated 537 international students who applied for graduation this semester, representing approximately 40 different countries. Each graduate's unique international experience and perspective continues to shape the university and help make it a more inclusive, welcoming place for students of all nationalities.
Meet five spring 2018 graduates ready to address society's grand challenges on a global scale.
Prajakta Akhare, India
Master of Science in Civil Engineering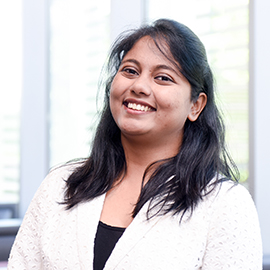 NC State's strong academic reputation attracts high-performing students from around the world. Several of Prajakta Akhare's friends had already made their way to campus, so she knew the university would provide her with an unparalleled education.
The civil engineering graduate student received her bachelor's degree form the College of Engineering in Pune, India, and worked for three years before deciding to continue her academic career.
"Civil engineers — in construction specifically — are the builders of civilizations," said Akhare. "Moving forward, I want to take on decision-making roles in the planning and development of projects that will impact society, and NC State prepared me for that."
Once at NC State, Akhare not only excelled in her courses; she also dedicated herself to a well-rounded education that included practical experience and cultural involvement. She interned with NC State's Facilities Division, learning the standards and service requirements for buildings on campus.
"Getting involved with an internship made a huge impact on my time here," said Akhare. "Joanna Norton in the Facilities Division was the best mentor I could ask for, and I got to know the campus in a very in-depth manner through my work."
Akhare also dedicated herself to community service through involvement with the Office of International Services, Culture Corps, the Counseling Center and Service Raleigh, among others. She educated others on Indian culture through performances with the Bellydance Club and serving at International Tea Time throughout the year.
Her desire to give back to NC State led her to become a Small Pack Leader for the Office of International Students orientation, where she addressed more than 500 students, her favorite NC State memory.
Throughout her student experience, three professors — Alex Albert, Edward Jaselskis and Jim Rispoli — played an integral role in Akhare's academic success. Their engineering courses provided not only practical knowledge of the field, but helped her form mentoring relationships that prepared her for the future.
"I love being a part of a culture where professors are really accessible to you," said Akhare. "You can build a good rapport with them and go to them with any sorts of difficulties and they will help you out. That is the best part of being here."
After graduation, Akhare will join AECOM, a firm that works with infrastructure assets in more than 150 countries, in their New York office. What she learned at NC State helped her prepare for her new role in an increasingly competitive global market, and she hopes to inspire others who seek to walk a similar path.
"As an international student, cultural differences can be intimidating at first," said Akhare. "Be open to meeting new people and don't be afraid to ask questions. Throughout life, you'll always find yourself in new situations — new school, new workplace — but ask questions and you'll find helpful people willing to answer them. And that makes all the difference."
Sofia Feng, Costa Rica
Ph.D. in Food Science
Earning an NC State degree means preparing for real-world impact with practical knowledge. For Sofia Feng, earning two NC State degrees exemplifies this impact.
The doctoral student from Costa Rica previously earned her Master of Science in food science in 2015. She now seeks to use her Ph.D. in the same subject to improve sweet potato crops and the lives of those who consume them through research and application.
After graduation, Feng will participate in a short-term postdoctoral position and then join a company in Research Triangle Park to continue her work.
"I chose NC State not only because of the high-quality education I knew I would receive, but also because of the research conducted here," said Feng. "Dr. Jonathan Allen's nutritional research really drew my interest and helped forge my academic path."
NC State is known for its sweet potato research, and Feng's work will help to continue that tradition.
"I wanted to learn more about deriving added-value ingredients from sweet potatoes and how the body reacts to those ingredients," said Feng. "Sweet potatoes are one of the most nutritionally-dense foods, and analyzing their nutritional and chemical makeup can have wide-ranging impacts on human health."
Feng's research includes diving deeper into the glycemic index of sweet potatoes and sweet potato products. During her time in the lab, she learned more about the speed at which the body converts carbohydrates into glucose, and the impact that has on blood sugar levels. This could lead to the use of sweet potato products as a therapeutic food that could positively impact diabetic health.
Like many NC State students, Feng's on-campus involvement stretched beyond the lab. She mentored other students in the Department of Food, Bioprocessing and Nutrition Sciences on their graduate and capstone projects. She also instructed group fitness classes through University Recreation, which imparted the importance of taking care of one's physical and mental health, a key to student success.
"When you enter your graduate studies, make yourself aware that you are going to go through a long process that can be very stressful," said Feng. "Think strategically about your academic and research goals and what you want to accomplish in the short- and long-term."
Feng's achievements come from an intense dedication to academics and research, and in part from a dedicated team of professors at NC State.
"The professors have so much valuable insight and experience, and the people that I worked with helped me to become a more independent professional and well-rounded person," said Feng. "I feel that all of the tools and knowledge I have received here have help prepare me well for the future.
Padmaroopa Kothandaraman, India
Master of Science in Financial Mathematics
Padmaroopa Kothandaraman will make her mark on Wall Street one day. The financial mathematics graduate student from the Indian state of Tamil Nadu sought out NC State's program for its outstanding reputation, and created a solid start while on campus.
NC State's financial mathematics program's strong ranking combined with the warmth of its people influenced her decision to come here, and she'll leave with valuable memories and much more.
"The program was really intense, but definitely worth the work because once I graduate, I know I'll have a job," said Kothandaraman. "That makes the achievement of a degree even more special."
In July, Kothandaraman will move to Buffalo, New York, to join M&T Bank, a bank holding company specializing in banking, mortgage, loan and investment services. She'll use the knowledge she gained from faculty like Srini Krishnamurthy and Tao Pang to grow professionally. Their engaging demeanors and investment in Kothandaraman made a lasting impression.
"Dr. Krishnamurthy's class was not just about learning from books, it was about gaining an intense knowledge of your field and the world around you," said Kothandaraman. "Dr. Pang was patient in explaining concepts to someone who was new to finance and displayed the excitement of a parent when I got my job. They showed me that I was in a great place where people truly care about you."
Beyond the personal connection, Kothandaraman also gained hands-on, practical experience throughout the course of her education. An investment fund analysis project gave her the opportunity to work with NC State's Endowment Fund, where she learned how to allocate assets and equities, and to create solid investment strategies. She credits these types of opportunities with landing her future job.
"The skills that I have developed here — including learning SAS and the Python and R programming languages — have been invaluable," said Kothandaraman. "The statistics courses that I took on regression and modeling helped answer most of the questions that I got on interviews. These are the concepts that I will be using directly in my work."
Upon graduation, Kothandaraman will take with her many other valuable lessons and memories from her time at NC State. Her involvement with other Indian students on campus and the Office of Global Engagement led to coming together with the campus community to celebrate the festivals of Diwali and Holi, and to share Indian food and culture with others. She also won't soon forget the countless hours spent in Hunt Library, a second home to many graduate students.
Kothandaraman credits her father and brother for making these kind of memories and her academic experience possible. Her father encouraged her to come to the United States to continue her pursuit of higher education, and her brother, living in Houston, provided constant support and guidance. They mirror the kind of people Kothandaraman met at NC State.
"I was really scared when I came here. I didn't know how I would be able to fit in," said Kothandaraman. "At each point in my time at NC State, I have had people helping me out and supporting me. Even if people here don't know you, they are willing to help you. I don't think I would have had this type of warmth and love if I had chosen some other place, and I am thankful for that. NC State is a wonderful place to be."
Patrick Schilling, Germany
Bachelor of Science in Business Administration
Patrick Schilling is a typical NC State student.
On Saturday, May 12, he will enter PNC Arena with thousands of other NC State graduating students to receive a Bachelor of Science degree in business administration. Like many of his fellow graduates, Patrick will wear his Wolfpack Red regalia and listen intently to speakers including Marian Wright Edelman, Chancellor Woodson, and several others.
Then, Patrick will stand up and address eighteen thousand people as the spring 2018 student commencement speaker.
Patrick is a typically extraordinary NC State student. While he does share the diverse background, commitment to excellence, and desire to collaborate like many of his fellow 2018 NC State graduates, there is no other person here quite like Patrick Schilling, and he fits right in because of it.
He is an international student from Germany, but calls Raleigh his second home. He grew up with a physical disability, and now works to create inclusive environments for all. He faced struggles adapting to the workload of American higher education, yet has maintained a 4.0 GPA. He is a natural leader, constantly seeking to share the credit. Patrick embodies the heart of NC State's commitment to educating and empowering students to change the world for the better while utilizing their unique talents to contribute to the Pack.
After growing up in Tuttlingen, Germany, Patrick came to NC State in 2016 to finish the last two years of his undergraduate career as part of the Poole College of Management's International Business Dual Degree program. Patrick will graduate with a Bachelor of Science in business Administration with a concentration in entrepreneurship and honors in business analytics. Patrick will also receive a bachelor's degree in international management from ESB Business School in Germany.
Patrick founded and served as president of Digital ShapRs, a student organization dedicated to educating students on the complex nature of artificial intelligence and other digital innovations. He was also involved in the Society for Politics, Economics and Law and NC State's Student Government. Patrick completed internships at SAP America, as well as bookingkit and Miller & Meier Consulting in Germany. Following graduation, Patrick will join Google at the company's European Headquarters in Dublin and plans to further explore potential entrepreneurial ventures that allow him to follow his passion for public speaking and public policy.
Read the full story at: https://poole.ncsu.edu/news/2018/05/03/2018-student-commencement-speaker-is-typically-unique/.
Ramakrishna Trovagunta, India
Master of Science in Nanoengineering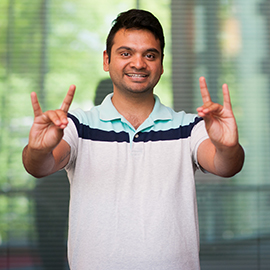 The Think and Do spirit lives in each NC State student, pushing them toward academic achievement and extraordinary futures. Ramakrishna Trovagunta embodies this spirit through working to create a more environmentally friendly world.
The graduate student from south central India seeks to achieve his goal through the development of sustainable polymer materials. These materials can be found in objects ranging from medical and electric devices to common household items, paint, fabrics and more.
"At the end of the day, everything that I accomplish through research goes back to sustainability," said Trovagunta. "When I first fabricated an organic solar cell in the lab, it brought about this amazing feeling, and I want to do more of that in the future, to make the world more sustainable."
To learn the innovative potential of nanoengineering, Trovagunta worked in Brendan O'Connor's lab in the Department of Mechanical and Aerospace Engineering, and under Harald Ade, Goodnight Innovation Distinguished Professor in the Department of Physics. The ability to work with world-class professors and gain an exceptional academic experience drew him to NC State in the first place.
"A nanoengineering program is a rarity in higher education," said Trovagunta. "Very few universities have this type of program, and NC State is one of them. That and the opportunity to learn from professors like Dr. Ade with several decades of experience in the field made me want to study here."
Trovagunta would like to continue his education by pursuing a doctoral degree at NC State or another institution. He hopes that his experience will help other international students set and achieve their goals.
"Being an international student is in itself a challenge, no matter where you go, as you have to make adjustments to being in a new place and having new experiences," said Trovagunta. "It helps to have large goals, but to work toward those by also setting smaller goals and celebrating those milestones."
Trovagunta also wanted to experience a different type of goal at NC State, the type that sails into a net with the roar of a crowd. He co-founded the NC State Soccer Supporters' Club – better known as the Red Terrors. Group members attend men's and women's home soccer games to cheer on the players and create a sense of community through sports. Trovagunta particularly relishes in a 1-0 win against conference foe Clemson this past fall.
"It was the most amazing feeling, being there and being a part of the game," said Trovagunta. "I love soccer and this was the perfect way to experience that with fellow students."
Whether making strides in research or making noise with fellow fans at a soccer game, Trovagunta has found ways to make his dreams a reality at NC State.