Entrepreneurial Students Excel at NC State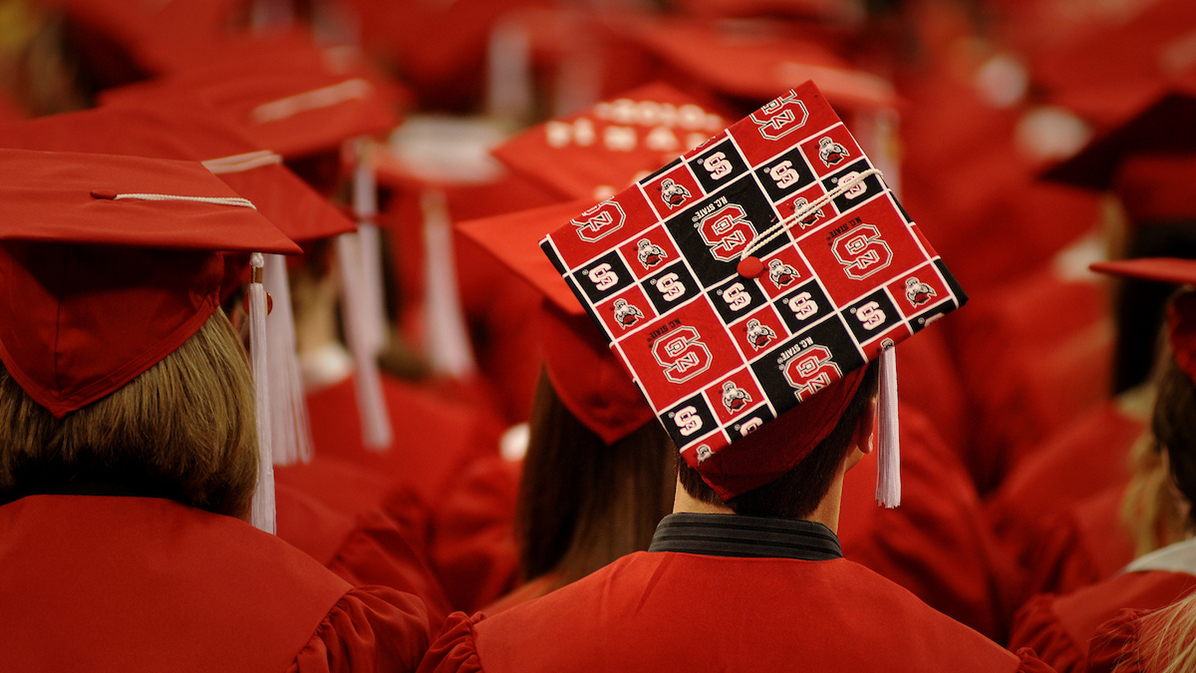 When Chancellor Randy Woodson gives the commencement address at PNC Arena this Friday, he'll speak to nearly 3,500 students ready to take their Think and Do attitudes out into the world. Each student took their own path to finish their studies at NC State, and they will turn their tassels ready to tackle society's grand challenges.
The university's entrepreneurship initiatives helped many of these students prepare for life after graduation, and the nation is taking notice. The Princeton Review and Entrepreneur magazine recently recognized NC State on its list of "Top 25 Best Undergrad Programs for Entrepreneurs in 2018," coming in at No. 19.
Meet two fall 2017 graduates who charted the course of their academic careers with the help of entrepreneurship at NC State.
Kay McMillan
Bachelor of Science in Political Science (Minors in Accounting, Nonprofit Studies)
College of Humanities and Social Sciences
You could say that being part of the Wolfpack is a family affair for Kay McMillan. The senior political science major followed her older brother to NC State, but in her years on campus forged her own path.
"I came from a big high school and NC State was the only campus that I visited," said McMillan. "I was on campus for a leadership forum and it just felt like home."
McMillan embraces entrepreneurship and leadership as forces for good, and actively seeks to instill these values in those around her. She played an instrumental role with both the North Carolina Youth Leadership Forum (NCYLF) and the New Voices Foundation.
NCYLF gives high school students with severe disabilities the opportunity to spend a week on NC State's campus during the summer in order to explore career and leadership avenues. This experience often marks the first exposure to a college campus and independent living. McMillan worked throughout her time at NC State to solidify the program and create a sustainable model to carry it into the future. With the minor in nonprofit studies, she feels that she is well prepared to continue her passion for this work.
Through the New Voices Foundation, McMillan, who has cerebral palsy, seeks to equip schools and teachers in North Carolina with technologies for students with communication and mobility disabilities. Her passion for working to improve the lives of others makes an important point about entrepreneurship.
"Entrepreneurship is about more than business; it is about leadership and helping others become leaders," said McMillan. "At the Forum, we give people the power to transform into leaders. I want to help people and work with them to become a positive force for change in their communities."
McMillan leads by her example of dedication and hard work in service to others on NC State's campus and in the greater North Carolina community. During her time in the College of Humanities and Social Sciences, she's achieved academic honors and was inducted into Pi Sigma Alpha, the national political science honor society. She'll graduate summa cum laude and maintains a clear vision for her future.
McMillan seeks to continue her work with the disability community. She also wants to work with nonprofits that provide services to those with disabilities.
"Throughout my minor, we talked about the five leadership challenges for nonprofits and one of them is moving beyond charity to systemic change," said McMillan. "That is really important to me and to the disability rights movement. We have a long history people with disabilities being leaders and trying to achieve equality, and this is part of what I want to do with my career."
With McMillan's social entrepreneurship at NC State and beyond, she's well down the path of creating lasting change for many people.
Oliver Walsh
Bachelor of Science in Electrical Engineering
College of Engineering
You've heard all the stereotypes of members of the Millennial Generation — entitled, selfish, lazy — but talk to NC State students like Charlotte native Oliver Walsh, and you'll find those views completely unfounded.
Walsh, a senior electrical engineering major, shows a passion for entrepreneurship that gives him a solid start on post-graduation success. He chose NC State for the university's renowned engineering program, but truly found his calling through entrepreneurship initiatives on campus.
"My parents own their own business, and I liked how they were able to be their own bosses and make decisions," said Walsh. "I became part of the Entrepreneurship Garage (EI Garage), interned at my cousin's startup, decided entrepreneurship was the path I wanted to follow, and pitched a startup idea at the very first Entrepalooza."
The EI Garage provides a physical space and resources for NC State students to explore new ideas and interests. Entrepalooza is an annual entrepreneurship and innovation festival that encourages students to use their business visions to address society's grand challenges.
Both of these initiatives, along with fall and spring break trips to New York and Silicon Valley in 2015 and 2016, provided a spark for Walsh to continue developing his team's startup. ShareFish, an app that allowed users to see drink specials at local bars, and vote on where to go, debuted in April 2016 and quickly started generating revenue.
"I was interning at Siemens and putting my paycheck back into the company, unfortunately on what Sharefish didn't really need, like business cards and a website that we could have developed on our own," said Walsh. "I had a whole lot of passion, but needed wisdom, because passion without guidance is chaos."
That's the kind of humble attitude and entrepreneurial spirit that will ensure Walsh succeeds past the walls of NC State. After two iterations, he and his team shut down ShareFish, but the experience helped him ace an interview and land a job as a business technology analyst at Deloitte Consulting in Charlotte.
He'll get to use the creativity and problem-solving skills he learned through the university's entrepreneurship initiatives to help others build their businesses. And, he'll be able to stay near his family who inspired him from a young age to set goals, and work tirelessly to achieve them.
So what have Walsh's entrepreneurship ventures taught him throughout his time at NC State? He has two insightful answers.
"People are the most important; they're what really matters. Everything else is man-made," said Walsh. " If you want to improve something in your life, just make a small choice every day to improve it, and bit by bit you'll get closer to your goals and achieve your success. It is truly amazing."