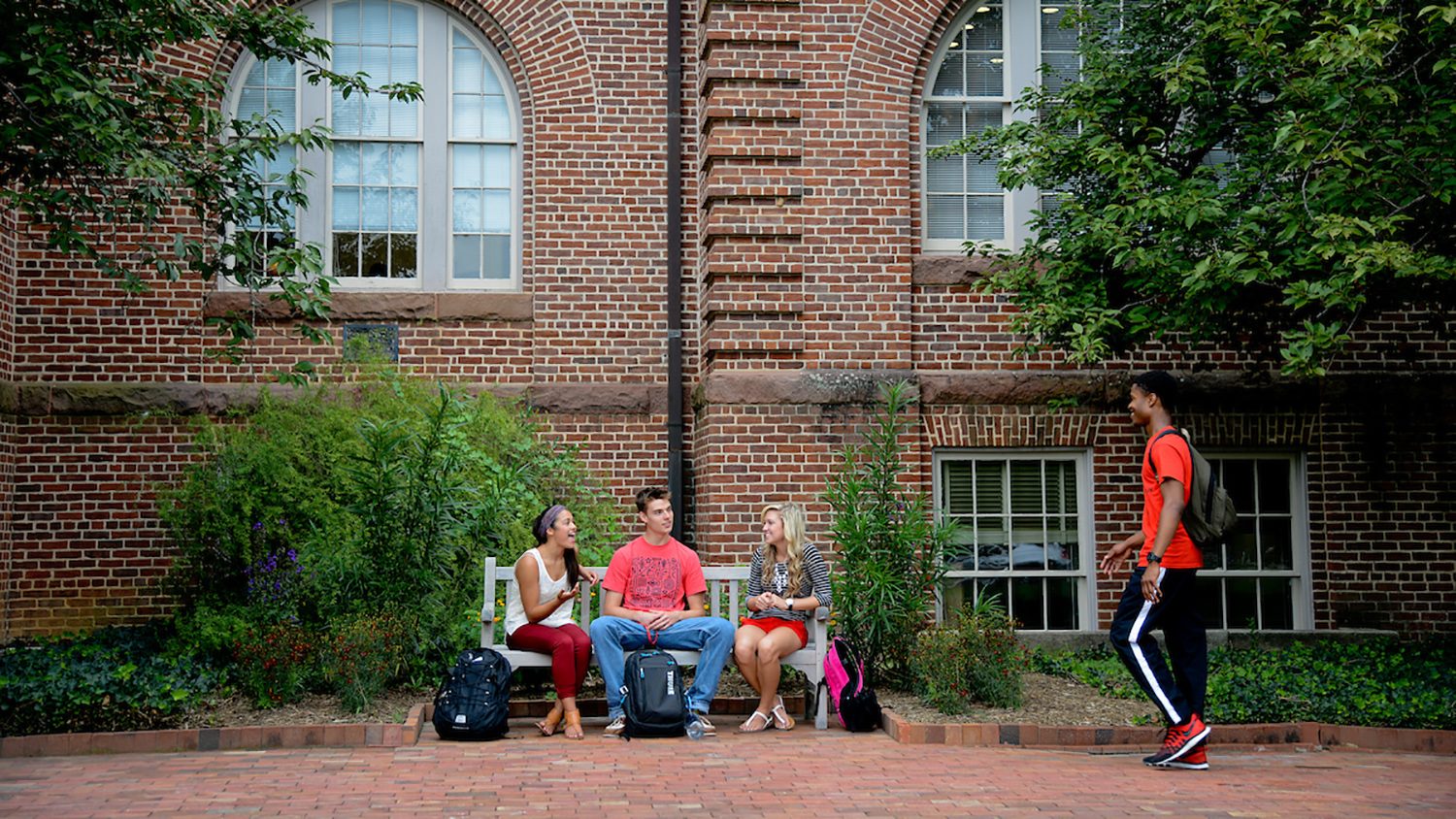 Chancellor Randy Woodson has released a statement on diversity, inclusion and respect, calling for the NC State community to reject violence, bigotry, intolerance and hatred. To read his entire letter, visit leadership.ncsu.edu/about/chancellor/letters/standing-for-diversity-inclusion-and-respect/.
Three new academic department heads have recently been named.

They are:

Don Brenner (interim), Materials Science and Engineering, College of Engineering

Penny Pasque, Educational Leadership, Policy, and Human Development, College of Education

Julie Swann, Fitts Department of Industrial and Systems Engineering, College of Engineering
New faculty are encouraged to attend NC State's Faculty Research Orientation on Thursday, Aug. 17

, from 2 p.m.-6 p.m. This informal event is for any faculty new to conducting research at NC State. You will have the opportunity to network with and glean information from all the key people that will help you conduct your research. 

Register today!

Packapalooza will be held Saturday, Aug. 19

from 2 p.m.-10 p.m. on Hillsborough Street,

from Brooks Street to the roundabout near the Memorial Belltower.

 For more information about the event, visit

packapalooza.ncsu.edu/

.

 
The new Gregg Museum of Art and Design will open its doors at 1903 Hillsborough Street on Saturday, Aug. 26.

The day of free events will begin with a ribbon-cutting ceremony followed by exhibition viewings, activities, artist demonstrations, tours and performances. Visitors will also have a chance to become a member of the Friends of the Gregg. For more information, visit

 gregg.arts.ncsu.edu/home/august-26-the-gregg-reopens/.
Join us at Entrepalooza – NC State's fall festival celebrating entrepreneurs and innovators on Thursday, Sep. 7.

The event brings together NC State students, alumni and off-campus community and includes interactive displays, a mobile makerspace, delicious North Carolina treats, fun games and a 60-second pitch competition. Tickets and more information are available at

ei.ncsu.edu/entrepalooza

.

eRA On-campus Vendor Demos

– Between August 23 and September 7, three vendors will be onsite to demonstrate electronic research administration (eRA) system products. Each two-day, on-campus demonstration will use business cases designed by NC State to show you how our research might flow through these systems. Choosing the right solution is paramount and feedback from Principal Investigators and Administrators is a critical determinant in the process. Demonstrations are broken into subject-area sessions, allowing participants to choose those relevant to their role. All sessions will be held on Centennial Campus (Montieth Research Center, Room #136) and be streamed live on the

eRA website

. See the eRA project

calendar

for location and times for specific topic demonstrations. More event info (Unity id required):

research.ncsu.edu/intranet/era/era-events-full-calendar/

August 23 – 24: Huron

August 30 – 31: iMedRIS

September 6 -7: InfoEd

Lunch and Learn: Going After Those Big Grants Are you ready to tackle bigger grants and seek more funding for your research? The Research Leadership Academy invites you to a Lunch and Learn seminar on Thursday, Sep. 21 in the Duke Energy Hall in Hunt Library. Find out more about how the Proposal Development Unit (PDU) can assist you in landing that next big competitive grant. Pradip Pramanik, Director of the PDU, will present. Bring your lunch; and drinks and dessert will be provided. If you have questions contact Dr. Gail Jones, Research Leadership Academy Chair: gail_gones@ncsu.edu. Sign up here to attend.
Congratulations to the winners of NC State's second Research Image Contest. The contest was open to faculty, staff, graduate students and postdoctoral researchers. The program is funded by NC State's Graduate School and Office of Research, Innovation, and Economic Development, with support from University Communications and the College of Sciences. For more information, images and a full list of winners, visit news.ncsu.edu/2017/08/research-image-winners-2017/

.

The Office of Information Technology is offering a slate of technology workshops

to get you off to a great start this academic year. All workshops are offered via REPORTER, the university's non-credit course management system. Workshops available through September include: Two-Factor Authentication at NC State; Gmail: Advanced Productivity; and Cisco Jabber: Your All-in-One Collaboration Tool. For more information, visit

oit.ncsu.edu/2017/08/15/oit-offers-back-to-school-training/.
DELTA's fall workshops are now open for registration!

Workshops run

through September 29 and include: an overview of the enterprise-level academic technologies at NC State; how to "get started" with Moodle, Collaborate and Top Hat; best practices for video and lecture capture; organizational strategies for your Gmail and Google Drive; and setting up an effective Moodle Gradebook. Be on the lookout throughout the semester for: Block 2 – Strengthening your Teaching with Technology Skills (October 9 through November 17); and Block 3 – Special Topics and presentations by our

Faculty Fellows

(November 27 through December 8). To see a complete list of offerings and to register, visit

go.ncsu.edu/deltaworkshops

. To learn about current teaching with technology topics and DELTA supported tools, watch our

Workshop Recordings

or

request an Instructional Consultation

.

The Office of the Vice Provost for Institutional Equity and Diversity is soliciting proposals for the implementation of diversity and inclusion initiatives and research projects that further the academic mission of the university. All full-time faculty and staff are eligible to apply. Proposals must meet the mini-grant program guidelines and will be selected by a committee appointed by the Vice Provost. All eligible proposals must be submitted online no later than 5:00 p.m. on Friday, October 6, 2017. The maximum proposal request is $3,000.00.

Proposals for projects or research in one or more of the following target areas are encouraged:

enhance the quality of teaching and learning about diversity,
enrich the diversity experiences of all students,
create a welcoming and inclusive work and learning environment where differences are respected and valued, that offers opportunity for and supports the success of all students, staff and faculty,
improve recruitment, retention and graduation of students from historically underrepresented groups, and
increase recruitment, retention and success of faculty from historically underrepresented groups.

For more information and to access the online application, visit the Diversity Mini-Grant website at:

http://go.ncsu.edu/diversityminigrants

.

Questions can be directed to Dr. Tracey Ray, Assistant Vice Provost for Student Diversity at

teray@ncsu.edu

or

919.515.9243

.

The 2017-2018 Equal Opportunity Institute (EOI) is now accepting applications.

The yearlong (approx 20-hour commitment) certificate program that provides workshops focused on: discrimination, equal opportunity laws, protected classes, privilege and oppression, and leadership in diversity. For a list of

workshop offerings

, please visit the

EOI website

. 

This program is free of charge to NC State University faculty, staff, and students. The deadline to apply is September 13, 2017. Please contact Erin Morant at ekmorant@ncsu.edu with any questions. Individuals with disabilities desiring accommodations to participate in these activities should contact Erin Morant at least two weeks prior to EOI Orientation.