More than 3,500 students will turn their tassels during NC State's fall commencement on December 16. The Office of the Executive Vice Chancellor and Provost provides support to ensure each of these students becomes a successful graduate.
Through programs and initiatives that include the Goodnight Scholars Program, the Provost's Professional Experience Program and the Graduate School, students gain an experiential education that inspires them to learn, lead and serve to address society's grand challenges.
Meet four fall 2016 graduates ready to Think and Do after impressive academic careers at NC State.
Andrea Irving
Bachelor of Science in Chemical Engineering, Bachelor of Arts in International Studies, Minors in Spanish and Chinese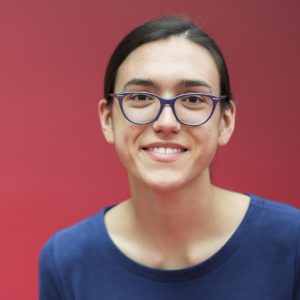 NC State ranks among Forbes magazine's top higher education institutions specializing in science, technology, engineering and mathematics (STEM). This academic excellence attracted Gibsonville native Andrea Irving to the university, and opened doors for her to pursue her interest in chemical engineering.
She received a boost of support from the Goodnight Scholars Program, which provides financial aid for students from middle-income North Carolina families pursuing science, technology, engineering and math (STEM) and education disciplines.
"It was extremely gratifying to be selected for such a great program," said Irving. "Knowing that the program had chosen to invest in me greatly influenced the way I approached my classes and coursework."
The North Carolina School of Science and Mathematics alumna expanded her academic pursuits to include a major in international studies and minors in Spanish and Chinese. Her double major allowed her to pursue a joint degree from the College of Engineering and the College of Humanities and Social Sciences as a Benjamin Franklin Scholar.
"The Goodnight Scholars program gave me the opportunity to focus on my studies rather than the financial component of college," said Irving. "Through this and the Benjamin Franklin Scholars Program, I've been able to open new doors in my academic career and participate in multiple study abroad trips."
Irving traveled to both Seoul, South Korea and Zhejiang University in Hangzhou China to conduct research and further her well-rounded college experience. Receiving this type of education influenced her to give back to others in the Goodnight Scholars Program, where she mentored incoming scholars.
"Having this type of interaction with younger Goodnight Scholars was an even exchange," said Irving. "These people [Goodnight Scholars] are incredibly talented and hardworking, and are very aware of the opportunity they have been given. My entire time in the program has been a very humbling experience."
This approach helped Irving achieve success in her time at NC State, and has put her on the path to a rewarding future. After graduation, she will join Armstrong Flooring in Lancaster, Pennsylvania, as an engineer in the company's rotational program.
"I'm excited about taking this step, and feel that NC State and the Goodnight Scholars Program prepared me for my career path," said Irving. "Through getting connected to the community that the program provided, I was able to make great friends and reach my goals."
Jonique Lyles
Bachelor of Science in Political Science, College of Humanities and Social Sciences
In 2012, Jonique Lyles was headed home to Poolesville, Maryland, when she made an unexpected stop in Raleigh. She and her mother thought they had finished their tour of several Southern colleges, but the women decided at the last minute to visit NC State.
"We ended up going to the visitor's center right on time for a tour, so I thought we might as well go!" said Lyles. "From there, I knew NC State was a great school, with everything you could hope for in a university."
Choosing NC State came easy, but Lyles needed time to find her path forward. She started her academic career in communications, followed by time studying economics and STEM disciplines. It was in student life, however, that she found her niche and truly excelled.
Lyles joined the Christian Mentoring Association; Delta Sigma Theta Sorority, Inc., where she served as treasurer, social action chair and vice president; Student Government, where she was a senator and University Affairs Committee chair; and the African American Cultural Center as an AYA Ambassador. She even founded her own organization — SPEAK (Students Proactively Engaged toward Activism Knowledgeably) — to encourage students to get involved in arts and advocacy for pressing social issues.
"Through that work, I found my love of service and activism, and helping communities grow and develop," said Lyles. "Political science was the answer that made the most sense in pursuing my passion."
With her major decided, Lyles sought additional avenues of involvement, which led her to the Center for Student Leadership, Ethics & Public Service (CSLEPS). She enjoyed her experience so much that she sought employment with the organization through the Provost's Professional Experience Program (PEP). Established by the Office of the Executive Vice Chancellor and Provost in 2015, PEP gives students the chance to work on campus to prepare for life after graduation.
"PEP helped me strengthen my leadership skills and gave me an opportunity to show others the importance of service in their lives," said Lyles. "I want to be able to take what I have learned into my future career, and working with CSLEPS has allowed me to get a head start."
Lyles wants to put her degree to work within education — in K-12 classrooms, higher education or educational policy. Her experience at NC State inspires her to live a life of service, working hands-on with students and helping them to become society's leaders.
"NC State has so many amazing opportunities to get involved on and off campus, and to find your niche," said Lyles. "The organizations and people here — my friends, line (sorority) sisters, faculty and staff — made all the difference for me, and I wouldn't trade this experience for the world."
Sayed Mashaheet
Ph.D. in Plant Pathology, College of Agriculture and Life Sciences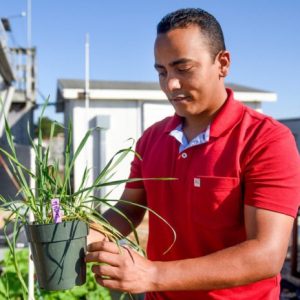 In November, Sayed Mashaheet successfully defended his dissertation on his work on identifying lines of wheat that are tolerant to ozone, right after presenting his research as a finalist in the Graduate School's 3 Minute Thesis competition. Ten Ph.D. candidates were chosen to present their research in just three minutes.
In addition, at the 2016 annual meeting of the American Phytopathological society, Mashaheet's research on the intersection between ozone sensitivity and rust susceptibility was recognized by the Phytobiome Journal poster award, sponsored by the Samuel Roberts Noble Foundation.
He plans to continue his work at NC State in spring 2017 as a postdoctoral scholar, working to grow out a second season of ozone-tolerant plants. He would like to continue his collaboration on rust and ozone tolerance with researchers at NC State, USDA-ARS and his university in Egypt.
"I will work hard to establish a research program that focuses on delivering ozone tolerance to varieties already known to be resistant to rust," Mashaheet promised. "It would involve building ozone exposure and monitoring systems, and evaluating wheat varieties for Egyptian breeders. This would be a good opportunity for me to transfer the knowledge and technology from NC State to Egypt, to help the Egyptian people, who paid for my scholarship," Mashaheet said.
At Damanhour University in Egypt, Mashaheet is a faculty member who is involved in both teaching and research. At NC State, he participated in the Graduate School's Certificate of Achievement in Teaching program to help hone his teaching skills.
Though his teaching experience is with college students, he branched out to a tougher audience while at NC State — teaching preschoolers about his work. He and his wife Camellia have three children – two daughters and an infant son. Mashaheet wanted to share his wheat research with students in his daughter's preschool class. He helped them to grow wheat at school, and showed them how weak strains of the disease look on their plants, comparing it to video from Africa of what the devastating rust strains can do to wheat.
Read the full story at: https://grad.ncsu.edu/news/2016/11/students-research-seeks-ozone-tolerant-wheat/
Peyton Youmans
Bachelor of Science in Mechanical Engineering, College of Engineering
Dr. Jim and Ann Goodnight founded the Goodnight Scholars Program in 2008 with an inaugural class of 25 scholars. The program's fifth class graduates this academic year, with Wilmington native Peyton Youmans among them.
Youmans knew early on that he wanted to pursue an engineering education, and he felt NC State had the best programs to offer students. He eventually decided on mechanical engineering, which opens up many doors — from careers in design engineering to project management — to College of Engineering graduates.
"I was one of 50 students selected from a 250-person applicant pool of potential Goodnight Scholars," said Youmans. "After being selected and getting involved, I began to realize how much the program does to engage students both professionally and socially."
Youmans and his fellow scholars gained opportunities to interact with NC State's top faculty, company CEOs and industry leaders. The Goodnight Scholars Program Presents Speaker Series and Real Leadership Series gave him access to top minds in the STEM and social entrepreneurship fields, while the On The Job Series allowed students to visit top area STEM-related companies.
Being exposed to strong leadership also helped Youmans find his passion for serving others. In the 2015-2016 academic year, he was president of the Goodnight Scholars Executive Committee, planning a wide variety of events for program participants. He led a team of scholars in participating in Shack-A-Thon for Habitat for Humanity, and the Goodnight Scholars were one of the top four fundraising groups last year.
Youmans credits his success in part to his involvement in the Goodnight Scholars Program. After graduation, Youmans will move to Texas to work with Burns & McDonnell, a full-service engineering, architecture, construction, environmental and consulting solutions firm consistently ranked among the Fortune 100 Best Companies to Work For.
"The Goodnight Scholars Program inspired me to lead and serve as I learned," he said. "With the program, there are so many people watching what you're doing, and if you work hard at what's in front of you, the opportunities will present themselves."