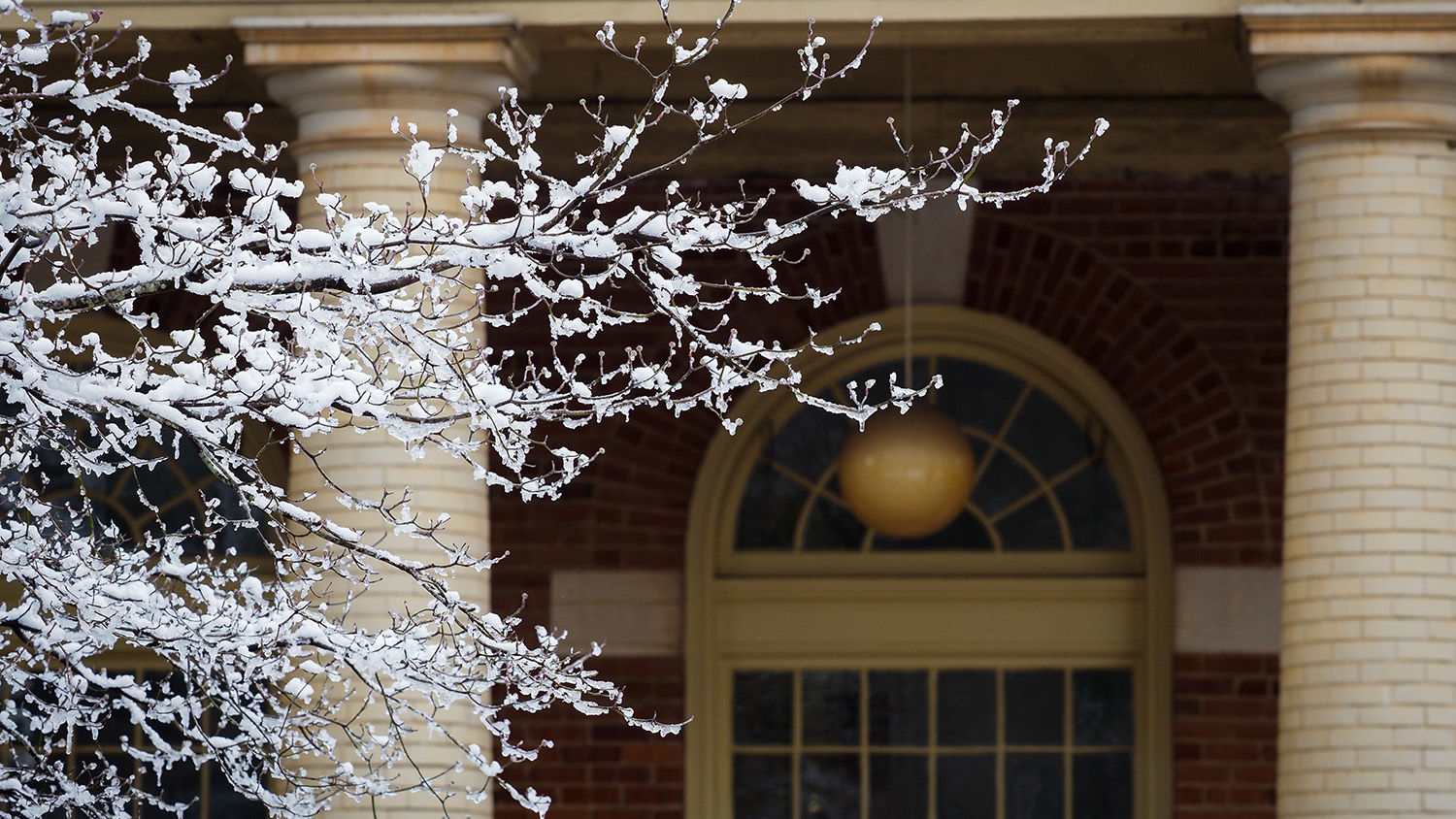 2021 was a busy, memorable year for NC State faculty, staff and students. With the continuation of the COVID-19 pandemic, the resumption of in-person activities, innovations in teaching and research, and continued service, the campus community came together and made an impact on the university and in many places beyond NC State.
Here, we're sharing the most important lessons you've learned this year, and your plans for 2022.
College of Agriculture and Life Sciences
2021 was an eventful year for the IR-4 Project. The federally-funded research program continued to serve specialty crop growers and researchers with their pest management needs while simultaneously completing the relocation of its national headquarters from New Jersey to NC State during the ongoing COVID-19 pandemic. Fourteen new staff members were hired and 60 years worth of paper files and digital databases were securely moved to NC State. The new headquarters team moved into renovated office space on Centennial Campus and established new processes to increase efficiency, while also launching new virtual events that share their important work with a larger audience. 
The biggest lesson learned by the IR-4 Project in 2021 was that no matter what obstacles lay before the organization, staff are prepared to find new ways to meet those challenges head on while serving the pest management needs of the specialty crop industry. 
College of Natural Resources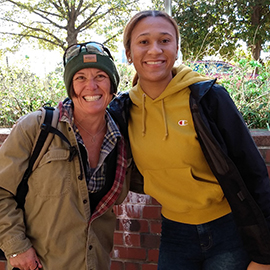 Tips for Teaching in a Pandemic, the final seminar in 2021 hosted by the Department of Parks, Recreation and Tourism Management, featured several award-winning teaching faculty sharing stories and strategies for providing quality education during this challenging and dynamic period. Assembled under the now infamous 'big white tent' outside of Jordan Hall, Martha Brown, Kim Bush and Nathan Williams took turns sharing experiences, lessons learned and collected ideas and information. Recruiting and empowering student assistants was a top recommendation along with connecting course topics to current events and embracing technology and internet applications.
Photo:
Kim Bush, Associate Department Head and Associate Teaching Professor with Sydney Jordan, Undergraduate in Sport Management and Course Assistant
Research Assistant, Program Evaluation and Education Research, Friday Institute for Educational Innovation
College of Education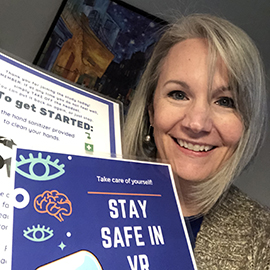 My dissertation study, completed in 2021, was an exploration of the sense of presence adolescents experience when using immersive virtual reality. What I found was among the factors of the sense of presence, engagement was the most prominent – both in the sense of presence inventory and in my interviews with the users. I think that finding has significant implications for being present in our daily lives. We have to engage to be present in our own lives. How do we know we are "here"? We can move and interact, even go in the wrong direction if we want (the teens loved to test the boundaries), but what we must continue doing, in spite of the challenges before us (hello, pandemic!), is engaging. COVID-19 challenges continue, but we need to be present here — in real life — and continue thinking and doing our way into the next adventure.
Alumni Association Distinguished Undergraduate Professor, Teaching Professor and Director, Organic Chemistry Teaching Laboratories, Department of Chemistry
College of Sciences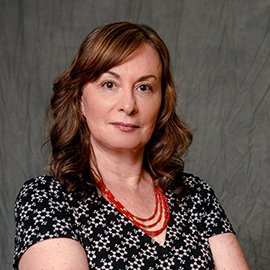 I think one of the most important lessons I learned in 2021 was to turn the hard times and hardships that we experienced into scholarship opportunities. We all had to come up with new and innovative ways to help our faculty and students thrive under very difficult circumstances, and we need to make sure that we share those strategies with the larger academic community so we can all come out of this stronger. I recently had an article about this in Nature Reviews Chemistry.
Connor Jones
Transit Manager, Wolfline
NC State Transportation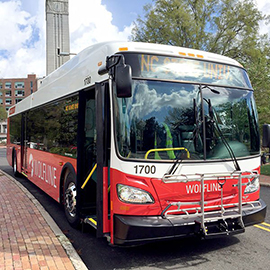 In 2021, I learned that certain unsung groups of people keep the world spinning. I also learned that oftentimes these people are the ones with the least recognition. In my sphere, this is the Wolfline bus driver. Wolfline has been very short staffed recently, and getting buses on the road was a daily struggle, stress continually mounting. This is my lesson — that often we focus on who didn't show up or how short staffed we were. We forget to recognize the people who were there, who did show up. I know many drivers that regularly give up their extra time to drive for the students and staff of this university. Most of the time, they get little recognition for their dedication — they are "just a bus driver."
I was speaking with a driver (on his weekend overtime shift) about the nice break we get during December. It never occurred to me before that conversation that my friend who drives a Wolfline bus will be out of work and pay for a month due to limited service. He needs to find another job during the break until spring comes around. I asked why he drives the bus for the University and his response was, "I do it for the kids. I want to make sure they get where they need to." These "bus drivers" are here for us — they keep our world spinning, recognition or not.
Vice Provost for DELTA (Digital Education and Learning Technology Applications)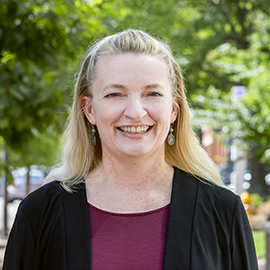 When I reflect on the many lessons from 2021, several come immediately to mind. The first of those lessons is to really focus on living in the present as much as possible. We don't know what tomorrow will bring, and certainly none of us want to spend time worrying about the "shoulda, woulda, coulda" of the past. The past year has been full of shifts and changes, and thus appreciating the moment that I'm living in at any given time, and trying to be fully present with others around me has been important. I want to learn from the past, and I like to have a plan for everything, but I've certainly been reminded in the past year that time will slip away from you and that even your best planning cannot solve or anticipate everything, so finding joy in each day and living in the present is necessary.  
A second lesson from this past year is a reminder to be patient with and kind to others. All of us are living our own story, and have our own worries and heartaches and challenges. You never know the burden that someone else is carrying, and just because you don't see that burden does not mean it's not there. I've noticed in working with folks over the past two years especially that tempers can be short and emotions can flare, and with that I've tried really hard to be understanding and realize that often how others are communicating with you is not a reflection of that person on their best day, and a little patience and grace for that person goes a long way.
A final lesson that I think has been especially important has been a need to pay closer attention to both physical and mental health. The pandemic has kept many folks from their regularly scheduled physical activities, being especially disruptive for teams and groups sports. And of course the isolation experienced by many folks and the disruption of both work and personal schedules has taken a major toll on people's mental health. No one is immune from either of these challenges, and for everyone I would encourage finding some physical activity that you can do every day, whether that is going outside and taking a walk around your neighborhood, or the pursuit of some other activity or sport, as physical activity of any kind is helpful to your well being. And for anyone experiencing anxiety, depression or a general feeling of unease during this time, I would encourage you to reach out and talk to someone. You're not alone, and there is no weakness in seeking help. 
Who knows what 2022 will bring? I've decided I'm not going to spend time worrying about each day; rather, I'll take the lessons of living in the present (while of course planning what I can), being kind and patient with others, and focusing on being well both physically and mentally, so that I can tackle whatever 2022 brings and hopefully help others along the way as well. 
Program Specialist, Food Systems Leadership Institute
College of Agriculture and Life Sciences
Food Systems Leadership Institute (FSLI) is an Association of Public and Land-grant Universities national leadership program housed at NC State. The height of the COVID-19 pandemic coincided with the recruitment of the Institute's next cohort of fellows. We were unsure if we could even offer the program as typically three face-to-face residential sessions occur in the first year of FSLI. Demand remained high as we received more applicants than available slots for the program. In order to proceed, we pivoted to a virtual model. Assessment of this model suggested content delivery was as, if not more, effective in some aspects than in face-to-face meetings. Utilization of new platforms such as Miro, a digital whiteboard, and Flipgrid, aided the cohort in getting to know each other and to bond in a virtual environment. By using these and other collaboration tools, outcomes were overall very positive.
FSLI will plan to return to the in-person model because it does provide some unique learning opportunities that are difficult, if not impossible, to duplicate in the virtual environment. However, we have learned so much within the virtual space, that this experience will enrich our traditional delivery of content.