Off to a Great Start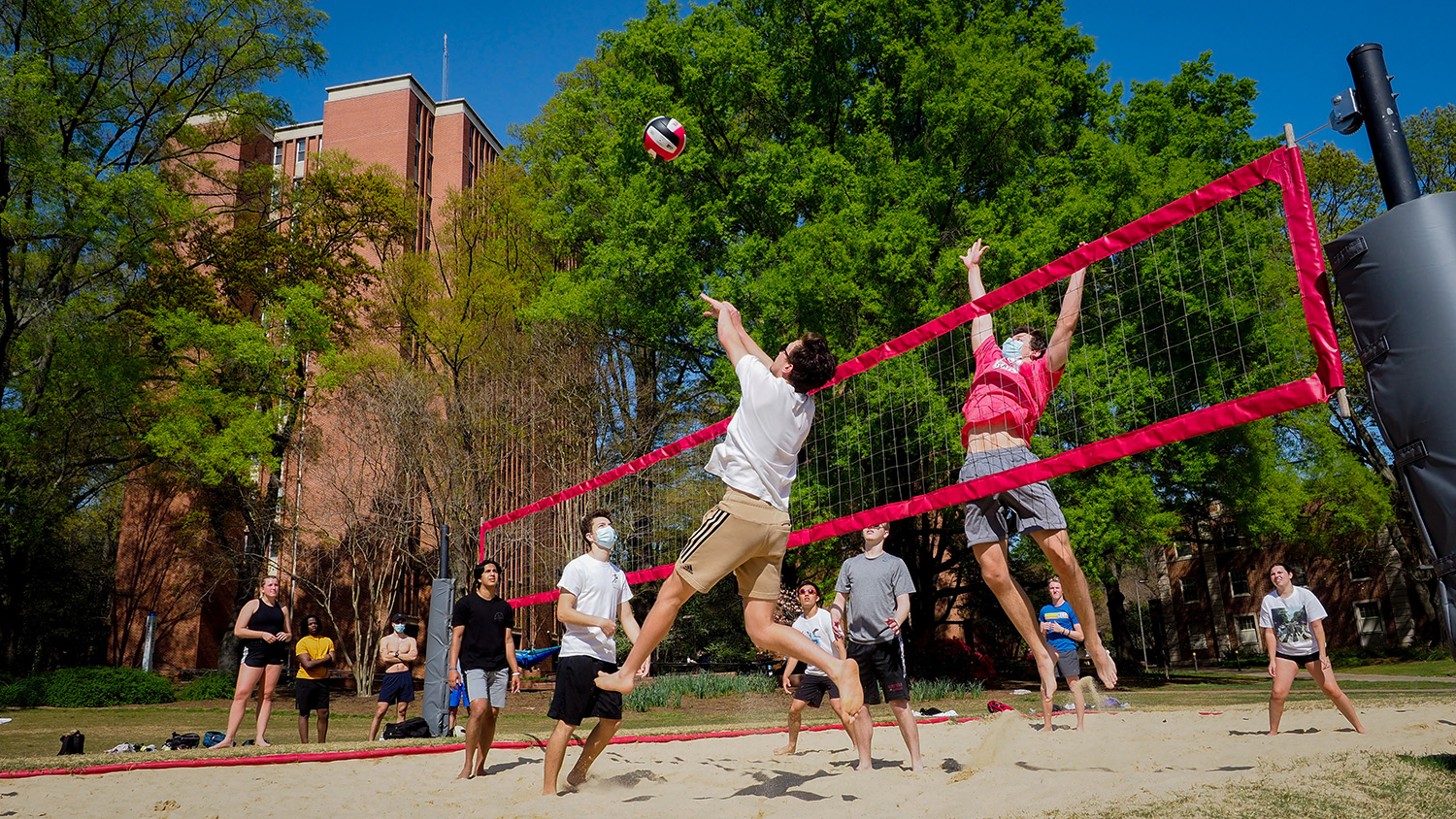 From the Memorial Belltower to Bragaw Hall and beyond, NC State's sprawling grounds and unique architecture beckon new students to make their home on campus. For first-year and transfer students eager to start their undergraduate experience, Summer Start fulfills a longing to belong.
Summer Start allows new undergraduate students to live on campus and take summer session II classes before the fall semester begins in August. The program is open to all new first-year and transfer students, including international and Spring Connect students; in 2021 continuing second-year students were also admitted to further facilitate their connection to campus. Some students may receive financial assistance with tuition, dining and/or housing expenses.
"We strive to help new students get connected to the university," said Aileen Rodriguez, assistant director of New Student Programs. "The courses our students take have smaller class sizes so students can get connected with professors and classmates easily. We provide one-on-one mentoring with an upper-class student to help answer questions, as well as programs for students to get connected to campus partners and learn about the university. All of this helps students understand the resources available on campus to help support their success."
Students enroll in up to eight credit hours of major-specific courses and can participate in academic, social and recreational activities, and those related to personal interests. In the past, students have also taken trips to local attractions, learned about NC State's rich history and traditions, engaged in time management and student success workshops and attended social events like weekly cookouts.
Growth and Change
Summer Start moved under New Student Programs in 2016. Every year, Summer Start coordinates with the campus community to host programs for students, with more than 55 programs scheduled this year that focus on academics, career readiness, wellness, self-care, service, leadership and more.
Since then, the program has maintained consistent participation each year, even with challenges presented by the COVID-19 pandemic. In  2020, Summer Start went fully virtual; this year, programs are being presented in a hybrid format in compliance with university and CDC guidelines. A total of 187 students, including 155 first-year, 29 transfer and three second-year students are participating in Summer Start this year.
Some current participants are living on campus in Owen Hall and taking classes in person, while another group is taking classes virtually. Regardless of in-person or virtual status, each student is meeting with a mentor to get connected to campus.
Summer Start Mentors
Most of the feedback to Summer Start from participants focuses on Summer Start Mentors. These current students, some of whom are former program participants, are available for students to meet with throughout the summer.
"As a mentor, I provide my mentees with a plethora of resources and organizations, so they can become involved," said Kayla Alford, a senior social work major. "I  provide advice and listen to their issues or concerns as well." 
Of the experience with mentors, one former student commented: "My Summer Start Mentor was the best! She helped me feel better about the transition to NC State as a whole and always made me feel better if I was upset or nervous. She answered all of my questions and talked to me about lots of things outside of academics."
Briella Jackson, a sophomore biological sciences major, was a Summer Start participant last year, and her admiration of her mentor led her to become a mentor as well. As a Summer Start Mentor, she mentors first-year and transfer students through weekly one-on-one sessions to establish academic and social goals, and checks in with how the student is transitioning into college and maintaining their wellness/self-care. 
"The program has impacted me personally, as I have met some amazing people from all walks of life; it has also impacted me academically by giving me experience in communication, teamwork and leadership skills," said Jackson. "I hope to help other NC State students by being resourceful and welcoming. Coming into a new environment can be challenging, but when there is someone to help ease the transition, the overall experience is better."
Alford echoes Jackson's sentiments. "The Summer Start program has allowed me to elevate my leadership skills, and critical thinking skills are necessary for this job. It will allow me to develop professionally and has allowed me to build personal relationships and network with professional staff members and university partners."
If any new partners are interested in learning about how to get involved with Summer Start, they can contact Aileen Rodriguez at agrodrig@ncsu.edu.