A Different Prague Experience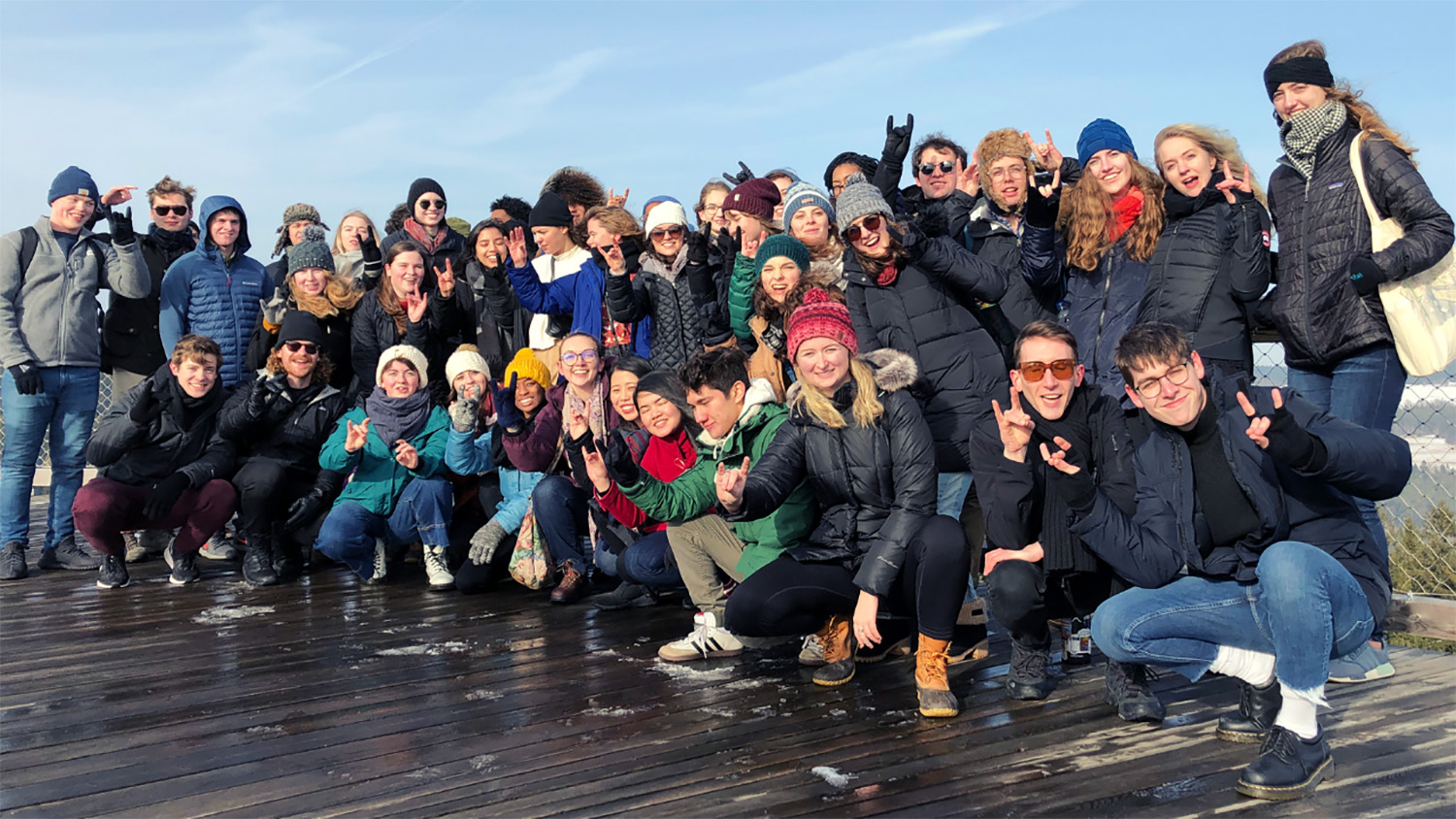 More than 50 NC State undergraduates arrived at the NC State European Center in Prague this January to go on a journey of academic and cultural enrichment. Signs of spring began to show up in the Czech Republic's capital just as COVID-19 hit. Even with everything that happened this semester, NC State Prague continued with classes, albeit in a different manner than usual.
A Rapid Change
During the week of March 10, the situation in the Czech Republic started to change rapidly, and soon the country was under a state of emergency. Schools were closed and university classes were suspended for a week. NC State Prague students were on spring break, and administrators made plans to institute online classes upon their return to Prague, in the case that schools were still closed. On March 12, NC State recalled all study abroad students back to the U.S. because of the travel warning issued by the Department of State. 
"We advised all Classic Program students to shorten their spring breaks and get back to Prague to prepare to return to the U.S. over the next few days," said Kimberly Strozewski, NC State Prague director. "We were not sure what would happen when the Czech borders closed and so we let some students know that they could depart from where they were and we would ship their luggage home, if they could not make it back to Prague."
All NC State students studying in Prague left by March 22, and just in time, as nearly all international flights were canceled by March 25. Students departing from Prague were just a portion of the more than 430 NC State students on various spring and spring break study abroad programs when COVID-19 was declared a global pandemic.
The chaotic process of returning students home involved a concerted effort from NC State Prague and the Study Abroad Office. This included the scheduling and rescheduling of flights, provision of meals for students, and keeping students informed of restrictions in place in the U.S. and Europe
"I remember reading the email instructing us to make arrangements to fly back to the States," said Natacha Bomparte, a junior studying graphic design. "In that moment I was devastated. Since my freshman year, I had been looking forward to my four months in Prague.
Kaelyn Dausch, a senior studying animal science, echoed those sentiments. 
"My heart was absolutely broken when I learned that I had to leave Prague," Dausch said. "I didn't want to leave the beautiful friends I had made over there, and I didn't want to leave the city that I had grown to love. When I came back to the States, I had to spend 14 days isolated from my family and pets in quarantine, and it definitely took its toll."
Helping Students Adjust
Of course, the first concern of NC State Prague and Study Abroad staff was getting students home safely. Once everyone involved got through crisis response mode, the focus shifted to connecting with and supporting students. 
Recognizing that their early return was traumatic for some and very disappointing for all, a team of coordinators and advisors developed a series of resources and opportunities to connect with the students and connect them with one another, to help them process their experience. 
The Study Abroad Office started with a weekly drop-in virtual support group in partnership with NC State's Counseling Center, knowing the students were experiencing not only cultural readjustment issues, but also grief over their lost study abroad experience. They also facilitated a student panel, "Crossing Cultures: Student Resilience to This Global Pandemic." The student-led discussion helped students unpack what happened to them and played a role in Study Abroad creating an atmosphere of support for their peers. Study Abroad has also held one-on-one virtual check-in meetings with students as needed.
NC State Prague specifically provided students the opportunity to reach out at any time to a staff member if they needed assistance with an issue or just to talk. Student support was also available through GroupMe, which NC State Prague uses as an internal communications platform. A resource page was created on the NC State Prague website specifically targeted to returning students, and Zoom meetings were held every two weeks to keep everyone connected.
Academic Continuity
The very nature of the NC State Prague program is to immerse students in Czech and European culture. These students get to experience the culture through their classes and through a wide array of extracurricular activities offered throughout the semester, such as in- and out-of-country excursions, cooking classes, cultural activities and sporting events, such as opera concerts and hockey games. 
"NC State Prague never canceled its program, it just morphed into an online experience," said Anaël Symůnková, communications specialist at NC State Prague. "We had to find ways to keep the "study abroad" experience going online. We could not replace the hands-on experience but had to find ways to stay connected, and at the same time, being respectful of what our students went through, a high loss. We wanted to keep a window open on Prague with decency and respect." 
Transitioning to remote instruction presented a steep learning curve as many faculty were not used to online classes, especially since many classes at NC State Prague were design classes that required studio work or consultations. Design professors had weekly Zoom consultations with students in groups or individually, and General Education Program course instructors did a combination of Zoom, Moodle and recorded lectures. 
"The NC State Prague professors are so dedicated, and that didn't change when classes became virtual," said Bomparte. "I admire the time that they took to reach out to us individually about our projects and schoolwork, especially with the time difference and the number of students they had." 
"They understood that online classes affected our motivation but still challenged us and gave us the same quality feedback they would give in person. Our professors made the most of the semester by giving us the opportunity to share our work with the world."
For example, instead of doing presentations through Zoom, Bomparte's European Design History final consisted of making a timeline of design from the 20th century and sharing it online. The projects that were created in the design classes were curated into an virtual exhibition.
"I was amazed at what my classmates and I were able to create, even in the midst of a pandemic," said Bomparte.
Cultural and Social Connections
To stay in touch and engage students, NC State Prague continued its newsletter, which always highlighted a Czech recipe, a book from a Czech author, Czech movies, TV series and music, cultural trips to experience from their homes, and more. Social media, primarily Instagram, also provided an opportunity for connection.
At Easter, students could try to decorate eggs naturally using onion peels, and NC State Prague hosted a live Instagram workshop with an NC State Prague culinary instructor. Students were encouraged to share a picture of their meal on social media. NC State Prague also held a themed #sharingwednesday on Instagram. Additionally, as students started opening up about their personal experiences, NC State Prague published a regular student spotlight feature. 
What's Changed; What's Next
The COVID-19 pandemic greatly changed the semester for NC State Prague faculty, staff and students, and everyone else participating in study abroad around the world.
NC State Prague administrators are considering additional health and safety measures to put in place for future outbreaks, including social distancing guidelines for university housing, creating spaces for quarantine and evacuation plans. 
Kim Priebe, Study Abroad director, wants students to be able to study abroad in the fall but knows that many national and international restrictions may make that impossible for the time being. In the meantime, the Study Abroad Office encourages students to enroll in NC State courses with an international or intercultural focus. Additionally the office is able to connect students with virtual global internships to complement their NC State courses.  
The Study Abroad Office expects to be able to resume traditional study abroad programs in the future, and the office is already working with faculty and partners abroad, including NC State Prague, to prepare for spring and summer programs in 2021. The office is also looking at implementing innovative program models, such as embedding short-term programs within a semester, to allow more students to go abroad.
"COVID-19 and its associated travel restrictions and physical-distancing requirements have curtailed international travel for the time being, impacting the immediate state of study abroad," said Priebe. "It has not, however, changed students' desires to engage in international learning and explore new cultures, and to travel to new countries to experience them firsthand."