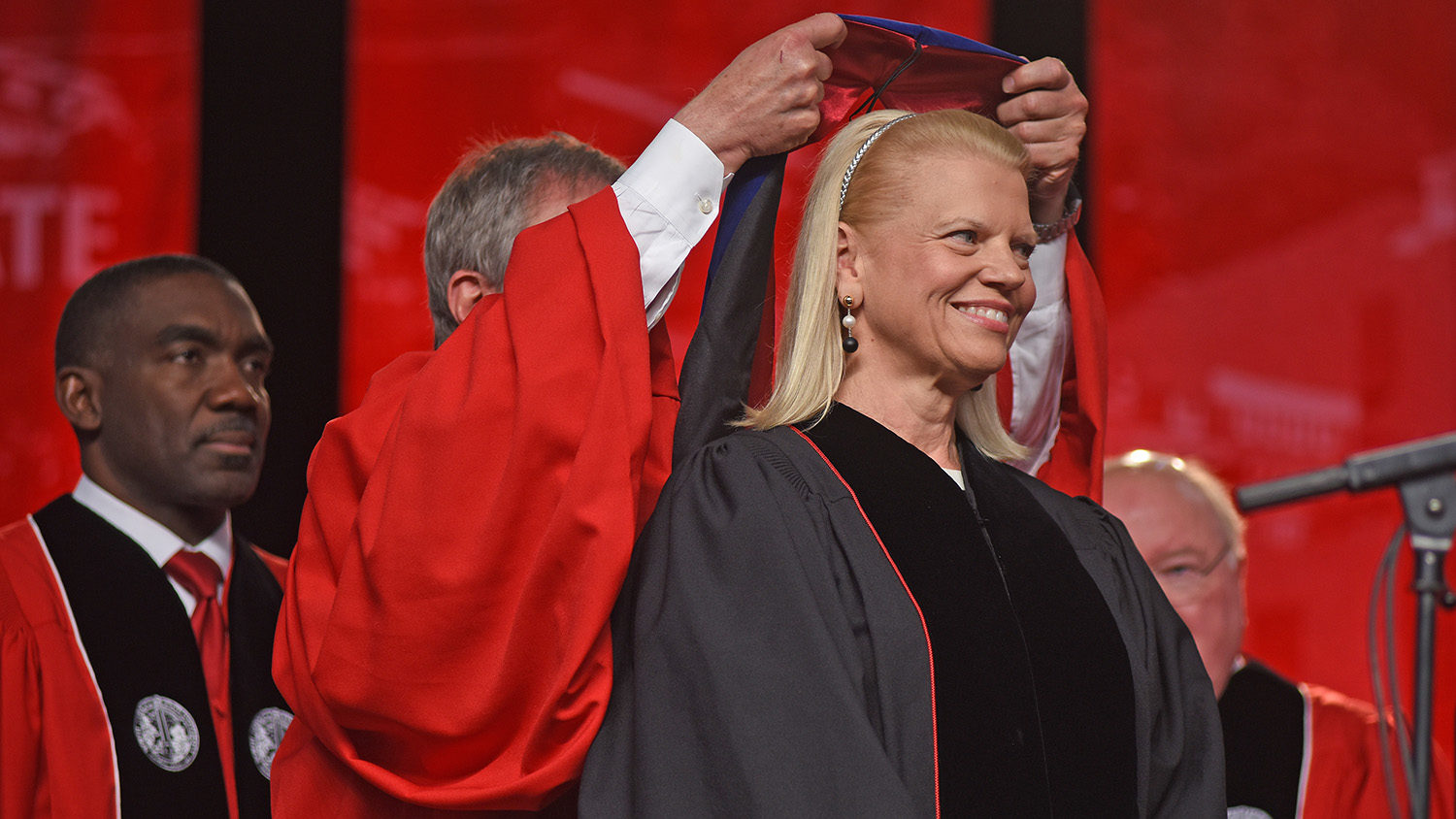 When NC State grants a degree, it opens up countless doors for students to Think and Do around the world. When the university bestows an honorary degree, it helps the university community gain inspiration for personal and professional growth.
"Honorary degrees are a wonderful way to showcase the university — a golden opportunity to shine the light on an individual's accomplishments and NC State at the same time," said Richard Spontak, Distinguished Professor of Chemical and Biomolecular Engineering and professor of materials science and engineering. "At commencement, I often see students reading the biographies of the honorary degree recipients. They want to know why someone is getting that degree, and they take inspiration from those whom we honor."
Nomination Success
Spontak has had two successful honorary degree nominations, including one for George Whitesides, an award-winning chemist, entrepreneur and chemistry professor at Harvard University. When Whitesides visited our campus, he gave a standing room-only lecture at Hunt Library.
"We can certainly attract incredibly high-profile people who, when they do win other awards and mention they have an honorary doctorate from NC State, showcase our university in an incredibly positive light," said Spontak.
Spontak, who previously served on the Faculty Committee on Honorary Degrees, has some advice for faculty and staff seeking to make nominations. Faculty and staff can look at those who deliver keynote lectures at conferences, figure prominently in industry or scholarly publications, or hold a leadership position in field-related or academic societies. They can also look for discipline-specific individuals who have received other significant awards and achieved game-changing innovations in a specific area of business, academia or society.
Honorary Degree Tradition
Honorary degrees differ from the Watauga Medal, which recognizes unusually distinguished service to NC State. These degrees identify individuals whose achievements are extraordinary and have lasting distinction. Usual degree requirements for an academic degree are waived to bestow honors on those who have made exceptional contributions to a specific field or to society in general.
NC State's first honorary degree — a Doctor of Science — was awarded in 1917 to Wilbur Fiske Massey, part of the first faculty of North Carolina College of Agriculture and Mechanic Arts. The most recent honorary degrees were awarded at the May 2019 commencement ceremony. Ginni Rometty, chairman, president and CEO of IBM, was granted a Doctor of Sciences, andCraig Dykers, a founding partner of Snøhetta, an international architecture, landscape, interiors, and brand and graphic design company, was granted a Doctor of Fine Arts.
Making an Nomination
The Faculty Committee on Honorary Degrees is accepting nominations for recipients of the honorary doctoral degree. Faculty, staff and students may nominate an individual to receive an honorary doctoral degree by completing an online form and submitting a letter noting the nominee's accomplishments and qualifications for the honor. In addition, you'll need to explain why it's important for NC State to award the degree.
When considering candidates, committee members examine the following criteria: excellence in scholarship, creativity, leadership, humanitarian service or public service. Nominating someone who is also a dynamic speaker is encouraged. Nominations recommended by the Faculty Committee on Honorary Degrees and endorsed by the provost and chancellor will be sent to the Board of Trustees for final approval.
"We want our graduates to be able to hear from people who are experts in their respected fields, who have attained a high level of achievement, and who have made significant contributions to their field and to society." said Executive Vice Chancellor and Provost Warwick Arden. "Anyone can make a nomination as well. While a previous association with NC State or North Carolina is not required, we certainly like to recognize those who have had an impact on our university and state."
Guidance on Honorary Degrees
Honorary degree nominees cannot be current NC State faculty, staff or members of the Board of Trustees; members of the UNC Board of Governors; the governor; or any other elected officials or state employees concerned with the function or control of the university. Visit the honorary degree website for more information or to submit your nomination.
Learn more about honorary doctoral degrees, including the university's official regulation on awarding of honorary degrees and a list of previous honorary degree recipients, at leadership.ncsu.edu/board-of-trustees/honorary-degrees.  
Nomination Benefits
Making a successful honorary degree nomination has several benefits for nominators. This includes opportunities to attend any pre-commencement events on campus where the recipient is speaking, and an invitation to a pre-commencement dinner with university leadership. Nominators are also encouraged to invite the awardee to speak with faculty, staff and students when they come to campus to receive their honorary degree. Of course, the biggest benefits touch the entire campus community.
"The best part of making a successful honorary degree nomination is knowing that someone who deserves it will become a member of the Wolfpack family," said Spontak. "It enriches our student and faculty culture, and demonstrates to our peer institutions that we take our scholarship, academics, entrepreneurship, and service to humanity — all the facets that make us a great university — very seriously. We strive to be excellent in everything we do."