Taking a Different Path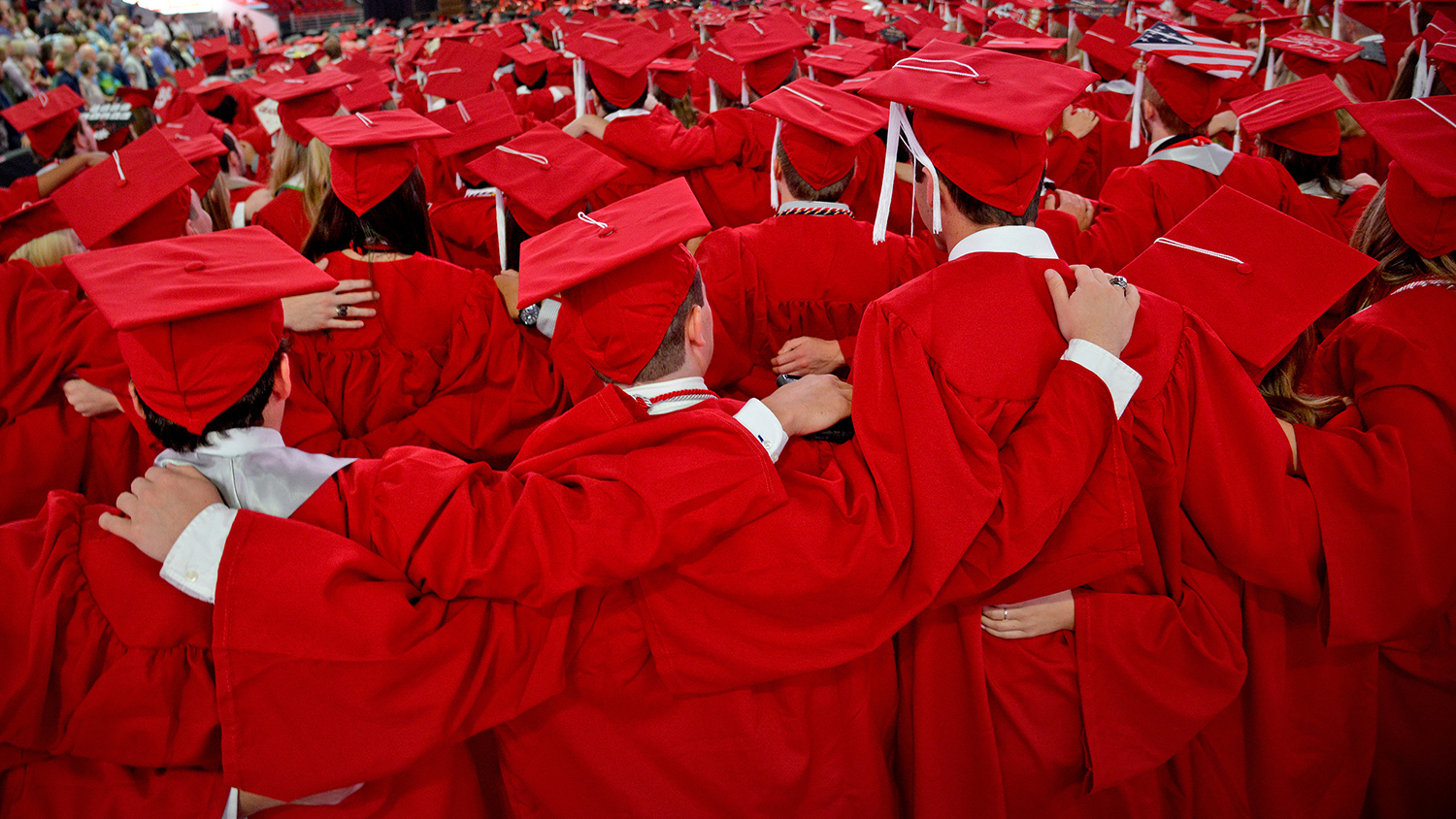 More than 6,000 students will turn their tassels at NC State's spring commencement on May 11. Many of these new graduates have followed a non-traditional path to earning their degree, engaging in online courses or returning to school after time away from the classroom. Each one possesses a unique experience that will shape how they Think and Do in the world for years to come.
Meet three spring 2019 graduates who have found various pathways to academic success.
Kathleen Kramer
Bachelor of Arts in English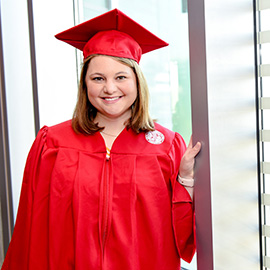 Many NC State graduates knew they wanted to attend the university from a young age, and Kathleen Kramer is no exception. She was raised in a Wolfpack-loving family, and in 2006 started her college career at her dream school.
Kramer's journey hasn't been easy — there was a nine-year break between when she initially left school and when she returned this past semester. She has, however, taken obstacles presented to her and turned them into opportunities.
Just six credits shy of graduating, Kramer withdrew from school due to family hardship and financial strain. She felt compelled to help provide for her family, and looked for a job that would accomplish this aim and give her practical experience.
"I have always had a passion for marketing and communications, and after leaving school I still wanted to put my education to good use," said Kramer. "I've spent much of the last decade building a career in the field and have had some great learning opportunities along the way."
When Kramer was laid off from her marketing position recently, she used the experience as inspiration to finish what she started more than a decade ago. With encouragement from her husband and other family members, she returned to NC State at the start of the spring semester to finish two more classes.
Jason Swarts, professor in the Department of English, played an instrumental role in her academic success. Swarts is also the coordinator of advising for the department, and not only helped Kramer find a schedule that worked for her, but also encouraged her along the way.
"Dr. Swarts was a great inspiration when I was questioning whether I could complete the courses I needed to graduate," said Kramer. "Coming back as a nontraditional student was very stressful at times, but with his support, and the support of my family, I was able to turn my dream of graduating into something very real."
Kramer's graduation will be her favorite NC State memory, in part because she will share graduation weekend with one of her siblings, who will be graduating from UNC-Chapel Hill. She's looking forward to the next phase of life, and hopes that she will be able to return to NC State as an employee.
"Coming back to NC State this semester has made me fall in love with higher education, and my goal is to parlay my marketing background into a role at the university," said Kramer. "I want to inspire others who may have had a difficult educational journey; I want to show them that success is possible if you stick with your vision. I'm glad I did, and will always be thankful for the opportunity to complete that vision at NC State."
Sheila O'Neill
Master of Science in Youth, Family, and Community Services
When you're the youngest of 11 children, you grow up surrounded by your own family community. Perhaps that's what inspired Sheila O'Neill to pursue a lifetime of serving her country and community.
A native of Norwalk, Connecticut, O'Neill joined the U.S. Marine Corps and lived in many states throughout the course of her military career. She had previously pursued graduate education, but financial issues kept her from progressing further, until she earned a full tuition, merit-based scholarship from NC State's youth, family and community services (YFCS) master's degree program.
O'Neill always maintained a passion for positively impacting human lives, families and her community. The YFCS scholarship allowed her to pursue her education, and do so all the way from New Bern, North Carolina. The online education option for the YFCS program helped O'Neill to advance her education while serving as a Volunteers for America service coordinator and advocate for low-income seniors.
"I chose the YFCS program with the certified family life educator option so that I could continue to provide information, advocacy and support to at-risk populations," said O'Neill. "I have a history of dysfunctional relationships, abuse, financial hardship, and many other life experiences this degree touches on, which makes me even more passionate about helping others."
O'Neill wants to use her degree to care specifically for the state's older adult population, at-risk youth and her community in general; she wants to serve the underserved. She plans on becoming more active in public policy making for underserved populations, and to provide support for those who are hungry in body and in spirit.
"I plan to serve those who have been abused, those who have limited income and resources, and those who are trying to break free from the chains that have drained them spiritually," said O'Neill. "I am also considering pursuing my doctorate, something I never would have considered before NC State's YFCS program."
O'Neill's two children, Quinn and Caitlin Gross, provided unwavering support and encouragement along the way, in addition to several NC State professors whose unending positivity left a lasting impression on her. Her inspiring work ethic and community involvement are sure to impact others as well — she's already on a local Community Emergency Response Team, a Christian volunteer counselor for the Eastern Carolina Center for Women's Ministries, and a certified national advocate and psychiatric technician, among other activities.
Distance education along with her other responsibilities challenged and stretched O'Neill, but choosing the YFCS program spoke to her heart and helped her grow spiritually and intellectually. She found a community that became like family, with professors who were always willing to help and truly wanted her to succeed.
"Thank God for the opportunities before you, because before you know it, your time to graduate will come and you will wonder how quickly the time has flown by," said O'Neill. "Never give up and always believe. You can do this, and you can overcome any challenges that may appear to stand in your way with help and support."
Benjamin Tosto
Bachelor of Science in Engineering
At NC State, 2+2 is more than a mathematical equation — it is a formula for student success. 2+2 programs help students like Benjamin Tosto earn an undergraduate degree, even if they don't live in the Raleigh area.
Students complete prerequisites at a local institution, like Craven Community College, where Tosto received his associate degree, then transfer to NC State.
"In grade school, I was motivated and had good grades, but I lost that motivation and dropped out of high school," said Tosto. "When I was 30 years old, I was working as the foreman for a local construction company but wanted more. That's when an advisor at the community college told me about the 2+2 engineering program. I knew it would be a long commitment, but I knew it was for me."
When Tosto started taking courses, fourteen years had passed since he had been in a math class. He spent his first year taking developmental math and science courses to get to where he needed to be. Some of the students in Tosto's classes were just a few years older than his own children.
Tosto, however, was up to the challenge. He realized that a key to success was earning the respect of other students and working together throughout his courses. He also gained access to mentorship and feedback from engineers at Marine Corps Air Station Cherry Point, a key benefit of the 2+2 program.
Throughout his time as a student, Tosto has also balanced family life, his construction job, and working at the Christian ministry, From The Pit To The Palace, a joint effort with his wife and a few of their friends. He arrives at work when the sun rises, goes to class and completes his homework, even if that means getting it done at a baseball game or the beach. Family is extremely important to Tosto, and he wants to make sure he makes time for his wife and children who have sacrificed so much to help him reach this point.
"Without their support, none of this would have been possible," said Tosto. "I also could not have done this without being with an awesome employer who has supported me all the way. All these things are thanks to my Lord and Savior, Jesus Christ who gave me the strength and ability to keep going, even when things seemed impossible."
Thanks to everyone helping Tosto on his journey, he will be graduating from NC State with honors. He will then begin a position at Fleet Readiness Center East in Havelock, part of Marine Corps Air Station Cherry Point.
For other students who may be in his position of trying to take care of family, work and school, Tosto has these words of advice:
"Never give up, keep your focus on the finish line, and keep moving forward."
That's a true Think and Do attitude.