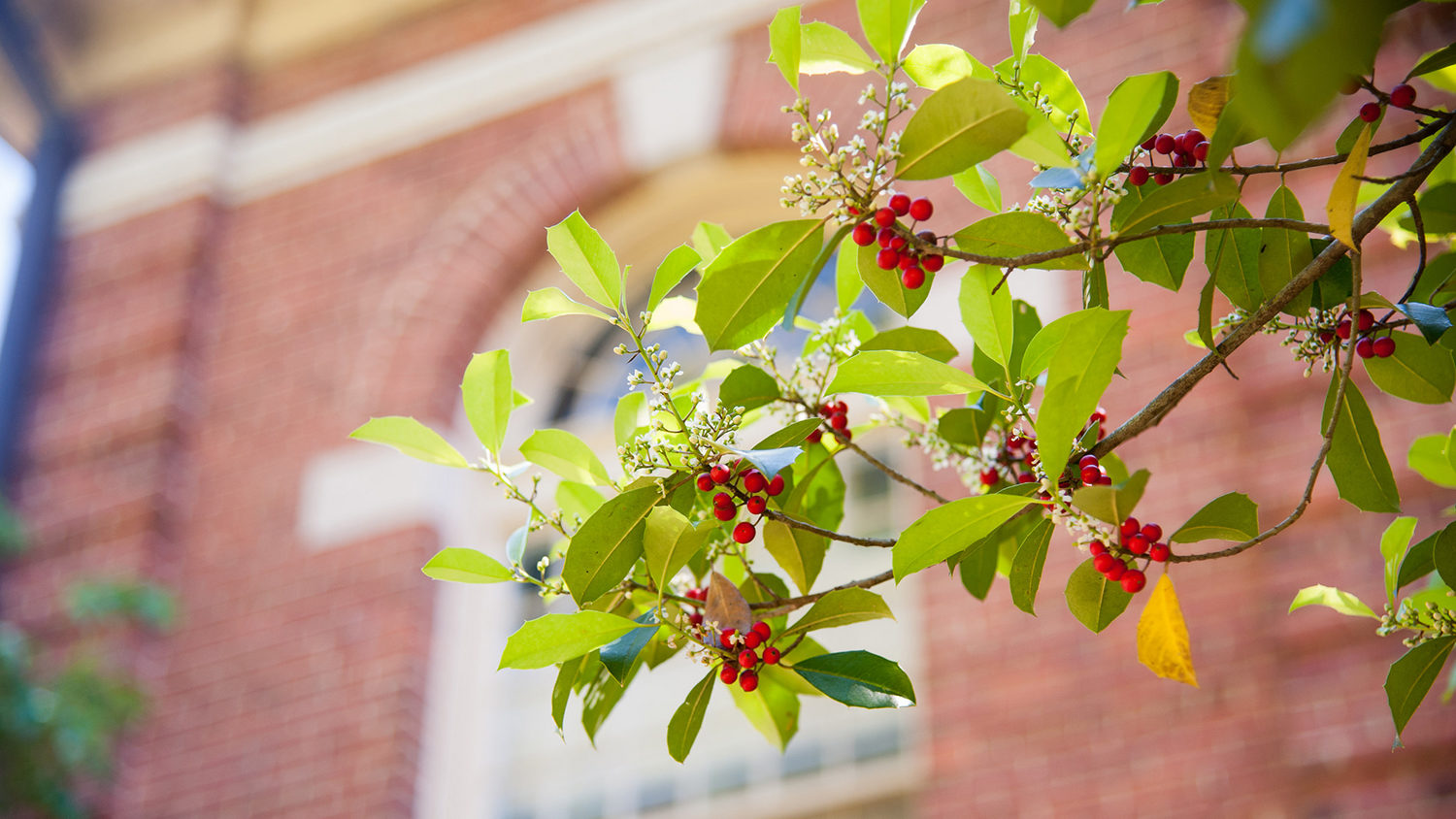 Ruben Carbonell

, Frank Hawkins Kenan Distinguished Professor of Chemical Engineering at North Carolina State University,

has been honored with the O. Max Gardner Award

, the most significant universitywide honor given to faculty by the University of North Carolina System, for his contributions in engineering, health care, education and public policy. The award is presented each year to one faculty member from the system's 17 campuses recognized as having "made the greatest contribution to the welfare of the human race." Carbonell's distinguished career at NC State includes significant contributions in research, entrepreneurism, administrative leadership, and service to the university community and the general public.

NC State mourns the loss of Nino A. Masnari

, distinguished professor of electrical and computer engineering and dean emeritus of the College of Engineering, who passed away on May 19, 2018. During his tenure as dean, the College of Engineering experienced a new era of growth and accomplishment. With Masnari at the helm, the College of Engineering grew into the third largest producer of engineering and computer science degrees in the nation and research expenditures in the College nearly doubled to more than $90 million annually. Additionally, the quality of entering freshmen increased, national recognition of faculty members and research by NSF tripled and four new centers and institutes were created. Masnari will be greatly missed.

Charles Clift has been named University Registrar

, effective May 1. He has served NC State for more than 16 years, 10 of which have been with the Department of Registration and Records. As senior associate registrar for Registration and Records, he has worked across a wide range of academic and administrative processes and has worked closely with partners across campus on initiatives to better serve students, faculty, staff and administrators.

Jon R. Westover has been named Associate Vice Provost and Director of Undergraduate Admissions

, effective July 1. He brings with him a wealth of knowledge from over 20+ years of experience in undergraduate admissions from both public and private institutions. Most recently, Westover served as the senior associate director of admissions at the University of Massachusetts Amherst.

Two faculty members in the College of Agriculture and Life Sciences have been named

Outstanding Graduate Faculty Mentors by the Graduate School

.

Coby Schal

of entomology and plant pathology and

Michael Schulman

in agricultural and human sciences have been recognized for their outstanding service as faculty mentors to graduate students. Schal, an entomologist, was nominated in the category of biological and life sciences, while Schulman, a rural sociologist, was nominated in the category of social sciences, business and education.

New department head: Kathy Krawczyk

is now the interim head of the Department of Accounting in the Poole College of Management.

Sustainability Partners is a community of NC State employees interested in sustainability on campus and beyond. The group will offer

tours of Talley Student Union's rooftop garden

on Friday, June 22 at 8 a.m. and 8:30 a.m. Faculty member Anne Spafford will lead the tours. Learn more about the project, what's grown and why. Plus, celebrate National Pollinator Week by learning about pollinators that use the garden.

The NC State Association of Retired Faculty has honored

professor emeritus Richard Patty with the William C. Friday Award for Distinguished Service in Retirement

. Patty taught physics for 32 years and served as department head for 19 before retiring in 1996. He continued to teach for 18 years, often taking a double load of classes, before stopping in 2014.

Season ticket packages for NC State LIVE's 2018-2019 season

go on sale Thursday, July 19 at 1 p.m. Single tickets go on sale Monday, August 6.

Patrons may

save 20 percent on every ticket when purchasing tickets for three to five shows, and may save 25 percent on every ticket when purchasing tickets to six or more shows.

First in Future: Where Emerging Ideas Take Flight

is a weekly program from the

Institute for Emerging Issues

that connects people thinking big thoughts about the future of North Carolina. The podcast features business leaders, elected officials, researchers and people working bottom up and top down to make North Carolina great. Recently, Provost and Executive Vice Chancellor Warwick Arden talked to First in Future about NC State's role in fostering student success, the need for career flexibility in the 21st century and the university's commitment to rural North Carolina.

Listen to the Provost's interview

.

NC State Employee Wellness Champions

are university staff and faculty who have a special interest in facilitating an innovative culture and environment of wellness in their college, unit, or department. In order to be eligible to be an NC State Employee Wellness Champion, employees must meet certain criteria.

Apply today

!

The NC State

holiday schedules for calendar years 2020 and 2021

have been approved by the Chancellor, Executive Vice Chancellor and Provost, and Vice Chancellor for Finance and Administration at NC State. The updated holiday schedule for the university also includes the holiday schedules that have already been approved for calendar years 2018 and 2019. NC State's holiday schedules continue the university's practice of scheduling Winter Break to allow for extended time off for most employees and to generate utility cost savings. Additional information can be found at

https://hr.ncsu.edu/common-tasks/university-holidays-and-closings/

.

The

2nd Annual ACCelerate Festival is to be held April 5-7, 2019

in Washington, D.C., at the Smithsonian Museum of American History. The event spans the course of a weekend, and showcases innovative and creative research, scholarship, and performances from across the ACC family of institutions. This year, NC State will again provide submissions for the event. Interested faculty and staff may complete a project or performance submission that will be vetted by a select committee following the close of the submission process. Five projects and three performances will be considered for the ACCelerate Festival as representatives of NC State.
Submissions will be accepted until Friday, June 15. Selected project and performance submissions will be notified during the summer, and final selections for the ACCelerate festival will be made by mid September, 2018.
Project Submission: https://goo.gl/forms/PFOAxdkSIc5UpTMJ3
Performance Submission: https://goo.gl/forms/1UZN27VxkHnu9ysi2
Contact Associate Vice Chancellor Dr. Barry Olson at baolson@ncsu.edu or Sr. Associate Dean Bret Smith at bhsmith6@ncsu.edu with any questions.
The

Office of Outreach & Engagement (O&E) is currently seeking two Faculty Fellows for the 2018-2019 academic year

, each to provide faculty leadership of one of the following efforts: engagement programs internal to NC State and NC State engagement efforts in targeted communities.

Funding for each of the Faculty Fellows will be provided to support a commitment of

25 percent of their time

during the 2018-2019 academic year to help support and promote outreach and engagement programs. The Faculty Fellows will represent the voice and perspective of the faculty community and provide insight and concrete ideas for how to move O&E priorities forward.
Full position details and application instructions are now available. Applications are due June 30.
If you have questions, please contact Samantha Graham, Innovation Engagement Program Manager, at sjgraha2@ncsu.edu or call at 919-515-9567.
The

Wolfpack Styled Professional Clothing Closet is looking for clothing donations

.

The organization accepts professional attire, sizes 0-3X (accessories included) for men and women purchased within the last five years or items that satisfy the current professional fashion trends. All donations should be in ready to wear condition with no stains, odors, tears, or missing buttons or pieces.
Donations are accepted at the front desk of the Career Development Center, during normal operating hours of 8:30 a.m.–4:30 p.m. Monday-Friday. Donors can request a "Gifts In-Kind Donation" form for a tax deduction. Like and share Wolfpack Styled Professional Clothing Closet's facebook page to keep current with updates on hours, donations and more.  
Register now for

OIT summer workshops

! There are a variety of new training opportunities planned this summer. To view a complete list of OIT workshops, visit

REPORTER

. If you are unable to attend a scheduled workshop, simply click "Add to Watchlist" next to the specific course. Users will receive an email notice when new offerings are available. 

Visit OIT Training Workshops for additional training opportunities and workshop materials. For more information about customized training for your department, unit, or classroom, see Custom Training.