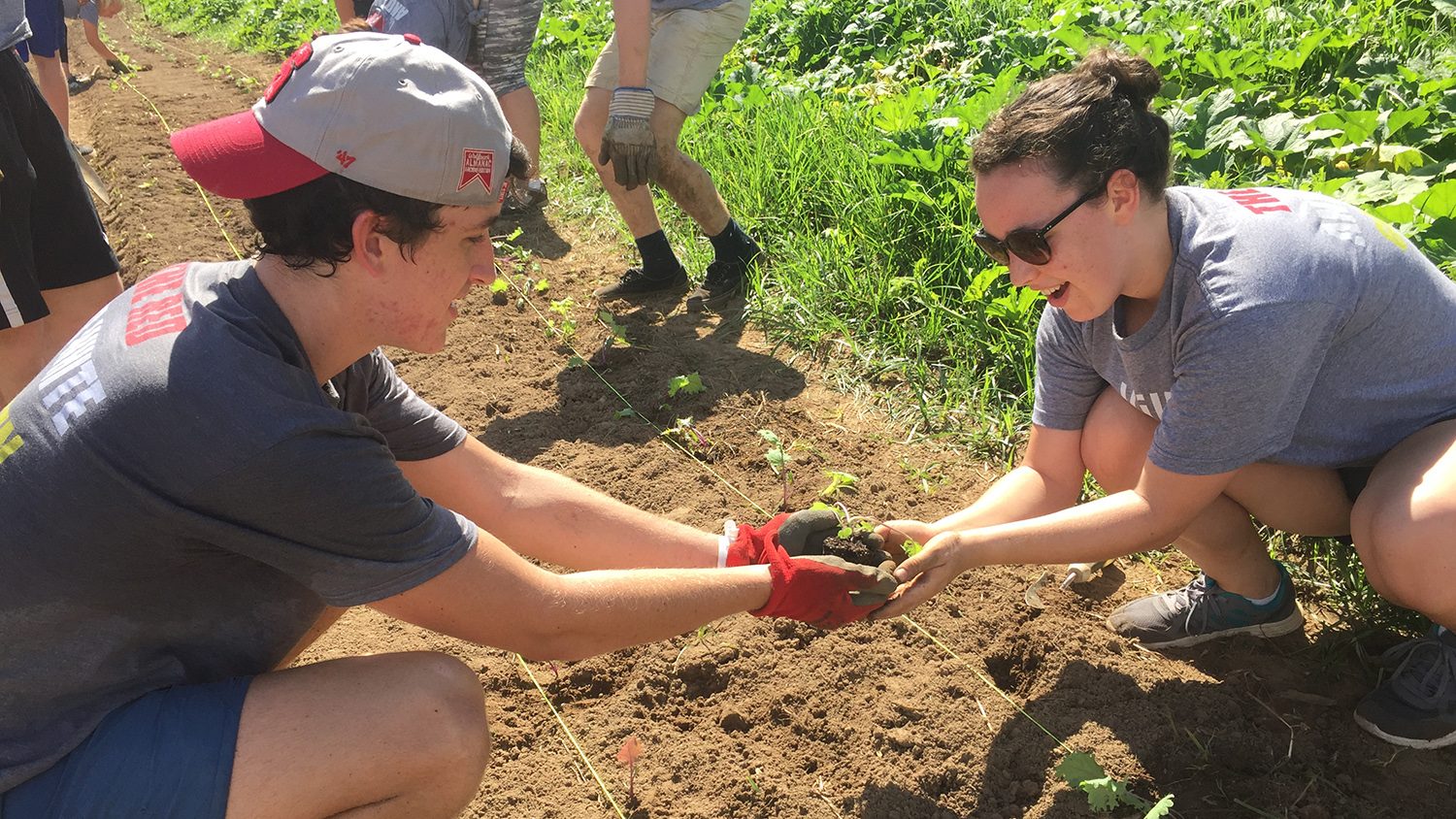 Sustainable leadership, engagement, advocacy and discovery — these values guide students through their interdisciplinary, service-oriented residency in NC State's EcoVillage. Housed in Bragaw Hall on West Campus, EcoVillage helps students strengthen their passion for sustainability through community service, field trips, social events and educational programming.
Our students understand that sustainability is inclusive of social justice issues, economic development and conserving the environment.
"We're in our fifth year of operation, and we've grown each year, so we want to find ways to accommodate the number of students showing interest in EcoVillage," said Meghan Teten, EcoVillage's director. "We have about 90 students enrolled in a related service learning course, and give all our residents opportunities to engage in sustainable practices through experiential education and excursions."
Bill Winner, professor in the Department of Forestry and Environmental Resources, worked to get EcoVillage officially started. Today the village houses 108 students and employs nine undergraduate mentor staff and a graduate student.
All work together to give students enriching academic, social and service opportunities. An in-house tutor is available twice a week to help residents with various subjects, and a member of NC State's University Sustainability Office meets with students to help them become more engaged on campus.
"Through EcoVillage I've been on several community service events like campus clean-ups or volunteering for WE Recycle during home football games," said Jaeleen Mendoza, sophomore international studies major. "I've also gone on an overnight trip where we learned about sea turtles and their nesting patterns, took a hike and got to enjoy some time on the beach."
Overnight trips and other excursions remain a staple in EcoVillage's offerings to residents. In September, the village will travel to the coast to spend the night at Fort Fisher Aquarium, and participate in a carnivorous plant and prescribed burn hike at Carolina Beach. Residents also travel to North Carolina's mountains and Piedmont region to learn about the state's wide variety of ecological settings.
Additionally, a spring break trip that focuses on sustainable city planning and urban design and development takes place each year. Students first meet with representatives from Raleigh's Office of Sustainability, then travel to a destination city to meet with city planners and managers and other sustainability personnel. Past locations include Boston, Portland, San Francisco and Seattle; this year students will go to New York City. Students tend to come back from these trips with a different perspective on what it means to care about the environment from an urban viewpoint.
"EcoVillage has impacted me in a terrific way both socially and philosophically," said Jaspal Singh, a junior economics and electrical engineering major. "I have learned to question what I am told and to challenge my own convictions."
Each student — like Mendoza and Singh — comes to EcoVillage with a passion for the environment and sustainability. The benefits they reap often last well past their residence in the village.
"Any of the villages are a wonderful way to make NC State's huge undergraduate community feel a little bit smaller," said Teten. "In EcoVillage, students form strong relationships that last through graduation. If a student feels connected to people on campus, they are more likely to persist to graduation, and that's what we want."
Jaeleen Mendoza
Sophomore, International Studies
How has your experience in EcoVillage impacted you academically, socially and otherwise?
EcoVillage has been a great way to meet cool people and make really good friends. I met my closest friends with whom I now live in a suite. I was able to get involved with clubs that stood for causes that I'm passionate about like WE Recycle and Feed the Pack.
How do you think this will impact you in the future?
I will definitely be more conscious about my actions like composting or recycling, because EcoVillage integrated sustainability into our daily lifestyle. Before joining, I never really thought that one person could effect the planet so much or have positive impacts but my view has changed a lot.
What are some of your favorite EcoVillage memories?
My absolute favorite EcoVillage memory was when one of the mentors organized a trip to go to an Alpaca farm we were able to feed and pet several alpacas. We also learned the difference between an alpaca and a llama. It was a really cool place to visit and I've always wanted to go to an alpaca farm so I got to check that off my bucket list.
What advice would you have for someone wanting to get involved in EcoVillage or any other Living and Learning Village?
I will always recommend to anyone coming into NC State that they should join a Living and Learning Village. You have so many opportunities to go on road trips or attend workshops. It allows you to be involved in the community and also helps you network.
Jaspal Singh
Junior, Economics and Electrical Engineering
What sort of activities have you been involved in through EcoVillage?
I have been on overnight trips with the village (to the beach last year) and regular educational programs that focus on sustainability-themed topics.
How do you think this will impact you in the future?
I think EcoVillage will have a terrific impact on me. Focusing on sustainability during college will hopefully instill the concept of thinking for the long run. Along with this, it could change my desired employment after college into something that is more sustainable than I would've chosen if I were never involved with EcoVillage.
What are some of your favorite EcoVillage memories?
Some of my favorite EcoVillage memories include conversations about the different aspects of sustainability. For example, one may view buying products from local stores as sustainable, but any job that you force to become local hurts people in other communities. There's no clear route to becoming sustainable, but it's good to keep multiple perspectives in mind. Another terrific memory has been working with the City of Raleigh Parks and Rec Department to remove invasive species from a specific location near Chavis Community Center.
What advice would you have for someone wanting to get involved in EcoVillage or any other Living and Learning Village?
I would suggest that anyone entering a Village to come in open for change. There's a plethora of information these villages can offer, but it's only useful if you're willing to accept and digest it.