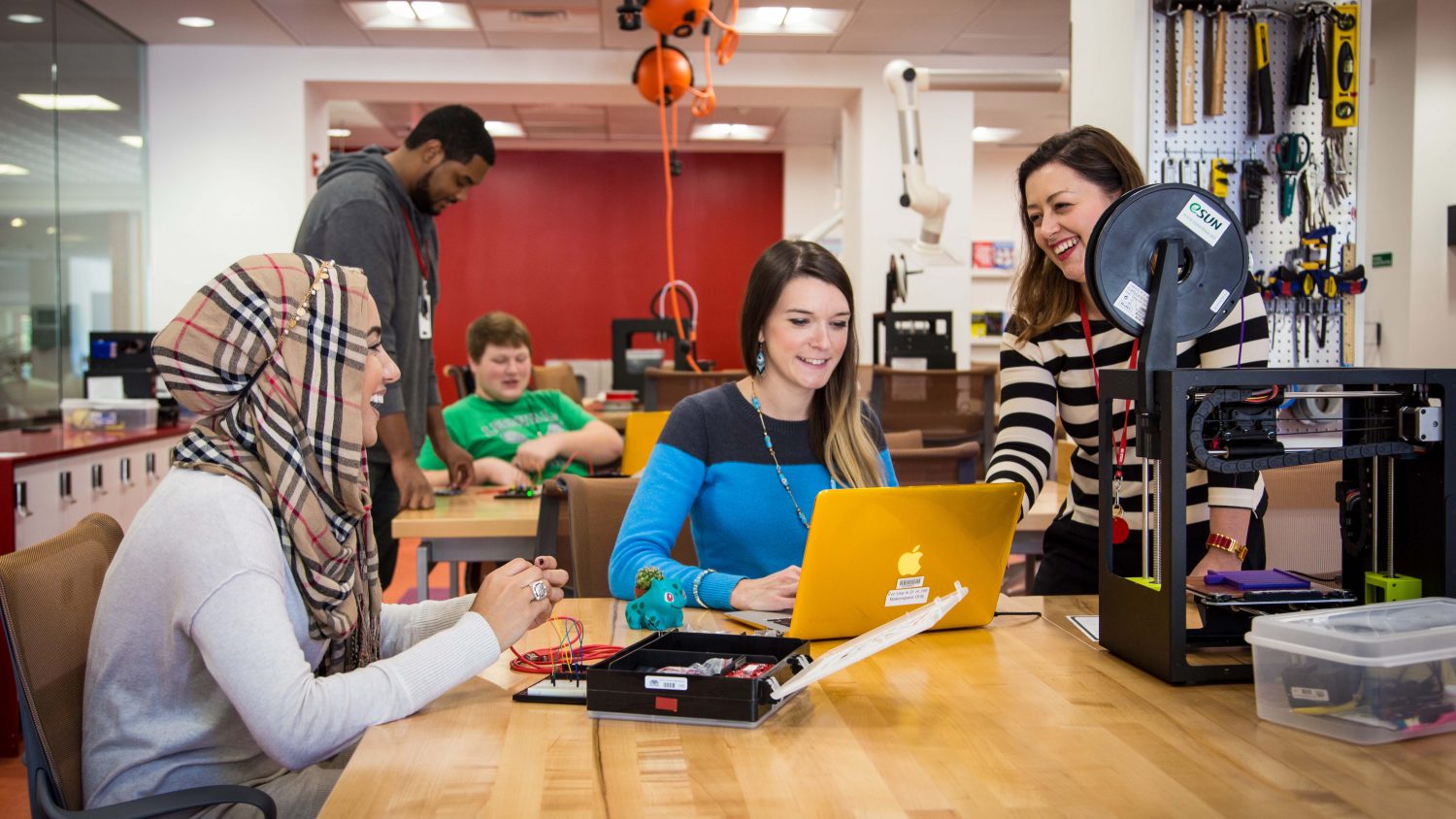 The NCSU Libraries represent one of the hallmarks of NC State's academic excellence. With numerous national awards and honors, including the 2016 National Medal for Museum and Library Service, the NCSU Libraries serves as a gateway to knowledge for the North Carolina State University community and partners.
We spoke with Susan Nutter, vice provost and director of the NCSU Libraries, about how the libraries serve to strengthen teaching, learning, research and service for all members of the NC State community and beyond.
What is the role of the NCSU Libraries at NC State?
First and foremost, the NCSU Libraries' goal is to provide our primary users — the faculty and students of NC State — with the innovative spaces, technologies, services and resources they need to access and create knowledge, develop competitive skills, compete for funding, and ultimately develop solutions for the challenges facing our state, nation and world. With the 2013 opening of the James B. Hunt Jr. Library, recent renovations to the D. H. Hill Library, and creative recruitment and development of 21st century librarians, we believe we are doing just that.
The very same platforms that enable us to provide these things for the NC State community also allow us to expand our offerings beyond the gates of campus. For example, the same large-scale visualization spaces and walls that allow students and faculty to view data in novel ways also serve as venues for them to exhibit their research and host public talks, events and press conferences.
How does the NCSU Libraries work with and support faculty at the university?
By providing a unique suite of resources, technologies, spaces and librarian expertise, the NCSU Libraries enables and encourages research, professional development, experimentation, and technology-intensive projects, and builds community by showcasing university research and bringing together scholars from many disciplines.
We provide the campus community with demand-driven, network-based collections that reflect the strengths of the university in support of research and teaching, through more than 5.2 million volumes and 91,000 subscriptions (90,000 of which are electronic).
Our subject specialists and research librarians collaborate with faculty members to provide subject and technology expertise throughout the research lifecycle. This expertise allows us to work closely with faculty across the disciplines to support their research, teaching and outreach efforts, and to provide assistance to interdisciplinary clusters such as those in the Chancellor's Faculty Excellence Program.
The NCSU Libraries is a technology incubator for the university. Our Makerspaces, digital media labs, and extensive Technology Lending Service demonstrate our commitment to developing emerging literacies by giving faculty and their students access to new and emerging technologies, along with expert guidance and support. Our Visualization Services Team and staff experts work with faculty and their students in using the Libraries' large display walls and high-technology visualization spaces for research, teaching, and engagement.
In order to continually improve the service we provide, we have to be aware of the kind of work our users are doing and what kind of spaces, tools, and support they need. To do so effectively, we have established lines of communication in the form of advisory boards and committees such as the University Library Committee and the faculty and graduate student Library Representatives from all academic departments, as well as a Student Advisory Forum.
How does the NCSU Libraries' services, activities and initiatives work toward NC State's overall organizational excellence?
While the NCSU Libraries' innovative use of technology and design of collaborative spaces have been drivers of research excellence, we are also extremely proud of our tradition of facilitating new modes of teaching and learning. By carefully listening to students and instructors and partnering with them, we are able to provide outstanding educational experiences that they could only find at NC State.
The new capabilities that coalesced around the technology-rich spaces in the Hunt Library have catalyzed a whole new generation of exciting research, pedagogical, and curricular possibilities, and these successes have inspired new and forthcoming renovations to D. H. Hill. It is also worth noting that, for the past 16 years, library services have received the highest overall satisfaction ratings among the university's academic areas in university surveys of sophomores and graduating seniors.
In what ways does the NCSU Libraries work to strengthen NC State's academic reputation?
Because the combination we offer — traditional and non-traditional resources; immersive, interactive spaces; emerging technologies; and the expertise to navigate it all — isn't available anywhere else — our hope is that our students and faculty are able to produce work that simply isn't possible anywhere else. And I think we are starting to see that happen through sustainable and reproducible 3-D printed teaching materials, immersive data visualizations and scholarship exhibitions, unprecedented scholarly programming and public outreach. We hope to inspire a spirit of discovery that produces the next generations of technology-savvy citizens, employees, researchers and scholars.
We are also one of the most decorated academic research libraries in the world, having been the first university library to win the Association of College and Research Libraries Excellence in Academic Libraries Award and having both the most Library Journal "Movers & Shakers" on our staff of any academic library with nine and Association of Research Libraries Library Leadership Fellows with six. Since opening the Hunt Library in 2013, we've received the 2014 Stanford Prize for Innovation in Research Libraries and we have been looked to — by Time, Forbes, Scientific American and others — as the Library of the Future. In 2016, First Lady Michelle Obama awarded the National Medal for Museum and Library Service to the NCSU Libraries at a White House ceremony. These awards not only recognize the hard work and creativity of our world-class staff, they also raise the profile of NC State as a place.
What is something people may not know about the NCSU Libraries?
While the Hunt Library has seen incredible success since opening in 2013, D.H. Hill is also developing new and innovative spaces and services to meet the research and teaching needs of faculty. For example, D. H. Hill has its own 360-degree immersive environment–the Visualization Studio. In June 2015, D. H. Hill's Makerspace opened as a do-it-yourself creation and collaboration space, giving hands-on access to the emerging technologies of making — 3-D printing and scanning, and electronics prototyping. Faculty and students create multimedia projects in our four music production booths, and immersive presentations and exhibits in our Visualization Studio. Other recently reconfigured and updated spaces in Hill include new seating and study rooms, the Faculty Research Commons, and the Fishbowl Forum (formerly the Tech Sandbox). This month, we also plan to open new Virtual Reality and Augmented Reality "scratch spaces" in both Hill and Hunt.
Learn more about how the NCSU Libraries define the leading edge of information services and collections to support the university's mission and to further knowledge in the world.