NC State's new vice provost for faculty affairs is just what the doctor ordered. A public health researcher with two decades of experience in higher education, Katharine E. Stewart understands the complex challenges facing faculty members as they balance their roles as teachers, mentors and researchers.
She takes a decidedly holistic approach to meeting those challenges.
"What I learned as a faculty member is that the university is as interdependent as any community. No one member can be successful unless the whole community is working well together," she says. "It's like a multicellular organism; the whole organism has to be healthy."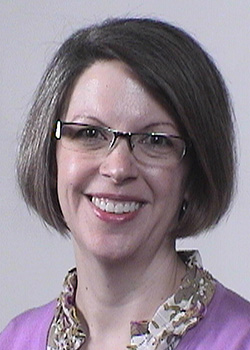 Stewart comes to NC State on June 1 from UNC General Administration, where she served as vice president for academic planning and quality. She takes the office vacated by Betsy Brown, who is retiring after nearly a decade at the university.
Provost Warwick Arden announced Stewart's appointment in an email to campus last week, praising her "collaborative and inclusive leadership approach." The two worked together at the system while Arden was interim senior vice president for academic affairs last year.
Managing Change
Stewart says the university can do more to prepare faculty members for the accelerating pace of change – inside and outside the academy.
"Faculty development is important throughout your career, not just at the beginning," she says. "We need to help faculty navigate all the transitions that they are going to face over the course of their careers – in their lives, in their disciplines and in teaching itself."
One of the biggest changes confronting NC State faculty – the creation of new interdisciplinary faculty clusters across campus – brings both opportunities and challenges.
"The challenge for faculty is to think, 'How do I bring the most strength from my discipline to an interdisciplinary effort without drowning out other voices?' It takes creativity and effort and time. In essence, we're trying to create something that is greater than the sum of its parts."
Carolina Native
Stewart is a native North Carolinian who attended the North Carolina School of Science and Mathematics and UNC–Chapel Hill, where she earned an undergraduate degree in psychology. She earned a Ph.D. and a master's in medical clinical psychology as well as a Master of Public Health at the University of Alabama at Birmingham. She is a professor in the Department of Public Health Sciences at UNC–Charlotte.
Her academic career has included appointments in departments of psychology, medicine and health behavior. She earned tenure in the College of Public Health at the University of Arkansas for Medical Sciences, where she served as associate dean for academic affairs for 10 years.
Stewart's research has focused on improving health outcomes for people living with HIV, especially women, and on reducing HIV and other sexually transmitted infections in at-risk communities.
Her research has been funded by the National Institute for Allergy and Infectious Diseases, the National Institute for Child Health and Human Development, the Health Resources and Services Administration, and the National Institute on Drug Abuse.