Training the Next Generation of Biomedical Researchers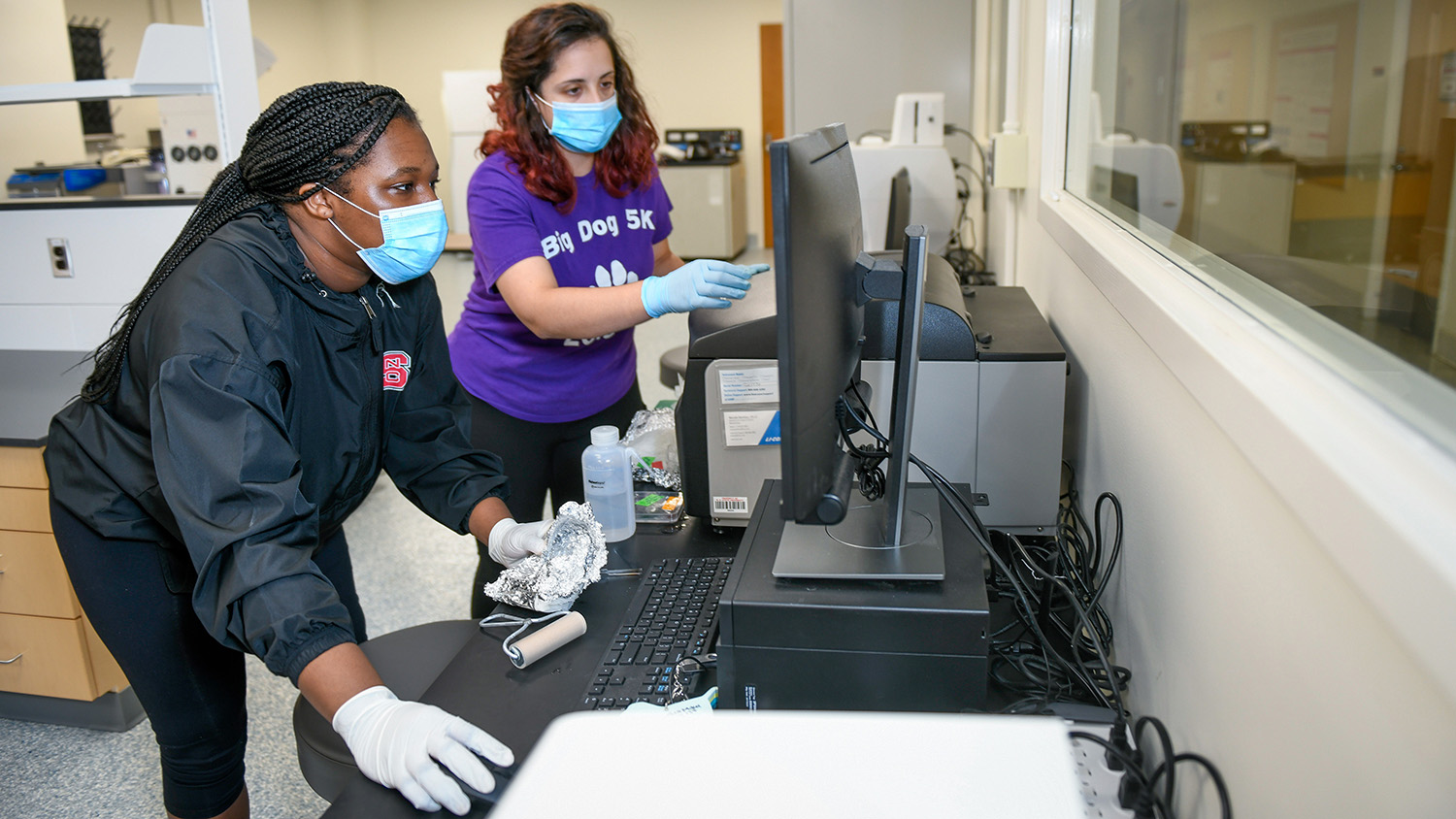 NC State's Comparative Medicine Institute (CMI) recently received two notices of training grant awards from the National Institutes of Health. These awards, along with matching funds from the Office of the Executive Vice Chancellor and Provost, position CMI to not only advance research and innovation, but continue to grow the institute's leadership in training and mentorship for faculty and students.
Both awards are through the National Institute of General Medical Sciences Ruth L. Kirschstein National Research Service Award Predoctoral Institutional Research Training Grant (T32) program, which seeks to equip scientists with the knowledge and skills to advance biomedical research. Institutions throughout the country, including those in higher education, are eligible to apply for these grants, in the hopes that they will advance graduate training and mentorship to keep up with the needs of the biomedical field.
The first T32 award (PIs: Joshua Pierce, co-director of the Comparative Medicine Institute, and Gavin Williams, interim head of the Department of Chemistry) supports the Chemistry of Life program, which centers on the interface of chemistry and life sciences. The second T32 award (PIs: Ke Cheng, professor in the Department of Molecular Biomedical Sciences, April Kedrowicz, associate professor and pre-clinical communication coordinator for DVM students; Matt Fisher, associate professor in the Joint Department of Biomedical Engineering; and Jorge Piedrahita, co-director of the Comparative Medicine Institute) supports the Comparative Molecular Medicine Training Program.
Together, the two awards build upon CMI's promotion of interdisciplinary academics, involving more than 60 faculty mentors from various NC State colleges. Additionally, the grants, which help institutions to recruit students for pre- and postdoctoral research training in specific scientific disciplines, will impact approximately 10 Ph.D. students each year, as well as other graduate and undergraduate students through the development of academic courses and minors.
Team Training and Mentorship
Both grants have a major focus on team training, which involves groups of faculty and students (both undergraduate and graduate) working together to emphasize program development and management, mentorship, teamwork and time management skills. The idea of team training emerges from the needs of modern science and STEM jobs to have highly skilled individuals working together to achieve specific goals.
"We have found that teams that perform the best are not necessarily the most accomplished, but the ones who have the strongest leadership skills and who can engage and communicate with one another the best," said Piedrahita. "We need to make sure that everyone who comes to NC State acquires those skills, and these grants help us do that. We can show students that leadership is not about telling people what to do; it is about learning to listen and realizing when you need to step in and when you need to step back."
"These grants really provide structure for faculty interacting with and mentoring students, building bridges between departments from across the university," said Pierce. "Additionally, for the Chemistry of Life Training Program, our grant will serve as a foundation for the new Integrative Sciences Building, which not only provides space for growing STEM fields on campus, but also provides ample space for academic collaboration, discovery, and transfer of knowledge across disciplines and with other successful programs, such as the Biotechnology Program."
The grants will allow for faculty involved in the programs to recruit the best graduate students from around the country — above and beyond the capabilities of individual departments due to funding and mentorship opportunities. Once students enter into these programs, they will continue to benefit by bonding with the faculty and fellow students on their research teams, forming connections that will continue throughout their academic careers and beyond graduation. They will also engage in courses on communication and leadership, which help advance research and mentorship skills. 
"The benefits of this type of team science training are pretty striking, and when we ask past students what they've learned from their experience, they say that they know how to be effective leaders, run their own labs, mentor students, and are better prepared to work as part of an interdisciplinary team in the future," said Piedrahita. "These programs that are being funded by the T32 grants are essential to what we do at the Comparative Medicine Institute. NC State, and the nation, will certainly benefit from the researchers and leaders that we train here."