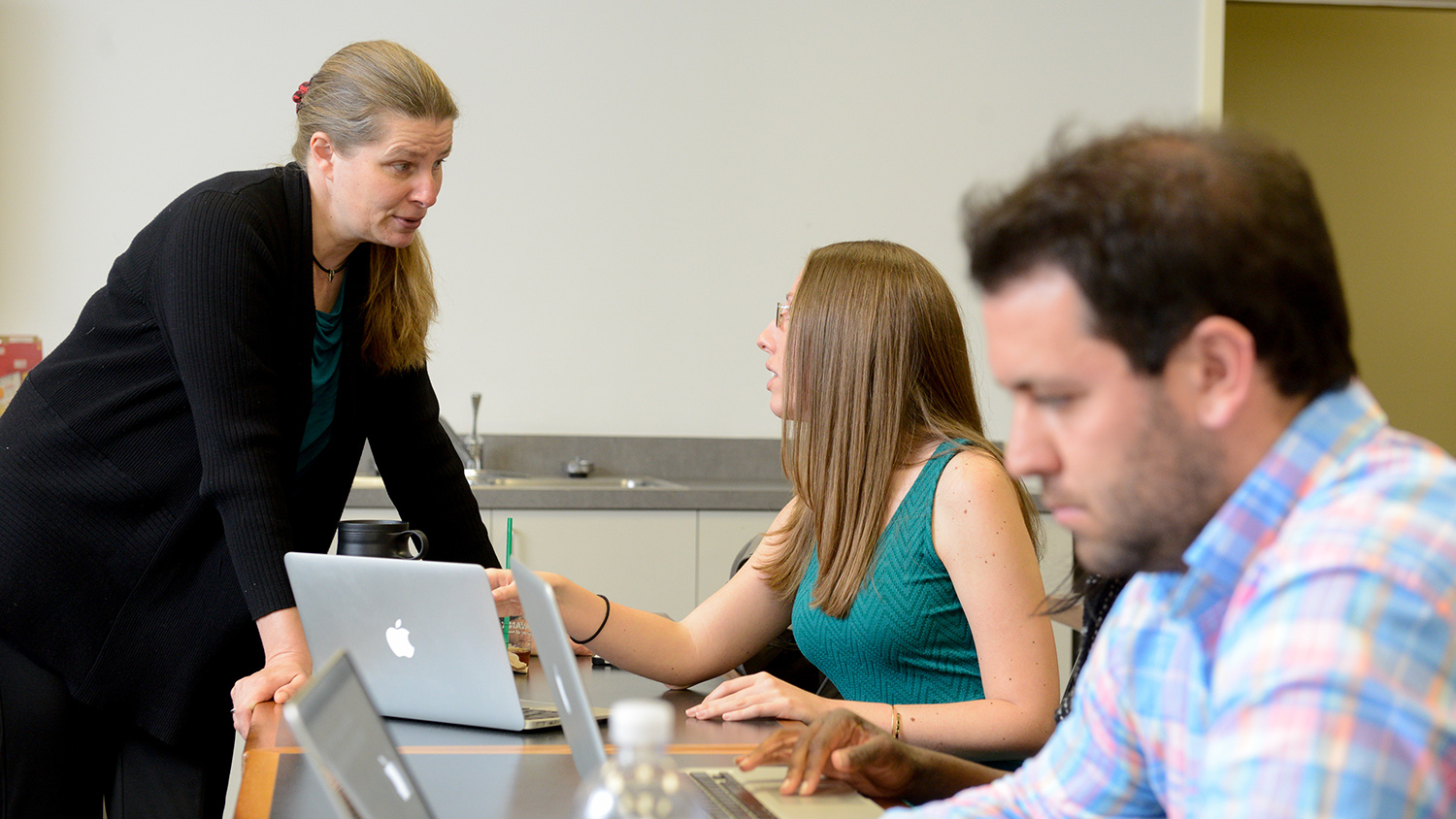 NC State faculty bolster the university's world-class reputation through their teaching, research and innovation. The Office of Faculty Development (OFD) helps faculty experience success in these areas through a variety of programming and other services, including professional development opportunities throughout the year.
We spoke with Diane Chapman, OFD executive director, about how the unit can help NC State faculty plan their professional development throughout their academic careers.
How can the OFD assist a new faculty member in getting started on planning their professional development pathway?
Each August, OFD invites all new full-time faculty to New Faculty Orientation (NFO), a fall semester kickoff event where faculty are introduced to service, skills and points of contact to help them successfully begin teaching, research, extension and engagement activities at NC State. This is not only an opportunity to begin to network with faculty and staff from across campus, but it is also the start of a hopefully long and beneficial relationship with our office where faculty can embrace lifelong learning throughout their careers. For example, in addition to NFO, faculty members who may not have been formally trained in teaching are enrolling in our Core Teaching Certification. This facilitated, asynchronous program is available online, which means a faculty member can participate from anywhere, anytime at their own pace. 
We offer a variety of programming designed to support faculty success at all career stages, not just at the beginning. For example, we will soon debut our new Inclusive Teaching Certification for those faculty members who want to transform their teaching to include new levels of awareness and skills to support equity and inclusion. Immersive programs are complemented by our website where faculty can find a variety of curated career development resources and upcoming workshops such as one on February 14 where Dr. Katharine Stewart will be leading an interactive workshop, "Career Mapping: A Tool to Help You Set Goals and Design a Development Plan." Faculty at all career levels can benefit from our institutional membership to the National Center for Faculty Development and Diversity. This membership provides all faculty members, post-docs, staff, and graduate students at NC State with a multitude of career resources. 
One of our most ambitious undertakings over the past couple of years centers on trying to understand the varied and distributed opportunities for faculty development that happen all over campus. To this end, we established the Faculty Development Partners Group, whose goals include uncovering gaps in services, avoiding unnecessary duplication of efforts, collaborating on initiatives, and supporting and publicizing each other's activities. This collaboration is continuously evolving and will help all partners to deliver high-impact faculty development to a larger and broader portion of NC State's faculty. When a faculty member has a career development need our staff is always available for individual, personalized consultations.
Why should faculty have a plan for their continued professional development, at every stage during their academic careers?
It's often said that if we don't have a map, then it's hard to know where we are going or when we have arrived. The same is true about plans for faculty professional development. Creating a plan accomplishes several things, beginning with requiring you to set achievable goals and commit to them. Once your goals are articulated, then you can create a professional development plan that will foster achievement of those goals strategically, helping you to stay on track and ultimately increasing the likelihood of successful outcomes. But careers seldom go exactly as anticipated, and goals change and emerge as we hit different stages of our careers. As such, the plan is always a living document that has the capacity to change as your career progresses and grows. Professional opportunities arise that were previously unknown, life situations change our trajectories, and new professional development opportunities emerge to match the shifting landscape of higher education. All of these situations require a review of one's career plan to inform alterations.
What are some of the biggest concerns that faculty often have about professional development, and how can the Office of Faculty Development address those concerns?
Faculty have many concerns about their professional development. Resources, particularly funding for professional development, are an issue for faculty at most institutions. OFD programming is free for all faculty and post-docs. This means faculty never need to spend their departmental or personal funding to participate. The most frequently heard concern is about time. Particularly, how does a busy faculty member find time to participate in professional development opportunities, and what is the time commitment required? To address this, OFD designs programs that provide multiple options for attendance (face-to-face/hybrid/virtual) and are flexible enough to work with a faculty member's schedule.
Relevance is another concern. Will the session be relevant for my particular needs? We address this concern in a couple of ways. First, we listen to what faculty are saying about their needs through focus groups, evaluations and general discussion. Second, we focus on the outcomes faculty will achieve by attending our sessions, not just on the content. Third, we employ adult and active learning principles to capitalize on the expertise and experience of attendees to bring relevant examples and discussion into the programming.
Another concern that some faculty members may have is about the privacy and confidentiality around what is shared through participating in our programs. Faculty should know that our services are not punitive, and that the OFD a safe space to learn and grow. Our consultations are voluntary and confidential, and we encourage faculty to approach us when they need support for teaching and learning, or to find direction to other faculty support resources that are available.
What are some new professional development opportunities that the Office of Faculty Development will be offering this year?
We dare to fail forward and try new ideas at the OFD. This year, we have several new professional development opportunities and changes to our current programming. For example, for the first time we will be hosting faculty-led discussion roundtables during our annual Teaching and Learning Symposium on February 28. As previously mentioned, we will be launching the Inclusive Teaching Certification this spring which includes a variety of sessions facilitated by support services from all over campus. A redesigned Scholarship of Teaching and Learning Institute will be held later this year for faculty who want to experiment and carry out new and innovative teaching and learning research projects in their classes with a goal of improved student learning outcomes. We are also developing co-programming on leadership with our colleagues in the Faculty Development Partners group. In addition to our popular writing retreats, we now offer two grading retreats yearly (one at the end of both fall and spring semesters) where faculty not only grade and receive peer support about grading, but also receive support from DELTA and the OFD staff to answer questions on-demand and make grading easier.
What is something that faculty may not know about the Office of Faculty Development when it comes to professional development planning?
Faculty may not know how supportive and beneficial the faculty writing retreats are. By registering in REPORTER and holding the dates on their calendar at the beginning of each semester they have increased the likelihood that they will attend, be more productive, and make progress on publications, grants, and other reappointment, promotion and tenure decision-based products. At these day-long retreats, faculty have access to one-on-one consultations with librarians, another valuable connection that could be leveraged in professional development planning.
OFD offers consultations with individual faculty members or group consultations with departments or committees, which is something that may not be widely known. Consultations provide an opportunity for faculty to explore various teaching and learning strategies and approaches, or to explore a challenging teaching scenario. Our departmental and committee consultations are usually focused upon providing expertise on a certain issue or opportunity. A consultation may consist of one or two meetings to discuss topics of interest or a series of meetings over the course of the semester. Whether you are looking to try something new in a class or to explore a particular teaching and learning issue, the OFD staff is happy to provide personalized support. 
The OFD newsletter is one of the best ways to know what's happening in faculty development on our campus. Not only do we bring OFD offerings to your attention, but we keep faculty updated with professional learning opportunities all over our campus and beyond. We encourage all faculty to subscribe to the OFD newsletter and register for our upcoming Teaching and Learning Symposium happening on Friday, February 28. The theme this year is Universal Design for Learning, the same topic as our reading circle book for this semester. The author, Dr. Thomas Tobin, will be our keynote speaker. The event attracts our campus community of faculty and staff who are interested in teaching and learning, and the posters, concurrent sessions, and newly-offered roundtable discussions will surely inspire many new faculty to participate!