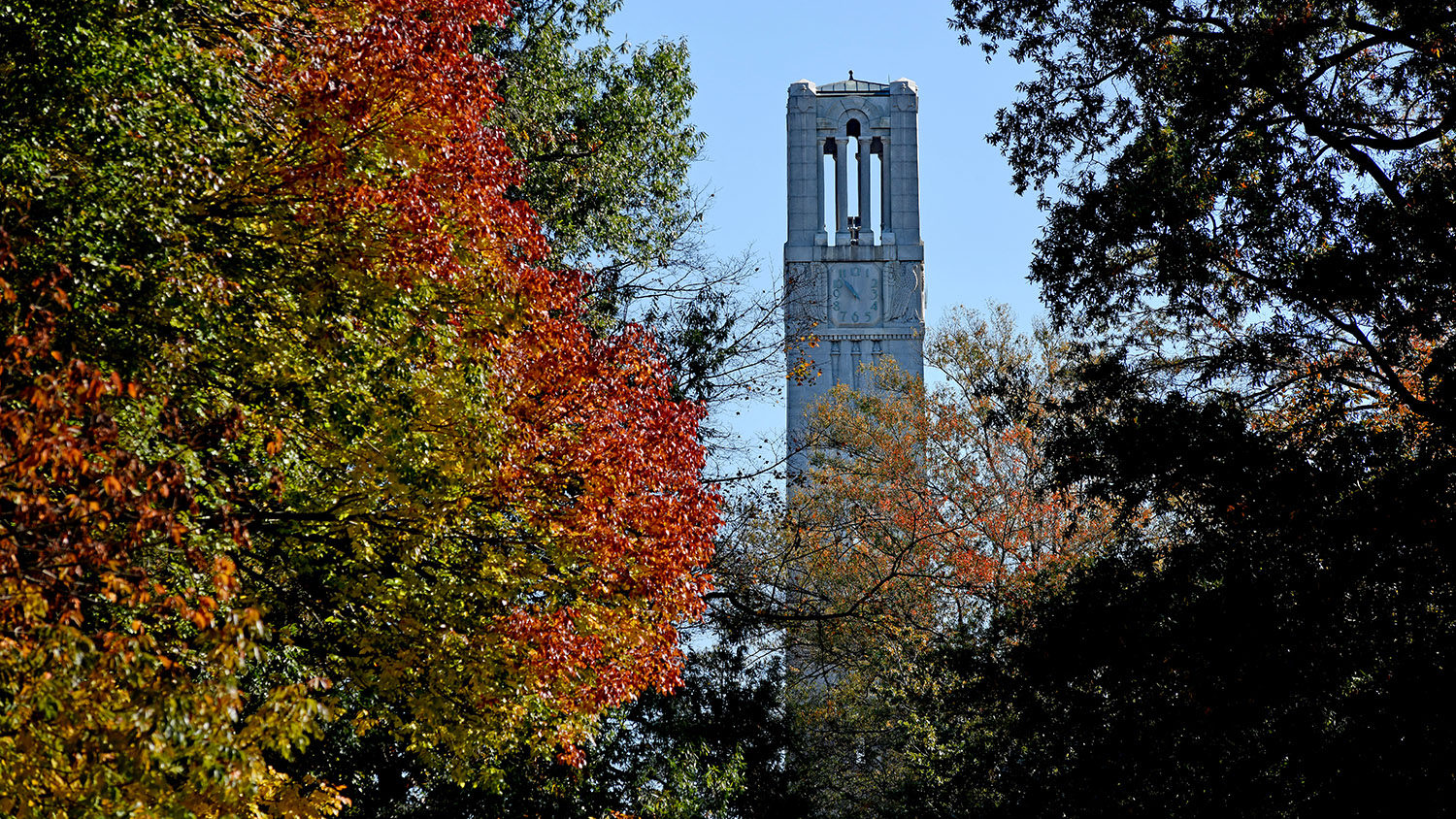 NC State is proud to host Healthy Campus Week.

From Monday, Sep. 23 – Friday, Sep. 27, there will be many opportunities for our Wolfpack community to participate in on-campus fitness and wellness events, participate in contests and learn how the Wolfpack stays well with the wide array of resources available at NC State.

Learn more

about the week's events and register for the Step To It Walking Challenge coming in October.

On-campus interviews for two finalists for

vice provost for institutional equity and diversity

have been announced. The finalists are Sheri Schwab, NC State University, Sep. 23-24, and Inya Baiye, University of Missouri, Sep. 25-26. The candidates' CVs and interview schedules are available on the search website at

go.ncsu.edu/equity-diversity-search

. The entire NC State community is invited to the following open forums:

Tuesday, Sep. 24, 11:15 a.m.-12:15 p.m. in the D.H. Hill Library Assembly Room (Second Floor, Room 2130) – Sheri Schwab

Thursday, Sep. 26, 11:15 a.m.-12:15 p.m. in the D.H. Hill Library Assembly Room (Second Floor, Room 2130) – Inya Baiye 

David Wallace-Wells will come to campus next month to talk about climate change.

Wallace-Wells, deputy editor at

New York Magazine

and best-selling author of

The Uninhabitable Earth: Life After Warming

, will speak on

Tuesday, Oct. 15, 3:30-4:30 p.m.

, in Witherspoon Campus Cinema, with a book signing to follow. This free public event is sponsored by the University Speakers and Lectures Committee, with support from the Harrelson Fund and the University Scholars Program.

HR Benefits is sponsoring appointment and walk-in flu vaccination clinics across campus this fall.

As in prior years, all State Health Plan members, dependents and pre-age 65 retirees, are eligible for a free flu vaccination at the NC State campus clinics. Registration for our on-site clinics will open Wednesday, September 11, 2019.

For more information visit go.ncsu.edu/flu

.

 
Leadership Updates:
Pierre Gremaud

, professor of mathematics at NC State, is the new associate dean for program development and evaluation in the Graduate School. He replaces Mike Carter, who is transitioning to half-time work and will continue to be involved with the Graduate School's Dissertation Completion Grant. 

Vice Provost for Academic Strategy

Margery Overton

has been named interim senior vice provost for institutional research and planning following the departure of Mary Lelik.

Two

new academic department heads

have recently started their positions. They are:

Lewis Owen, Marine, Earth and Atmospheric Sciences, College of Sciences

Willie Ramsey, Military Science, Division of Academic and Student Affairs
Please take note of the nomination deadlines for the following faculty awards:
From NC State DELTA:
From the Office of Faculty Development:
The Office of Faculty Development has announced its 2019-2020 Faculty Writing Retreats.

Presented in partnership with the NC State University Libraries, these retreats are available to tenure and non-tenure track faculty. The retreats will be held in the Faculty Research Commons spaces at the Hunt Library on Centennial Campus. Sign up now to find uninterrupted time to write your article, grant proposal, book chapter or dossier materials. Coffee/tea/water will be provided. Registration is for the full-day event (8:30 a.m.–5 p.m.), but feel free to come and go as needed — join us all day, just the morning, just the afternoon, or even just an hour or two! The retreats feature drop-in consultations with librarians from the NC State University Libraries.

Register now for our 2019-2020 Faculty Writing Retreats!
From the Office of Global Engagement:
The Office of Global Engagement is now accepting proposals for this year's round of the Research Starter Grants between NC State and the University of Adelaide in Australia.

The funding is available to faculty or staff to enhance research collaboration and academic exchange between the universities. The priority areas for funding this year are: defense, cyber, and space; agriculture and food security; global/One Health (human, animal, and environment); and materials and chemical engineering. Co-funding up to AU$10,000 from the University of Adelaide and the equivalent amount from NC State (approximately $6,750) per project will be made available for travel and to seed collaboration. The deadline for submissions is Oct. 31.

View the full request for proposals and apply

.
From the Office of Information Technology
The Office of Information Technology (OIT) launched phase 1 of its new IT Service Portal

(

https://ncsu.service-now.com

) on Sep.16. The portal, running on the ServiceNow platform and also accessible via help.ncsu.com, replaces the Help Desk website and is now the preferred method to submit a request for IT help and support instead of emailing

help@ncsu.edu

.

In celebration of

National Cyber Security Awareness Month in October

, the Office of Information Technology, along with the Department of Computer Science, the ePartners Program, and the NC State Engineering Foundation, will sponsor "

Protect the Pack: Be a Cyber Hero

" to provide you with the necessary skills to protect yourself and the university against dark cyber forces that try to trick you into providing sensitive data. Be a Cyber Hero events will include:
From the Office of Research and Innovation: