Science Olympiad Partnerships Shape STEM Education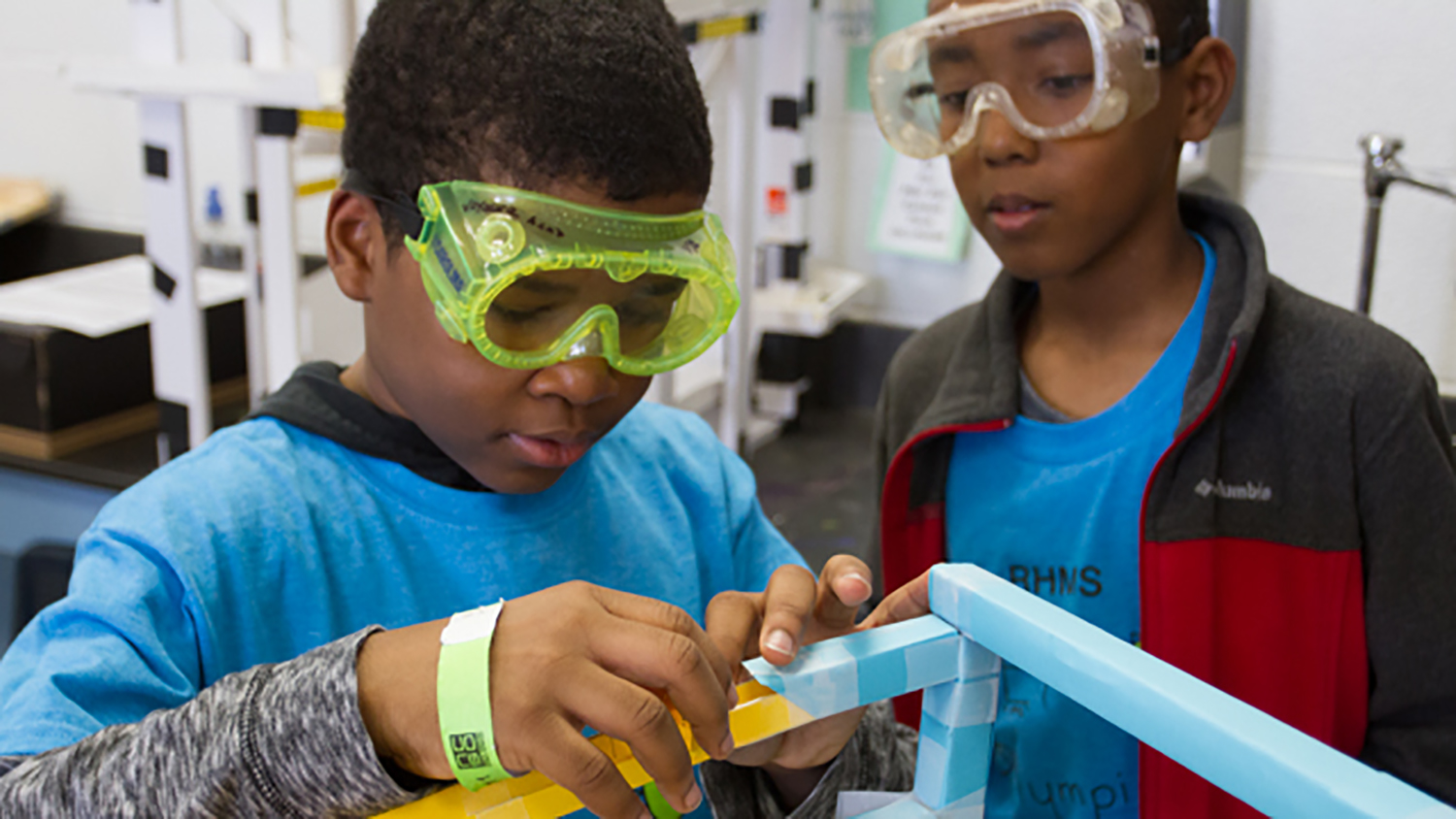 Bottle rockets soaring through the sky mean more than just Saturday afternoon fun for many children across North Carolina. Thanks to the state's Science Olympiad program, a partnership with NC State, activities like this become the start of a lifelong love of STEM learning. The competition's backyard-friendly activities give elementary through high school students an experiential education through hands-on skill development and problem-solving.
St. Andrews Presbyterian College in Laurinburg, N.C., hosted the nation's first recorded Science Olympiad event in 1974. Today, each state hosts competitions consisting of a series of inquiry-based events integrating biology, earth science, environmental science, chemistry, physics, engineering and technology. NC State houses North Carolina's Science Olympiad program, and for good reason.
"North Carolina Science Olympiad's presence in NC State's Science House helps us fulfill our land-grant mission by providing positive STEM education experiences to students across the state," said Kim Gervase, executive director of NC Science Olympiad. "We're more than just a science fair — we're local, regional and state competitions made up of 23 events that challenge perceptions of STEM education and who can excel in scientific disciplines."
At the elementary school level, Science Olympiad aligns with the North Carolina Standard Course of Study, supporting teachers' current classroom curricula. Events balance the various science disciplines and require knowledge of science facts, concepts, processes, skills and applications.
One such event, Super Sleuths, challenges students to solve a crime using basic forensics skills, testing powders, identifying fibers under a microscope and matching footprints to suspects. Another event, Pro Gamers, gives participants a chance to program video games.
"Science Olympiad at the elementary school level exposes young children to such a wide variety of STEM topics that they will find something they want to further pursue in the future," said Kate Wenger, a junior mathematics and mathematics education major, Goodnight Scholar and elementary school team coach. "I competed in Science Olympiad for five years and saw first-hand the impact it can have on students. It is especially important to me to be a role model for young girls and show them that yes, they can get involved in STEM fields."
Early involvement encourages students to stick with Science Olympiad throughout middle and high school, where teams that medal in regional competitions move on to the state competition.
These events, while more advanced than elementary school events, present the same opportunities for teamwork and creative problem-solving. The Traj-egg-tory event challenges students to build a device to protect an egg dropped from a meter off the ground. Teams with uncracked eggs remain in contention, and the lightest device from among those wins.
The winning often takes a backseat in importance to experience gained, though. Exposure to concepts like projectile motion, forces and parabolas ignites a passion for STEM and the realization of previously hidden academic and interpersonal talents.
"Many of the students on our team gained their first exposure to certain STEM concepts through Science Olympiad competition," said Madeline Yun, a junior chemical engineering major, Goodnight Scholar and elementary school coach. "They gain something really tangible from participation — they see that it is cool to be smart and do well in school, and that if they work hard they can pursue so many awesome majors and careers."
Making the NC State Connection
Other NC State faculty, staff and students involved in coaching and mentoring Science Olympiad teams will also tell you that anyone with a curiosity for how the world works can experience STEM learning success. They can also speak from personal experience — more than 1,100 current NC State students participated in Science Olympiad in elementary, middle or high school. In some cases, their Science Olympiad experience is what brought them to NC State.
"The competition helped me determine the academic path I wanted to follow," Kyle Sozanski, a senior entomology and plant pathology major and University Scholar. "I also fell in love with the campus after attending the state competition for two years and decided that NC State was the university for me."
Ashwin Ghadiyaram, a senior biological sciences major, competed in the state Science Olympiad event for seven years. He knew he wanted to give back to the program that had enriched his love of science and inspired him to attend NC State, so he began volunteering with the program.
"The beauty of Science Olympiad is that it helps competitors develop hands-on skills, that prepare them for future success in scientific inquiry," said Ghadiyaram. "It is truly a privilege to serve the program through volunteering and helping to positively influence students."
Student volunteers like Ghadiyaram, Yun, Wenger and others provide countless hours of their time to inspire Science Olympiad participants. They balance their involvement with demanding academic careers to help students gain the same type of experience they had in the competition. The results speak for themselves, with many NC State student-coached teams advancing to the state Science Olympiad tournament.
The state tournament, which takes place in April each year, brings more than 2,200 middle and high school students who have placed in the 13 regional tournaments to campus. On Friday during the tournament, faculty get a chance to showcase their research and labs to students. This NC State connection has created a program strong enough to bring the national Science Olympiad program to campus in 2020. Preparations are well underway for the event that will likely impact many more future NC State students.
"These kind of experiences help generate a pipeline of talented students to STEM careers in general and to NC State specifically," said Audrey Jaeger, College of Education Alumni Distinguished Graduate Professor and Science Olympiad volunteer. "We're opening their minds to STEM being integrated with fields like economics, the humanities and more. We're also being intentional in showing them what a 'scientist' looks like, and that anyone can be one."
Want to see Science Olympiad participants in action? Come to the North Carolina 2018 State Science Olympiad Tournament, April 20-21, hosted on campus. Learn more about volunteering at the local or state level today!