Where Learning is a Way of Life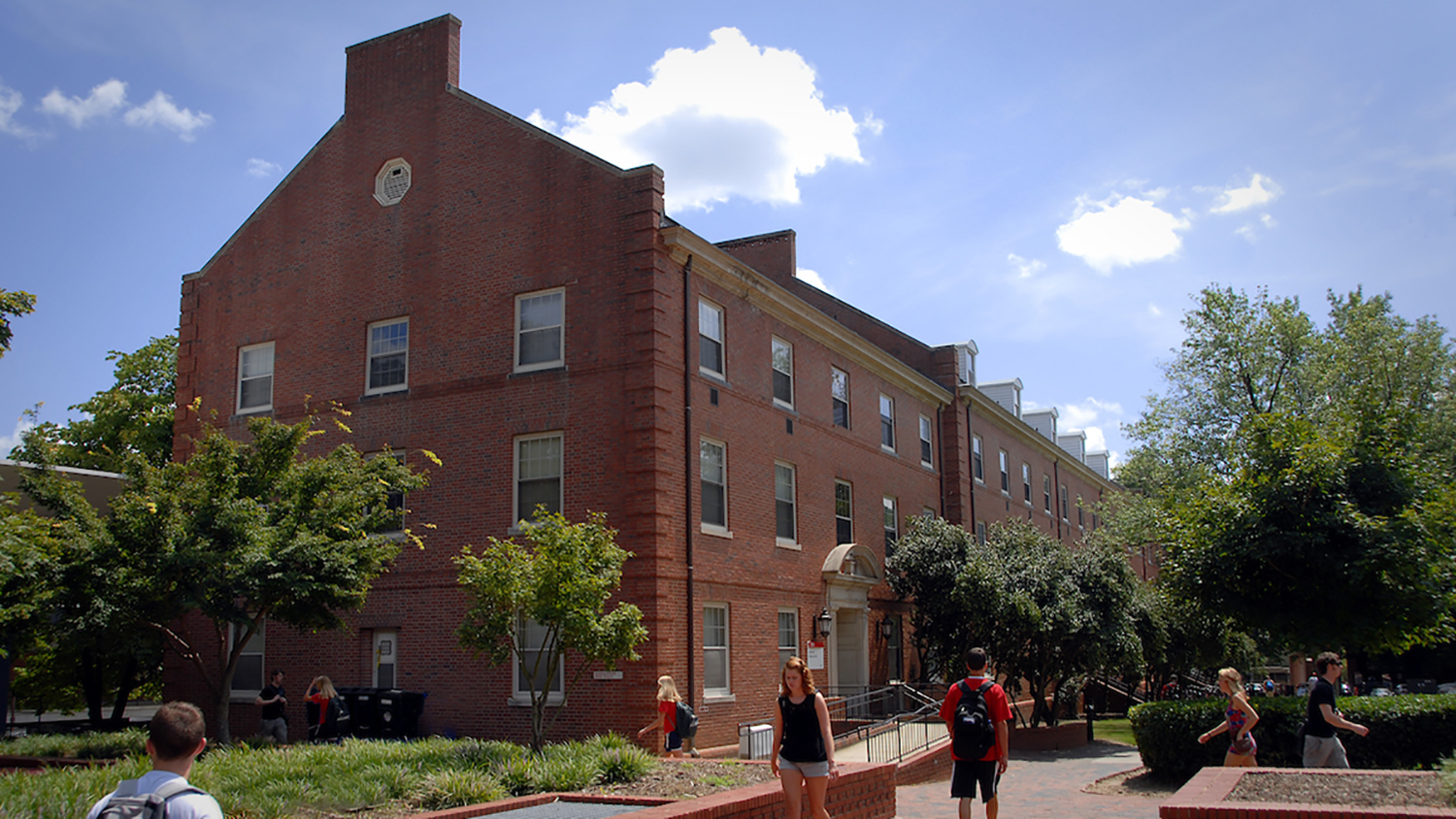 NC State's Living and Learning Villages provide students with an experiential education outside the classroom. The 14 villages, along with two community initiatives, also help create a sense of community in a campus with more than 35,000 students.
"When the first task force for planning the villages met in 2002, we wanted to find ways to enhance the on-campus learning experience," said Susan Grant, director of University Housing. "We were looking for ways to better collaborate with campus partners to offer an enriching residence hall experience, and to make a big university seem a little bit smaller."
These close communities focus on shared interests, ranging from a passion for the arts or environment, to major-specific villages, to ones surrounding cultural identities. When students come together in these unique spaces, and get to know their neighbors, their chances of academic success rise.
"Students living in villages tend to have higher GPAs than their non-village peers, their retention rates are higher, and they are more likely to graduate on time," said Grant. "They benefit from highly involved faculty, who often are involved in village-sponsored events, and sometimes even live in the residence halls of specific villages."
Faculty get to know students better, mentor them through their academic careers and connect residents with the mission and vision of each village. The mutual benefits reflect NC State's commitment to creating a welcoming and open campus for all.
Albright Entrepreneurs Village
Wolf Ridge Apartments
The Albright Entrepreneurs Village provides sophomores, juniors, seniors and graduate students across all academic disciplines the opportunity to live, socialize and work with entrepreneurial-minded students. Residents can explore and develop their entrepreneurial interests in an environment that fosters creativity.
Arts Village
Turlington Residence Hall
The Arts Village unites students from various personal and academic backgrounds who have a passion for the arts. Arts Village exposes members to theater, visual arts, crafts, music, dance and more.
Engineering Village
Metcalf Residence Hall
The Engineering Village is an extension to the College of Engineering's First Year Engineering program introducing students to the field of engineering; encouraging thoughtful consideration to complex challenges facing our communities.
Exploratory Studies Village
Owen and Tucker Residence Halls
The Exploratory Studies Village is for students entering the university who are knowingly undecided about a major. A year of guided inquiry and exploration coupled with one on one sessions with their academic adviser helps move students through the career planning and decision making process.
Honors Village
Berry, Becton and Bagwell Residence Halls
The Honors Village allows students to enhance their personal growth, foster academic excellence, get involved with the community, and have fun at many different events. The Honors Village boasts representation from every academic college and every academic year (first year through senior).
Impact Leadership Village
Bowen Residence Hall
The Impact Leadership Village began in 2009 as a place for students to strengthen their leadership skills to become better leaders in today's world. We value and recognize the importance of having different backgrounds, academic focuses and perspectives to address the many issues we face today in our communities.
Native Space Initiative
Wood Residence Hall
Students living in the Native Space community will demonstrate growth and learning along three focal points of the living experience: culture, academics and community engagement. Residents will find a deeper awareness of Native American history and drive cultural awareness through participation in Native American Heritage Month and the annual NC State Pow Wow.
SAY Village
Syme Residence Hall
The Students Advocating for Youth (SAY) Village is a community for first-year students in any academic discipline who have a passion for working with youth. Students develop one-on-one mentoring relationships with local elementary school students and learn what it means to be a youth advocate.
Scholars Village
Sullivan Residence Hall
The Scholars Village is a collaborative partnership between the University Scholars Program and University Housing. Membership in this village is one of the most important components of the University Scholars Program. Life in the Village centers around a wide range of social, cultural and educational activities, all designed to help students become informed citizens, ethical leaders and active contributors to our campus and community.
S.T.A.T.E. Village
Wolf Village Apartments
The Second Year Transitions and Transfer Experience (S.T.A.T.E.) Village provides second year and transfer students with opportunities to make the most of their NC State experience by focusing on the six core pillars essential to student success: Academic Success, Career Development, Community and Global Engagement, Diversity, Leadership and Life Skills.
Wellness Village
Wood Residence Hall
Wood Wellness Village is open to all NC State students committed to living a balanced lifestyle. The village encourages developing and maintaining their personal overall wellness through coursework, small programs, mentorships and high impact events.
WISE Village
Lee Residence Hall
The Women In Science and Engineering (WISE) Village is a living and learning community created for female first-year and sophomore students majoring in science, technology, engineering and mathematics. Membership in WISE provides a powerful networking opportunity with other goal-oriented women as you pursue your STEM major.
WOW Village
Welch Residence Hall
The Women of Welch (WOW) Village enhances women's leadership opportunities outside the classroom through empowerment, leadership development, self-awareness and diversity/social justice. WOW creates a holistic community that fosters individual women's growth and development while challenging members to act as citizens of a global community.