It's been a summer full of activity for NC State faculty and staff. Many have traveled across the country and around the world, making a difference on campus and in the community. Here's what a few faculty and staff members had to say about their summer experience.
Peter Askim
Director of Orchestral Studies, Music Department, Division of Academic and Student Affairs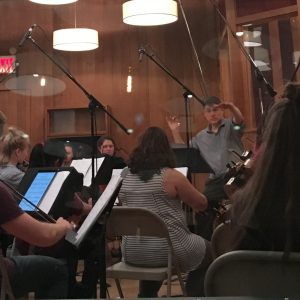 In June I completed my fifth season as founder and artistic director of The Next Festival of Emerging Artists. Bringing together the next generation of musicians from around the country, the festival is an immersive experience in the creation and performance of contemporary music and dance. The festival includes performances in the Northeast and at prominent New York City venues, collaborations with Pulitzer Prize-winning composers, recording sessions of World Premiere works by emerging composers and a week-long residency at the NYU Center for Ballet and the Arts.
I began the festival to help early-career artists develop their artistry and to navigate a career in the arts amidst a changing musical landscape. The students, aged 20-30, are chosen for their talent and their dedication to innovation and contemporary performance practice. They represent the musical leaders of tomorrow. I work closely with the young artists on their technical and musical development and conduct the festival orchestra, which specializes in the music of living composers. Along with our Resident Entrepreneurial Artist, we provide guidance on developing entrepreneurial career strategies.
In addition to our work with young musicians and composers, this summer marked the first season of the festival's unique Composer/Choreographer Workshop. The workshop provides young artists with an experimental laboratory to explore collaborative and cross-disciplinary work. The workshop facilitates establishing new ways of working and provides opportunities for young artists from diverse backgrounds and disciplines to establish professional relationships and create exciting new work.  
I have also been composing works for NC State faculty pianist Dr. Olga Kleiankina and composing a commission from the Croatian contemporary music group Cantus Ansambl. I have also been preparing for an upcoming performance conducting the Portugal national youth orchestra APROARTE.
The Next Festival of Emerging Artists Website: www.next-fest.org
Next Festival Performance videos: http://next-fest.org/videos/
Next Festival Composer/Choreographer Workshop video: https://vimeo.com/224687271
Alison Arnold
Assistant Teaching Professor, Arts Studies/Interdisciplinary Studies, College of Humanities and Social Sciences; Lecturer, Music Department, Division of Academic and Student Affairs
For over ten years, I have been traveling to Cape Breton in northeastern Canada to play and study the traditional music and dance first brought over to North America by Scottish and Irish settlers. This June, I spent three weeks on the island, continuing my work with local fiddlers, playing in music sessions, and planning an NC State campus event in spring 2018. I am inviting a renowned scholar and music publisher of Cape Breton music, Paul Cranford, to present a Price Music Lecture in the Music Department.
In July, I traveled to Ireland with my NC State colleague Dr. Jonathan Kramer to present a paper at the International Council for Traditional Music biannual meeting in Limerick. The title of their paper was, "Opportunities and Challenges in Digital World Music E-Textbook Publishing," drawing on their recent joint publication, What in the World is Music? (Routledge, 2016). This world music e-textbook/print book package is unique in presenting its accompanying media — almost 300 video clips and audio recordings of music and musicians around the world — only in digital format online. While in Ireland, I also attended and participated in a musical gathering with renowned Irish flute player, Christy Barry, at his home in Doolin, Co. Clare. I play Irish flute and whistles, have run an Irish Music Session on campus since 2005, and am a member of two contra dance bands that have both played for the monthly "Contra Dance with Wolves" at NC State.
Sherry Buckles
Director of Development, North Carolina Veterinary Medical Foundation, College of Veterinary Medicine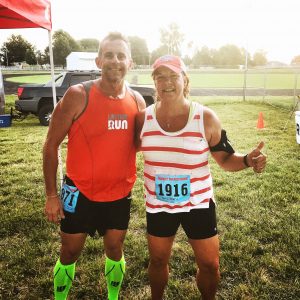 My husband and I had a different sort of vacation this summer. We flew to Kansas City, Missouri, rented an RV and drove to the great Midwest to complete seven running races in seven states in seven days. My husband is hoping to run a race of some sort in all 50 states before he turns 50 next year, so this is how we came to run in Minnesota, North Dakota, South Dakota, Iowa, Nebraska, Kansas and Missouri. We had a great time and survived the heat, met lots of great people from around the world, and got some pretty cool medals for our efforts.
Jason Coupet
Assistant Professor, Department of Public Administration, College of Humanities and Social Sciences
I'm a third year Assistant Professor in the Department of Public Administration. In North Carolina, Community Child Protection Teams (CCPTs) are community level collaborations to help improve child welfare policy. This summer, myself and Justine Chilton, who recently graduated with her master's in public administration from NC State, are working with the Center for Family and Community Engagement to help think through some changes to in CCPTs in North Carolina. In June, Justine and I visited Anchorage, Alaska, to study their community collaborations for ideas, and establish connections for ongoing research. We learned much, had a blast, and developed what we hope will be long lasting relationships to improve child welfare and organizational collaboration! We were funded by the North Carolina Division of Social Services.
Qiana R. Cryer-Coupet
Assistant Professor, Department of Social Work, College of Humanities and Social Sciences
This summer my research assistant, Katherine McCallister (master's of social work student), and I began an intensive recruitment process to reach non-resident fathers in Wake, Durham, and Cumberland Counties. This work was funded in part by a grant from the Fatherhood Research and Practice Network (FRPN) and a contract with the North Carolina Division of Social Services awarded to the Center for Family and Community Engagement (CFFACE) for the Family Centered Practice Project. We visited fathering support groups, barbershops, libraries, laundromats, community centers, schools, daycares, homeless shelters, rehabilitation centers, churches and gyms. We also recruited online via social media. So far, 55 men have expressed interest in the study and 25 fathers have enrolled in the study and participated in an individual interview or focus group. Participants ranged in age from 22-67, reported having one to seven children, and were of various racial/ethnic backgrounds and socio-economic statuses. We will continue recruitment and interviews through December.
Paul Fyfe
Associate Professor of English, Department of English, College of Humanities and Social Sciences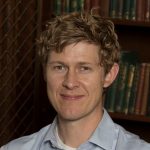 I traveled to Freiburg, Germany to give the keynote lecture at the Research Society for Victorian Periodicals conference. I shared current research, in collaboration with Qian Ge in the Department of Computer and Electrical Engineering, about how computer vision technologies might be used to study illustrations in nineteenth-century newspapers. We started working together during the formation of the Visual Narrative interdisciplinary cluster.
Terry "Bucky" Gates
Lecturer, Department of Biological Sciences, College of Sciences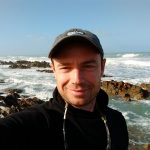 In June, I traveled with a North Carolina public school teacher to Cape Town, South Africa, in order to show educational leaders the benefits of using real citizen science research in public school classrooms. In cooperation with Stellenbosch University, a partner of NC State, we hosted ten representatives from the Western Cape Educational Department who control the science teaching for several thousand children.
Over the course of two days, we explored how citizen science levels the playing field in the classroom between race, socioeconomic divisions, and prior educational success in accessing content and developing scientific thinking. At the end of the first professional development day, one of the district leaders declared they have been teaching science completely wrong. And by the end of the second day there were conversations between the teachers and the district leaders as to what curriculum policy changes were needed in order to get citizen science into Cape Town classrooms.
Our collaboration between Stellenbosch University and the Western Cape Educational Department was such a success we are seeking funding to continue next summer.
Marsha Gordon
Professor of Film Studies, Department of English, College of Humanities and Social Sciences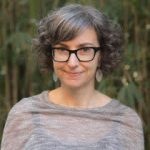 The highlights [of the summer] have been related to my recently published book, Film is Like a Battleground: Sam Fuller's War Movies (Oxford University Press, 2016). The first was giving a lecture, "Researching Sam Fuller: Archival Collections, Connections, and Reconstructions," in June at the EYE Film Museum Archives in Amsterdam. In July 22 I introduced Sam Fuller's House of Bamboo and doing a book signing at the National Gallery of Art in Washington, D.C.  I've also done several "Movies on the Radio" shows on WUNC's The State of Things, covering "Best + Worst Movie Remakes," "Superhero Movie"s and "Vacation Movies."
Tom Koch
Teaching Assistant Professor, Music Department, Division of Academic and Student Affairs
This summer, while teaching Arts of a World Capital: London (ARS 251) for the London General Studies program, I spent extended weekends in Prague and Vienna laying the groundwork for a proposed visual and performing arts course through the newly christened NC State European Center in Prague. Director Peter Kjaer and I met in Prague to discuss the many opportunities to engage students in both classical and popular traditions in music, architecture, painting, film and theater. These excursions enabled me to explore and earmark those cultural sites and performances that will not only make the greatest aesthetic impact on students but best highlight the cultural richness these cities offer in the visual and performing arts. The course is anticipated for Maymester 2018.
Jonathan Kramer
Teaching Professor, Music Department, Division of Academic and Student Affairs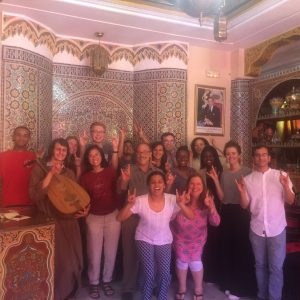 My summer began leading a Caldwell Scholars study trip to Morocco to attend the 23rd annual Fez Sacred Music Festival. Thirteen Caldwell Scholars plus Administrator Elizabeth Holt and I spent two weeks attending the festival plus visiting Marrakech, the Roman ruins at the UNESCO site Volubilis, and Casablanca. In addition to daily concerts by musicians from all over the world, students attended classes in traditional crafts and toured Fez' medieval walled city.  
Upon return, I spent three weeks in residence at Converse College in Spartanburg, South Carolina at Chamber Music on the Hill (CMOTH), a summer program for high school and undergraduate music students where I taught cello, string quartet interpretation, and gave a series of lectures/master classes on the Solo Suites of J. S. Bach.  While there, I performed in two public concerts that included the String Quartet #2 in d minor of Anton Arensky and Johannes Brahms' String Sextet #2 in G Major.
I then traveled with colleague Alison Arnold to Limerick, Ireland to present a co-written paper, "Opportunities and Challenges in Digital World Music E-Textbook Publishing," at the 44th World Meeting of the International Council for Traditional Music (ICTM). Now I am home, grading papers for the Distance Education course I am teaching Summer II semester with Dr. Arnold, MUS200 Understanding Music:Global Perspectives. The course uses the textbook we co-wrote What in the World Is Music? published by Rutledge/Taylor and Francis in 2016.
Jennifer Landin
Associate Professor of Teaching, Department of Biological Sciences, College of Sciences
I chaired an international conference for the Guild of Natural Science Illustrators in Asheville. During the conference, participants created a set of three mandalas that represent the biodiversity of the Appalachians. Approximately 100 artists collaborated on the final 4'x12′ project, which was donated to the new Asheville Museum of Science.
Frances Ligler
Lampe Distinguished Professor, Department of Biomedical Engineering, College of Engineering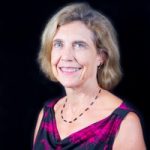 I tutored graduate students and postdoctoral fellows in the 10th Advanced Study Course on Optical Chemical Sensors (ASCOS). ASCOS 2017, focused on Biochemical Sensors in Medicine, was held in Castle Třešť in the countryside of the Czech Republic. A comprehensive panel of experts presented a thorough introduction into basic principles of optical sensor techniques as well as their implementation, application for detection of chemical and biological substances and commercial considerations. Students were organized into international and interdisciplinary project teams and given a real (bio)analytical problem related to optical sensors to solve. During this group work phase, I, along with other tutors, answered questions arising from the project group work. Over a decade as a tutor has demonstrated to me that the students make friends that last well into the future, as do the tutors. Graduate students who might be interested in participating in ASCOS 2020 (location TBD) should note that SPIE travel grants are available on a competitive basis.
Kristen Turner
Lecturer, Music Department, Division of Academic and Student Affairs
I was awarded a Summer Stipend from the National Endowment of Humanities and have used this support to finish the research for a monograph on race in popular staged musical entertainments in the United States at the turn of the twentieth century. I have spent one week in Washington, D.C., at the Library of Congress and the Archives of the National Museum of American History and two weeks in New York City at five different archives in addition to spending a lot of time on various digital databases of newspapers and theater journals. I also gave a paper at an international conference on issues of performance of the opera Carmen in Cardiff, Wales.
As part of my commitment to public musicology, I co-authored a post for Musicology Now (the official blog of the American Musicological Society) on addressing diversity in the music history survey curriculum, and made several podcast episodes for Critical Karaoke, a project based at Colorado College. Finally, I submitted an essay on women and music in the American Civil Rights Movement for a collected edition and finished a review for the Journal of the American Musicological Society which will appear in the next issue of this publication.
Bill Winner
Professor, Department of Forestry and Environmental Resources, College of Natural Resources
Ghana has a new president using an environmental agenda to stir national pride and human dignity. He is the co-chair of the U.N Sustainable Development Goals Program. After the election, he set the goal of making Accra, the largest city and capital of Ghana, the cleanest city in Africa by 2021.
I visited Ghana from June 6 – July 1 when invited to present a training program to the Institute for the Environment and Sanitation Studies at the University of Ghana. The trip was supported by the Office of International Programs at NC State, and the Institute for the Environment and Sanitation Studies at the University of Ghana. The purpose of the trip was to encourage graduate students and faculty members at the University of Ghana to explore systems approaches to sustainable development.
I developed the program, "Systems Approaches to Sustainable Development" that involved 35 graduate students and faculty members. The program involved dividing the participants into five teams, and the assignment was for each team to produce a pre-proposal to achieve the goal of making Accra the cleanest city in Africa. Each team had background readings in their theme areas and led facilitated daily discussions on their topics.  I presented lectures on systems approaches and modeling, and the ways to structure pre-proposals.  The last day, each team presented a seminar on their systems approach, and a final draft of their pre-proposal.
The President recently created a new Ministry for Water and Sanitation. The newly appointed Minister invited me to a three-day workshop to explore strategic approaches to achieving the President's goal for improving the environment in both Accra, and Ghana. I went on the trip knowing I did not have the answers to environmental problems in Ghana, but that Ghanaians did. My goal was to simply show them systems approaches to dealing with sustainable development that were new to them. My time in Ghana was very rewarding and there will likely be opportunities to return.