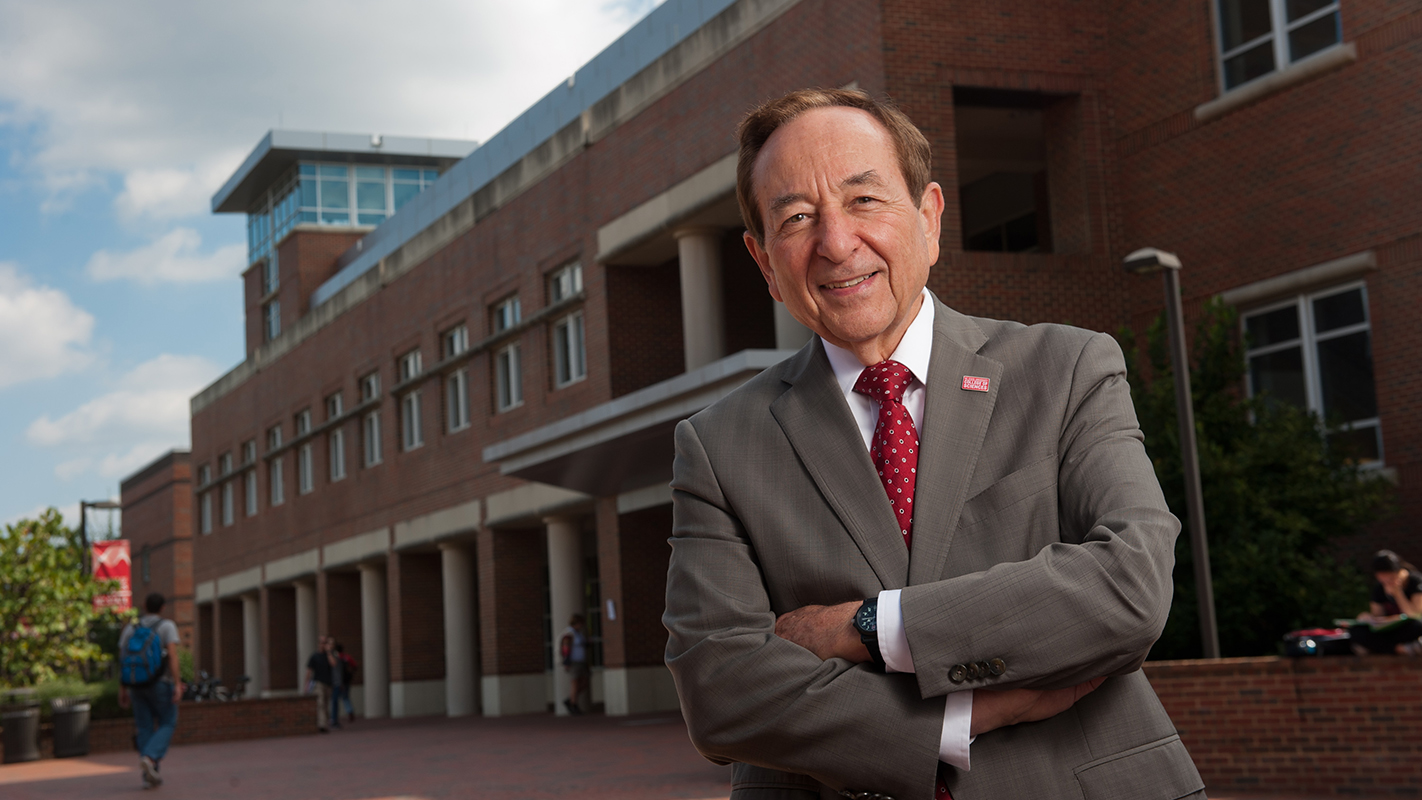 Dan Solomon has announced that he is stepping down as dean of the College of Sciences, effective July 1, 2015.
Solomon has been a dean at NC State since 2000, serving in that capacity for 13 years in the former College of Physical and Mathematical Sciences (PAMS). In 2013, he became the inaugural dean of the College of Sciences.
"It's been an honor to serve as the first dean of this college, which is populated by so many innovative and energetic faculty, staff and students," Solomon said. "Since its launch 15 months ago, the college has made tremendous strides toward becoming one of the finest institutions of its kind. Its sturdy foundation of outstanding people and programs means the sciences have a bright future at NC State. I can't wait to see what happens."
During his 33 years as an administrator at NC State, Solomon has been a driving force in developing and promoting effective teaching methods, expanding research and graduate programs, and propelling the universitywide emphasis on convergence science that solves societal problems.
Solomon has also stressed the importance of diversifying the sciences. He has promoted, developed or led a wide array of activities designed to diversify the sciences workforce pipeline, student body and faculty; created a more inclusive and welcoming community; and enhanced work-life balance. For example, while he was dean of PAMS, the number of tenured and tenure-track female faculty nearly tripled.
Solomon was instrumental to the implementation of the College of Sciences, working with Provost Warwick Arden on a smooth and successful 14-month transition that involved faculty and staff from across the university. The new college, which launched on July 1, 2013, brought together NC State people and programs in the biological, physical and mathematical sciences.
"Dan's passion for the sciences is unmatched and he's been a strong and effective champion for equity and diversity in the college and beyond," Arden said. "He is a progressive and forward-thinking leader with the dedication and willingness to always do what's best for NC State and the college. Dan has set the College of Sciences on a trajectory toward worldwide prominence and influence."
Solomon began his faculty career in 1968 at Cornell University, moving through the ranks to become professor of biological statistics and heading the Biometrics Unit there. He came to NC State in 1981 as head of the Department of Statistics. He held that position until 1993, when he joined the PAMS administration as associate dean for academic affairs.
Solomon is a Fellow of the American Statistical Association and a 2010 winner of its Founders Award. He was a key figure in the founding of the National Institute of Statistical Sciences, and continues to serve in various capacities on its board of trustees. He currently chairs the Governing Board of the National Science Foundation's Statistical and Applied Mathematical Sciences Institute based in Research Triangle Park.
Solomon earned his bachelor's degree in mathematics from Florida State University in 1962. He went on to earn master's and doctoral degrees in mathematical statistics in 1964 and 1968, respectively, also from Florida State.
Arden said the university will conduct a national search to find a new dean for the college.